La rivalidad cooperativa de las relaciones entre Estados Unidos y China
CAMBRIDGE – En una visita a Beijing en octubre, muchas veces me preguntaron si las recientes críticas duras a China formuladas por el vicepresidente norteamericano, Mike Pence, marcaban la declaración de una nueva guerra fría. Respondí que Estados Unidos y China han ingresado en una nueva fase en su relación, pero que la metáfora de la guerra fría es engañosa.
Durante la Guerra Fría, Estados Unidos y la Unión Soviética se apuntaban mutuamente con decenas de miles de armas nucleares y prácticamente no tenían ningún vínculo comercial o cultural. Por el contrario, China tiene una fuerza nuclear más limitada, el comercio sino-norteamericano anual alcanza el medio billón de dólares y más de 350.000 estudiantes y tres millones de turistas chinos están en Estados Unidos cada año. Una mejor descripción de la relación bilateral de hoy es "rivalidad cooperativa".
Desde el fin de la Segunda Guerra Mundial, las relaciones entre Estados Unidos y China han pasado por tres etapas que duraron aproximadamente dos décadas cada una. La hostilidad marcó los 20 años posteriores a la Guerra de Corea, y luego hubo una cooperación limitada en contra de la Unión Soviética durante la fase que siguió a la famosa visita del presidente Richard Nixon en 1972.
El fin de la Guerra Fría introdujo una tercera fase de compromiso económico en la que Estados Unidos ayudó a la integración económica global de China, incluido su ingreso a la Organización Mundial de Comercio en 2001. Sin embargo, en la primera década post-Guerra Fría, la administración del presidente Bill Clinton apostó simultáneamente a fortalecer la alianza entre Estados Unidos y Japón y a mejorar las relaciones con la India. Ahora, desde 2017, la Estrategia de Seguridad Nacional de Estados Unidos se centra en una gran rivalidad de poder, y China y Rusia han sido elegidas como los principales adversarios de Estados Unidos.
Si bien muchos analistas chinos responsabilizan por la cuarta fase al presidente norteamericano, Donald Trump, el presidente chino, Xi Jinping, también tiene culpa. Al rechazar la política prudente de Deng Xiaoping de mantener un bajo perfil internacional, al poner fin a los límites de los mandatos presidenciales y al proclamar su "Sueño Chino" nacionalista, Xi también podría haber usado una gorra roja que dijera "Hacer a China grande de nuevo". La opinión generalizada sobre China dentro de Estados Unidos ya había comenzado a deteriorarse antes de las elecciones presidenciales de 2016. La retórica y los aranceles de Trump fueron simple gasolina derramada en un fuego humeante.
El orden internacional liberal ayudó a China a sustentar un rápido crecimiento económico y a reducir la pobreza drásticamente. Pero China también inclinó el campo comercial a su favor al subsidiar a empresas estatales, involucrarse en espionaje comercial y exigirles a las firmas extranjeras que transfirieran su propiedad intelectual a "socios" domésticos. Mientras que la mayoría de los economistas sostienen que Trump se equivoca al concentrarse en el déficit comercial bilateral, muchos respaldan sus reclamos sobre los esfuerzos de China por desafiar la ventaja tecnológica de Estados Unidos.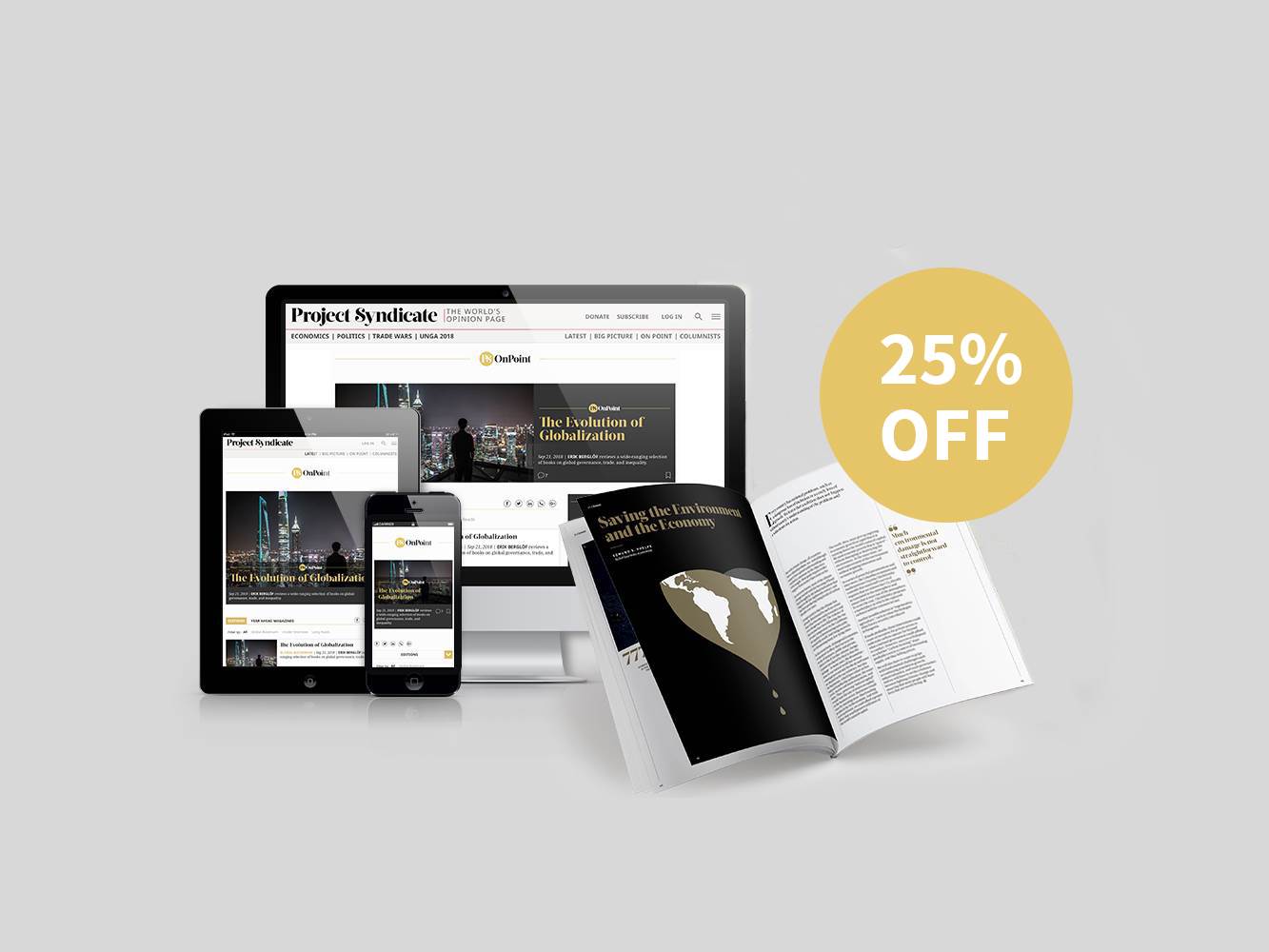 Subscribe now
For a limited time only, get unlimited access to On Point, The Big Picture, and the PS Archive, plus our annual magazine, for just $75.
Es más, la creciente fuerza militar de China agrega una dimensión de seguridad a la relación bilateral. Si bien la cuarta fase de la relación no es una guerra fría, debido al alto grado de interdependencia, es mucho más que una típica disputa comercial como, por ejemplo, el reciente choque de Estados Unidos con Canadá por el acceso al mercado lácteo de ese país.
Algunos analistas creen que esta cuarta fase marca el inicio de un conflicto en el que un poder hegemónico establecido va a la guerra con un adversario en ascenso. En su explicación de la Guerra del Peloponeso, Tucídides decía que fue causada por el miedo de Esparta a una Atenas cada vez más fuerte.
Estos analistas creen que el ascenso de China provocará un miedo similar en Estados Unidos, y utilizan la analogía de la Primera Guerra Mundial, cuando una Alemania en ascenso puso nerviosa a una Gran Bretaña hegemónica. Sin embargo, las causas de la Primera Guerra Mundial eran mucho más complejas, e incluían el creciente poder ruso, que generaba miedo en Alemania; el creciente nacionalismo en los Balcanes y otros países y los riesgos asumidos deliberadamente por el Imperio Habsburgo para evitar su caída.
Aún más importante, Alemania ya había superado a Gran Bretaña en producción industrial para 1900, mientras que el PIB de China (medido en dólares) actualmente es sólo el 60% del tamaño de la economía estadounidense. Estados Unidos tiene más tiempo y activos para manejar el ascenso del poder chino de lo que tenía Gran Bretaña con Alemania. China está limitada por un equilibrio natural de poder en Asia donde Japón (la tercera economía más grande del mundo) y la India (a punto de superar a China en población) no tienen ningún deseo de ser dominados por China.
Sucumbir al miedo que describía Tucídides sería una profecía autocumplida innecesaria para Estados Unidos. Afortunadamente, las encuestas revelan que la población norteamericana todavía no ha sucumbido ante un retrato histérico de China como un enemigo tan fuerte como lo era la Unión Soviética durante la Guerra Fría.
Ni China ni Estados Unidos plantean una amenaza existencial para el otro como sí lo hacían la Alemania de Hitler o la Unión Soviética de Stalin. China no está a punto de invadir Estados Unidos, y es incapaz de expulsar a Estados Unidos del Pacífico Occidental, donde la mayoría de los países acogen con beneplácito su presencia. Japón, una parte importante de la llamada primera cadena de islas, paga casi las tres cuartas partes de los costos de país anfitrión para mantener 50.000 tropas estadounidenses con base allí.
Mi visita reciente a Tokio me confirmó que la alianza con Estados Unidos es fuerte. Si la administración Trump la mantiene, las perspectivas de que China pueda expulsar a Estados Unidos del Pacífico Occidental, y mucho menos dominar el mundo, son mínimas. Estados Unidos tiene mejores cartas estratégicas y no necesita sucumbir al miedo de Tucídides.
Ahora bien, existe otra dimensión que hace que esta cuarta fase sea una "rivalidad cooperativa" y no una Guerra Fría. China y Estados Unidos enfrentan retos transnacionales que son imposibles de resolver uno sin el otro. El cambio climático y los crecientes niveles de los océanos obedecen a las leyes de la física, no a la política. En tanto las fronteras se vuelven más porosas a todo desde drogas ilícitas a enfermedades infecciosas y terrorismo, las economías más grandes tendrán que cooperar para hacer frente a estas amenazas.
Algunos aspectos de la relación implicarán un juego de suma positiva. La seguridad nacional de Estados Unidos requerirá poder con China, no sólo sobre China. La pregunta clave es si Estados Unidos es capaz o no de pensar en términos de una "rivalidad cooperativa". ¿Podemos caminar y mascar chicle al mismo tiempo? En una era de nacionalismo populista, es mucho más fácil para los políticos generar miedo sobre una nueva guerra fría.