Cómo China puede alcanzar su objetivo centenario
SHANGHÁI – Hace dos años, el presidente chino, Xi Jinping, declaró que cuando la República Popular celebre su centenario en 2049, debería ser un "gran país socialista moderno" con una economía avanzada. Para lograr este objetivo ambicioso, China necesitará garantizar otras tres décadas de fuerte desempeño económico y desarrollo inclusivo. La pregunta es cómo.
El primer paso para responder este interrogante es entender qué ha conducido a los éxitos pasados de China. La lista es impresionante: tres décadas de crecimiento de dos dígitos del PIB, un marcado incremento en la tasa de urbanización, del 18% en 1978 al 57% en 2016, y una caída abrumadora de la pobreza, según el propio estándar de China, de 250 millones de personas en 1978 a 50 millones en 2016. A este ritmo, China habrá eliminado completamente la pobreza en algún momento del año próximo.
Pero la República Popular no fue próspera desde un comienzo. Por el contrario, la estrategia sumamente dogmática y centralizada de Mao, representada en el desastroso Gran Salto Adelante y la fanatizada Revolución Cultural, no sólo impidieron que el país avanzara tecnológicamente; también empujaron a la economía al borde del colapso.
Según la comisión de planificación estatal de China, para fines de 1977, solamente la Revolución Cultural de diez años le había costado a China 500.000 millones de yuanes (70.000 millones de dólares) en ingresos nacionales. Eso equivale al 80% de todas las inversiones de capital durante los primeros 30 años de la República Popular y supera el valor total de los activos fijos de China durante ese período.
Es más, los primeros 30 años de la República Popular poco hicieron para reducir la pobreza. En 1978, casi el 84% de la población de China vivía por debajo de la línea de pobreza internacional de 1,25 dólar por día; el ingreso per capita representaba menos de un tercio del promedio en el África subsahariana, y el 85% de los chinos vivía en pueblos rurales, aislados y sin necesidades básicas como comida y vestimenta.
Todo cambió en 1978, cuando el sucesor de Mao, Deng Xiaoping, lanzó su estrategia de "reforma y apertura". Gracias a ese cambio de curso –que hizo hincapié en la experimentación, el monitoreo y la adaptación constantes- China ingresó a la vía rápida hacia la industrialización, impulsada por un fuerte crecimiento de las exportaciones y guiada por lecciones de países que recientemente se habían convertido en economías de alto rendimiento.
Subscribe now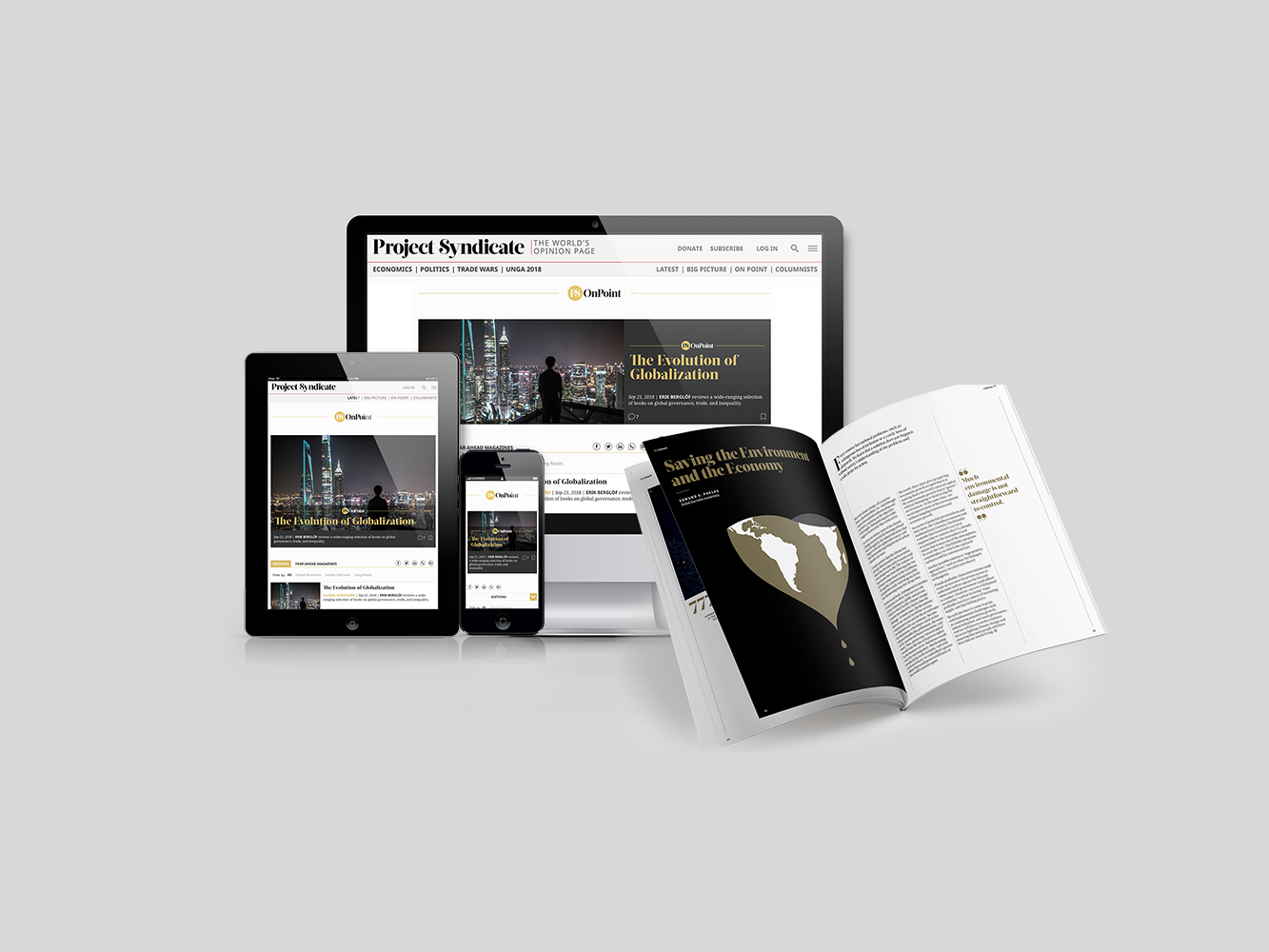 Subscribe now
Subscribe today and get unlimited access to OnPoint, the Big Picture, the PS archive of more than 14,000 commentaries, and our annual magazine, for less than $2 a week.
Durante este proceso, el gobierno de China alentó los ingresos de capital extranjero para impulsar el crecimiento en sectores con potenciales ventajas comparativas. Cuando esos sectores se volvieron globalmente competitivos, ayudaron a fomentar un cambio estructural gradual, la acumulación de capital y el crecimiento de la productividad y el empleo.
Esta estrategia significó que la economía de China, a pesar de su mercado doméstico de tamaño considerable, se tornó extremadamente dependiente del comercio externo. Según el Banco Mundial, el comercio representaba casi el 38% del PIB en 2017 –una cifra considerablemente alta, sobre todo para una economía tan grande-. En realidad, el comercio de procesamiento representa un porcentaje elevado de este total –más de la mitad, durante gran parte de los últimos 40 años- y ha dependido en gran medida de la inversión extranjera directa.
Al principio, China ni siquiera importaba los materiales para su procesamiento, debido a una falta de equipos y conocimiento; por el contrario, esencialmente procesaba y ensamblaba los materiales provistos por los clientes. Y cuando China comenzó a adquirir el equipamiento necesario, venía principalmente de inversores extranjeros, lo que dejaba a las empresas locales con beneficios muy magros. Recién en los años 1990 China comenzó a procesar un porcentaje mayor de los materiales importados.
Este arranque lento subraya la estrategia de China de apalancar las fortalezas de las economías avanzadas para poder superar sus propias debilidades. Pero, dadas las distorsiones institucionales, incluida la discriminación del sector financiero contra las empresas privadas, quizá la mejor manera de que las compañías chinas se sumaran a las cadenas de valor globales fuera a través de un uso "excesivo" de capital externo.
En tanto China acumuló experiencia y capital –un proceso que se aceleró en los años 1990-, redobló la apuesta en cuanto a esta estrategia, abriendo ciudades fronterizas (como Shanghái) y regiones fronterizas (como el Delta del Río Yangtzé) para atraer más IED. El gobierno de China también alentó a las empresas locales a formar emprendimientos conjuntos con sus contrapartes extranjeras. Como resultado de ello, China se convirtió en un centro industrial global.
Pero lejos de apoltronarse en su posición próxima a la parte inferior de las cadenas de valor globales, China siguió trepando y persiguiendo un rápido progreso tecnológico y una constante modernización industrial. China, por ende, ha podido reducir drásticamente su dependencia del capital extranjero en los últimos 15 años.
Sin embargo, en el transcurso de los últimos diez años, el crecimiento de China se ha desacelerado significativamente. Dada la naturaleza de largo plazo de los factores subyacentes de la crisis –incluida una menor demanda global de exportaciones chinas, una relación valor agregado industrial-PIB extremadamente alta y una población en edad laboral en caída-, esta tendencia probablemente continúe. Si China ha de alcanzar una condición de economía avanzada en 2049, tendrá que hacer cambios significativos en su modelo de crecimiento.
Los líderes de China lo reconocen. Tras admitir que los días de crecimiento de dos dígitos del PIB del país probablemente hayan quedado atrás, las autoridades están trabajando para contener el crecimiento del crédito y, en términos más generales, para frenar la deuda y el riesgo financiero a fin de controlar la tendencia del crecimiento desacelerado. Es más, ha venido intentando fomentar un nuevo crecimiento en los sectores de alta tecnología. Con ese fin, ha acelerado la apertura de los mercados de capital y financiero.
Ahora bien, para concretar la visión de Xi, China debe ir más allá y transformar esencialmente su modelo de crecimiento para garantizar la generación de un mayor crecimiento del ingreso dentro de su mercado doméstico. En consecuencia, un incremento marcado y sustentable de la demanda doméstica es clave. Esto exigirá, por empezar, una urbanización rápida y continua ya que la población en las ciudades más desarrolladas aumentará en 200-250 millones de personas en los próximos 30 años.
Es más, que Xi alcance o no el objetivo dependerá del crecimiento continuo de la demanda de infraestructura física y de una inversión corporativa masiva en maquinaria y equipamiento. Esto requeriría un progreso más acelerado en la apertura del acceso a sectores del mercado deprimidos y protegidos, especialmente el sector de servicios, no sólo a las empresas extranjeras sino también –y más importante- a las compañías chinas privadas. En resumidas cuentas, China debe transformar su tamaño considerable en una fuente de crecimiento. Dicho esto, también necesita asegurar una competencia doméstica justa, revirtiendo así la caída de la confianza privada en la inversión en los últimos diez años y mejorando el crecimiento general de la productividad de la economía.
El foco en las exportaciones sin duda ha favorecido mucho a China en los últimos cuarenta años. Pero, en los próximos 30 años, la clave para el éxito residirá en liberar el enorme potencial del mercado doméstico de China, especialmente eliminando las barreras institucionales que impiden la expansión de la creatividad de las empresas privadas. Recién entonces China podrá dejar de imitar a sus pares más desarrollados para liderar al mundo en materia de innovación.