Fuerzas centrífugas y centrípetas en las áreas económicas
STANFORD – Hace varios años predije que se produciría un cambio tectónico hacia la transferencia de poderes, la secesión y la independencia en todo el mundo debido al fracaso de las instituciones políticas en la administración de las diferencias económicas, culturales, étnicas y religiosas.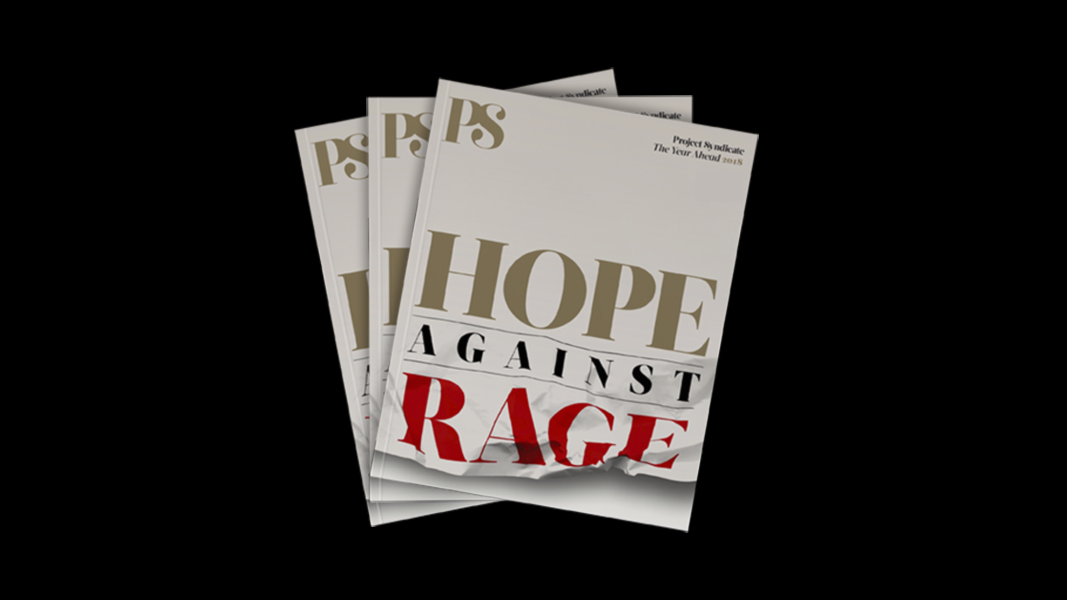 The Year Ahead 2018
The world's leading thinkers and policymakers examine what's come apart in the past year, and anticipate what will define the year ahead.
Claramente, las instituciones económicas y políticas supranacionales han ido generando una reacción contraproducente, a medida que concentraban más poder en los gobiernos centrales. En muchos países, los ciudadanos han comenzado a sentir que se está socavando su soberanía. Y les ha preocupado que los costes de una creciente inmigración fueran demasiado altos, considerando la lenta recuperación a partir de la Gran Recesión, el débil aumento de la productividad y la menguante proporción de la mano de obra en el ingreso.
Desde entonces, el Reino Unido ha decidido retirarse de la Unión Europea. Ya están en curso las negociaciones de "divorcio" para determinar cuánto pagarán los británicos a la UE y cómo serán las futuras relaciones de comercio. El proceso no ha sido fácil, porque a los negociadores de la UE les preocupa el que, si los términos de la salida son demasiado generosos, otros estados miembros puedan seguir el camino británico.
Mientras tanto, bajo el Presidente Donald Trump los Estados Unidos se han retirado de la Asociación Transpacífico y abandonado la Asociación Transatlántica de Comercio e Inversión con la UE. Ahora amenaza con retirarse del Acuerdo Norteamericano de Libre Comercio a menos que México y Canadá hagan concesiones.
En España, el 1 de octubre la región semiautónoma de Cataluña celebró un referendo en el que, se estima, hubo una participación de un 43% de los catalanes, que votaron abrumadoramente por la independencia. Tras su declaración por parte del Parlamento catalán, el gobierno nacional español invocó una cláusula constitucional para asumir el control administrativo de la región, agravando más todavía la crisis.
Para no ser menos, más de un 90% de los votantes en los referendos recientes en Lombardía y Véneto, las dos regiones italianas más ricas, votaron a favor de un mayor control sobre el gasto local en educación e impuestos. Ciertamente pensaban en la masiva deuda pública italiana y los subsidios a las regiones más pobres. Pero Giuseppe Garibaldi, el general que unió las ciudades estado del país a fines del siglo diecinueve, debe estarse remeciendo en su tumba.
En otras tierras, el Gobierno Regional del Kurdistán en Irak, tras celebrar un referendo de independencia a fines de septiembre, está intentando negociar con el gobierno central en Bagdad, que ha enviado tropas para ocupar los campos petrolíferos de la región. Y el Presidente chino Xi Jinping hizo uso del 19 Congreso Nacional del Partido Comunista de China para consolidar aún más su posición al concentrar más poder de las provincias en el gobierno central de Beijing.
Incluso en países con una larga reputación de estabilidad hay claras tensiones entre la autoridad política centralizada y la descentralizada. Por ejemplo, un grupo llamado Calexit está intentando introducir una propuesta de votación en California para separarse de los EE.UU. Según sondeos tempranos, un tercio de los californianos apoyaría una iniciativa así. Y este mes el Gobernador Jerry Brown firmó una ley que declaraba a California un "estado santuario", un gesto más que todo simbólico que indica que el estado no cooperará plenamente con las iniciativas de la administración Trump para imponer las leyes de inmigración federales.
En el nivel nacional, el malogrado intento de los congresistas republicanos de derogar y reemplazar la Ley de Cuidados Asequibles de 2010 (Obamacare) apuntaba a hacer que los estados tuvieran más responsabilidades a través de subvenciones federales en bloque. Y la propuesta de reforma tributaria federal que se está debatiendo ahora eliminaría una deducción tributaria federal para impuestos estatales y locales que otros estados consideren como un subsidio para estados de altos impuestos, como California y Nueva York. (Lo contrario se acerca más a la realidad si se restan todas las transferencias e interacciones fiscales).
En Europa, la UE ha seguido postergando las dificultades, en lugar de hacer frente a sus crisis de deuda soberana, bancaria, crecimiento y desempleo. Los líderes de la UE tienen la esperanza de ganar un poco de tiempo con un modesto aumento cíclico de la economía. Pero tarde o temprano tendrán que enfrentar un problema básico: Alemania, que más se ha beneficiado de una unión monetaria en la que sus socios comerciales no pueden depreciar sus monedas, no quiere pagar la cuenta del rescate de los estados miembro más derrochadores.
No debería sorprender que una reciente encuesta del Pew Research Center determinó que un 70% de los europeos, canadienses y estadounidenses prefieren una democracia más directa "en la que los ciudadanos, más que las autoridades electas, voten sobre los grandes problemas". Esto horrorizaría a los padres fundadores de Estados Unidos, que veían la democracia directa como un precursor del gobierno de la turba y crearon un sistema de contrapesos y equilibrios precisamente para prevenir algo así.
Cada uno de los anteriores ejemplos de centralización y transferencia de poderes es único, pero merece la pena preguntarse si tienen puntos en común.
Cuando el economista Robert Mundell, ganador de un Nobel y "padre intelectual del euro", se propuso determinar un área de moneda óptima, privilegió los vínculos macroeconómicos y comerciales naturales. Como canadiense, le impresionó la naturaleza "horizontal" de las áreas monetarias canadiense y estadounidense. Desde su punto de vista, tendría más sentido económico si fueran áreas "verticales".
La visión de Mundell se puede aplicar de manera mucho más amplia. Constantemente se están formando, combinando y disolviendo áreas económicas como resultado de fuerzas centrífugas y centrípetas. Los continuos cambios en ventajas comparativas, economías de escala y costes de transacción afectan los beneficios de acomodar preferencias locales más homogéneas.
De manera similar, las áreas políticas "óptimas" evolucionan debido a cambios tecnológicos y demográficos, y su interacción con factores culturales, étnicos, religiosos y demás. Estos procesos de confluencia y separación pueden ser beneficiosos o dañinos. No hay duda de que la UE ha sido un gran éxito como área de comercio, un poco menos como mercado laboral y unión monetaria, y ha fallado completamente como un área bancaria y fiscal.
O piénsese en el subcontinente indio, donde países vecinos que desconfían los unos de los otros y armados con bombas nucleares son un peligro para sí mismos y el mundo. Considerando que India todavía tiene casi tantos musulmanes como Pakistán, es posible que las tensiones religiosas se podrían haber mitigado dentro de los confines de un solo país. Según mis estimaciones, el actual volumen comercial entre Pakistán y la India debería ser 25 veces el que es, lo que beneficiaría mucho a ambos países, no en menor medida porque cada uno tendría más que ganar con el éxito del otro.
No es fácil gobernar bien en un contexto diverso en lo económico, político, étnico y religioso, pero de lo contrario se corre el peligro de crecer mucho menos en lo económico y de elevar bastante los riesgos políticos.
Traducido del inglés por David Meléndez Tormen