Welche Richtung sollten die Notenbanken einschlagen?
CAMBRIDGE – Die Notenbanker der Welt und die Wissenschaftler, die ihnen folgen, erleben derzeit ihren jährlichen Moment der Reflektion in Jackson Hole, Wyoming. Doch könnte das Thema der diesjährigen Tagung, "Herausforderungen für die Geldpolitik", eine engstirnige – und gefährliche – Selbstzufriedenheit fördern.
Vereinfacht gesagt ist die Optimierung von Inflationszielen, Kommunikationsstrategien oder selbst Bilanzen keine angemessene Reaktion auf die Herausforderungen, vor denen die großen Volkswirtschaften heute stehen. Vielmehr legen zehn Jahre unter den Zielvorgaben liegender Inflation überall in der entwickelten Welt – und Markterwartungen von weiteren 30 Jahren – sowie der völlige Fehlschlag der umfassenden Bemühungen der Bank von Japan zur Steigerung der Inflation nahe, dass eine früher als unumstößlich geltende Annahme tatsächlich falsch ist: Die Notenbanken können die Inflationsraten nicht immer durch die Geldpolitik bestimmen.
Europa und Japan sind gegenwärtig in so etwas wir einem geldpolitischen Schwarzen Loch gefangen: einer Liquiditätsfalle, in der nur minimaler Spielraum für eine expansive Geldpolitik besteht. Die USA sind angesichts der Tatsache, dass sie (wie nachstehende Abbildung zeigt) beim nächsten Abschwung nicht annähernd genug Spielraum für Zinssenkungen haben werden, nur eine Rezession von einem ähnlichen Schicksal entfernt. Und mit zehnjährigen Zinsen von etwa 1,5% sowie negativen realen Terminzinsen ist der Spielraum für inkrementelle Konjunkturimpulse durch eine quantitative Lockerung und die Steuerung der Zinserwartungen sehr begrenzt – selbst wenn man davon ausgeht, dass diese Instrumente wirksam sind (was wir bezweifeln).
[Abbildung]
Diese Entwicklungen scheinen ein neuerlicher Beleg für das Konzept der säkularen Stagnation zu sein; tatsächlich ist das Problem sehr viel ausgeprägter als allgemein anerkannt. Im Vergleich zu den Erwartungen des Jahres 2013, als einer von uns (Summers) das Konzept wiederbeleben wollte, sind die Defizite und nationalen Schuldenstände deutlich höher und die nominalen und realen Zinssätze deutlich niedriger, und doch ist das nominale BIP-Wachstum bisher viel niedriger. Dies legt nahe, dass eine Reihe von Kräften, deren Auswirkung durch die Fiskalpolitik nur teilweise abgeschwächt wurde, zusammenwirken und auf die Gesamtnachfrage drücken.
Die gängigen politischen Diskussionen wurzeln in der (inzwischen alten) neuen keynesianischen Tradition, die gesamtwirtschaftliche Probleme als Spiegelbild der Reibungskräfte betrachtet, welche die Konvergenz hin zu einem klassischen marktbereinigenden Gleichgewicht bremsen. Die Annahme ist, dass die Kombination aus niedriger Inflation, einem sinkenden neutralen Realzins und einer effektiven Untergrenze bei den nominalen Zinssätzen die Wiederherstellung von Vollbeschäftigung möglicherweise ausschließt. Gemäß dieser Sicht ist alles, was man tun kann, um den Realzins zu reduzieren, konstruktiv, und eine säkulare Stagnation ließe sich mit ausreichender Zinsflexibilität überwinden. Da das unmittelbare Problem überhöhte reale Zinssätze seien, sei es nur natürlich, wenn man eine Lösung primär bei den Notenbanken und der Geldpolitik sucht.
Subscribe now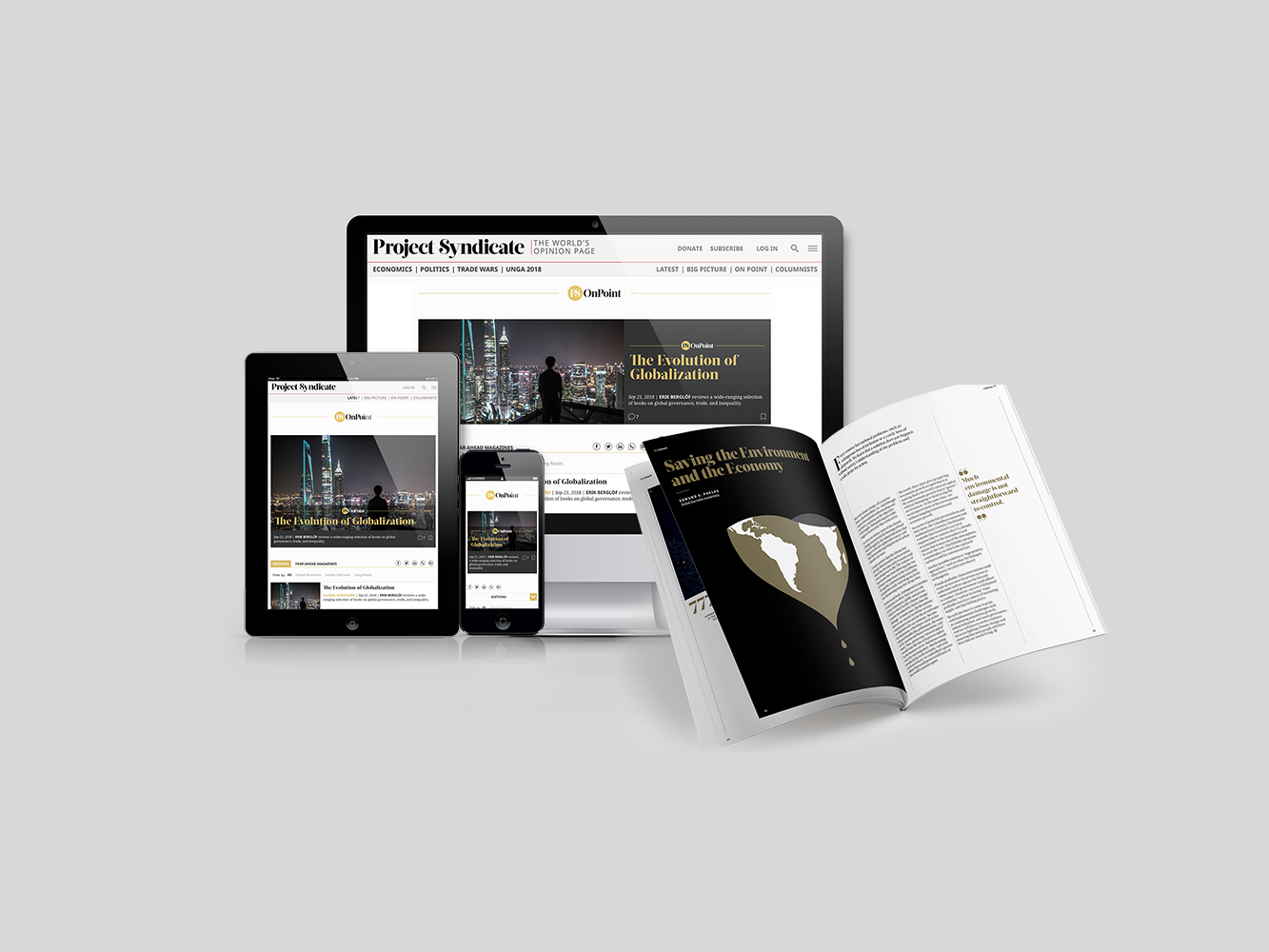 Subscribe now
Subscribe today and get unlimited access to OnPoint, the Big Picture, the PS archive of more than 14,000 commentaries, and our annual magazine, for less than $2 a week.
Wir sind zunehmend skeptisch, dass die Sache so einfach ist. Die nahezu universale Neigung unter Notenbankern war bisher, das Zusammenfallen sehr niedriger realer Zinssätze und einer sich nicht beschleunigenden Inflation als Beleg dafür anzusehen, dass der neutrale Realzins gesunken sei, und herkömmliche geldpolitische Strategien mit einem veränderten neutralen Realzins anzuwenden.
Doch sind auch unheilvollere Erklärungen denkbar. Es gibt überzeugende Gründe für die Annahme, dass sich die Fähigkeit niedrigerer Zinssätze zur Ankurbelung der Wirtschaft abgeschwächt oder gar umgekehrt hat.
Der Anteil zinssensibler langlebiger Konsumgüter am BIP hat abgenommen. Die Bedeutung der Auswirkungen von Einsparungszielen ist angesichts sinkender Zinsen gewachsen, während die negativen Auswirkungen der Zinssenkungen auf die verfügbaren Einkommen angesichts einer gestiegenen Staatsverschuldung gestiegen sind. Im aktuellen Umfeld untergraben die sinkenden Zinsen die Kapitalposition der Finanzmittler und damit ihre Fähigkeit zur Kreditvergabe. Mit zunehmender Globalisierung des Wirtschaftszyklus hat die Bedeutung des Wechselkurskanals für die Geldpolitik abgenommen. Angesichts negativer Realzinsen ist es zweifelhaft, dass die Kapitalkosten eine bedeutende Beschränkung für die Investitionstätigkeit darstellen.
Um mit dem unheilvollsten Fall zu beginnen: Da Zinssenkungen sowohl positive wie negative Auswirkungen auf die Nachfrage haben, könnte es sein, dass es keinen Realzins gibt, der mit einer vollständigen Ressourcenauslastung vereinbar ist. Zinssenkungen über einen bestimmten Punkt hinaus könnten die Nachfrage beschränken, statt sie anzukurbeln. In diesem Fall dürfte die Geldpolitik nicht nur nicht in der Lage sein, Vollbeschäftigung herzustellen, sondern wird auch die Inflation nicht erhöhen. Falls die Nachfrage dauerhaft hinter der Kapazität zurückbleibt, impliziert die Phillips-Kurve, dass die Inflation eher fallen als steigen dürfte.
Selbst wenn Zinssenkungen die Nachfrage an allen Punkten unmittelbar erhöhen, gibt es erheblichen Grund zur Sorgen, falls dieser Effekt schwach ist. Es könnte sein, dass jede kurzfristige Steigerung der Nachfrage durch negative Auswirkungen der niedrigen Zinsen auf die spätere Wirtschaftsentwicklung ausgeglichen wird. Dies könnte aus makro- oder mikroökonomischen Gründen passieren.
Aus makroökonomischer Sicht fördern niedrige Zinsen die Verschuldung und Vermögensblasen, weil sie Kreditkosten und Abzinsungsfaktoren senken und die Anleger bewegen, höhere Renditen anzustreben. Fast jede Schilderung der Finanzkrise von 2008 weist den Folgen der Anfang der 2000er Jahre herrschenden sehr niedrigen Zinsen zumindest eine gewisse Rolle zu. Allgemeiner haben diejenigen, die sich mit Spekulationsblasen befasst haben, beginnend mit dem Wirtschaftshistoriker Charles Kindleberger immer die Rolle einer lockeren Geldpolitik und übertrieben hohen Liquidität betont.
Aus mikroökonomischer Sicht untergraben niedrige Zinsen die Gesundheit der Finanzmittler, indem sie deren Rentabilität verringern. Sie behindern eine effiziente Kapitalallokation, indem sie selbst die schwächsten Unternehmen in die Lage versetzen, ihren Schuldendienstpflichten nachzukommen, und können zudem den Wettbewerb hemmen, indem sie etablierte Unternehmen begünstigen. Es stimmt etwas nicht mit einer Wirtschaft, in der Unternehmen profitabel Kredite aufnehmen und investieren können, selbst wenn das fragliche Projekt keine Rendite abwirft.
Diese Überlegungen legen nahe, dass Zinssenkungen als Reaktion auf eine säkulare Stagnation womöglich nicht bloß unzureichend, sondern tatsächlich kontraproduktiv sind.
Diese Beschreibung der Sicht der säkularen Stagnation steht eng mit der jüngsten Kritik des Ökonomen Thomas Palley an einer "Nullzinswirtschaft" in Beziehung: Negativzinsen sind möglicherweise unwirksam gegen eine keynesianische Arbeitslosigkeit. Allgemeiner hat uns unsere Hinwendung zu einer säkularen Stagnation dazu gebracht, einem Punkt zuzustimmen, den in der postkeynesianischen (oder vielleicht präziser: der ursprünglichen keynesianischen) Tradition stehende Autoren seit langem betonen: Die Rolle bestimmter Reibungskräfte und Rigiditäten als Stütze wirtschaftlicher Fluktuationen sollte im Verhältnis zu einem grundlegenderen Gesamtnachfragemangel weniger stark gewichtet werden.
Falls eine Senkung der Zinsen unzureichend oder kontraproduktiv ist, ist der Einfallsreichtum der Notenbanker bei der Lockerung der Geldpolitik in einem durch eine säkulare Stagnation geprägten Umfeld genau das, was wir nicht brauchen. Was wir brauchen, sind Eingeständnisse der Machtlosigkeit, um die Bemühungen der Regierungen zur Förderung der Nachfrage durch die Fiskalpolitik und andere Mittel anzuregen.
Wir hoffen daher, ohne es zu erwarten, dass die diesjährige Tagung in Jackson Hole statt mehr alter "neuer" keynesianischer Wirtschaftspolitik eine neue "alte" keynesianische Wirtschaftspolitik hervorbringt.
Aus dem Englischen von Jan Doolan
,