Los que atacan a Europa desde adentro
BERLÍN – Finalmente Europa da señales de estar saliendo de su prolongada crisis económica, pero el continente sigue agitado. Por cada motivo de optimismo siempre parece haber una nueva causa de preocupación.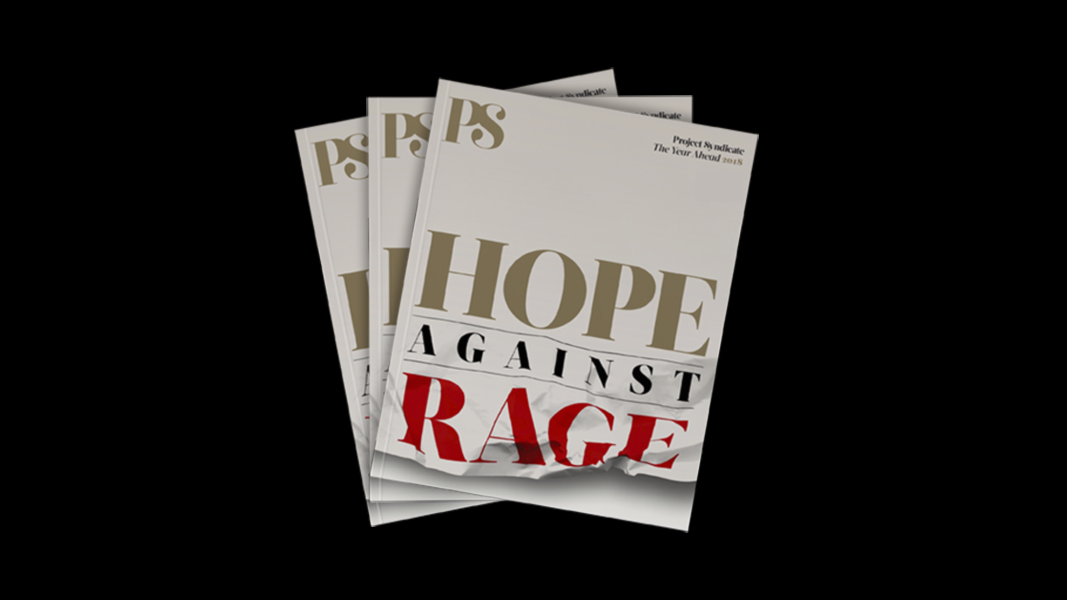 The Year Ahead 2018
The world's leading thinkers and policymakers examine what's come apart in the past year, and anticipate what will define the year ahead.
En junio de 2016 una escasa mayoría de votantes británicos eligió la nostalgia por el siglo diecinueve por sobre lo que les pudiera prometer el siglo veintiuno. Decidieron saltar al precipicio en nombre de su "soberanía" y hay bastantes evidencias sugieren que les espera un aterrizaje forzoso. Los cínicos podrían hacer la observación de que será necesaria una "soberanía" en buenas condiciones para amortiguar el golpe.
En España, el gobierno de la región autónoma de Cataluña ahora pide soberanía también, aunque el actual gobierno nacional no está enjuiciando, encarcelando, torturando ni ejecutando al pueblo catalán, como lo hiciera la dictadura del Generalísimo Francisco Franco. España es una democracia estable y miembro de la Unión Europea, la eurozona y la OTAN. Durante décadas ha mantenido el estado de derecho de acuerdo a una constitución democrática negociada por todas las partes y regiones, incluida Cataluña.
El 1 de octubre el gobierno catalán celebró un referendo de independencia en que participó menos de la mitad (algunas estimaciones señalan que un tercio) de la población de esta región. Según los estándares de la UE y la Organización para la Seguridad y Cooperación en Europa, la votación jamás habría podido aceptarse como "justa y libre". Además de ser ilegal según la constitución española, el referendo ni siquiera contó con un padrón de votantes para determinar quién tenía derecho a votar.
El referendo "alternativo" catalán causó medidas drásticas del gobierno del Primer Ministro español Mariano Rajoy, que intervino para cerrar mesas electorales y evitar que la gente votara. Fue una tontería política mayúscula, porque las imágenes de la policía reprimiendo con porras a manifestantes catalanes desarmados dio una engañosa legitimidad a los secesionistas. Ninguna democracia puede ganar en este tipo de conflicto. Y en el caso de España la represión conjuró imágenes de la guerra civil de 1936-1939, su más profundo trauma histórico hasta la fecha.
Si Cataluña lograra la independencia, tendría que encontrar un camino hacia adelante sin España ni la UE. Con el apoyo de muchos otros estados miembros preocupados por sus propios movimientos secesionistas, España bloquearía cualquier apuesta catalana por ser miembro de la eurozona o la UE. Y sin ser parte del mercado único europeo, Cataluña se enfrentaría a la oscura perspectiva de pasar rápidamente de ser un motor económico a un país pobre y aislado.
Además, la independencia de Cataluña plantearía un problema fundamental para Europa. Para comenzar, nadie quiere repetir una ruptura como la de Yugoslavia, por obvias razones. Pero, más concretamente, la UE no puede permitir la desintegración de sus estados miembros, porque estos componen los cimientos mismos sobre los que está formada.
La UE es una asociación de naciones estado, no regiones. Si bien estas pueden desempeñar un papel importante dentro de ella, no pueden participar como alternativa a los estados miembro. Si Cataluña sentara un precedente de secesión, estimulando a otras regiones a imitarla, la UE entraría en una profunda crisis existencial. De hecho, se puede decir que en el caso de Cataluña hoy en día se juega nada menos que el futuro de la UE.
Más aún, el propósito original de la UE fue superar las deficiencias de las naciones estado mediante la integración, lo opuesto a la secesión. Se diseñó para trascender el sistema de estados que tan desastroso demostró ser en la primera mitad del siglo veinte.
Piénsese en Irlanda del Norte, que ha acabado por ser un ejemplo perfecto de cómo la integración dentro de la UE puede superar las fronteras nacionales, salvar divisiones históricas y asegurar la paz y la estabilidad. Por cierto, lo mismo se puede decir de Cataluña, que después de todo debe la mayor parte de su éxito económico a la entrada de España a la UE en 1986.
Sería absurdo desde el punto de vista histórico entrar en una fase de secesión y desintegración en el siglo veintiuno. El gran tamaño de otros actores globales (como China, India y Estados Unidos) ha hecho urgentes una mayor integración europea y relaciones intracomunitarias más sólidas.
Solo cabe esperar que la razón prevalezca, en particular en Barcelona, pero también en Madrid. Una España democrática e intacta es demasiado importante como para quedar en riesgo por disputas sobre la asignación de ingresos fiscales entre las regiones del país. No existen alternativas a que ambos bandos abandonen las trincheras que se han cavado, salgan a negociar y encuentren una solución mutuamente satisfactoria y que vaya en línea con la constitución, los principios democráticos y el estado de derecho españoles.
Las experiencias de los amigos y aliados de España podrían servir de ayuda. Alemania, a diferencia de España, se organiza como una federación. Pero incluso allí nada es tan engorroso y complicado como las inacabables negociaciones sobre las transferencias fiscales entre el gobierno federal y los estados individuales, es decir, entre las regiones más ricas y las más pobres. En todo caso, siempre se llega a un acuerdo que se mantiene hasta que surge otra disputa y se reinician las negociaciones.
No hay duda de que el dinero es importante, pero no tanto como el compromiso en común de los europeos con la libertad, la democracia y el estado de derecho. La prosperidad de Europa depende de la paz y la estabilidad, y la paz y la estabilidad dependen, primero que todo, de si los europeos están dispuestos a luchar por ellas.
Traducido del inglés por David Meléndez Tormen