La guerra de California con Trump
STANFORD – Si miramos más allá de los titulares de la cobertura de tiempo completo que los medios le dedican a Donald Trump, podemos discernir un cambio global en las fuerzas políticas, económicas y culturales que podría tener muchas más consecuencias para Estados Unidos y el mundo que la propia presidencia de Trump. Uno de los cambios más importantes es el deterioro de las relaciones entre los gobiernos central y subnacional, y nacional y supranacional.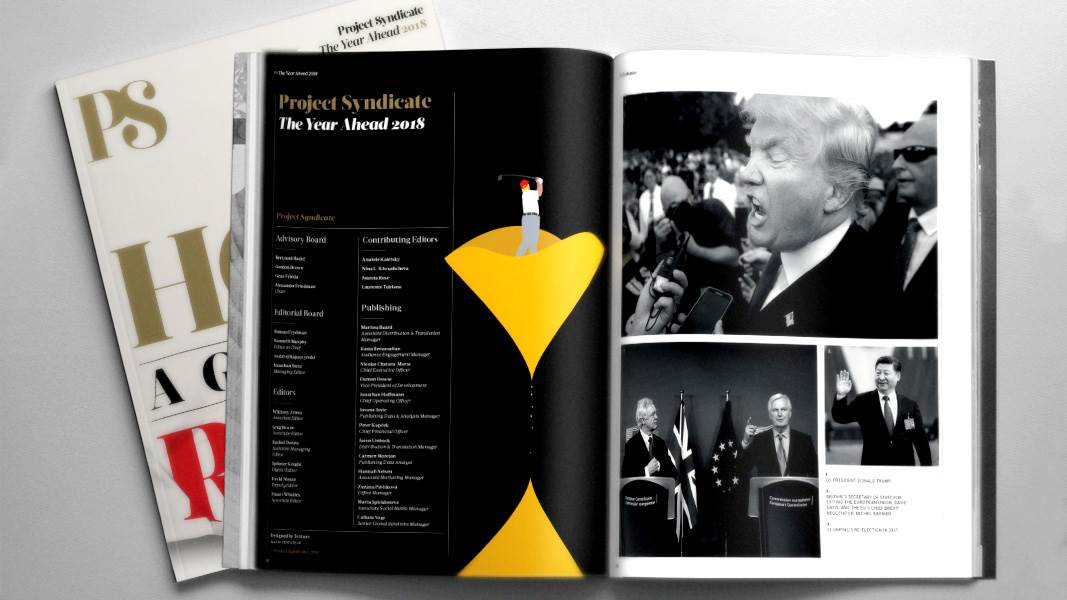 The Year Ahead 2018
The world's leading thinkers and policymakers examine what's come apart in the past year, and anticipate what will define the year ahead.
Los norteamericanos interactúan principalmente con el gobierno a nivel estatal y local, a través de las escuelas y las carreteras, la policía y los hospitales. Y en California, entre otros estados, las demandas de una mayor autonomía local se están volviendo más ruidosas y, ocasionalmente, se hacen eco de la retórica de los secesionistas catalanes o los defensores del Brexit en el Reino Unido. Los demócratas, que tienen un control casi monopólico de los gobiernos estatal y local de California, están intentando invalidar los efectos de prácticamente todas las políticas de Trump.
Por ejemplo, un proyecto de ley en la legislatura estatal compensaría el límite de la nueva ley tributaria federal sobre las deducciones del impuesto a las ganancias y a la propiedad -una cláusula que afectará mucho a California porque tiene una de las tasas de impuestos más altas del país, y sus residentes poseen hogares muy costosos-. Según la ley estatal propuesta, los californianos podrían "donar" sus impuestos estatales a una organización benéfica ficticia como aportes de caridad deducibles de impuestos.
Pero el Servicio de Impuestos Internos rápidamente detectará esta trampa. Las donaciones son deducibles a nivel federal sólo si el donante no recibe más que un valor incidental por el aporte, lo que obviamente no sucedería en esta situación. En rigor de verdad, ni siquiera el valor justo de mercado de una comida en una cena de caridad es deducible.
A partir del año próximo, la nueva ley tributaria federal también revoca el mandato individual de la Ley de Cuidado de Salud Asequible (Obamacare) de 2010, que impone una multa a quienes no compran un seguro de salud. Como la revocación podría acelerar un incremento de las primas de seguro de Obamacare, muchos demócratas de California exigen un sistema de atención médica financiado por el gobierno y de pagador único, como los que existen en Canadá y Europa. No importa si un sistema de ese tipo triplica el presupuesto estatal.
Es más, como California se considera a la vanguardia en materia de energía verde, los organismos estatales han respondido a la propuesta de Trump de abrir la perforación de petróleo offshore con una amenaza de prohibir el transporte de petróleo por el estado, ni siquiera por los oleoductos existentes.
La causa del desacuerdo más polémico es la política de inmigración. Desde que se autonominó "ciudad refugio" en 1989, San Francisco ha prohibido que su fuerza policial coopere plenamente con los agentes de inmigración federales. Pero, desde el año pasado, todo el estado ha sido declarado "refugio", y el procurador general de California, Xavier Becerra, ahora planea multar a los empleadores que cooperen con los agentes de inmigración federales. Las tensiones entre los organismos de seguridad federales y estatales están en aumento y muchos californianos terminan encontrándose en la posición insostenible de pagar multas estatales o violar leyes federales.
En todas estas cuestiones, existen dos argumentos en conflicto que son parcialmente válidos. Consideremos el caso de la inmigración. Si bien la mayoría abrumadora de los inmigrantes ilegales trabajan para mantener a sus familias y mejorar la vida de sus hijos, algunos cometen delitos graves o pertenecen a pandillas violentas. Trump se centra en estos últimos para reclamar una mayor seguridad fronteriza, invocando muchas veces ejemplos de norteamericanos asesinados por inmigrantes ilegales que han regresado después de haber sido deportados en varias oportunidades. Los opositores de Trump sostienen que los propios inmigrantes ilegales muchas veces son víctimas -o testigos- de delitos graves, pero se niegan a ir a la policía porque temen una deportación.
Ambos lados tienen razón; pero, tristemente, han dejado de interactuar. En consecuencia, cuando la Casa Blanca de Trump hace poco propuso un plan para una reforma inmigratoria que ofrecía algo a ambas partes, fue denunciado al instante tanto por los activistas anti-inmigración como por los cruzados pro-inmigración.
Específicamente, el plan otorgaría una condición legal permanente y una puerta a la ciudadanía a 1,8 millones de personas que fueron traídas o enviadas al país de manera ilegal en la niñez. Es más del doble de la cantidad de personas que fueron protegidas por el programa Acción Diferida para los Llegados en la Infancia (DACA por su sigla en inglés) del ex presidente Barack Obama. En contrapartida, Trump quiere otros 25.000 millones de dólares para destinar a seguridad en la frontera con México -incluido su muro prometido- y reformas destinadas a limitar la inmigración legal basada en la familia y favorecer a los trabajadores de mayores calificaciones, que es la norma en la mayoría de los países desarrollados.
Los defensores de línea dura de la anti-inmigración han rechazado el plan de Trump por considerarlo una forma de amnistía. Al mismo tiempo, la líder demócrata en la Cámara de Representantes, Nancy Pelosi, lo describió como un plan para que "Estados Unidos vuelva a ser blanco". Pero aquí reside el problema: el plan de la administración Trump es la propuesta de reforma inmigratoria más realista en décadas. Si los demócratas fueran inteligentes, controlarían su odio y reconocerían que la credibilidad de Trump entre los republicanos anti-inmigración lo coloca en una posición ideal para negociar un paquete bipartidario.
Mientras California continúa con sus esfuerzos por invalidar las políticas de la administración Trump, uno se pregunta si su estrategia no conducirá a un recurso de inconstitucionalidad. Los estados ciertamente tienen la autoridad legal para adoptar políticas que están enfrentadas con la política federal. Por cierto, la Décima Enmienda de la Constitución de Estados Unidos reserva explícitamente para los estados todos los poderes no delegados al gobierno federal. Y los estados pueden demandar al gobierno federal, como lo han hecho procuradores generales y gobernadores republicanos para revocar varias regulaciones y órdenes ejecutivas de la era Obama.
Pero la Corte Suprema de Estados Unidos en varios casos ha dictaminado que los estados no pueden anular o desobedecer una ley federal -un derecho que algunos estados del sur han reclamado a mediados del siglo XX para oponerse a la integración escolar-. Es un principio constitucional que data de mediados del siglo XIX, cuando la Corte Suprema revocó un dictamen de la Corte Suprema de Wisconsin que anulaba la abominable Ley de Esclavos Fugitivos de 1850.
En menos de nueve meses, California tendrá elecciones para gobernador, una banca en el Senado de Estados Unidos y 53 bancas en la Cámara. Por lo tanto, la retórica de la "resistencia" a Trump probablemente se vuelva mucho más acalorada -y las cortes posiblemente se encuentren aún más ocupadas en determinar qué es legal y qué no lo es.