A cidadania empresarial tem de tornar-se um catalisador global
GENEBRA – Quando, no mês passado, 183 directores executivos subscreveram uma declaração, onde afirmam o seu compromisso em ultrapassar o mantra de "accionistas em primeiro lugar", para respeitar os interesses de todas as partes envolvidas, incluindo funcionários, clientes, fornecedores e comunidades – muitas pessoas reagiram com cepticismo. Mas considerar que a declaração da Mesa Redonda Empresarial dos EUA é um mero golpe de relações públicas deixa por reconhecer os complicados obstáculos enfrentados pelas empresas – e a sua comprovada capacidade de adaptação.
Desde o advento da firma moderna que as empresas têm de lutar contra um paradoxo fundamental: a sociedade precisa das grandes organizações para resolver problemas colectivos complexos, mas também receia a centralização da autoridade e da tomada de decisões. Como explicam Robert D. Atkinson e Michael Lind no seu mais recente livro, Big is Beautiful: Debunking the Myth of Small Business, nos Estados Unidos, as grandes empresas ultrapassam as mais pequenas em quase todos os indicadores, dos salários e produtividade às exportações e inovação.
Porém, inquéritos à opinião pública colocam as grandes empresas entre as instituições menos fiáveis (acima apenas dos noticiários televisivos e do Congresso dos EUA), estando as pequenas empresas entre as mais fiáveis (abaixo apenas das forças armadas). Ao longo dos anos, este paradoxo de confiança tem moldado várias mudanças dramáticas na governação das sociedades.
A primeira transição ocorreu no século XIX, quando a Revolução Industrial transferiu a produção das pequenas empresas particulares para empresas modernas com várias unidades, e permitiu a ascensão de uma classe de gestores profissionais. O grande movimento das fusões do fim do século XIX, quando milhares de pequenas empresas foram substituídas por algumas dúzias de conglomerados, acelerou este rearranjo do panorama corporativo.
Os novos gigantes corporativos fizeram avançar as sociedades, mas também criaram novos desequilíbrios – e quase imediatamente encontraram resistência. "Se não aceitamos um rei como força política", declarou em 1890 John Sherman, senador dos EUA, "também não devemos aceitar um rei sobre a produção, transporte e venda do que for necessário à vida". Com estas palavras, nasceu a Lei anti-trust Sherman.
Segundo um estudo publicado em 1935 pelo economista Shaw Livermore, mais de metade dos conglomerados constituídos nos EUA entre 1888 e 1905 desaparecera ou ficara para trás na década de 1930. Embora a evolução tecnológica possa ter provocado mais danos dos que as políticas anti-trust, as empresas aprenderam a sua lição: se desperdiçarem a sua licença social para exercer actividade, o seu tamanho será um risco.
Subscribe now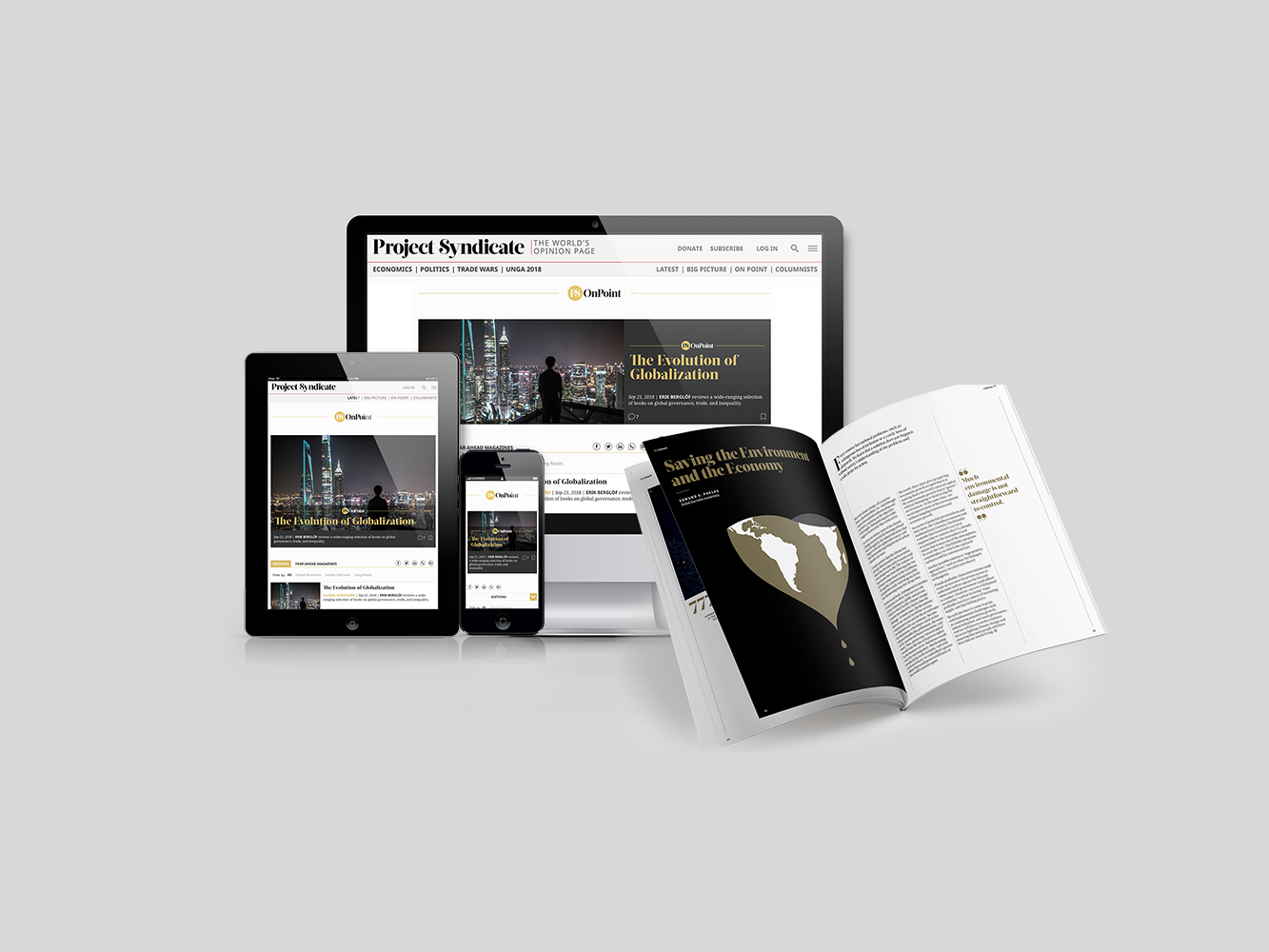 Subscribe now
Subscribe today and get unlimited access to OnPoint, the Big Picture, the PS archive of more than 14,000 commentaries, and our annual magazine, for less than $2 a week.
Esta conclusão sustentou uma nova transição da governação: a institucionalização da filantropia empresarial. Apesar de terem existido empresários individuais entre os maiores doadores da América desde o século XVII, no século XX a filantropia tornou-se uma parte essencial da actividade comercial nos EUA. Isto ajudou a manter um cessar-fogo implícito, com o governo mais inclinado a permitir que as empresas funcionassem com o mínimo de interferências.
Se o início do século XX foi moldado pela empresa moderna com várias unidades, a última metade do século centrou-se completamente na multinacional. A transição iniciou-se depois da I Guerra Mundial e retomou ímpeto depois do fim da Guerra Fria, quando a integração de mercados e a enorme expansão da burocracia corporativa permitiram que as empresas aproveitassem economias de escala globais.
O paradoxo da confiança ergueu-se novamente. Ainda que o gigante do software Microsoft tenha evitado o destino do maior operador de telecomunicações da América, a AT&T, que foi desagregada na década de 1980, foi forçado a eliminar entraves ao software de terceiros – uma decisão que mais tarde ajudaria o crescimento de empresas como a Google.
Embora as campanhas anti-trust da década de 1990 não fossem comparáveis em escala e âmbito às do início do século XX, as empresas sentiram-se pressionadas a reconsiderar o seu papel na sociedade. Em 1973, na reunião anual do Fórum Económico Mundial em Davos, o fundador do FEM, Klaus Schwab, afirmou que "o objectivo da gestão profissional" consiste em servir todas as partes interessadas e em harmonizar os seus interesses distintos.
O chamado Manifesto de Davos anunciou ainda uma outra transição, da "filantropia empresarial" para a "cidadania empresarial" – a noção de que uma empresa, tal como qualquer cidadão, tem de alinhar os seus interesses próprios com interesses comuns à sociedade. Mas apesar de os participantes na reunião desse ano do FEM terem apoiado unanimemente o manifesto, a cidadania empresarial continuou a ser uma ideia radical – uma ideia que só agora se está a generalizar, quase meio século depois.
O catalisador é a Quarta Revolução Industrial, caracterizada pela expansão das empresas no domínio dos dados e dos algoritmos. De certa forma, as empresas mais pequenas poderão liderar esta nova fase de actividade empresarial. Como referiu este ano Jack Ma, o fundador do gigante tecnológico chinês Alibaba, aos participantes em Davos, "nos últimos 20 anos, a globalização foi controlada por 60 000 empresas em todo o mundo. Imaginem se pudéssemos expandir esse número para 60 milhões de empresas".
Mas isto não seria um retorno ao passado, com as pequenas e médias empresas a conduzir a economia. Na verdade, Ma estava a promover uma plataforma construída por ele, e que permite que PME desenvolvam actividades globalizadas.
Aqui reside a diferença fundamental entre os mercados modernos e os mercados idealizados por Adam Smith em 1776: para serem competitivas, as PME precisam hoje de ser capazes de armazenar, processar e analisar quantidades enormes de dados – funcionalidades que são fornecidas por gigantes como a Alibaba, a Amazon, a Facebook e a Google.
De forma análoga, embora a ascensão da economia assente em trabalho temporário (NdT: "gig economy", no original) signifique que mais pessoas estão a funcionar como empresas unipessoais, estes trabalhadores dependem de plataformas multinacionais para conseguirem os referidos trabalhos temporários. É esta tensão entre a grandeza sem precedentes – a Apple e a Amazon tornaram-se recentemente as primeiras empresas privadas com um balanço superior ao bilião de dólares – e a pequenez pré-industrial que reside actualmente no cerne do paradoxo da confiança.
Consequentemente, as grandes empresas são mais do que partes interessadas; com frequência, gerem as plataformas onde todas as partes interessadas se intersectam. Para evitar uma nova reacção pública negativa, têm de fazer com que estas plataformas nos sirvam, não apenas como consumidores, mas também como empreendedores, trabalhadores e cidadãos. Numa época de desafios globais sem precedentes – que incluem as alterações climáticas e elevados níveis de desigualdade – isto tem de incluir a utilização do poder sem precedentes da liderança das plataformas para catalisar soluções à escala global.
No início deste ano, a produtora de carne artificial Beyond Meat comemorou uma arrebatadora entrada no mercado bolsista. Em vez de se concentrar em satisfazer a procura crescente por carne através do aumento do investimento agro-industrial, como fizeram as empresas no passado, esta produtora – e empresas semelhantes, como a Impossible Foods – trabalha no sentido de ajudar a reduzir o consumo global de carne, um factor importante das alterações climáticas.
Isto está a impulsionar a última transição da governação corporativa, concentrada não só numa expansão mais sensata, mas também em aplicar sensatez sobre o que deve ser expandido. Os líderes empresariais sabem o que acontece quando a maré da opinião pública deixa de lhes ser favorável. Embora os críticos tenham razão em exigir que convertam as suas promessas em acções, existem muitos motivos para acreditar que o farão.