Как можно поменять мнение Британии о Брексите
ЛОНДОН – Станет ли 2018-й тем годом, когда Великобритания поменяет своё мнение по поводу выхода из ЕС? Принято считать, что остановить Брексит невозможно. А что было принято считать по поводу Дональда Трампа? Или Эммануэля Макрона? Или даже по поводу самого референдума о Брексите? В революционные времена события превращаются из невозможных в неизбежные, даже минуя стадию маловероятных. Брексит стал таким событием, а его отмена может стать ещё одним.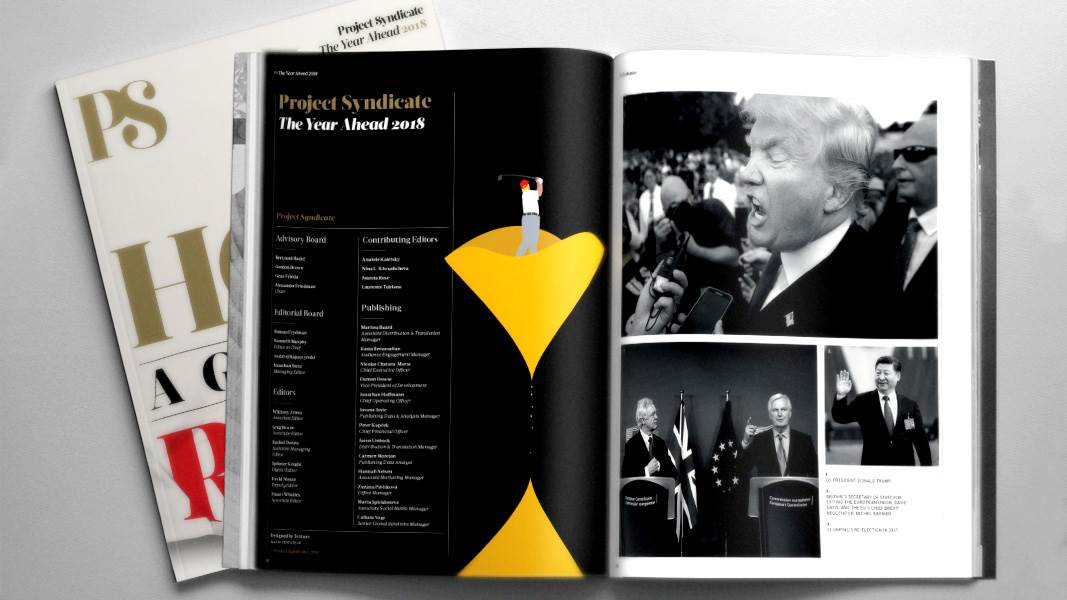 The Year Ahead 2018
The world's leading thinkers and policymakers examine what's come apart in the past year, and anticipate what will define the year ahead.
Спросите об этом бывшего лидера Партии независимости Великобритании Найджела Фаража, который внезапно заявил, что результаты проведённого в июне 2016 года референдума о Брексите могут быть отменены. «Сторонники членства в ЕС готовы на всё, – предупредил в минувшие выходные Фараж своих товарищей, выступающих за жёсткий выход из ЕС. – У них большинство в парламенте, и если мы не самоорганизуемся, мы можем потерять свою историческую победу, которой является Брексит».
Голосование за Брексит и Трампа сегодня часто называют неотвратимым результатом глубоких социально-экономических факторов – роста неравенства и глобализации. В чём-то это мнение верно. Политические потрясения такого рода ожидались после экономического кризиса 2008 года, и я говорил об этом много лет.
Но те конкретные потрясения, которые произошли, совершенно не были неизбежными. Брексит, как и Трамп, оказался случайным продуктом незначительных пертурбаций в поведении избирателей. Если бы всего лишь 1,8% британцев проголосовали иначе, Брексит сейчас был бы забытым смешным словечком. И если бы полученное Хиллари Клинтон преимущество в три миллиона голосов слегка иначе распределялось между штатами, тогда фраза «президент Трамп» сегодня была бы столь же смехотворной, как и в январе 2016-го.
Для прекращения Брексита уже в этом году нужны четыре сравнительно умеренных сдвига в поведении. Общественное мнение должно слегка сильнее развернуться против Брексита; уже сейчас большинство опрошенных – с перевесом в 4 процентных пункта – ретроспективно оценивают его как ошибку. Политики, которые частным образом осуждают Брексит, должны начать высказываться публично. Разумная оппозиция политике правительства должна снова быть признана признаком демократии, а не актом предательства. И, наконец, надо избавиться от ощущения, будто Брексит неизбежен.
Эти требования взаимозависимы. Политики начнут активней высказываться только в том случае, если они почувствуют сдвиги в общественном мнении; однако общественное мнение измениться только в том случае, если появятся вызывающие доверие политические лидеры. Но политики вынуждены помалкивать, когда любая оппозиция объявляется антидемократической. И к тому же, если Брексит выглядит неизбежным, зачем избирателям снова о нём задумываться?
Как показывают опросы общественного мнения и данные фокус-групп, ощущение неизбежности является самой важной помехой для разворота курса. Примерно 30% британских избирателей настроены против ЕС настолько рьяно, что они всегда будут поддерживать выход из ЕС, независимо от его экономической цены. Точно так же «электоральная база» Трампа всегда будет поддерживать «своего» президента, независимо от того, как он себя ведёт.
Но эти непримиримые евроскептики никогда бы не получили большинства без тех примерно 20% избирателей, которых мало заботит Европа, но для которых голосование на референдуме стало протестным. Многие из этих избирателей без особых убеждений сейчас встревожены тем, что Брексит стал отвлекать внимание от их реальных проблем, связанных со здравоохранением, неравенством, низкими зарплатами, жильём и так далее. Именно по этой причине они хотят, чтобы неизбежный выход из Европы произошёл как можно скорее, а страна смогла вернуться «к нормальной жизни».
А теперь предположим, что эти избиратели поверят в то, что Брексит не является неизбежным, и более того, он вообще может не произойти. В этом случае они потребуют, чтобы политики «перестали болтать про Европу» и занялись решением реальных проблем народа.
Ощущение неизбежности может исчезнуть благодаря последним изменениям во внутриполитической ситуации как в консервативном правительстве, так и в лейбористской оппозиции.
Лейбористы начали осознавать, что их единственно возможный вариант возврата к власти – это оппозиция Брекситу. Детальный анализ результатов выборов 2017 года показывает, что неожиданные успехи лейбористов объясняются почти исключительно притоком молодых избирателей, которые были мотивированы надеждой остановить Брексит. Если бы не эти избиратели, настроенные против Брексита, тогда премьер-министр Тереза Мэй выиграла бы эти выборы, как и ожидали многие, с большим перевесом.
Если лидер лейбористов Джереми Корбин станет сейчас «служанкой Брексита», как ярко выразился Тони Блэр, и будет уклоняться от эффективной оппозиции, тогда эти новые избиратели почувствуют себя преданными, а партия расколется на марксистов и центристов; её надежды когда-либо победить на всеобщих выборах будут похоронены. Если же, с другой стороны, лейбористы решат бороться с Брекситом, тогда общественное мнение быстро изменится.
В этом случае к оппозиции Брекситу начали бы относиться как к естественному проявлению демократической политики. Лейбористы получали бы выгоду от промахов правительства на переговорах. А ощущение, будто Брексит неизбежен, испарилось бы.
Всё это, в свою очередь, придало бы смелости проевропейски настроенным членам Консервативной партии. Депутаты-тори вряд ли будут голосовать против своего партийного руководства в условиях, когда отсутствие лейбористской оппозиции позволяет правительству в любом случае выигрывать в парламенте. Однако если энергичная оппозиция со стороны лейбористов создаст реальную возможность остановить Брексит, тогда депутаты-тори, которые ставят национальные интересы выше партийной лояльности, окажутся в ситуации, когда их будут хвалить за твёрдость характера, а не высмеивать за безрассудство. Они могут даже рассчитывать, что их карьера пойдёт в гору, если их партия примириться с Европой.
Именно этой последовательности событий сейчас, похоже, дан старт. В декабре Мэй проиграла свой первый важный бой за Брексит: депутаты-лейбористы объединились с 12 диссидентами из партии тори для принятия поправки, требующей специального законодательного одобрения парламентом любого соглашения, о котором будет достигнута договорённость с ЕС. Это означает, что любой план Брексита, который вызовет серьёзную оппозицию либо со стороны ястребов-националистов, либо проевропейских тори, может быть использован как повод для проведения нового референдума. Вслед за этим прорывом, уже в этом месяце будет начата первая серьёзная межпартийная кампания, которая прямо нацелена на прекращение Брексита, а не просто на смягчение его вреда за счёт «более мягкого» соглашения о разводе с ЕС.
Для успеха эта кампания должна будет убедить разочарованных сторонников выхода в том, что Брексит не является неизбежным. Она должна будет показать избирателям, голосовавшим из чувства протеста, что какими бы ни были их проблемы, Брексит не сможет их решить. Она должна будет убедить политиков-лейбористов в том, что коллаборационизм с Брекситом – это электоральный суицид, а также убедить сторонников ЕС в партии тори, что их бунт будет не бесплодным. Наконец, потребуется, чтобы европейские лидеры безоговорочно заявили, что у Британии есть законное право передумать по вопросу о выходе из ЕС. Все эти требования трудны, но они выполнимы.
Дэвид Дэвис, сторонник Брексита в партии тори, который сейчас руководит британскими переговорами с ЕС, однажды заявил: «если демократическая страна не способна поменять своё мнение, она перестаёт быть демократической». Британия всё ещё демократия, и она всё ещё может изменить своё мнение о Брексите.