Las duras verdades del Brexit
DUBLÍN – El plazo del 29 de marzo de 2019 para que el Reino Unido abandone la Unión Europea está cada vez más cerca, pero todavía no está nada claro cómo será en realidad la partida. Pronto será inevitable tomar decisiones. Es decir, tras dos años y medio de ir a la deriva y criticarse mutuamente, ya es hora de que todas las partes del debate sobre el Brexit en el RU empiecen a hablar con honestidad.
Aunque la primera ministra Theresa May llegó a un acuerdo con la UE, las chances de que obtenga aprobación parlamentaria antes del 14 de enero (el plazo que fijó May) se ven cada vez más exiguas, incluso con el mes adicional que se dio May para tratar de mejorarlas. Parece más bien que el RU se encamina a una elección entre dos extremos, que probablemente impliquen (los dos) otro referendo.
La primera alternativa (preferida por cada vez más parlamentarios del gobernante Partido Conservador, pero todavía no –oficialmente– por la oposición laborista) es celebrar un segundo referendo sobre el Brexit. La idea es que tras presenciar el zafarrancho político que se armó después de la estrecha victoria (51,9% a 48,1%) de los partidarios de abandonar la UE en el referendo de junio de 2016, ahora puede ser que los votantes del RU decidan que después de todo no quieren concretar el Brexit. Pero sea como sea, la idea más amplia es que si el Parlamento no puede llegar a una decisión, hay que preguntarle otra vez al pueblo.
La segunda alternativa, aún más extrema (y preferida por algunos fundamentalistas del Partido Conservador, entre ellos el ex secretario de asuntos exteriores Boris Johnson), es ir a un Brexit "sin acuerdo", en el que el RU abandone la UE con mínimas disposiciones legales para el manejo de las relaciones futuras. Los que prefieren esta opción sostienen que le daría al RU margen para adoptar la clase de agenda libremercadista y desregulatoria que propugnan, y para negociar nuevos acuerdos comerciales con países como Estados Unidos, Japón y China.
Todavía puede surgir alguna clase de prórroga que dé al RU (o mejor dicho, a los políticos británicos) más margen para tomar una decisión. Pero independientemente de que se detenga o no el reloj (como es tradición en la UE), parece probable que en definitiva se optará por uno de estos extremos.
A aquellos que defendemos el llamado a otro referendo, con la esperanza de revertir el Brexit, la honestidad nos exige reconocer que (lo mismo que la primera vez) nada asegura una victoria de la opción por quedarse en la UE. Encuestas de opinión recientes sugieren que si se les pide elegir entre quedarse en la UE o salir con la clase de acuerdo a medias que negoció May, una clara mayoría de los votantes preferiría quedarse.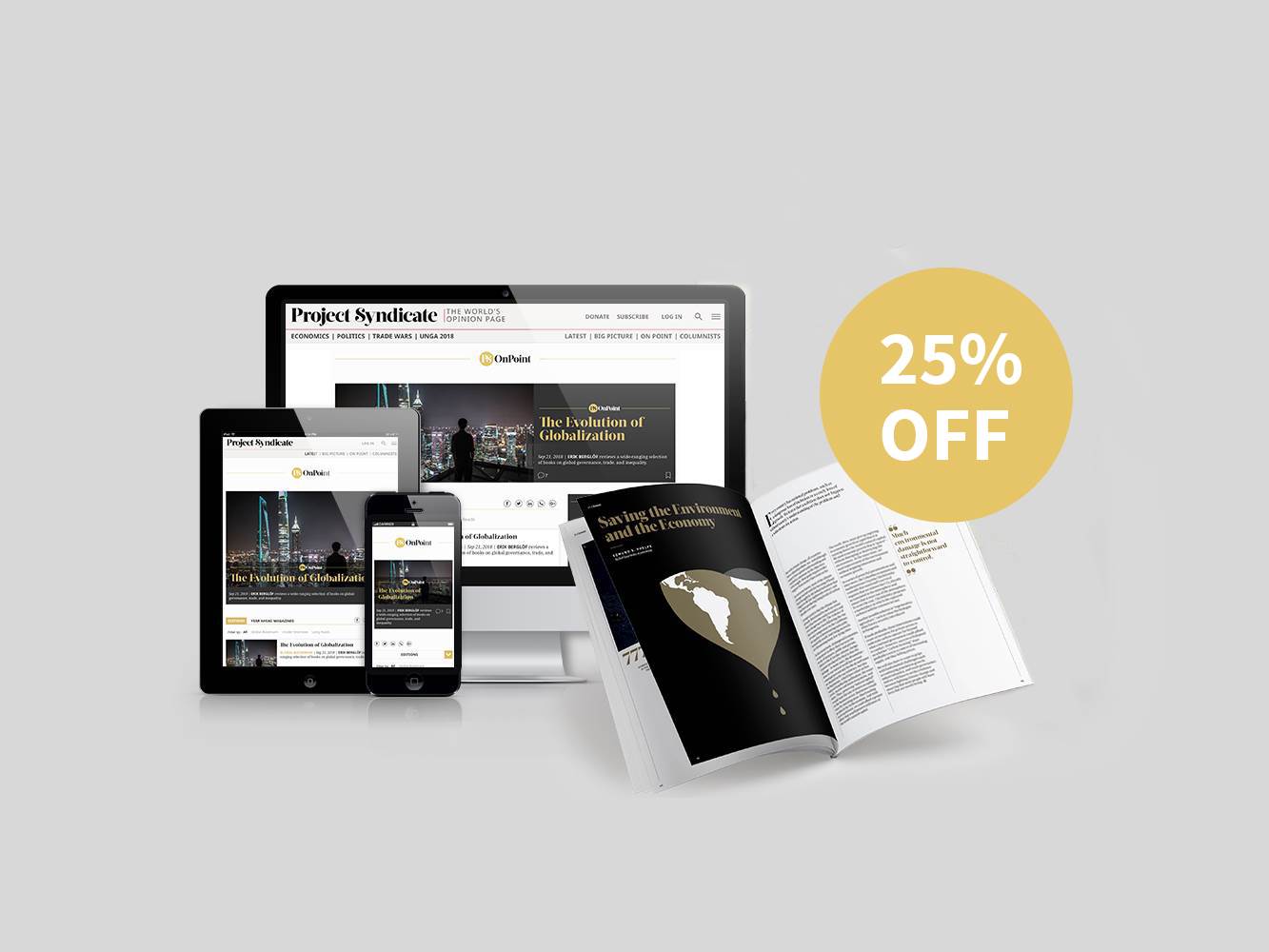 Subscribe now
For a limited time only, get unlimited access to On Point, The Big Picture, and the PS Archive, plus our annual magazine, for just $75.
Pero esas encuestas son reflejo de la caótica situación política actual, en la que el campo pro‑Brexit está profundamente dividido. Eso puede cambiar, sobre todo si se produce el rechazo definitivo del acuerdo de May y los partidarios del Brexit consiguen unirse en pos de un plan alternativo.
La necesidad de honestidad es todavía más fuerte en el lado pro‑Brexit, y también implica la posibilidad de perder un referendo. Los intransigentes del Brexit tendrán que admitir que las opciones que prefieren pueden llevar a la ruptura del RU, con la decisión de Irlanda del Norte en un referendo de unirse a la República de Irlanda.
La principal objeción de los pro‑Brexit al acuerdo de May es que incluye una garantía (el llamado "plan de contingencia") de que el RU hará básicamente todo lo necesario para evitar la reintroducción de controles efectivos en los 500 kilómetros de frontera que separan a Irlanda del Norte de la República de Irlanda. Para que esto funcione en la práctica, el RU post‑Brexit tendría que mantener una estrecha sintonía reglamentaria con la UE en relación con productos agrícolas y bienes, por no hablar de los aranceles. Pero para los intransigentes del Brexit, el verdadero objetivo de abandonar la UE es restaurar la autoridad del RU para fijar reglas propias.
Desde el referendo de 2016, el debate en relación con la frontera irlandesa se disuadió, demoró y distorsionó mediante una serie de fantasías, por ejemplo hablar de alguna solución tecnológica que permita una frontera relativamente abierta, o que la UE y el RU actúen de algún modo como agente de aduana de la otra parte. Pero minimizar los controles de frontera no es suficiente. En 1998 y tras más de 3000 muertes, Irlanda del Norte logró salir de tres décadas de guerra civil. La continuidad de una paz que todavía es frágil exige que no haya frontera alguna. Es una prueba difícil, que ninguna de las soluciones propuestas superó.
Si los intransigentes del Brexit no están dispuestos a hacer lo necesario para mantener una frontera abierta con la UE en Irlanda, tienen que admitir las probables consecuencias. Irlanda del Norte querrá un referendo para decidir si se queda dentro del RU o se unifica con la República de Irlanda, que es miembro de la UE.
Eso sería posible conforme al Acuerdo de Belfast de 1998, que puso fin a la guerra civil e incluyó la promesa del RU, Irlanda y la UE de mantener uniformidad normativa en toda Irlanda. De hecho, el acuerdo deja abierta la posibilidad de una reunificación de la isla, si sendas mayorías en Irlanda del Norte y en la República de Irlanda deciden eso en un referendo.
En 2016, Irlanda del Norte votó a favor de permanecer en la UE, por una clara diferencia de 56% a 44%. El gobierno conservador minoritario se sostiene gracias al apoyo de los diez parlamentarios que representan al Partido Unionista Democrático (pro‑Brexit) de Irlanda del Norte, pero es probable que hoy haya una mayoría incluso mayor de votantes norirlandeses dispuestos a quedarse en la UE.
De modo que los pro‑Brexit honestos deberían admitir que dejar la UE según sus condiciones puede llevar a la disolución del RU. Si Irlanda se reunifica, otro referendo independentista en Escocia sería prácticamente irresistible (aunque no hay modo de saber cuál sería su resultado).
El pasado junio, cuando le preguntaron por los temores de la dirigencia empresarial en relación con el Brexit, Johnson declaró con total descaro que lo tenían sin cuidado: "Fuck business", dijo. Si fuera honesto, incluiría en su grosera despreocupación a Irlanda del Norte y Escocia. Entonces al menos quedaría clara la verdadera posición del campo pro‑Brexit.
Traducción: Esteban Flamini