Los puentes de Londres a ninguna parte
LONDRES – La semana pasada, el Secretario británico de Asuntos Exteriores, Boris Johnson, resucitó la vieja propuesta de construir un puente de 35 km (22 millas) a través del Canal de la Mancha. A nadie se le escapó la ironía de que llamara a construir un puente de fantasía al tiempo que destruye la Unión Europea, el único puente verdadero que une a su patria isleña con el continente.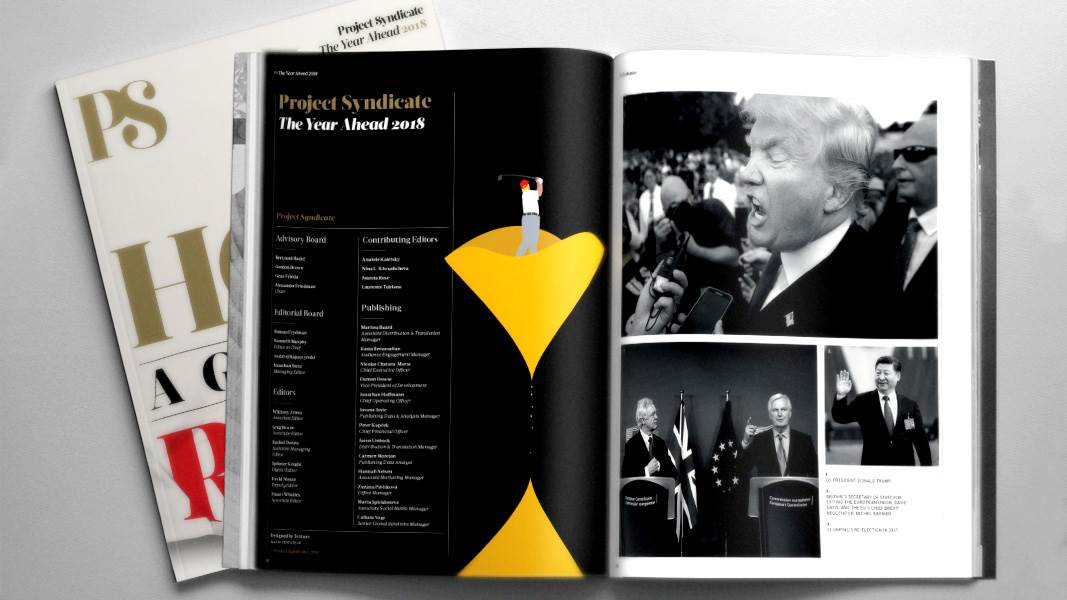 The Year Ahead 2018
The world's leading thinkers and policymakers examine what's come apart in the past year, and anticipate what will define the year ahead.
La propuesta del puente de Johnson muestra una vez más que todo el proyecto de los partidarios del Brexit se basa en una suspensión permanente de la incredulidad. En diciembre, la Comisión Europea le hizo el juego a la Primer Ministro Theresa May, fingiendo que es posible alcanzar tres objetivos mutuamente contradictorios acerca de la salida del Reino Unido de la UE.
El primer objetivo del Reino Unido es mantener una frontera suave y un comercio sin fricciones con la República de Irlanda, que seguirá perteneciendo a la UE, sujeto a las reglas de la unión aduanera y el mercado único europeo. El segundo es establecer regímenes regulatorios idénticos en todo el Reino Unido, lo que incluye a Irlanda del Norte. Y el tercero es "recuperar el control", saliendo del mercado único, la unión aduanera y la jurisdicción del Tribunal Europeo de Justicia.
Alcanzar dos objetivos cualesquiera parece razonablemente posible, pero nadie tiene idea de cómo lograr los tres. No obstante, los negociadores de la UE y el RU hoy están procediendo a entrar a la fase dos del proceso del Brexit, elevando la clara posibilidad de seguir enfangados sin jamás resolver el trilema de la fase uno. De hecho, los expertos de la Comisión Europea ya están prediciendo que la próxima ronda de negociaciones llevará a tres acuerdos con el Reino Unido antes de octubre de 2018.
El primero sentaría los términos del divorcio. A pesar de la incertidumbre acerca de Irlanda del Norte, los negociadores han comenzado a converger en otros temas clave, como el importe que el RU debe pagar para salir y los futuros derechos de los ciudadanos de la UE en Gran Bretaña, así como de los británicos en la UE.
Un segundo acuerdo establecería una "transición silenciosa", en la que el Reino Unido conservaría los beneficios de un miembro de la UE, pero también las obligaciones, como contribuir al presupuesto de la UE, permitir la libre circulación de personas y adherir a las sentencias del tribunal europeo. La gran diferencia es que el RU perdería su voz en la mesa. Para los británicos partidarios de quedarse en la UE ("Remain"), una transición así permitiría que el Reino Unido permaneciera en la UE en todo menos el nombre. Y para algunos del bando que prefiere salirse de la UE ("Leave"), es una manera de hacerlo sin caer por el precipicio.
El tercer acuerdo de la fase dos girará en torno a una ruta para las elecciones entre el Reino Unido y la Unión Europea después de 2021. No será un acuerdo de libre comercio, sino más bien una declaración política sobre dónde esperan terminar ambos lados. Lo más probable es que el trato resultante avizore un acuerdo de libre comercio que tome como modelo el Acuerdo integral de Economía y Comercio (CETA, por sus siglas en inglés) entre Canadá y EE.UU., junto con acuerdos sobre política exterior, seguridad, terrorismo y orden público.
Sin embargo, esto plantea la misma inquietud que en la fase uno. Si nunca se obliga al gobierno británico a que explique en detalle su plan de largo plazo, seguirá pateando el asunto hacia adelante. El problema es que una vez comience la transición silenciosa, será imposible evitar un ajuste de cuentas entre las diferentes tribus de partidarios de ambas posiciones en el Parlamento Británico. E incluso con un plan de largo plazo que pudiera ser aprobado por los parlamentarios británicos, es fantasioso creer que también sería aceptable para los parlamentarios y votantes del otro lado del canal.
En tiempos en que el sentimiento antiglobalización es muy intenso, es improbable que los restantes estados miembros de la UE firmen cualquier acuerdo comercial que pueda socavar su propio bienestar social y fiscal. Después de todo, mientras todos los acuerdos comerciales anteriores de la UE se diseñaron para lograr una convergencia entre la UE y un tercero, un acuerdo entre la UE y el Reino Unido apuntaría a prevenir divergencias. Michel Barnier, negociador jefe de la UE para el Brexit, ha sido elocuente al respecto. La gran pregunta no es si el Reino Unido saldrá de la UE, señala, sino si "todavía adherirá al modelo europeo" de regulación.
Para los políticos y activistas de Europa fue suficientemente fácil oponerse a la Asociación Transatlántica para el Comercio y la Inversión (TTIP, por sus siglas en inglés), un monumental acuerdo orientado a defender los estándares de comercio occidentales en un mundo cada vez más multipolar. Pero piénsese en cuánto más fácil será hacer campaña contra un acuerdo con el RU, dado que figuras claves a ambos lados del espectro político británico suponen una amenaza al modelo europeo. Por la izquierda, Jeremy Corbyn, líder del Partido Laborista parece acoger con entusiasmo un regreso a los subsidios y ayuda estatal al estilo de los años 70. Y cruzando el pasillo, los Conservadores de extrema derecha sueñan abiertamente con crear un "Singapur en el Támesis" con bajos impuestos y escasas regulaciones.
Desafortunadamente, dado el actual calendario del Brexit, no lograr un acuerdo de largo plazo bien podría ocurrir después de que el Reino Unido alcance el punto de no retorno. El RU, tras abandonar formalmente la UE y renunciar a toda voz en sus decisiones, seguiría estando sujeto a las leyes de la UE. Su opción, entonces, sería entre la calamidad económica de un Brexit sin acuerdo o la calamidad política de una inacabable transición que lo deje sin voz en las decisiones de la UE. En cualquiera de los casos, difícilmente habrá recuperado el control.
Eso nos lleva de regreso al puente hacia ningún lado de Johnson, que es la metáfora perfecta para el movimiento del Brexit. En vez de tentarse con la falsa promesa de proyectos de construcción de fantasía, los parlamentarios británicos harían bien en obligar a que se tome una decisión real sobre la relación post-Brexit del Reino Unido con la UE, antes de que sea demasiado tarde.
Traducido del inglés por David Meléndez Tormen