Der Brexit-Segen für Europa und die USA
STANFORD – Die meisten Europäer sind glücklich darüber, dass Joe Biden der nächste Präsident der Vereinigten Staaten wird. Ob sie erkennen, dass Bidens Wirtschaftspolitik dem Euro und Europa Probleme bringen wird, ist eine andere Sache. Jedenfalls wird die neue US-Regierung versuchen, den Euro gegenüber dem Dollar stark zu halten, um die amerikanische Wirtschaft zu stützen.
Zweifellos wird das Weiße Haus unter Biden die US-Notenbank Federal Reserve unter Druck setzen, den Wert des Dollar niedrig zu halten, um die Ausgaben gegen die Folgen der Pandemie, für die Umwelt und für die Infrastruktur erhöhen zu können – unabhängig davon, wie viel zusätzliche Haushaltsstimuli sie dem Kongress entlocken kann. Und da der Fed-Vorsitzende Jay Powell bereits Donald Trump so viele Gefallen getan hat, wird er Biden dies ebenfalls nicht abschlagen können. So gesehen war es genial von Biden, Janet Yellen zur Finanzministerin zu ernennen. Als Powells Vorgängerin bei der Fed hat sie dort immer noch erheblichen Einfluss. So wettet die Wall Street aus gutem Grund für die nächsten ein oder zwei Jahre massiv gegen den Dollar.
Diese erwartete Wirtschaftspolitik Bidens wird dramatische Folgen für die europäische Wirtschaft haben, die immer noch stark von Exporten abhängig ist. 2019 fielen 46,9% des deutschen, 31,8% des französischen und 31,5% des italienischen BIP auf den Export. Also können es sich die Europäer nicht leisten, untätig zu bleiben, bis der Euro so stark ist, dass er ihre Exporte abwürgt.
Die beste Lösung wäre, dass Deutschland seinen Haushalt durch Stimulusmaßnahmen vergrößert, da auf diese Weise ein großer Teil des EU-Handels "internalisiert" und die Aufwertung des Euro gegenüber anderen Währungen irrelevant gemacht werden könnte. Statt in die USA könnten die Italiener dann mehr nach Deutschland und andere nördliche Länder der Eurozone exportieren, da deren zusätzliche Haushaltsmittel mehr Käufe aus dem Süden ermöglichen würden. Die Europäer haben einen enormen Binnenmarkt, und es wird Zeit, ihn zu nutzen – und wenn auch nur dazu, sich gegen einen immer höheren Eurokurs zu wehren, der andernfalls die Europäische Union spalten könnte.
Wie 2014, als die USA den Europäern quantitative Lockerungen aufzwangen, um die europäische Wirtschaft vor einem überbewerteten Euro zu retten, werden Bidens Maßnahmen Deutschland wohl auch diesmal zu einer expansiven Haushaltspolitik zwingen. Der entscheidende Faktor dabei wird diesmal der Brexit sein: Hätte das Vereinigte Königreich die EU nicht verlassen, wären deutsche Haushaltsstimuli und ein neues Modell internalisierten EU-Handels unmöglich.
Wie Karl Kaiser, ein ehemaliger Direktor des deutschen Rats für auswärtige Beziehungen, Roger Cohen von der New York Timesmitteilte: "Durch den Brexit wurde Angela Merkel bereit, Positionen aufzugeben, die bisher heilig waren." Merkel fürchtete, wenn Deutschland seine Finanzpolitik nicht ändert, könnten noch weitere Länder die EU verlassen. Auch der neue 750 Milliarden Euro schwere EU-Wiederaufbaufonds, vielleicht Merkels größte Errungenschaft, wäre nicht möglich gewesen, wenn die Briten in der Gemeinschaft geblieben wären. Wie Cohen erklärt: "Die Europäische Union kann nun wie ein einziger Staat Kredite aufnehmen – was ein Fortschritt in Richtung Souveränität ist und die Möglichkeit bietet, den 918 Milliarden Dollar schweren Wiederaufbaufonds gegen die Pandemie zu finanzieren, der von einem EU-Mitglied Großbritannien wahrscheinlich blockiert worden wäre."
Subscribe to Project Syndicate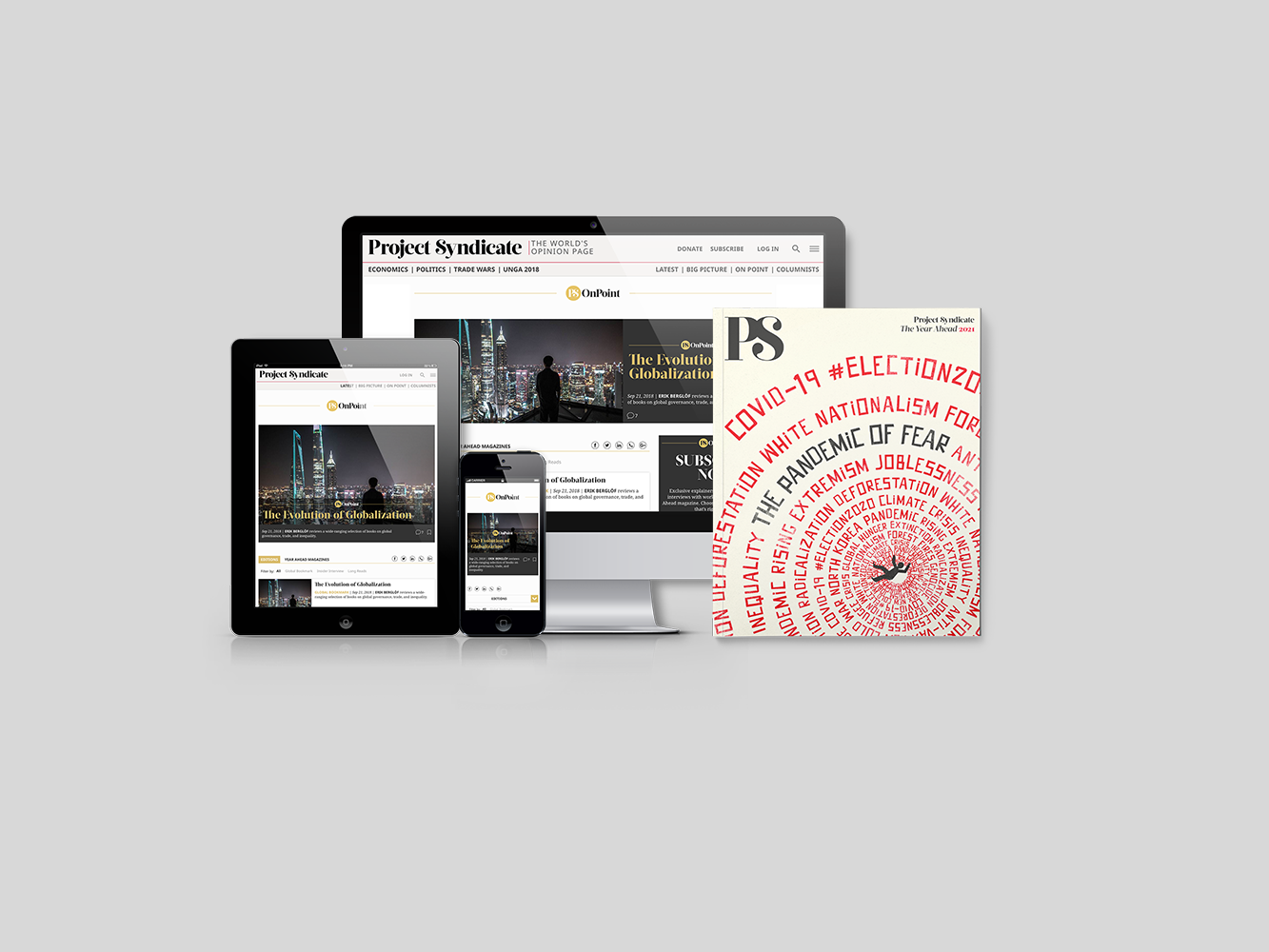 Subscribe to Project Syndicate
Enjoy unlimited access to the ideas and opinions of the world's leading thinkers, including weekly long reads, book reviews, and interviews; The Year Ahead annual print magazine; the complete PS archive; and more – All for less than $9 a month.
Es scheint, dass die Briten die EU genau im richtigen Moment verlassen haben. Der neue US-Präsident, der vor einer Vielzahl dringender innenpolitischer Probleme steht, wird in einer starken Position sein, die Deutschen in genau die Richtung zu drängen, in die sie sowieso gehen müssen – hin zu einem neuen Modell größerer EU-Haushaltsstimuli und internalisierten Handels.
Dies könnte sich als starkes Gegenmittel gegen europäischen Populismus erweisen, zur Harmonisierung der amerikanisch-europäischen Beziehungen beitragen und sowohl den USA als auch der EU nützen, also sollte niemand in Washington oder Brüssel über den Abschied der Briten Tränen vergießen. Die Deutschen mögen zwar von einem Modell des internalisierten Handels nicht begeistert sein, aber sie sollten erkennen, dass der Brexit in dieser Hinsicht gut für Europa ist. Er ermöglicht ein gemeinsames haushalts- und geldpolitisches Modell, das viel effektiver sein wird als der rein geldpolitische Ansatz, den die EU-Politik seit der Finanzkrise von 2008 verfolgt.
Ja, die Europäische Zentralbank hat mit ihrer expansiven Geldpolitik in den letzten zwölf Jahren Wunder bewirkt. Die EZB-Präsidentin Christine Lagarde und ihr Vorgänger Mario Draghi verdienen großes Lob für ihre mutigen Maßnahmen. Dadurch, dass sich der Zinsunterschied zwischen Staatsanleihen der nördlichen und südlichen Länder der Eurozone dramatisch verringert hat, konnte die EZB diese beiden Regionen zum ersten Mal wirklich finanziell integrieren. Und auch die Erträge riskanterer Anlagen in der EU-Peripherie liegen momentan auf einem Allzeittief oder in der Nähe davon.
Diese finanziellen Entwicklungen haben der europäischen Einheit und Solidarität sehr gut getan. Aber die Geschichte zeigt, dass Geldpolitik allein letztlich nicht reicht, um ein starkes Wirtschaftswachstum zu erreichen. Obwohl der Euro immer neue Höhen anstrebt, ist die europäische Wirtschaft schwach, und die Inflation liegt immer noch unterhalb des EZB-Ziels von "unter, aber in der Nähe von 2%". In sieben der letzten acht Jahren lag sie näher an einem als an zwei Prozent, und die Märkte setzen darauf, dass dies auch im nächsten Jahrzehnt so bleibt.
Dies ist inakzeptabel. Glücklicherweise bietet der Brexit der EU die Möglichkeit, ihren Maßnahmenmix durch Haushaltspolitik zu erweitern – und ist damit genau das, was Europa braucht, um eine effektivere makroökonomische Stabilisierungspolitik zu verfolgen und der aggressiven "Beggar-thy-Neighbor"-Währungspolitik der Fed die Stirn zu bieten.
Aus dem Englischen von Harald Eckhoff