In den Brexit-Abgrund
PARIS – Ein Freund von mir aus Großbritannien reist nie ohne seinen irischen Pass, jedenfalls seitdem das Vereinigte Königreich im Juni 2016 für den Austritt aus der Europäischen Union gestimmt hat. "Für alle Fälle," sagt er, "man weiß nie, was passiert."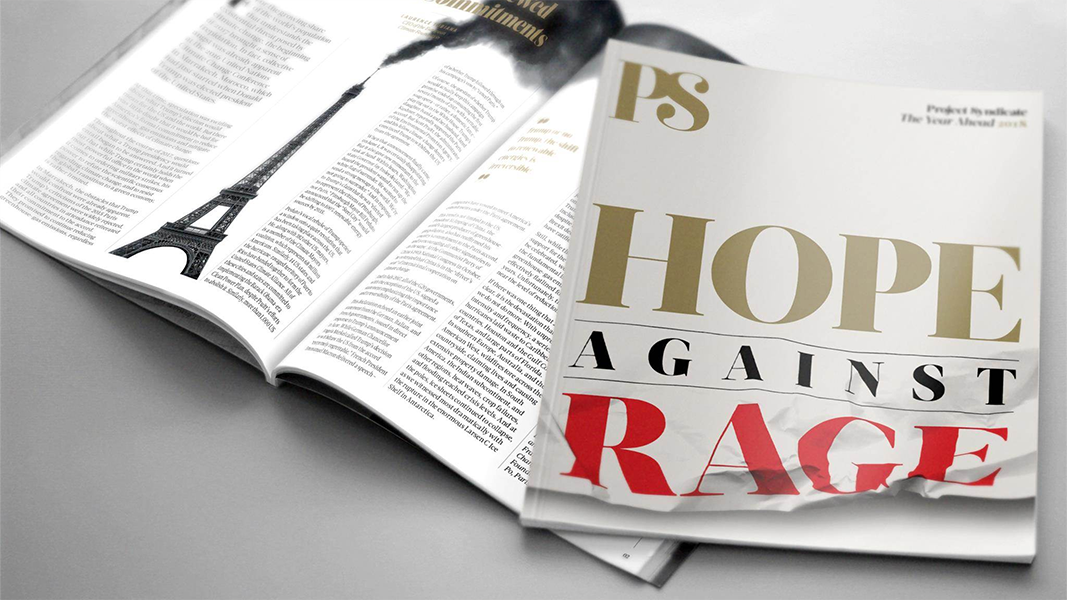 The Year Ahead 2018
The world's leading thinkers and policymakers examine what's come apart in the past year, and anticipate what will define the year ahead.
Seit der Brexit-Abstimmung ist der irische Pass so etwas wie eine Versicherung gegen Irrationalität und, jedenfalls für meinen Freund, die Möglichkeit geworden, seine europäische Identität zu behalten. Wenn es in London schiefgehen sollte, ist immer noch Dublin da.
Absicherung ist die bevorzugte Reaktion derjenigen, die versuchen, die britische Scheidung von der EU zu bewältigen. Die diesen Monat erzielte Vereinbarung zwischen den Verhandlern des Vereinigten Königreichs und der EU hat die Ungewissheit nur noch verstärkt. Einerseits hat dieser "Durchbruch" den Weg für Gespräche über die Handelsbeziehungen nach dem Brexit geebnet, wodurch eine Trennung unausweichlich erscheint. Andererseits ist da diese Überzeugung, nichts sei in Stein gemeißelt, und eine endgültige Regelung sei erst möglich, wenn viele heikle Fragen gelöst seien.
Die Grenze zwischen Nordirland, das Teil des Vereinigten Königreichs ist, und Irland, das in der EU bleiben wird, gehört weiterhin zu den schwierigsten Problemen. Es ist ein Thema, das wohl das Äquivalent der Schleswig-Holstein-Frage im 19. Jahrhundert werden kann, das für damalige europäische Diplomaten ein nicht enden wollender Albtraum war.
Aber die irische Grenze ist nicht die einzige Herausforderung für die Brexit-Verhandlungen. Zahlreiche andere Themen, von Handel bis Außenpolitik, werden die Verhandlungen auch auf die Probe stellen.
Mein Freund ist eindeutig hin- und hergerissen zwischen Hoffnung und Angst. Paradoxerweise stammt sein Optimismus aus der Überzeugung, das drohende Chaos werde die Briten dazu bringen, ihre Entscheidung zu überdenken, wie John Bulls Pragmatismus letztlich auch immer zurückkehrt und sich durchsetzt. Mein Freund, wie viele andere auch, glaubt, es sei sogar ein zweites Referendum notwendig.
Abgesehen von der Hoffnung auf die Macht der Revision setzt das "Remain"-Lager darauf, dass die Unterstützer von "Leave" irgendwann einsehen werden, dass ein weicher Brexit eine Dummheit ist, und ihre Meinung ändern. Alles, was keine harte Trennung von der EU ist, wird auf eine Situation hinauslaufen, in der sich Frankreich wiederfand, als es 1966 aus der militärischen Führung der NATO ausgetreten ist. Seitdem Frankreich diese Entscheidung 2009 wiederrufen hat, ist es mehr oder weniger den Beschränkungen durch andere NATO-Mitglieder unterworfen, hat aber gleichzeitig keinerlei Einfluss auf politische oder militärische Entscheidungen.
Großbritannien scheint heute einen ähnlichen Weg zu gehen. Ein "weicher" Brexit wird den wirtschaftlichen Schmerz der Scheidung nicht unbedingt abmildern, aber zweifelsohne für Unterstützer und Gegner politisch frustrierend sein. Und nachdem sie aufgefordert wurden, ihre Meinung zu sagen, könnten die Wähler der Meinung sein, dass nur ein "harter" Brexit legitim sei, was darauf hinauslaufen würde, dass das Vereinigte Königreich zwischen zwei Stühlen steckenbleibt.
Die Brexit-Debatte hat eines der größten Dilemmata der Demokratie zutage gefördert. Was ist zu tun, wenn ein Land über eine wichtige, ja essentielle Frage tief gespalten ist?
Autoritäre Regimes haben dieses Problem nicht, jedenfalls nicht nach außen. Die Führung entscheidet. Unabhängig davon, wie unüberlegt eine bestimmte politische Maßnahme aus dem Blickwinkel eines repräsentativen Systems auch scheinen mag, die Menschen in einer autoritären Struktur fügen sich einer Autorität oder sie mobilisieren sich, um sie zu brechen.
In Großbritannien hat eine kleine Mehrheit für den Brexit gestimmt und damit das Land in einen Zustand der Verwirrung versetzt, der anhalten wird, egal, was bei den Verhandlungen mit der EU geschieht. Laut einer Studie von YouGov, die Anfang des Monats veröffentlicht wurde, sind die Briten hinsichtlich der Brexit-Frage genauso gespalten wie letztes Jahr, als das Referendum veranstaltet wurde. Es ist, als sei die Debatte einfach eingefroren.
Das liegt zum Teil daran, dass die Ansichten über die europäische Integration an Erziehung, sozialen Status, Alter und Standort gebunden sind. Egal, wie talentiert die Verhandler aus dem Vereinigten Königreich und der EU sind, kein Kompromiss kann diese Gräben vollständig überwinden. Ziel sollte daher sein, nicht die besten Lösungen zu finden, sondern die am wenigsten schlechten. Wie diese genau aussehen werden, muss man noch sehen, aber zumindest muss das "Leave"-Lager das Gefühl haben, seine Meinung werde respektiert, während das "Remain"-Lager davon überzeugt werden, muss, das Schlimmste sei verhindert worden.
Bis jetzt scheint Großbritannien akzeptiert zu haben, dass die Forderungen der EU nicht irrational oder inakzeptabel sind. Die Scheidung von der EU wird das Vereinigte Königreich um die 40 Milliarden Pfund kosten. Im Gegenzug wird das Vereinigte Königreich zwei Jahre haben, um die zahlreichen Beziehungen zu kappen, die es an den Kontinent binden.
Für diejenigen, die an das Chaos glauben, ist es nicht einfach, einzusehen, wie das helfen soll. Eine Partei von "Bregrettern" – Menschen, die für den Brexit gestimmt haben, dies aber jetzt bereuen –, gibt es nicht. Der ehemalige Premierminister Tony Blair hätte so etwas zu einem früheren Zeitpunkt in seiner Karriere vielleicht auf die Beine stellen können, aber nach seiner katastrophalen Entscheidung, den Irak-Krieg zu unterstützen, ist sein Image zu beschädigt.
Also trotz des jüngsten Fortschritts und der Bemühungen, die Brexit-Verhandlungen voranzubringen, ist nichts an dem Prozess gewiss, mit Ausnahme vielleicht, dass es chaotischer werden wird, wenn die Uhr für die zwei Jahre läuft. Das könnte die schlechte Nachricht für Großbritannien, für Europa und für die Demokratie sein. Und dennoch, wie mein Freund mit dem irischen Pass gerne sagt: man weiß nie, was kommt.
Aus dem Englischen von Eva Göllner.