Dans les abîmes du Brexit
PARIS – J'ai un ami britannique qui ne voyage jamais sans son passeport irlandais, du moins depuis juin 2016, lorsque le Royaume-Uni a voté pour quitter l'Union européenne. « Juste au cas où, aime-t-il dire. On ne sait jamais ce qui peut arriver. »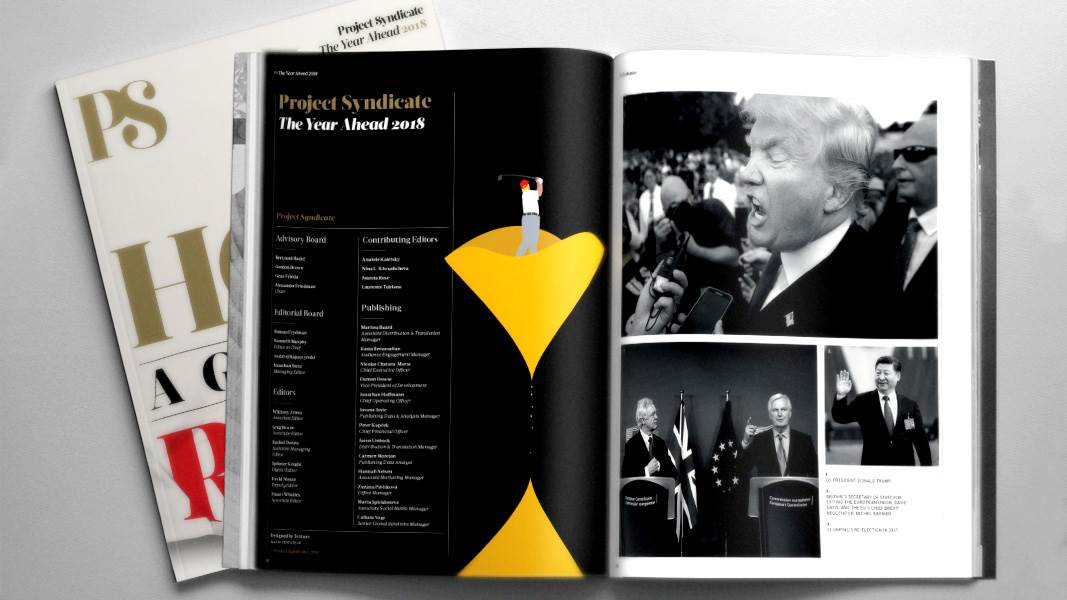 The Year Ahead 2018
The world's leading thinkers and policymakers examine what's come apart in the past year, and anticipate what will define the year ahead.
Depuis le Brexit, le passeport irlandais est devenu une sorte de police d'assurance contre l'irrationalité et représente, au moins pour mon ami, la possibilité de conserver son identité européenne. Si les choses tournent mal à Londres, raisonne-t-il, il y a toujours Dublin.
La réponse à mots couverts est devenue une approche privilégiée par ceux qui cherchent à donner un sens au divorce britannique avec l'UE. L'accord conclu ce mois-ci entre les négociateurs britanniques et européens n'a fait qu'exacerber le malaise. D'une part, cette « percée » a ouvert la voie à des pourparlers sur le commerce post-Brexit, ce qui semble rendre la séparation inévitable. D'autre part, il y a une croyance selon laquelle rien n'est gravé dans le marbre et que la conclusion ne viendra qu'après la résolution de nombreux problèmes épineux.
La frontière physique entre l'Irlande du Nord - qui fait partie du Royaume-Uni - et l'Irlande qui restera dans l'UE, fait partie des problèmes les plus complexes. Cette question risque de devenir l'équivalent au XXIème siècle de ce que fut la question du Schleswig-Holstein pour les diplomates européens au XIXème siècle : un cauchemar récurrent.
Mais la frontière irlandaise n'est pas le seul défi auquel est confronté le Brexit. De nombreuses questions, depuis le commerce jusqu'à la politique étrangère, vont également mettre à l'épreuve les négociations.
Mon ami est clairement partagé entre l'espoir et la peur. Paradoxalement, son optimisme découle de la conviction que la menace du chaos poussera les Britanniques à revenir sur leur décision, par un juste retour d'un pragmatisme anglais revigoré. Un deuxième référendum, comme lui et d'autres aiment à la croire, pourrait même être à l'ordre du jour.
Non content de placer leur espoir dans la puissance révisionniste du chaos, le camp du « Remain » fait le pari que les partisans du « Leave » finiront par réaliser la folie d'un Brexit « doux » et se retireront. Tout ce qui ne serait pas une séparation complète de l'UE s'apparenterait à la situation dans laquelle la France s'est retrouvée après s'être retirée du commandement militaire de l'OTAN en 1966. Jusqu'à ce que la France revienne sur cette décision en 2009, elle est restée plus ou moins liée aux contraintes des autres membres de l'OTAN, mais elle n'avait aucun mot à dire sur les décisions politiques ou militaires.
Aujourd'hui, la Grande-Bretagne semble suivre une trajectoire similaire. Un Brexit « doux » n'apaisera pas nécessairement la douleur économique du divorce, mais sera sans aucun doute politiquement frustrante pour les partisans et les opposants. Après avoir été invités à exprimer leur préférence, les électeurs pourraient conclure que tout sauf un Brexit « dur » serait illégitime et laisser le Royaume-Uni dans l'embarras.
Le débat sur le Brexit révèle l'un des principaux dilemmes de la démocratie. Que faire lorsqu'un pays est profondément divisé sur une question clé, voire existentielle ?
Les régimes autoritaires ne sont pas confrontés à ce dilemme, du moins pas ouvertement. Le leadership décide. Même si la politique des gouvernements représentatifs peut sembler parfois irréfléchie, les « citoyens » d'un régime illibéral soit se plient à l'autorité, soit se mobilisent pour le renverser.
En Grande-Bretagne, une petite majorité a voté en faveur du Brexit, en plongeant le pays dans une confusion qui ne peut que se poursuivre, indépendamment de ce qui se passera dans les négociations avec l'UE. Ce mois-ci, une étude publiée par YouGov a révélé que les citoyens britanniques restaient aussi divisés sur le Brexit que lors du scrutin de l'année dernière. C'est comme si le débat s'était simplement figé.
C'est en partie parce que les points de vue sur l'intégration européenne sont liés à l'éducation, au statut social, à l'âge et à la situation géographique. Peu importe le talent des négociateurs du Royaume-Uni et de l'UE, aucun compromis ne permettra de combler complètement ces lacunes. L'objectif, par conséquent, ne devrait pas être de trouver les meilleures solutions, mais les moins mauvaises. Reste à savoir à quoi cela va ressembler. Mais à tout le moins, le camp du « Leave » doit avoir le sentiment que ses votes ont été respectés, tandis que les supporters du « Remain » doivent être convaincus que le pire a été évité.
Pour l'instant, la Grande-Bretagne semble avoir accepté que les exigences de l'UE ne soient ni irrationnelles, ni inacceptables. Le Royaume-Uni paiera une prime - de près de 40 milliards de livres sterling - (53 milliards de dollars) - pour son divorce d'avec l'Europe. En retour, le Royaume-Uni aura deux ans pour démêler les nombreux fils qui lient la Grande-Bretagne au continent.
Pour ceux qui placent leur foi dans le chaos, il est difficile de voir l'aspect favorable de cette affaire. Un parti des « Bregretters » - ceux qui regrettent le Brexit et pourraient militer en faveur de son renversement - n'existe pas. Une forte personnalité politique n'a pas non plus émergé pour diriger une coalition de ce genre. L'ancien Premier ministre Tony Blair aurait pu le faire plus tôt dans sa carrière. Toutefois, après sa décision désastreuse de soutenir la guerre en Irak, son image est en lambeaux.
Malgré les progrès récents et les engagements pris pour faire avancer les pourparlers sur le Brexit, rien n'est donc certain quant au processus, sauf peut-être qu'il deviendra plus chaotique au fur et à mesure du compte à rebours des deux ans à venir. Cela risque d'être une mauvaise nouvelle pour la Grande-Bretagne, pour l'Europe et pour la démocratie. Là encore, comme aime à le dire mon ami au passeport irlandais, on ne sait jamais ce qui peut arriver.