Die Auswirkungen eines Brexits auf die Weltwirtschaft
LONDON – Das fiebrige Verhalten der Finanzmärkte im Vorfeld des britischen Referendums am 23. Juni über den Verbleib Großbritanniens in der Europäischen Union zeigt, dass das Ergebnis die wirtschaftlichen und politischen Bedingungen weltweit erheblich stärker beeinflussen wird, als Großbritanniens Anteil von rund 2,4 % am globalen BIP vielleicht vermuten lässt. Dieser große Einfluss hat drei Gründe.
Erstens ist das Referendum über den "Brexit" Teil eines weltweiten Phänomens: populistischen Revolten gegen etablierte Parteien überwiegend durch ältere, ärmere oder weniger gebildete Wähler, die wütend genug sind, um die bestehenden Institutionen einzureißen und sich über die Politiker und Wirtschaftsexperten aus dem "Establishment" hinwegzusetzen. Tatsächlich ähnelt das demografische Profil der potenziellen Brexit-Wähler in frappierender Weise dem der Unterstützer Donald Trumps in den USA und der Anhänger des Front National in Frankreich.
Meinungsumfragen zeigen, dass jene britischen Wähler, die keinen Schulabschluss haben, über 60 oder Arbeiter der Kategorien D oder E sind, die "Leave"-Kampagne mit einer deutlichen Mehrheit von 65 % zu 35 % unterstützen. Hochschulabsolventen, Wähler unter 40 und Angehörige der Berufskategorien A und B dagegen planen mit einem ähnlichen Verhältnis von 60 % zu 40 % oder höher, für "Remain" zu stimmen.
In Großbritannien, den USA und Deutschland werden die populistischen Rebellionen nicht nur durch ähnliche vorgebliche Missstände und nationalistische Stimmungen angeheizt, sondern ereignen sich zudem unter ähnlichen wirtschaftlichen Bedingungen. In allen drei Ländern herrscht wieder mehr oder weniger Vollbeschäftigung, und die Arbeitslosenquoten liegen bei etwa 5 %. Viele der neu geschaffenen Arbeitsplätze jedoch sind schlecht bezahlt, und die Einwanderer haben zuletzt die Banker als Sündenböcke für alle gesellschaftlichen Probleme abgelöst.
Der Grad an Misstrauen gegenüber Unternehmensführern, Politikern der etablierten Parteien und Wirtschaftsexperten zeigt sich anhand des Ausmaßes, in dem die Wähler deren Warnungen ignorieren, die allmähliche Wiederherstellung des Wohlstandes nicht zu gefährden, indem sie den Status quo umstoßen. In Großbritannien stimmen nach dreimonatiger Debatte über einen Brexit nur 37 % der Wähler zu, dass es Großbritannien wirtschaftlich schlechter gehen würde, wenn es die EU verließe – gegenüber 38 % vor einem Jahr.
Anders ausgedrückt: All die voluminösen Berichte des Internationalen Währungsfonds, der OECD, der Weltbank sowie der britischen Regierung und der Bank von England, die einhellig vor erheblichen Verlusten durch einen Brexit warnen, wurden verworfen. Statt zu versuchen, die Warnungen der Experten durch detaillierte Analysen zu widerlegen, hat Boris Johnson, der Anführer der "Leave"-Kampagne, darauf mit Getöse und einer Rhetorik reagiert, die mit der Anti-Politik Trumps identisch ist: "Wer ist im Entferntesten nervös über einen Austritt? Oh, glaubt mir, das funktioniert schon." Mit anderen Worten, die sogenannten Experten lagen schon in der Vergangenheit falsch, und sie tun es auch jetzt.
Subscribe to Project Syndicate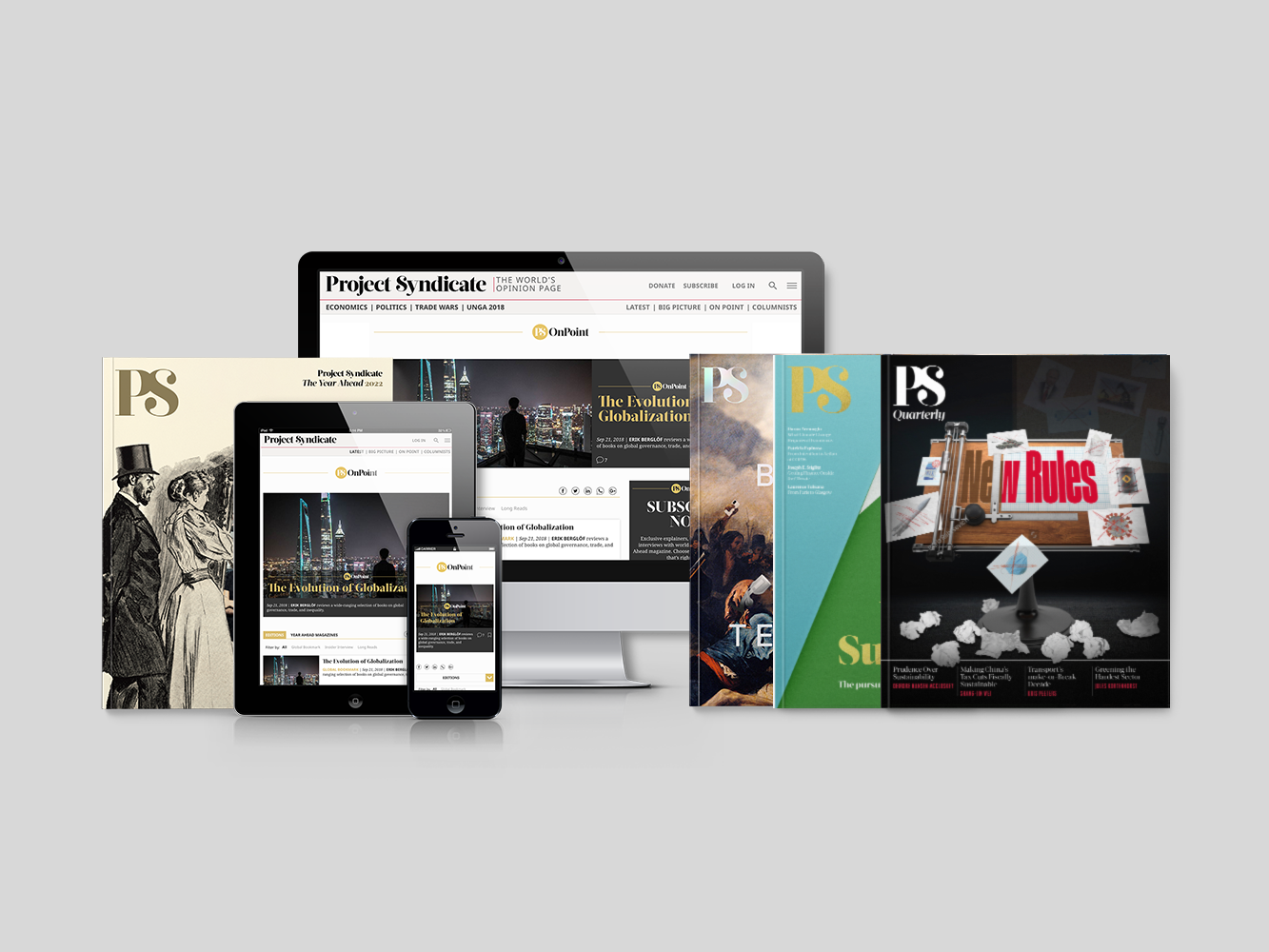 Subscribe to Project Syndicate
Enjoy unlimited access to the ideas and opinions of the world's leading thinkers, including long reads, book reviews, topical collections, short-form analysis and predictions, and exclusive interviews; every new issue of the PS Quarterly magazine (print and digital); the complete PS archive; and more. Subscribe now to PS Premium.
Diese Art von Frontalangriff auf die politischen Eliten hat, wenn man den neuesten Meinungsumfragen zum Brexit Glauben schenkt, in Großbritannien erstaunlich gut funktioniert. Doch erst nach Auszählung der Stimmen werden wir wissen, ob die gegenüber den Meinungsforschern geäußerten Meinungen das tatsächliche Wahlverhalten vorwegnahmen.
Dies ist der zweite Grund, warum das Brexit-Ergebnis ein weltweites Echo haben wird. Das Referendum wird der erste große Test dafür, ob die Experten und die Märkte oder ob die Meinungsumfragen bezüglich der Stärke der Populismuswelle näher an der Wahrheit liegen.
Für den Moment gehen politische Analysten und Finanzmärkte auf beiden Seiten des Atlantiks, möglicherweise in falscher Selbstzufriedenheit, davon aus, dass die Äußerungen der wütenden Wähler gegenüber den Meinungsforschern nicht ihr tatsächliches kommendes Wahlverhalten wiederspiegeln. Analysten und Anleger haben einem Erfolg der Rebellen konsequent eine niedrige Wahrscheinlichkeit zugewiesen: Ende Mai sahen die Wettmärkte und Computermodelle Wahrscheinlichkeiten von nur etwa 25 % für einen Wahlsieg Trumps und einen Brexit, und das trotz der Tatsache, dass die Meinungsumfragen knapp 50 % Unterstützung für beide aufzeigten.
Falls das Brexit-Lager am 23. Juni siegt, werden die niedrigen Erfolgswahrscheinlichkeiten, die die Experten und Finanzmärkte erfolgreichen populistischen Revolten in Amerika und Europa zubilligen, sofort verdächtig aussehen, während die von den Meinungsumfragen suggerierten höheren Wahrscheinlichkeiten an Glaubwürdigkeit gewinnen werden. Dies liegt nicht daran, dass die US-Wähler durch das Geschehen in Großbritannien beeinflusst werden; das ist natürlich nicht der Fall. Doch zusätzlich zu all den wirtschaftlichen, demografischen und gesellschaftlichen Ähnlichkeiten stehen auch die Meinungsumfragen in den USA und Großbritannien aufgrund des Zusammenbruchs traditioneller politischer Bündnisse und vorherrschender Zwei-Parteien-Systeme vor sehr ähnlichen Herausforderungen und Unsicherheiten.
Die Statistiktheorie erlaubt uns sogar, zu quantifizieren, wie die Erwartungen über die US-Präsidentschaftswahl sich bei einem Wahlsieg des Brexit-Lagers in Großbritannien verändern dürften. Weisen wir der Einfachheit halber einmal den Meinungsumfragen, die einem Brexit und Trump fast 50 % Unterstützung zuweisen, und den Expertenmeinungen, die beiden nur eine 25%ige Chance zubilligen, dieselbe Glaubwürdigkeit zu. Gehen wir dann davon aus, dass das Brexit-Lager gewinnt. Eine statistische Formel mit dem Namen Bayes' Theorem zeigt dann, dass der Glaube in die Meinungsumfragen von 50 % auf 67 % zunehmen würde, während die Glaubwürdigkeit der Experten von 50 % auf 33 % sinken würde.
Dies führt uns zur dritten und besorgniserregendsten Auswirkung der britischen Abstimmung. Gewinnt in einem Land, das so stabil und politisch phlegmatisch ist wie Großbritannien, das Brexit-Lager, wird das die Finanzmärkte und Unternehmen weltweit aus ihrer Selbstgefälligkeit in Bezug auf populistische Rebellionen im übrigen Europa und in den USA wecken. Und diese erhöhten Sorgen des Marktes werden dann ihrerseits die wirtschaftlichen Realitäten verändern. Wie 2008 werden die Finanzmärkte die wirtschaftliche Nervosität verstärken, was zu mehr Wut gegen das Establishment führen und noch höhere Erwartungen politischer Revolten schüren wird.
Die Gefahr derartiger Ansteckungseffekte bedeutet, dass ein Brexit-Votum der Auslöser einer weiteren globalen Krise sein könnte. Diesmal freilich werden die Arbeitnehmer, die ihre Jobs verlieren, die Rentner, die ihre Ersparnisse verlieren, und die Eigenheimbesitzer, deren Hypotheken dann den Wert ihrer Immobilie übersteigen, nicht "den Bankern" die Schuld geben können. Diejenigen, die für populistische Umstürze stimmen, werden niemand anderem die Schuld geben können als sich selbst, wenn ihre Revolutionen fehlschlagen.
Aus dem Englischen von Jan Doolan