Le Brexit et l'ordre européen
BERLIN – Il ne reste plus que quelques mois avant que le Royaume-Uni ne quitte officiellement l'Union européenne. Jusqu'à présent, le débat sur le Brexit s'est maintenu, pour l'essentiel, dans le cadre économique. Si le Royaume-Uni devait s'éjecter du bloc européen sans accord mutuel de sortie, les dégâts seraient probablement importants. Et dans l'état actuel des choses, cet accord est loin d'être garanti.
Un Brexit « dur » signifierait qu'à onze heures du soir (GMT), le 29 mars 2019, l'adhésion du Royaume-Uni à tous les traités de l'UE – par exemple l'union douanière et le marché unique – et à tous les accords commerciaux signés par celle-ci prendrait automatiquement fin. La Grande-Bretagne ne sera plus dès lors qu'une tierce partie, et les conséquences pour le commerce européen – notamment le chaos aux frontières britanniques – en seront très lourdes.
Mais le Brexit aura aussi, bien sûr, d'importantes conséquences politiques. Dans le quotidien de la vie des affaires, l'UE est plutôt perçue comme union douanière et marché commun. Mais au fond, c'est un projet politique, fondé sur une idée particulière de l'architecture des États européens. C'est de cette idée dont il est vraiment question avec le Brexit – et non du volet économique. Et c'est pourquoi la décision du Royaume-Uni de quitter l'Union européenne – avec ou sans accord de sortie – aura sur l'ordre européen au XXIe siècle de profondes retombées.
La courte majorité de Britanniques qui ont voté en faveur du « Leave » lors du référendum de 2016 ne se souciaient pas de prospérité économique, mais de retrouver une pleine souveraineté politique. Ils ne définissaient la souveraineté ni en termes objectifs ni en fonction du présent et de l'avenir de la Grande-Bretagne, mais en référence à son passé de puissance mondiale au XIXe siècle. Peu leur importait que le Royaume-Uni soit devenu une puissance européenne moyenne, n'ayant plus guère de chances – sinon aucune – de reconquérir son rôle d'acteur global – que ce soit à l'intérieur ou à l'extérieur de l'Union européenne.
Si le reste du continent devait suivre l'exemple britannique, et préférer le XIXe au XXIe siècle, l'UE se désintégrerait. Chaque pays se verrait contraint de revenir à un régime contraignant d'États souverains luttant pour la suprématie, surveillant constamment les ambitions de leurs voisins.
Dans de telles conditions, les pays européens perdraient toute réelle puissance et se mettraient ainsi, pour de bon, en congé de la scène du monde. L'Europe, déchirée entre l'option atlantique et l'option eurasienne, deviendrait une proie facile pour les grandes puissances non-européennes du XXIe siècle. Dans le pire des scénarios, elle pourrait même devenir le théâtre des combats entre ces grandes puissances. Les Européens ne seraient plus en mesure de choisir leur destin, qui se déciderait ailleurs.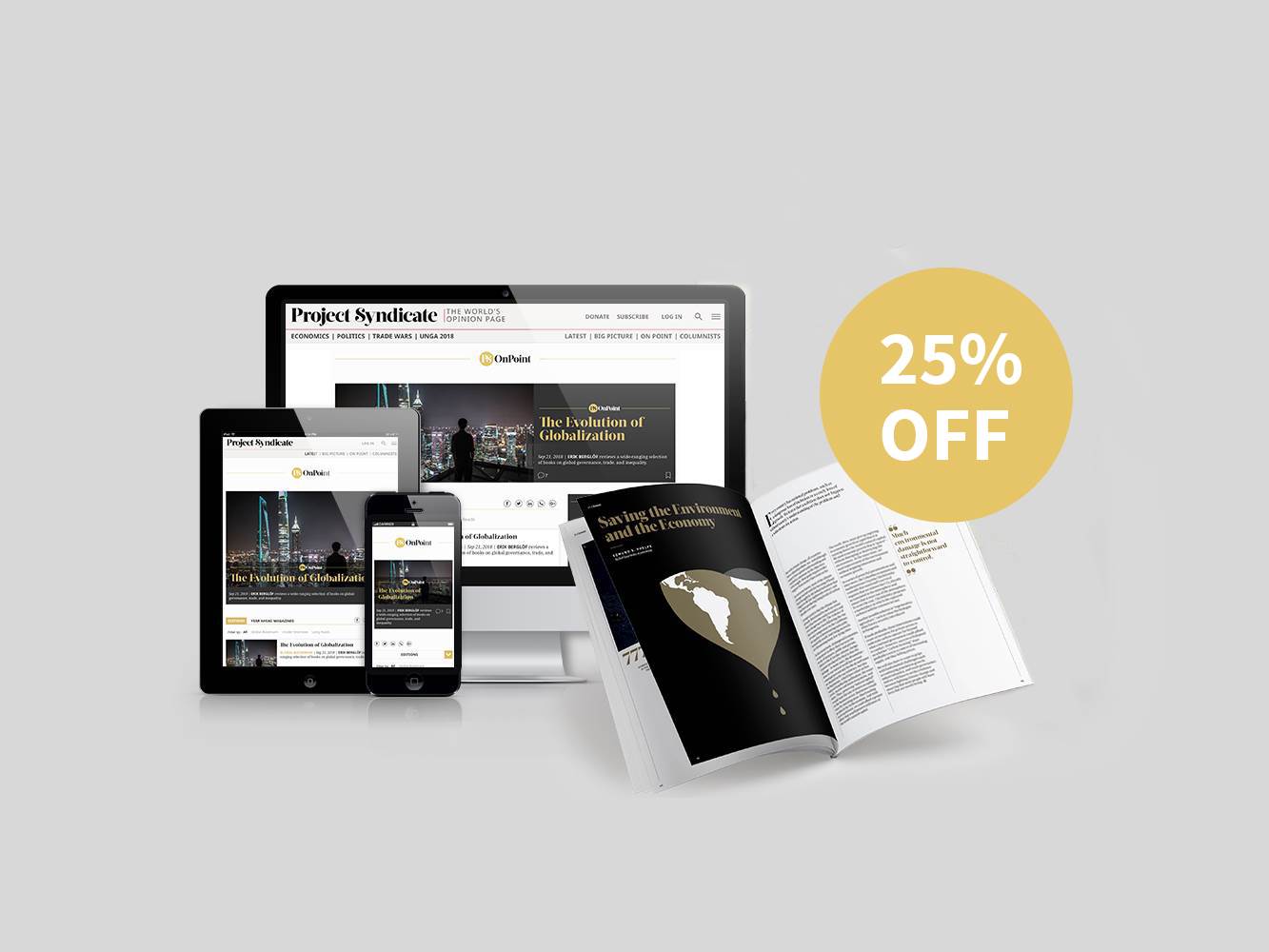 Subscribe now
For a limited time only, get unlimited access to On Point, The Big Picture, and the PS Archive, plus our annual magazine and a tote bag, for just $75.
Le vieil ordre européen déclinant du XIXe siècle était le fruit de la guerre de Trente Ans (1618-1648). Le système médiéval, qui avait avant lui prévalu, fondé sur l'Église universelle et l'Empire, était mort avec la Réforme. Après une série de guerres de religion et la consolidation de fortes puissances territoriales, il fut remplacé par l'« ordre westphalien » entre États souverains.
Durant les siècles qui suivirent, l'Europe domina le monde, et la Grande-Bretagne fut elle-même la première puissance européenne. Mais l'ordre westphalien fut détruit par les deux guerres mondiales de la première moitié du XXe siècle – toutes deux en vérité des guerres européennes pour la domination du monde. Lorsque se turent les armes, en 1945, les Européens – y compris les Alliés victorieux – avaient bel et bien perdu leur souveraineté. L'ordre westphalien fut remplacé par le monde bipolaire de la guerre froide, où la souveraineté revint aux deux grandes puissances nucléaires non-européennes, les États-Unis et l'Union soviétique.
L'UE fut conçue comme une tentative de redonner pacifiquement à l'Europe sa souveraineté, en regroupant les intérêts nationaux des États européens. L'objectif de cette entreprise fut toujours d'éviter de retomber dans le jeu trop connu des rivalités entre puissances, des alliances réciproques et des initiatives intempestives des acteurs hégémoniques. La clé de la réussite fut la construction d'un ordre continental fondé sur l'intégration économique, politique et juridique.
Le Brexit a mis on ne peut plus vivement en relief les implications tangibles de cette intégration. Au cours des négociations du Royaume-Uni avec l'Union européenne, un vieux problème a refait surface : la question irlandaise. Lorsque la République d'Irlande et le Royaume-Uni appartenaient tous deux à l'Union européenne, rien ne motivait plus la réunification irlandaise, ainsi la guerre civile de plusieurs décennies entre protestants et catholiques d'Irlande du Nord, avait-elle pu prendre fin. Les réalités pratiques de l'intégration européenne désamorçaient la question de l'appartenance nationale de l'Irlande du Nord. Mais le Brexit ayant précipité en sens inverse le cours de l'histoire, les spectres du passé menacent de reparaître.
Les Européens devraient surveiller de près la question irlandaise, car le continent est encore plus susceptible d'assister au retour de ce genre de conflits. Un nouvel ordre du monde est en train de naître, et il aura pour épicentre le Pacifique, non plus l'Atlantique. L'Europe a une chance – et elle n'en a pas d'autre – de faire face à cette transition historique. Les vieux États-nations européens, sauf s'ils sont unis, ne feront pas le poids dans la nouvelle compétition. Et même alors, l'affirmation de la souveraineté européenne exigera un engagement politique aussi ferme qu'intense et beaucoup d'ingéniosité.
L'aspiration au retour d'un glorieux passé est la dernière chose qui puisse aider les Européens à relever les défis auxquels ils sont confrontés. Le passé, par sa nature même, est révolu. Avec ou sans le Royaume-Uni, l'Europe doit regarder vers l'avenir.
Traduit de l'anglais par François Boisivon