Brasil en la encrucijada liberal
,
RÍO DE JANEIRO – El orden internacional liberal está bajo ataque. El compromiso de 70 años de Occidente con la seguridad común, los mercados abiertos y la democratización se está deshilachando, y el mundo está avanzando rápidamente de un orden mundial unipolar a uno multipolar. Este cambio tendrá consecuencias dramáticas -y potencialmente peligrosas.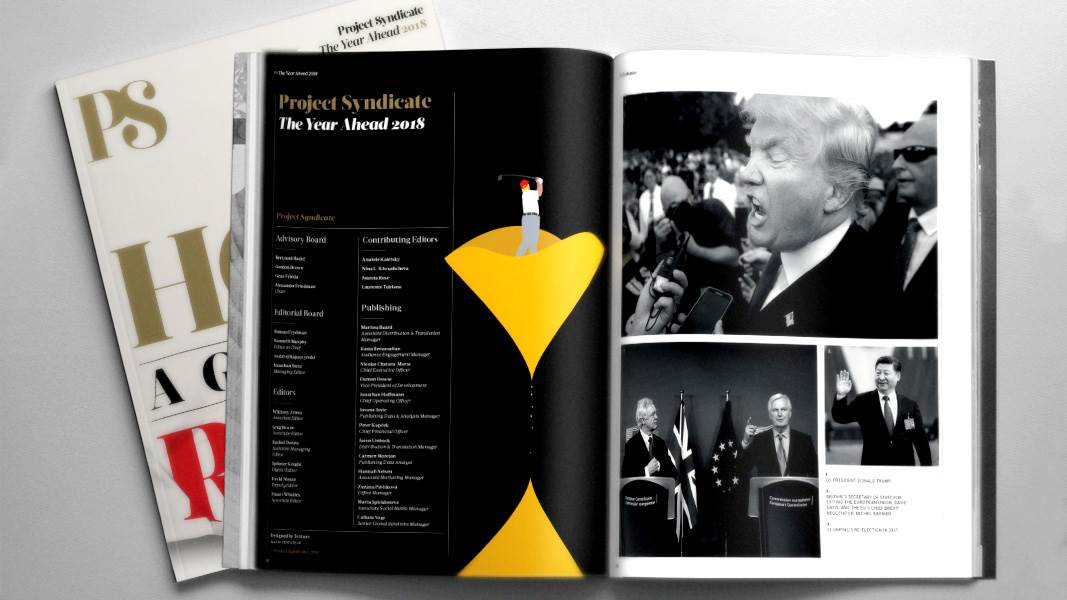 The Year Ahead 2018
The world's leading thinkers and policymakers examine what's come apart in the past year, and anticipate what will define the year ahead.
Muchos países latinoamericanos que se han beneficiado con el orden liberal, particularmente Brasil, parecen indiferentes a su posible deceso. Para entender los motivos, debemos revisar la creación del post-1945 por parte de Estados Unidos y sus aliados europeos.
Los arquitectos del orden liberal global construyeron una red de tratados internacionales, acuerdos comerciales y alianzas militares para alcanzar tres objetivos básicos: la promoción del comercio abierto, la prevención de guerras catastróficas y la disuasión del nacionalismo económico reemplazando un acuerdo centenario de suma cero por un marco de suma positiva en el cual todos los países participantes podrían prosperar.
El orden que establecieron se basa en un conjunto de reglas e instituciones como las Naciones Unidas, el Fondo Monetario Internacional, el Banco Mundial, el Acuerdo General sobre Aranceles Aduaneros y Comercio (ahora la Organización Mundial de Comercio), la OTAN y el G-20. Aunque no están libres de críticas, estas entidades fueron ampliamente exitosas a la hora de cumplir con los objetivos principales del orden liberal.
Si bien algunas de las instituciones de posguerra excluyeron a América latina, entre los años 1950 y los años 1980 los gobiernos de la región, a regañadientes, participaron en ellas. Les molestaba el diseño centrado en Estados Unidos del orden liberal, pero lo toleraban mientras sus reglas no infringieran abiertamente la soberanía nacional.
Esta postura era esperable. La participación de América latina en la política de poder global era comparativamente limitada y sus líderes trataban el desarrollo económico como una cuestión interna. También estaban preocupados por resistir las intromisiones extranjeras de las ex potencias coloniales, en particular Estados Unidos.
El intervencionismo estadounidense -incluidos los esfuerzos golpistas respaldados por la CIA en Guatemala (1954), Cuba (1961), Brasil (1964), República Dominicana (1965), Chile (1973), Nicaragua (1982), Granada (1983) y Panamá (1989)- regularmente reforzaba estos temores. Como consecuencia de ello, aunque la mayoría de los países en la región (con notables excepciones) se alinearon con Occidente durante la Guerra Fría, nunca abrazaron del todo el orden global liderado por Estados Unidos.
Los latinoamericanos también sentían un profundo recelo por las políticas del Consenso de Washington de los años 1980-1990 que muchas veces estaban mal implementadas y exigían una "terapia de shock" que se traducía en estabilización macroeconómica, desregulación generalizada y privatización. Al mismo tiempo, el crecimiento espectacular de Asia, particularmente de China, había empezado a cambiar el centro de gravedad y alejarlo de Estados Unidos y Europa.  
Mientras que Cuba y los llamados países bolivarianos montaban campañas antiestadounidenses agresivas, el resto de América latina comenzó a trazar un curso más autónomo frente al orden global durante los años 1990. Esto implicó un proceso frenético de construcción de alianzas regionales para promover intereses colectivos. Muchos de esos esfuerzos nacieron débiles y madurar les costó mucho.
Aun así, después de su fundación en 1991, el Mercosur, el díscolo bloque comercial sudamericano, logró aliviar las tensiones entre la Argentina y Brasil, lo que multiplicó por diez el comercio bilateral. Y en 2011, Chile, Colombia, México y Perú establecieron la Alianza del Pacífico de orientación más liberal, subrayando su pivote colectivo en Asia.
Pero, más allá de estos éxitos desparejos, la región sigue debilitada por la desconfianza, está mal integrada y es incapaz de tener un crecimiento sostenido. No debe sorprender que su posición en el escenario global siga siendo marginal.
Brasil, por su parte, ha alternado entre respaldar y criticar al orden liberal. Durante más de cincuenta años, el Ministerio de Relaciones Exteriores de Brasil se quejó -no sin cierta justificación- de la exclusión del país de los niveles superiores de las instituciones internacionales, en especial el Consejo de Seguridad de las Naciones Unidas.
Al igual que otros en la región, Brasil resistió la influencia de Estados Unidos pero, de todos modos, actuó de acuerdo con las reglas del juego. Eso cambió de alguna manera durante la presidencia de 2003 a 2010 de Luiz Inácio Lula da Silva, quien abogó por una mayor cooperación "sur-sur". Brasil también llevó a cabo acuerdos de energía, armamentos e infraestructura con regímenes iliberales, lo que generó cuestionamientos en Estados Unidos y Europa. 
Después de un período de expansión, la economía de Brasil colapsó en el gobierno de la sucesora de Lula, la ex presidenta Dilma Rouseff, cuya "nueva matriz económica" implicó políticas disruptivas, intervencionistas y proteccionistas. Durante los años de Rouseff, la tasa de crecimiento de Brasil fue 2,6 puntos porcentuales más baja que el promedio regional latinoamericano, lo que condujo a una pérdida de disciplina fiscal, una retrotracción de las mejoras en materia de desarrollo y un creciente descontento popular.
Aun así, las instituciones democráticas de Brasil han demostrado una resiliencia considerable. A pesar de seis años de caída económica y de escándalos de corrupción explosivos, el país tiene una prensa libre pujante y un sistema judicial fuerte e independiente, lo que podría producir los cambios políticos y culturales que el país espera desde hace tiempo.
Con un retorno a un diseño de políticas más equilibrado y transparente, Brasil una vez más podría contribuir de manera constructiva a crear un orden liberal internacional más inclusivo y representativo. Después de todo, siendo una de las mayores democracias del mundo y un férreo defensor del multilateralismo, Brasil tiene más en común con quienes proponen el orden liberal que con China, Rusia o Turquía.
Es más, las elites de Brasil están menos aisladas y son menos hostiles a la globalización que en el pasado, y cada vez más aceptan que las posturas proteccionistas son contraproducentes. Y la clase media floreciente del país, muchos de cuyos miembros han sido sacados de las calles desde 2013, ya no tolerarán costos de vida crecientes, servicios públicos mediocres, la captura del estado y una corrupción desenfrenada.
Si los fiscales de Brasil pueden sostener la campaña anticorrupción actual "Lava Jato", Brasil también tendrá la oportunidad de dar vuelta la página de su modelo de desarrollo fallido después de las elecciones generales de octubre. Para aprovecharla, los brasileños tendrán que elegir a un presidente con una agenda de reforma progresista, no a un populista de derecha como Jair Bolsonaro.
Para bien o para mal, Brasil y el resto de América latina están esencialmente conectados con el orden internacional liberal y sus instituciones políticas y económicas. Nadie en la región debería anhelar un retorno al desorden previo a los años 1940. Y el llamado consenso de Beijing-Moscú, construido como está en base a motivaciones económicas, no sería menos pernicioso. 
´
Brasil ahora tiene una enorme oportunidad no sólo de reformular su política y su economía, sino también de desempeñar un papel activo en la construcción de un orden internacional liberal que se adecue a un mundo multipolar en constante evolución. El interrogante es si los brasileños sabrán aprovechar el momento.