A matemática tributária nebulosa de Biden
NOVA YORK – Agora que o governo do presidente americano, Joe Biden, propôs um plano americano para os empregos e um plano para as famílias americanas, ele está buscando ao menos US$ 4 trilhões em receita adicional com impostos. Ao contrário dos seis programas fiscais relacionados à pandemia promulgados entre 6 de março de 2020 e 11 de março de 2021, estes novos pacotes de gastos não têm a intenção de oferecer estímulo econômico imediato. Por se tratar de programas sociais e redistributivos focados mais no lado da demanda, eles precisarão ser financiados por impostos mais altos ou cortes de gastos. E, sem estes cortes compensatórios na conta, parece inevitável um aumento dos impostos.
Sem dúvida, a diferença de receita pode acabar sendo muito superior a US$ 4 trilhões se o plano de resgate americano de US$ 1,9 trilhão promulgado em março passado não se mostrar inteiramente coberto só pelos déficits maiores. Neste caso, o governo Biden pode ter de somar outro trilhão de dólares à sua meta de receita tributária. Mas, para os propósitos atuais, consideremos o que será necessário para arrecadar US$ 4 trilhões.
O plano americano de empregos é um programa de gastos e créditos fiscais de oito anos que requer US$ 2,25 trilhões de novos financiamentos tributários, e a previsão é de que o (ainda embrionário) plano americano das famílias tenha aproximadamente metade do tamanho do plano americano de resgate. Nos dois casos, os gastos adicionais serão feitos ao longo de dez anos, exigindo assim US$ 400 bilhões adicionais por ano para a próxima década. Esta meta é alcançável, mas provavelmente o custo recairá não só nos ricos, mas também na classe média.
A solução do governo Biden é o plano tributário Made in America, divulgado por ele juntamente com o plano americano de empregos. O problema é que a conta do PTMA não fecha. Biden e seus assessores estão propondo uma série desconcertante de reformas fiscais de empresas que visa arrecadar US$ 2,5 trilhões ao longo dos próximos 15 anos, tendo como principal destaque um aumento de 21% a 28% nas taxas de impostos empresariais. Isso incluiria ainda uma taxa mínima de 21% no faturamento global das empresas americanas e uma taxa mínima de 15% sobre o "lucro contábil" (rendimentos reportados aos investidores, geralmente bastante diferentes daqueles utilizados para calcular as dívidas fiscais), além de várias medidas para desencorajar empresas americanas de se mudar para o exterior para evitar impostos.
Porém, apesar destas cláusulas, o fato é que empresas multinacionais têm se mostrado altamente hábeis em relocar suas atividades para países com impostos menores, alimentando décadas de competição tributária. Como resultado, os índices mundiais de impostos corporativos (medidos pelo PIB) diminuíram de 46,5% em 1980 para 25,9% em 2020, com as maiores taxas principalmente na África Subsaariana. Assim, o plano de Biden depende de cooperação internacional significativa, e a secretária do Tesouro americano, Janet Yellen, já fez a devida proposta de uma taxa corporativa global que valeria para empresas multinacionais independentemente de onde estejam localizadas suas sedes.
Porém, é improvável que esta política econômica coordenada tenha sucesso. Afinal, nem mesmo a União Europeia está conseguindo coordenar os impostos de seus estados-membros. Enquanto a Alemanha e a França impõem taxas de impostos corporativos de 29,9% e 32% respectivamente, a República da Irlanda cobra da renda corporativa apenas 12,5%.
Subscribe to Project Syndicate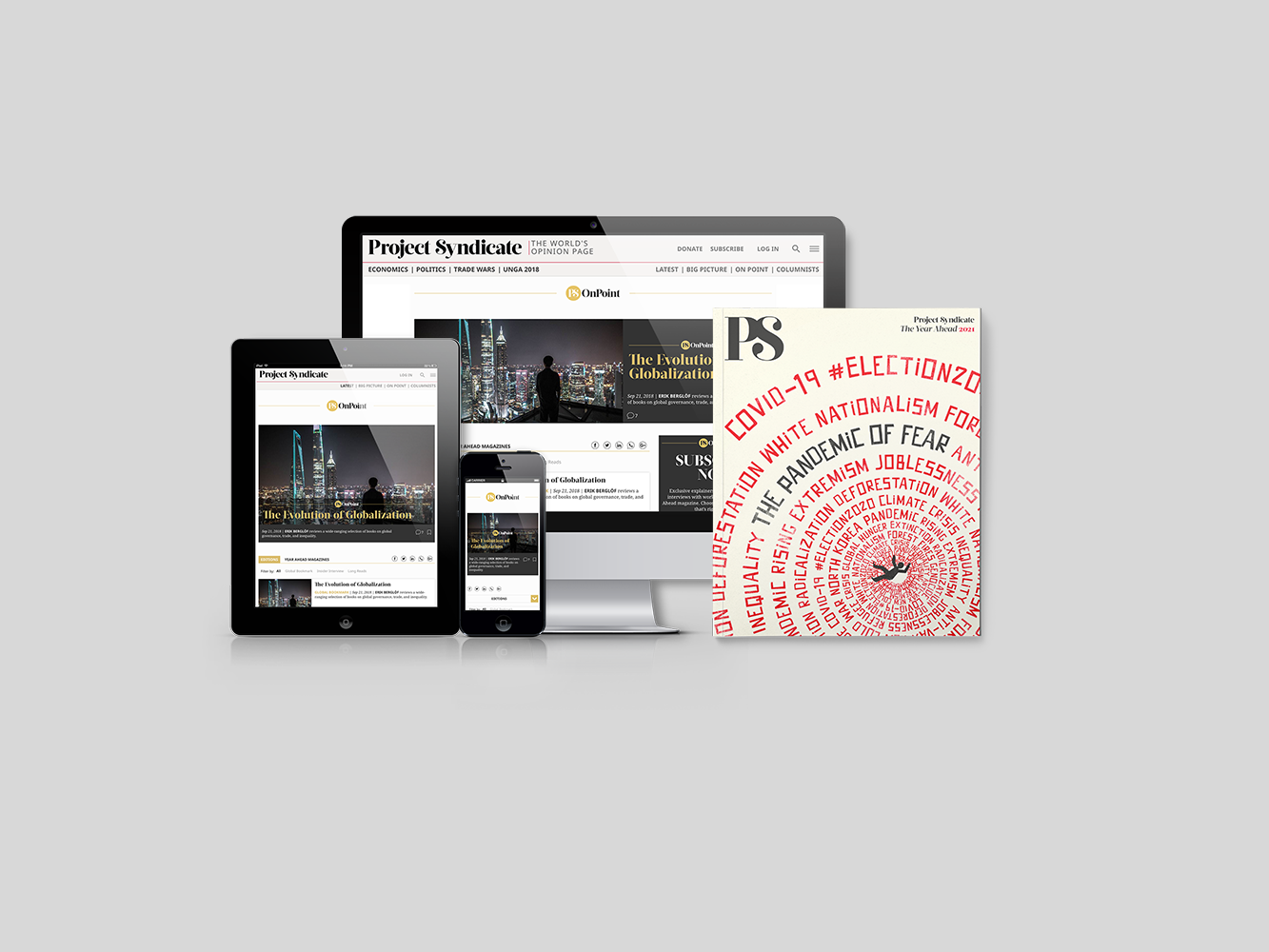 Subscribe to Project Syndicate
Enjoy unlimited access to the ideas and opinions of the world's leading thinkers, including weekly long reads, book reviews, topical collections, and interviews; The Year Ahead annual print magazine; the complete PS archive; and more. All for less than $9 a month.
O governo Biden afirma que as altas de impostos propostas por ele arrecadariam US$ 2 trilhões adicionais ao longo de 15 anos - ou US$ 1,33 trilhão ao longo de dez anos - do faturamento das empresas no exterior. Mas esta estimativa parece otimista. Em 2017, a taxa de imposto corporativo nos EUA foi de 35%, e a receita de impostos corporativos, de US$297 bilhões. Em 2019 - após a reforma tributária do governo Trump ter reduzido a taxa para 21% -, o volume desta receita caiu para US$ 230 bilhões. Para a matemática de Biden funcionar, a receita dos impostos corporativos teria de ser US$ 133 bilhões maior - cerca de US$ 363 bilhões por ano.
Além disso, mesmo que a receita corporativa desejada possa ser obtida, ela terá um custo. Um imposto corporativo mais alto tende a resultar em maiores saídas de capital, em uma queda na razão doméstica de capital para mão de obra, e, assim, em salários reais (corrigidos pela inflação) menores. Por isso é que o consenso da profissão de economista é que, para além do curto prazo, impostos corporativos são taxas implícitas na mão de obra. À medida que distorcem decisões de investimentos, elas são consideradas ainda mais prejudiciais do que os impostos salariais explícitos. Há ampla pesquisa sugerindo que tais impostos deveriam ser abolidos.
Em todo caso, ainda que o governo Biden consiga atingir suas metas de receita de impostos corporativos, ele ainda estará com US$ 2,67 trilhões a menos depois de dez anos. Para atacar essa diferença, deve-se aumentar os impostos federais sobre o rendimento pessoal daqueles que ganham mais de US$ 400 mil por ano. Tendo em vista que aqueles que ganham mais de US$ 400 mil por ano são os que estão entre os 1% e 2% mais ricos de todos os ganhadores, será que isso arrecadará US$ 267 bilhões a mais por ano?
Estima-se que as receitas federais com o imposto de renda pessoal sejam de US$ 1,93 trilhões em 2021. Em 2015, o 1% mais rico faturou cerca de 21% de toda a renda e pagou cerca de 39% da receita total com imposto de renda; os 2% mais ricos faturaram cerca de 26% de toda a renda e pagaram em torno de 47% da arrecadação total do imposto de renda. Se a participação nos pagamentos se mantiver estável ao longo do tempo, o 1% pagará cerca de US$ 773 bilhões em 2021, e os 2% mais ricos, cerca de US$ 908 bilhões. Em nossa conta grosseira de padaria, o 1% mais rico teria de pagar 35% a mais para cumprir a meta de receita do governo Biden; de modo semelhante, os pagamentos de impostos dos 2% mais ricos precisariam ser 29% maiores a cada ano durante dez anos.
Porém, coletar cerca de um terço a mais em impostos dos ricos de modo sustentável não será fácil. É muito provável que atingir uma meta de arrecadação tão ambiciosa exija uma base tributária muito mais ampla, em vez de apenas impostos maiores sobre os ricos. Fora dos EUA, isso pode ser conseguido com uma alta no imposto sobre valor agregado (IVA) - um imposto indireto de taxa única amplo, com poucas exceções, e pago por todos os consumidores. Ainda que um imposto na linha do IVA não vá atender aos objetivos distributivos de Biden (além de poder esbarrar em questionamentos constitucionais), ele pode ao menos cumprir a meta de arrecadação do governo.
Por enquanto, contudo, é improvável que as propostas atuais de aumentos nos impostos corporativos e de renda pessoal financiem plenamente os planos fiscais pós-pandêmicos de Biden. Será preciso botar na mesa uma ampliação da base tributária.