Bidens verworrene Steuerkalkulationen
NEW YORK – Nun, da die Regierung von US-Präsident Joe Biden ihren "American Jobs Plan" und ihren "American Families Plan" vorgestellt hat, schaut sie sich nach mindestens vier Billionen Dollar an zusätzlichen Steuereinnahmen um. Anders als die sechs zwischen dem 6. und 11. März 2021 verabschiedeten pandemiebedingten Haushaltsprogramme sollen diese neuen Ausgabenpakete keine unmittelbaren wirtschaftlichen Impulse setzen. Da es sich dabei um Sozial- und Umverteilungsprogramme handelt, die sich besonders auf die Angebotsseite konzentrieren, müssen sie entweder durch höhere Steuern oder durch Ausgabensenkungen finanziert werden. Und da keine derartigen ausgleichenden Ausgabensenkungen erwogen werden, scheinen Steuererhöhungen unausweichlich.
Natürlich könnte die Steuerlücke noch beträchtlich höher als vier Billionen Dollar ausfallen, falls sich erweist, dass der im März verabschiedete "American Rescue Plan" im Umfang von 1.9 Billionen Dollar durch erhöhte Defizite allein nicht vollständig abgedeckt ist. Die Biden-Regierung müsste dann ihr Steuerziel womöglich um eine weitere Billion Dollar aufstocken. Doch wollen wir für den Moment nur betrachten, was erforderlich ist, um vier Billionen Dollar zusätzlich einzunehmen.
Der American Jobs Plan ist ein auf acht Jahre angelegtes Programm aus höheren Ausgaben und Steuererleichterungen, dessen Finanzierung 2,25 Billionen an zusätzlichen Steuereinnahmen erfordert, und der (noch nicht fertige) American Families Plan dürfte knapp dieselbe Größe haben wie der American Rescue Plan. In beiden Fällen fallen die zusätzlichen Aufwendungen über zehn Jahre an; damit werden für das nächste Jahrzehnt zusätzlich 400 Milliarden Dollar jährlich benötigt. Dieses Ziel ist erreichbar, doch wird die Belastung höchstwahrscheinlich nicht nur die Reichen treffen, sondern auch die Mittelschicht.
Die Lösung der Biden-Regierung ist der "Made in America Tax Plan", der zusammen mit dem American Jobs Plan enthüllt wurde. Doch geht dieser Steuerplan nicht so ganz auf. Biden und seine Berater haben eine verwirrende Vielzahl an Körperschaftsteuerreformen vorgeschlagen, um im Verlauf der kommenden 15 Jahre 2,5 Billionen Dollar aufzubringen. Zentraler Aspekt dabei ist eine Erhöhung der Körperschaftsteuer von 21% auf 28%. Dazu würde es eine Mindeststeuer auf die weltweiten Umsätze von US-Unternehmen von 21% geben, eine Mindeststeuer von 15% auf "Buchgewinne" (die gegenüber den Anlegern ausgewiesenen Gewinne, die sich häufig stark von den zur Berechnung der Steuerschuld verwendeten Gewinnen unterscheiden) sowie verschiedene Maßnahmen, um US-Unternehmen davon abzuhalten, ihren Sitz ins Ausland zu verlegen, um Steuern zu sparen.
Ungeachtet dieser Bestimmungen jedoch ist es eine Tatsache, dass die multinationalen Konzerne sich als äußerst geschickt dabei erwiesen haben, ihre Aktivitäten in Länder mit niedrigen Steuersätzen zu verlagern. Dies hat einen jahrzehntelangen Steuerwettbewerb verursacht. Infolgedessen sind die weltweiten Körperschaftsteuersätze (gewichtet nach BIP) von 46,5% im Jahr 1980 auf 25,9% im Jahr 2020 zurückgegangen, und zwar besonders in Schwarzafrika. Bidens Plan ist daher auf beträchtliche internationale Zusammenarbeit angewiesen, und US-Finanzministerin Janet Yellen hat entsprechend eine internationale Körperschaftsteuer für multinationale Konzerne vorgeschlagen, bei der es egal ist, wo diese ihren Sitz haben.
Doch dürfte diese Art von koordinierter Politik kaum Erfolg haben. Schließlich hat es nicht einmal die Europäische Union geschafft, die Steuern ihrer Mitgliedstaaten zu koordinieren. Während Deutschland und Frankreich Körperschaftsteuersätze von 29,9% bzw. 32% aufweisen, besteuert die Republik Irland Unternehmensgewinne mit lediglich 12,5%.
Subscribe to Project Syndicate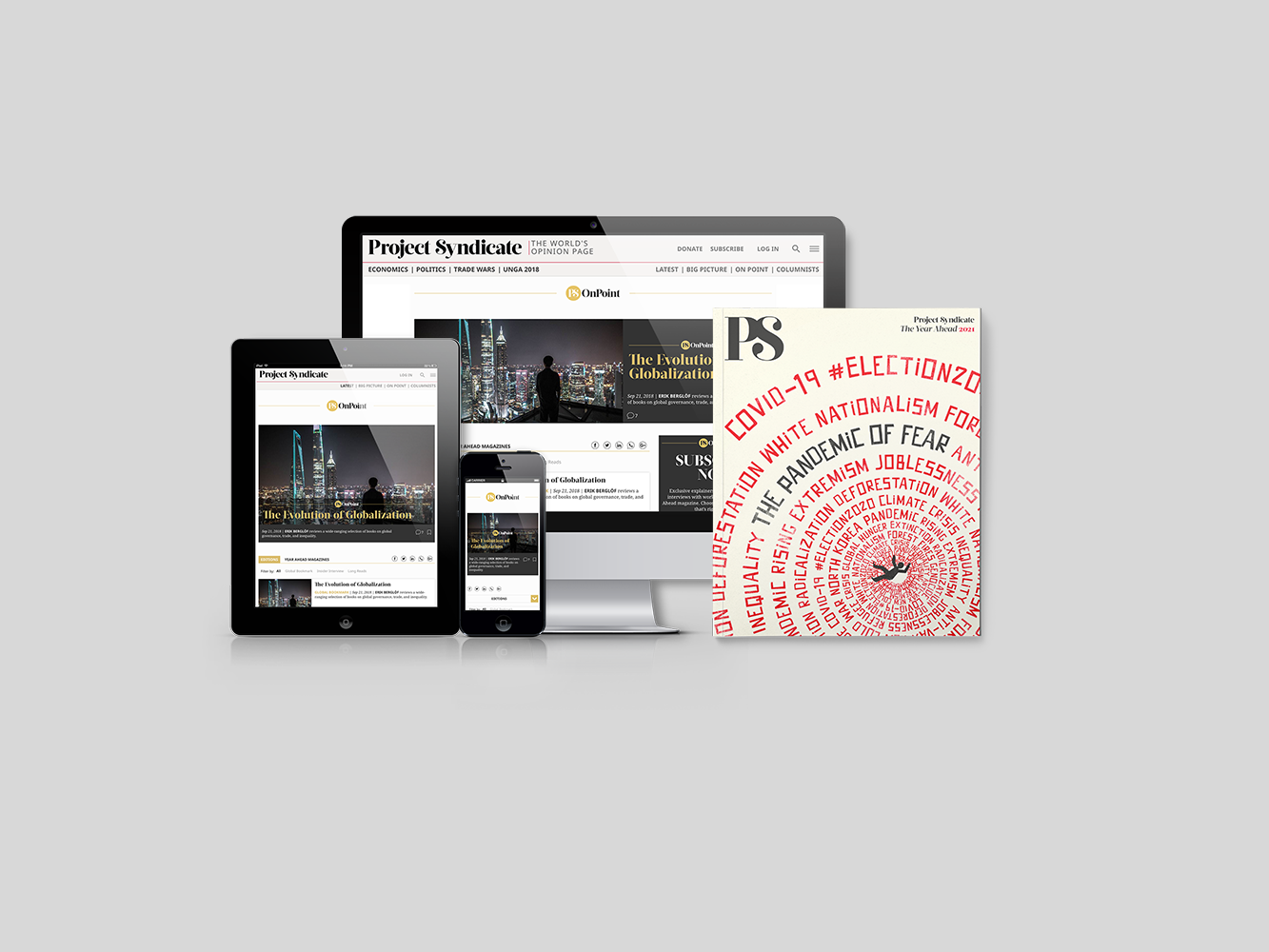 Subscribe to Project Syndicate
Enjoy unlimited access to the ideas and opinions of the world's leading thinkers, including weekly long reads, book reviews, topical collections, and interviews; The Year Ahead annual print magazine; the complete PS archive; and more. All for less than $9 a month.
Die Biden-Regierung argumentiert, dass ihre Vorschläge zur Erhöhung der Körperschaftsteuer im Laufe von 15 Jahren zusätzliche zwei Billionen Dollar – oder 1,33 Billionen Dollar über zehn Jahre – aus ausländischen Unternehmensgewinnen hervorbringen würden. Doch diese Schätzung erscheint optimistisch. In 2017 lag der US-Körperschaftsteuersatz bei 35%, und die Einnahmen aus der Körperschaftsteuer beliefen sich auf 297 Milliarden Dollar. In 2019 – nachdem die Steuerreform der Trump-Regierung den Satz auf 21% gesenkt hatte – fiel dieser Wert auf 230 Milliarden Dollar. Damit Bidens Kalkulationen aufgehen, müssten die Einnahmen aus der Körperschaftsteuer um 133 Milliarden Dollar höher sein und bei rund 363 Milliarden Dollar jährlich liegen.
Und selbst wenn sich die gewünschten Körperschaftsteuereinnahmen erzielen lassen, hat das seinen Preis. Eine höhere Körperschaftsteuer führt tendenziell zu größeren Kapitalabflüssen, einem Rückgang der Kapitalintensität im Inland und daher zu niedrigeren (inflationsbereinigten) Reallöhnen. Daher vertreten Ökonomen im Allgemeinen die Ansicht, dass mit der Körperschaftsteuer auf längere Sicht implizit die Arbeitseinkommen besteuert werden. Insofern als sie Investitionsentscheidungen verzerrt, gilt sie als noch schädlicher als eine explizite Lohnsteuer. Eine Menge Forschungsarbeiten legen nahe, dass sie ganz abgeschafft werden sollte.
Selbst wenn es der Biden-Regierung gelingt, die angestrebten Mehreinnahmen aus der Körperschaftsteuer zu erzielen, werden dem Staat nach zehn Jahren noch immer 2,67 Billionen Dollar fehlen. Um diesen Fehlbetrag auszugleichen, soll die Bundeseinkommensteuer für Personen, die mehr als 400.000 Dollar jährlich verdienen, erhöht werden. Bedenkt man, dass jemand, der 400.000 Dollar jährlich verdient, irgendwo zwischen den obersten ein oder zwei Prozent aller Einkommensbezieher anzusiedeln ist, stellt sich die Frage, ob sich so zusätzliche 267 Milliarden Dollar jährlich aufbringen lassen.
Die Einnahmen aus der Bundeseinkommensteuer werden sich in 2021 auf schätzungsweise 1,93 Billionen Dollar belaufen. In 2015 erzielten die obersten 1% etwa 21% der Einkommen und zahlte etwa 39% der Einkommensteuer; die obersten 2% erzielten rund 26% der Einkommen und zahlten etwa 47% der Gesamteinkommensteuer. Unter der Annahme, dass die Anteile dieser Zahlungen im Laufe der Zeit mehr oder weniger stabil bleiben, wird das oberste 1% 2021 etwa 773 Milliarden Dollar zahlen, und die obersten 2% werden etwa 908 Milliarden zahlen. Nach unserer Bierdeckelrechnung müssten die obersten 1% also 35% mehr bezahlen, um das Einnahmeziel der Biden-Regierung zu erreichen; in ähnlicher Weise müssten die von den obersten 2% gezahlten Steuern zehn Jahre lang um 29% jährlich höher ausfallen.
Doch wird es nicht leicht, von den Reichen nachhaltig rund ein Drittel höhere Steuereinnahmen einzusammeln. Ein derart ehrgeiziges Einnahmeziel dürfte eine Verbreiterung der Steuerbasis erfordern und nicht bloß höhere Steuern für die Reichen. Außerhalb der USA ließe sich dies womöglich mit einer höheren Mehrwertsteuer erreichen: einer von allen Verbrauchern gezahlten indirekten Steuer mit einheitlichem Steuersatz auf breiter Basis und wenigen Ausnahmen. Obwohl eine Mehrwertsteuer die Umverteilungsziele Bidens nicht begünstigen würde (und auf verfassungsrechtliche Einwände stoßen könnte), ließe sich damit zumindest sein Einnahmeziel erreichen.
Für den Moment jedoch dürften die Vorschläge zur Erhöhung der Körperschaft- und Einkommensteuer nicht ausreichen, um Bidens postpandemische Haushaltspläne komplett zu finanzieren. Eine Verbreiterung der Steuerbasis muss auf den Tisch.
Aus dem Englischen von Jan Doolan