Que fera Biden pour les Palestiniens ?
AMMAN – Il y a près de trois ans, le président palestinien Mahmoud Abbas a pris la décision extraordinaire de mettre fin à toutes les négociations avec l'administration du président américain Donald Trump, en raison de son parti pris sans vergogne en faveur d'Israël. Le gouvernement palestinien a hâte de retourner à la table de négociation avec la nouvelle administration du président élu Joe Biden. Le principal point à l'ordre du jour sera la fin de l'implantation illégale de colonies de peuplement par le gouvernement israélien sur les terres palestiniennes dans les territoires occupés.
L'attitude partiale de l'administration Trump à l'égard d'Israël n'aurait pas pu être plus flagrante. Les personnes chargées du « processus de paix » - dont le gendre de Trump Jared Kushner et l'ambassadeur des États-Unis en Israël David Friedman – ont toutes publiquement soutenu la construction de colonies israéliennes, en violation des droits humains des Palestiniens.
Sans surprise, le prétendu plan de paix échafaudé par cette équipe donnait à Israël pratiquement tout ce dont il pouvait rêver, tout en n'offrant aucune concession aux Palestiniens. À la place, l'administration Trump a tenté d'acheter le consentement des Palestiniens – ou plus précisément, leur capitulation – avec des promesses d'investissement. Plutôt que de se soumettre, Abbas a rompu les discussions avec les États-Unis, une décision étonnante quand on pense que dans les années 1980, les Palestiniens suppliaient les Américains de tenir des pourparlers directs avec leurs dirigeants.
Mais dans ces circonstances, Abbas n'avait pas le choix. Avec la première superpuissance mondiale à ses côtés, le gouvernement de droite du Premier ministre israélien Benyamin Nétanyahou n'avait pas besoin de l'accord des Palestiniens pour accélérer la construction de nouvelles colonies et préparer le terrain pour d'autres projets du même ordre. Ces derniers mois, les autorités israéliennes ont procédé à une série de démolitions sans précédent de maisons et de structures palestiniennes.
Il ne fait aucun doute que ces activités de peuplement israéliennes sont en violation du droit humanitaire international. Le Conseil de sécurité des Nations unies l'a confirmé il y a quatre ans, en adoptant à l'unanimité la Résolution 2334. Son préambule condamne explicitement « toutes les mesures visant à modifier la composition démographique, le caractère et le statut du Territoire palestinien occupé depuis 1967 », y compris « la construction et l'expansion de colonies de peuplement » et « la destruction de maisons et le déplacement de civils palestiniens ».
Et pourtant, l'administration Trump reste déterminée à cautionner ces violations du droit international par Israël. Il est prévu que le secrétaire d'État américain Mike Pompeo, qui a peut-être en ligne de mire sa candidature à l'élection présidentielle de 2024, visite une colonie israélienne illégale en Cisjordanie occupée, ce qui fera de lui le premier chef de la diplomatie américaine à le faire. Cette visite constitue une nouvelle violation flagrante de la Résolution 2334, qui appelle « tous les États, […], à faire une distinction, dans leurs échanges en la matière, entre le territoire de l'État d'Israël et les territoires occupés depuis 1967 ».
Subscribe to Project Syndicate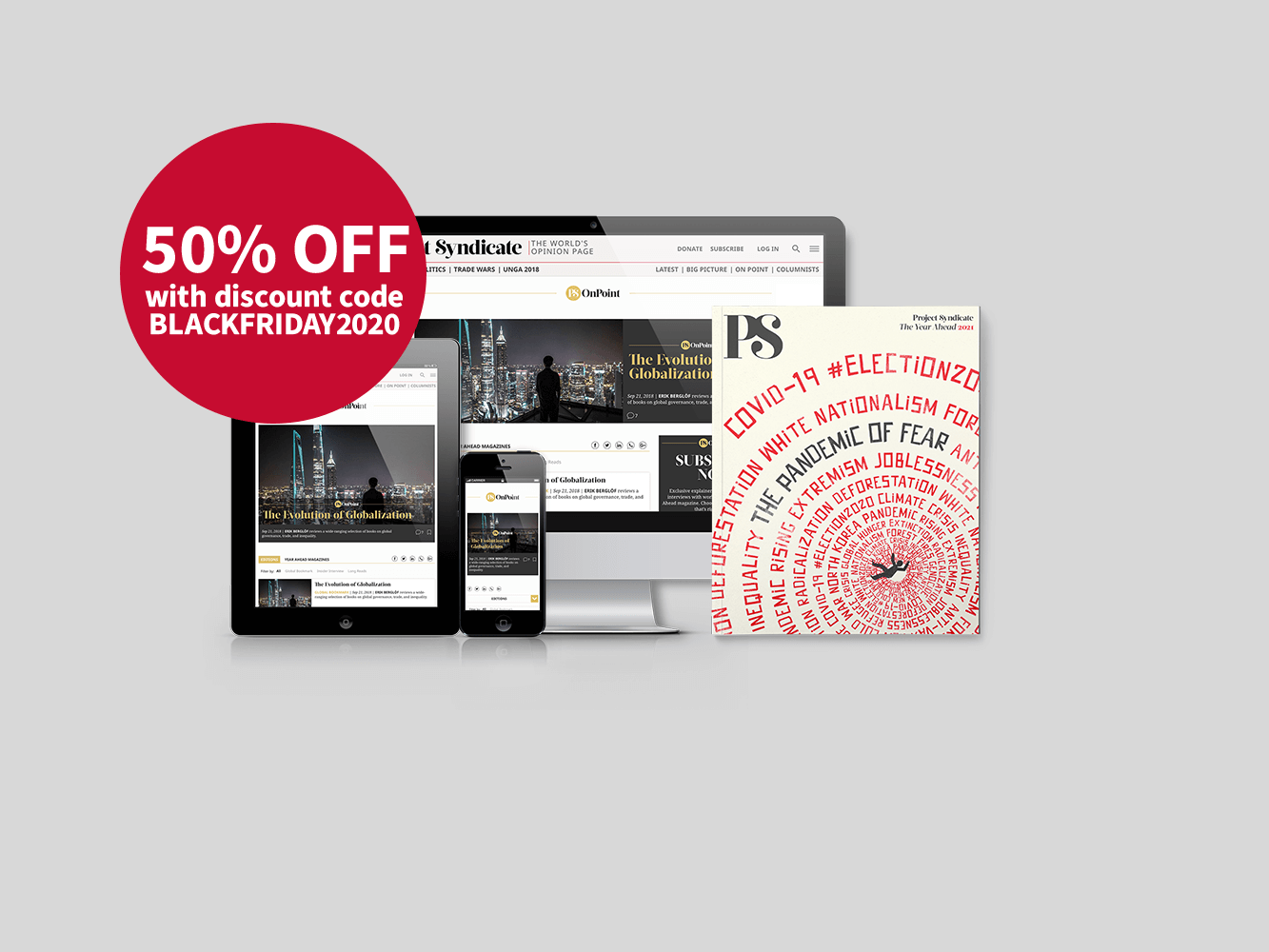 Subscribe to Project Syndicate
Enjoy unlimited access to the ideas and opinions of the world's leading thinkers, including weekly long reads, book reviews, and interviews; The Year Ahead annual print magazine; the complete PS archive; and more – All for less than $9 a month.
Depuis la trahison de l'administration Trump, les Palestiniens doivent se débrouiller seuls. Pour protester contre le plan d'annexion de certains pans de la Cisjordanie, l'Autorité palestinienne (AP) a refusé d'accepter les recettes fiscales collectées en son nom par Israël – une décision qui, couplée avec la forte baisse de l'aide américaine, a mené l'AP au bord de la faillite.
Cela donne toute la mesure de l'importance cruciale que revêt la question des colonies pour les Palestiniens – et à juste titre. Outre les violations du droit international et des droits des Palestiniens, la poursuite des activités de peuplement israéliennes exclut la possibilité de création d'un État palestinien indépendant dans le cadre des frontières de 1967.
Heureusement, des signes prometteurs laissent à penser que Biden adoptera une approche très différente de celle de son prédécesseur. La résolution 2334 a été adoptée parce que l'administration du président américain Barack Obama, dans ses derniers jours au pouvoir, a décidé de ne pas y opposer son veto. Cette décision a été formulée par Susan Rice, conseillère à la sécurité nationale d'Obama, pressentie pour être la secrétaire d'État de Biden.
Bien évidemment, Biden était lui-même le vice-président de l'administration Obama, et en 2014, il avait dit à Nétanyahou : « Je ne suis pas d'accord avec la moindre chose que tu dis ». D'autres personnes nommées par l'administration Biden  –  dont le futur chef de cabinet Ron Klain –s'opposent toutes aux activités illégales de colonisation israélienne.
Abbas espère clairement que la nouvelle administration américaine permettra d'aller de l'avant. Après avoir félicité Biden pour sa victoire électorale, il s'est dit « impatient de travailler avec le président élu et son administration pour renforcer les relations palestino-américaines et d'assurer la liberté, l'indépendance, la justice et la dignité pour notre peuple et d'œuvrer pour la paix, la stabilité et la sécurité pour tous dans notre région et dans le monde ».
Avant même l'élection de Biden, Abbas tentait de relancer les discussions. Dans son discours devant l'Assemblée générale des Nations unies en septembre dernier, il a appelé le Quartet pour le Moyen-Orient – les États-Unis, les Nations unies, l'Union européenne et la Russie – à convoquer une conférence internationale au début de l'année prochaine « pour engager un authentique processus de paix, sur la base du droit international, des résolutions des Nations unies et des modalités internationales pertinentes, pour mettre fin à l'occupation (israélienne) ».
Qu'une telle conférence puisse avoir lieu, et plus encore produire des résultats, dans les premiers jours de l'administration Biden, est beaucoup demander. Mais il n'est pas déraisonnable de s'attendre à ce que la nouvelle administration applique immédiatement la Résolution 2334 – et cela signifie mettre un terme rapide aux projets de colonies de peuplement israéliennes.
Contrairement à ce que l'on pense généralement, un règlement permanent du conflit israélo-palestinien n'est pas une cause perdue. Y parvenir nécessitera toutefois une action courageuse et résolue de la part des États-Unis. Que Biden lance une initiative dans ce sens reste à voir, mais qu'il s'engage à faire en sorte qu'Israël commence à respecter la résolution 2334 serait un bon début.