Een nieuwe Bazel-ronde?
LONDEN – Na lange en soms pijnlijke onderhandelingen, die een ultieme stresstest waren voor de persoonlijke relaties tussen de centrale bankiers en toezichthouders van veel landen, heeft het Bazel-Comité in december zijn langverwachte ei gelegd. Omschreven als een pakket dat de hervormingen van het mondiale regime voor bankkapitaal van na 2008 finaliseert brengt dit het proces dat bekend staat als Bazel III tot een eind.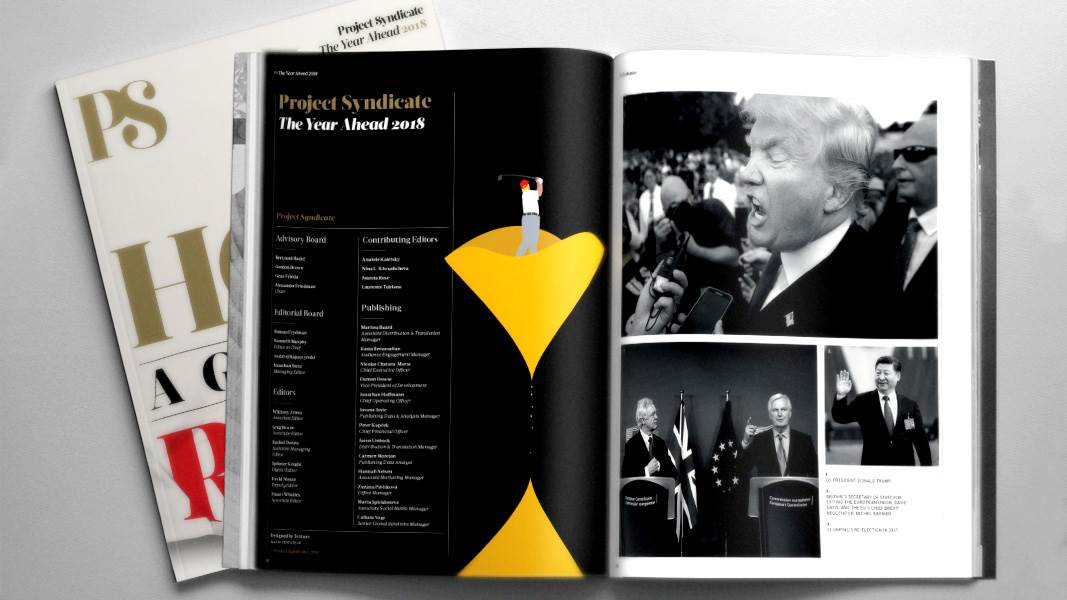 The Year Ahead 2018
The world's leading thinkers and policymakers examine what's come apart in the past year, and anticipate what will define the year ahead.
Bankiers hebben het resultaat al 'Bazel IV' genoemd, en betogen dat het laatste pakket veel nieuwe en nog zwaardere eisen bevat. Maar het Comité houdt vol dat de nieuwe regels moeten worden gezien als onderdeel en bijlage van het hervormingsprogramma dat in 2009 in de nasleep van de wereldwijde financiële crisis werd ingezet. Bazel IV komt er wellicht ooit nog, maar dit is niet dat moment, zo houden ze vol.
Welk probleem probeert het nieuwe pakket op te lossen? In de preambule refereren de regulatoren aan een 'zorgelijk niveau van variatie tussen de calculaties van de [risicogewogen activa] van banken.' Ze hebben gevonden dat het toepassen van de verschillende interne modellen van grote banken op het zelfde portfolio zeer verschillende resultaten kan opleveren, wat betekent dat sommige banken aanzienlijk minder kapitaal dan andere reserveren voor de zelfde hoeveelheid verwacht risico.
Het logische antwoord op dat probleem is, zo zou je denken, om deze modellen nauwgezet te onderzoeken, te bekijken wat de verschillen veroorzaakt, en om kalibraties te eisen waar de resulterende activa-reducties excessief worden bevonden. Maar de toezichthouders trekken hun eigen vermogen om de donkere krochten van de interne modellen van banken te penetreren duidelijk in twijfel; daarom hebben ze in plaats daarvan een zogenoemde 'vermogensbodem' opgelegd. Met andere woorden: hoeveel jouw model de risicogewogen activa ook reduceert, je kan een mindering groter dan 27,5% niet verantwoorden.
Deze vermogensbodem wordt uitgedrukt als een netto getal van 72,5%, waaronder deze niet kan dalen. Maar waarom het ongewoon precieze getal van 72,5%? Het antwoord is voor de hand liggend. Het ligt namelijk tussen de 75%, wat het hoogste bod van de VS was, en 70%, het Franse aanbod. Ze kwamen overeen om het verschil te delen.
Alhoewel hier geen logica achter zit, was zelfs de blootgestelde banken inmiddels de mening toegedaan dat een overeenkomst beter was dan geen. De voortdurende onzekerheid maakte hun kapitaalplanning zeer lastig. Dus bankiers gaven de voorkeur aan een deal en zullen met de gevolgen hiervan moeten leven, wanneer dit tenminste echt het einde van het programma is.
Helaas zal deze nieuwe overeenkomst het kapitaaldebat waarschijnlijk niet weten te beslechten. Zelfs alhoewel vooraanstaande centrale bankiers zoals Mark Carney, Governor of the Bank of England en voorzitter van de Raad voor Financiële Stabiliteit, denken dat er nu genoeg kapitaal in het banksysteem zit delen velen deze mening niet.
Anat Admati van Stanford is voorstander van kapitaalratio's van ruim boven de 20%. Martin Wolf van de Financial Times maakt een overeenkomstig punt. Hij denkt dat de banken nog steeds gevaarlijk instabiel zijn. Andy Haldane van de Bank of England onderstreept dat banken gegeven de lage prijsstelling van hun eigen bezittingen op marktgewogen basis niet zo sterk zijn als ze lijken.
Bankiers daarentegen wijzen op de hoge kosten van vermogen en stellen dat banken dwingen om zelfs nog meer op te halen de kosten van krediet zal verhogen en het aanbod ervan zal verkleinen. In Europa is ongeveer de helft van de verbeteringen in de kapitaalratio's voortgekomen uit minder uitlenen in plaats van nieuw verworven vermogen. Er bestaat tussen de twee kampen maar weinig overeenstemming.
Het was dus een hele opluchting om het boek The Right Balance for Banks van William Cline tegen te komen, dat probeert een grondslag te produceren voor het juiste niveau van bankkapitaal. Door te putten uit breed onderzoek en marktanalyse betoogt Cline dat van banken eisen dat ze meer kapitaal vasthouden de kosten van krediet inderdaad in enige mate doet stijgen. Alhoewel er bewijs bestaat dat bankschulden goedkoper zijn als de ruggensteun van vermogen groot is, wat je zou verwachten, loopt deze reductie niet één op één. En de hogere kosten van krediet zullen de groei waarschijnlijk afvlakken en verlies van welvaart genereren.
Aan de andere kant zal een groter bankvermogen het omvallen van banken, wat hoge kosten aan de economie en individuen oplegt, tegengaan. Het reduceren van het aantal crises en de ernst daarvan is duidelijk wenselijk. Dus Cline probeert te berekenen waar de optimale balans ligt, met medeneming van het feit dat het risico op falende banken naar nul brengen irrationeel hoge kosten kan opleveren.  Cline's conclusie dat 'de optimale kapitaalratio 7%-8% tot van de totale activa bedraagt, wat correspondeert met 12% tot 14% van de risicogewogen activa (met gebruik van de ratio van risicogewogen activa tot totale activa van banken in de eurozone en de VS).'
Deze cijfers liggen in feite vrij dicht bij de getallen die ten grondslag liggen aan de nieuwe Bazel-vereisten zoals geïmplementeerd door nationale toezichthouders. De meeste Britse banken bijvoorbeeld richten zich nu op een vereiste van 13%, en houden meestal iets meer achter 'voor de zekerheid.'
De benadering van Cline voelt instinctief aantrekkelijk. Hij erkent dat de ratio redelijkerwijs kan worden opgeschroefd voor systematisch belangrijke banken, zij die zo berucht 'too big to fail' zijn genoemd. Binnen het regelgevende regime waar ik ben opgeleid – the Bank of England – werd ons verteld nooit die fatale frase te hanteren, vanwege de angst om precies dat morele gevaar te genereren dat we wensten te voorkomen. Maar hier valt in een post-crisis wereld niet onder uit te komen.
Zal het harde werk van Cline het debat beëindigen? Ik betwijfel het. Zelfs nu nog hoor ik dat er messen geslepen worden, en statistische modellen opnieuw gecalculeerd. En er is nog geen beslissing om de druk van de grote banken weg te nemen. Centrale bankiers zullen hun zenuwen in bedwang moeten weten te houden, en de banken zelf zullen zich moeten gedragen, of er komt wellicht een echt Bazel IV in zicht aan de oevers van de Rijn.
Vertaling Melle Trap