Eloge du déclin démographique
LONDRES – Tous les deux ans, les Nations Unies publient ses dernières estimations des tendances démographiques futures. Sa projection 2019 révèle une fracture flagrante. À travers toute l'Asie, l'Europe et les Amériques, la stabilité de la population a déjà été atteinte ou le sera bientôt, avec la projection médiane suggérant une augmentation de 6,4 milliards aujourd'hui à 6,5 milliards en 2100, soit une hausse de seulement 2%. En revanche, l'ONU prévoit que la population de l'Afrique montera en flèche, de 1,34 à 4,28 milliards.
Au-delà de quelques décennies, les tendances de la population dépendent de manière cruciale des anticipations concernant les futurs taux de fécondité, qui sont par nature incertains. Néanmoins, le modèle actuel de fécondité dans toutes les économies développées du monde a tenu si longtemps qu'il semble susceptible de rester un élément stable de la société humaine.
Dans tous les pays économiquement avancés, les taux de fécondité ont chuté rapidement entre la fin du XIXe siècle et les années 1920, lorsque la contraception est devenue de plus en plus disponible et les femmes ont été de plus en plus libérées de la sphère domestique grâce à l'éducation et une plus grande participation à la force de travail formelle. Cependant, après avoir atteint des taux inférieurs à 2 dans de nombreux pays entre les deux guerres mondiales, les taux de fécondité ont recommencé à augmenter dans l'immédiat après-guerre – pour atteindre environ 2,4 en Europe du Nord et de l'Ouest, et un peu plus de 3 en Amérique du Nord.
Dans le demi-siècle depuis 1970 cependant, un modèle remarquablement constant a régné, entre les pays et à travers le temps. Depuis que les taux de fécondité d'Europe du nord et de l'ouest sont tombés en dessous de 2 au début des années 1970, et que les taux d'Europe du sud ont suivi une décennie plus tard, ils n'ont plus jamais dépassé 2 – avec une moyenne européenne actuelle de 1,6 et aucun pays au-dessus de 1,85.
Le taux de fécondité du Canada n'a jamais dépassé 2 depuis le début des années 1970 et se situe actuellement à 1,53. Le taux de fécondité des États-Unis est passé sous la barre des 2 au cours des années 1970, puis repassé juste au-dessus de cette barre dans les années 1990, seulement parce que des immigrants récemment arrivés d'Amérique latine avaient initialement des taux de fécondité plus élevés que la population non-hispanique. Néanmoins, alors que les taux de fécondité de la population d'origine hispanique connaissent aujourd'hui une baisse rapide, la moyenne des États-Unis est actuellement de 1,78.
Dans tous les pays qui ont atteint le statut de revenu intermédiaire, et où les femmes sont bien éduquées et ont une liberté de reproduction, les taux de fécondité sont égaux ou inférieurs aux niveaux de remplacement. Il est toujours risqué de déclarer une règle universelle de comportement humain, mais il semble que ceci pourrait en être une. Les sociétés humaines riches et prospères choisissent des taux de fécondité qui impliquent un déclin démographique progressif.
Subscribe now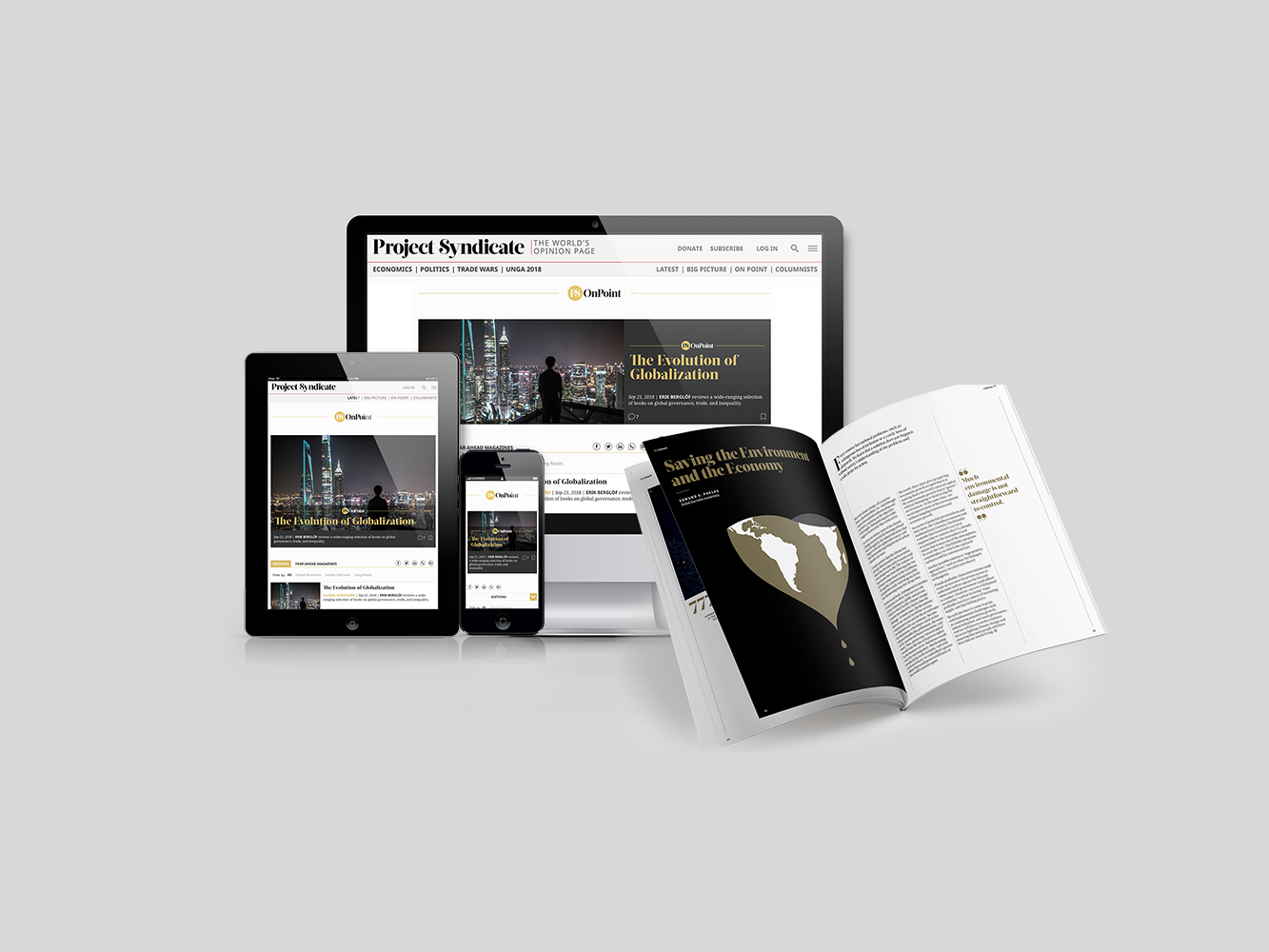 Subscribe now
Get unlimited access to OnPoint, the Big Picture, and the entire PS archive of more than 14,000 commentaries, plus our annual magazine, for less than $2 a week.
Une grande partie des commentaires traditionnels se plaignent que la conséquence inévitable est un déclin de la population en « âge de travailler », souvent de manière rigide définie comme les personnes âgées de 15 à 64 ans, par rapport à celle de 65 ans et plus. Si les taux de fécondité ne peuvent pas être stimulés davantage, avance-t-on souvent, l'immigration doit être encouragée en tant que seule réponse à la pénurie de main-d'œuvre imminente.
Or, dans un monde où le potentiel de l'automatisation est en rapide expansion, la diminution démographique est en grande partie une aubaine, pas une menace. Notre capacité croissante à automatiser le travail humain dans tous les secteurs – l'agriculture, l'industrie et les services - rend la croissance incessante de la main-d'œuvre de moins en moins nécessaire à l'amélioration du bien-être humain. A l'inverse, l'automatisation empêche d'atteindre le plein emploi dans les pays qui sont encore confrontés à une croissance rapide de leur population.
Le taux global de fécondité de l'Inde est maintenant tombé à 2,24 et est inférieur à 2 dans tous les états économiquement dynamiques du pays, tels que le Gujarat, le Maharashtra et le Kerala. La moyenne nationale est maintenue au-dessus de 2 uniquement à cause des taux beaucoup plus élevés dans les états pauvres de l'Uttar Pradesh et du Bihar. Mais les taux de fécondité élevés du passé signifient que la population de l'Inde, actuellement de 1,38 milliard, atteindra probablement une stabilité, à environ 1,65 milliard, seulement dans les années 2050. De plus, sa population en âge de travailler continuera à croître de quelque dix millions par an pendant plusieurs décennies.
Une telle croissance rapide, souvent saluée comme un dividende démographique bienvenu, est en fait l'un des principaux problèmes économiques de l'Inde. Bien que la croissance annuelle du PIB ait été en moyenne d'environ 7% au cours des cinq dernières années, elle a été tirée par des sociétés leaders qui utilisent de la technologie de pointe. L'expansion a créé très peu de nouveaux emplois et une part croissante de la population de l'Inde est soit au chômage ou sous-employée au sein de l'immense secteur informel à faible productivité du pays. En revanche, la Chine et le Japon, qui font maintenant face à une baisse importante de leur population en âge de travailler, sont beaucoup mieux placés pour embrasser l'automatisation sans craindre les conséquences pour l'emploi.
Les plus grands défis démographiques ne se situent donc pas dans les pays confrontés à la stabilisation et au déclin progressif de leur population, mais bien en Afrique, qui fait toujours face à une croissance rapide de sa population.
L'histoire économique des 70 dernières années n'indique qu'une seule voie éprouvée pour passer de la pauvreté à des niveaux de revenus moyens et élevés ; elle implique une phase dans laquelle un grand nombre d'emplois sont créés dans les secteurs manufacturiers orientés vers l'exportation. La Corée, Taiwan, la Chine et le Bangladesh ont suivi ce modèle de développement, et de nombreux pays africains cherchent maintenant à en faire autant.
Mais ce modèle est menacé dans un monde où la fabrication peut être presque entièrement automatisée, et où une grande part de la production manufacturière, impliquant néanmoins très peu d'emplois, pourrait revenir vers les pays développés. L'Ethiopie est l'un des pays de l'Afrique avec les meilleures politiques et perspectives mais, même là, il sera presque impossible de créer des emplois assez rapidement pour absorber une population en âge de travailler qui devrait passer de 43 millions en 2015 à 110 millions en 2050. Et les perspectives de l'Ethiopie sont largement meilleures que celle du Niger, où la population totale devrait passer de 24 millions aujourd'hui à 66 millions d'ici au milieu du siècle, et à 165 millions d'ici 2100.
Il n'y a pas de réponse facile au défi démographique qui menace aujourd'hui le développement économique africain. Mais nous devrions au moins reconnaître que c'est là où se trouve la réelle menace démographique. L'automatisation a renversé la sagesse économique conventionnelle : il y a une plus grande prospérité là où on est moins nombreux.
Traduit de l'anglais par Timothée Demont