El déficit de transparencia del BAII
LISBOA/AARHUS – El Banco Asiático de Inversión en Infraestructura (BAII), con sede en Beijing, inició sus operaciones en 2016 y en poco tiempo se afianzó como una importante institución multilateral de desarrollo. Ahora quiere convertirse en el principal financista mundial de infraestructuras a gran escala en 2021. Pero antes, tendrá que mejorar sus prácticas en lo referido a la publicación en plazo oportuno de los riesgos ambientales y sociales de sus proyectos.
En la actualidad el BAII tiene 82 estados miembros, y se prevé que pronto se unan otros 21 países. Las economías más grandes de Europa (Alemania, el Reino Unido, Francia e Italia) son miembros fundadores, una decisión que tomaron en contra de los deseos del gobierno de los Estados Unidos durante la presidencia de Barack Obama. Esa decisión entregó a China una victoria diplomática y demostró su capacidad para sembrar división entre aliados tradicionales. Estados Unidos y Japón todavía no se han unido.
La membresía europea ayudó al BAII a asentar su credibilidad internacional y obtener calificación crediticia AAA, lo que lo sitúa en un mismo nivel con instituciones de desarrollo multilaterales tradicionales como el Banco Mundial, y le permite incrementar su capitalización inicial de cien mil millones de dólares tomando fondos adicionales en los mercados de capital internacionales.
Para justificar la decisión de unirse al BAII, los gobiernos europeos declararon que lo impulsarían a adoptar estándares internacionales del más alto nivel, comenzando por reglas claras sobre los plazos de publicación de documentación clave sobre los proyectos. Sin esas reglas, cuando los riesgos ambientales y sociales de las inversiones salen a la luz, ya es demasiado tarde para exigir la implementación de medidas de mitigación adecuadas.
Proyectos de infraestructura a gran escala (por ejemplo, corredores de exportación, centrales energéticas y grandes diques) siempre suponen altos riesgos ambientales y sociales. También es muy común que estén ligados a corrupción y a aumentos de la deuda pública. Su impacto puede transformar regiones enteras, afectar a un sinfín de comunidades y contribuir al cambio climático y a la pérdida irreversible de biodiversidad.
Para controlar los riesgos de esos proyectos, son fundamentales la transparencia y la participación pública. Pero el impulsor y principal accionista del BAII, el gobierno chino, opera en un contexto político sin un sistema de controles y contrapesos, en el que reforzó su dominio sobre la sociedad civil y los medios dentro de China, y silenció a defensores de los derechos humanos e incluso de la salud pública.
Secure your copy of PS Quarterly: The Year Ahead 2023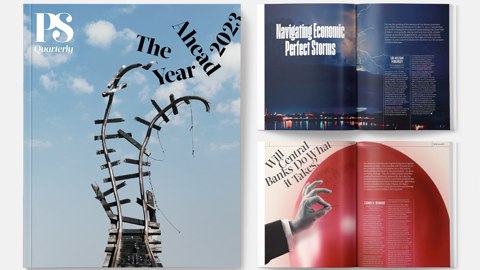 Secure your copy of PS Quarterly: The Year Ahead 2023
PS Quarterly: The Year Ahead 2023 is almost here, and available only to Digital Plus or Premium subscribers.
Subscribe now to secure a print copy of the magazine, as well as digital access to all its content, including exclusive insights from German Minister of Foreign Affairs Annalena Baerbock, US Treasury Secretary Janet Yellen, Nobel laureate economist Joseph E. Stiglitz, and more.

Además, el BAII adoptó un modelo de gobernanza que hace hincapié en la «eficiencia». El «marco de responsabilidad» de la institución establece que la junta directiva (que representa a los países integrantes) delegue un creciente poder de decisión sobre la financiación de proyectos al presidente del banco.
En sus inicios, el BAII actuó más como acompañante en proyectos de inversión de otras instituciones multilaterales, que se regían por las normas de esos bancos. Pero con el tiempo irá desarrollando su propia línea de préstamos (con reglas propias) con el objetivo de convertirse en líder mundial en financiación de infraestructuras, con proyectos en África, América Latina y Europa, además de Asia.
Los principales documentos normativos del BAII en relación con la transparencia y el acceso público a información son su Política sobre Información Pública de 2018 (PIP) y su Marco Ambiental y Social de 2016 (MAS), que se sometió a enmienda el año pasado. El BAII publicó en septiembre de 2020 un borrador de la versión modificada del MAS, y la junta directiva del banco debería aprobarlo en febrero del año entrante, después de un período de consulta pública.
Los principios incluidos en la PIP (entre ellos una «presunción de publicidad») son un buen inicio, pero no bastan. La política incluye tantas excepciones que en definitiva, la decisión sobre qué documentos publicar queda en manos del presidente.
La versión actual del MAS (2016) incluye dos párrafos respecto del acceso público a información, sin la mención esencial de plazos para la publicación de documentos como la evaluación de impacto social y ambiental; sólo se indica que se publiquen en forma «oportuna» o «en cuanto estén disponibles». Estos vacíos son oportunidades evidentes para que intereses financieros o corporativos prevalezcan sobre el interés público de contar con información sobre los riesgos ambientales y sociales en forma anticipada.
La Oficina del Alto Comisionado de las Naciones Unidas para los Derechos Humanos y los accionistas europeos del BAII habían pedido la inclusión de normas claras sobre la publicación oportuna de estudios ambientales y otros documentos pertinentes. La respuesta del BAII consistió en usar una redacción y una terminología cuidadosamente adaptadas a las sensibilidades occidentales, que en una lectura atenta termina siendo superficial e imprecisa.
El borrador del marco tampoco dice mucho sobre la creciente tendencia a la canalización de inversiones a través de intermediarios financieros (por ejemplo, bancos comerciales y fondos de capital privado). Aunque las actividades que financien estas instituciones con apoyo del BAII sean de alto riesgo, no se les exige publicar información específica respecto del impacto social y ambiental.
Para prevenir y mitigar daños, el BAII debe garantizar que todas las evaluaciones de impacto social y ambiental (incluidos los planes para la compra de tierras y la reubicación de moradores) se publiquen antes de la aprobación de los proyectos, cuando todavía se puede influir en el resultado. Pero el borrador del nuevo MAS muestra que el banco tiene intención de delegar la responsabilidad de rendición de cuentas a sus futuros clientes.
Si no se introducen grandes cambios al borrador, se perderá una oportunidad crucial de promover gobernanza transparente, justicia y sostenibilidad ambiental en los proyectos del BAII. Y en un plano más amplio, existe el riesgo de que en la competencia por oportunidades de inversión entre instituciones financieras internacionales, la postura del banco aliente un debilitamiento generalizado de normas ambientales y sociales.
La emergencia climática y la pérdida irreversible de biodiversidad han llegado a niveles críticos, mientras en muchos países el espacio político para las organizaciones de la sociedad civil se está reduciendo o ya ha desaparecido por completo. La falta de transparencia del BAII amenaza con empeorar una situación que ya de por sí es mala.
Traducción: Esteban Flamini