O défice de transparência do BAII
LISBOA/AARHUS – O Banco Asiático de Investimento em Infra-estruturas (BAII), sediado em Beijing, iniciou a sua actividade em 2016 e rapidamente se consagrou como uma importante instituição multilateral para o desenvolvimento. Presentemente, tem como objectivo tornar-se o principal financiador do mundo de infra-estruturas em grande escala até 2021. Mas o banco necessita de começar por melhorar o seu desempenho relativamente à divulgação pública atempada dos riscos ambientais e sociais dos seus projectos.
O BAII compreende actualmente 82 estados-membros, e espera-se para breve a adesão de 21 outros países. As maiores economias da Europa (Alemanha, Reino Unido, França e Itália) afrontaram abertamente o governo do presidente dos EUA, Barack Obama, ao tornarem-se membros fundadores do banco. A sua decisão conferiu uma vitória diplomática à China e demonstrou a sua capacidade de separar aliados tradicionais. Os Estados Unidos e o Japão ainda não aderiram.
A adesão europeia ajudou o BAII a conseguir a sua credibilidade internacional e a receber uma notação de crédito AAA. Isto coloca a organização no mesmo patamar que bancos multilaterais de desenvolvimento tradicionais, como o Banco Mundial, e permite-lhe arrecadar fundos adicionais nos mercados internacionais de capitais, para aumentar o seu capital inicial de 100 mil milhões de dólares.
Os governos europeus fundamentaram a sua decisão de aderirem ao BAII afirmando que insistiriam para que o banco adoptasse os mais elevados padrões internacionais, começando por regras claras e calendarizadas para a publicação de documentação dos principais projectos. Sem essas regras, os riscos ambientais e sociais de um dado investimento seriam conhecidos tarde demais para exercer pressão no sentido de medidas de atenuação significativas.
Os projectos infra-estruturais de larga escala, como os corredores de exportação, as centrais eléctricas e as grandes barragens, acarretam invariavelmente riscos ambientais e sociais elevados. Também estão, com grande frequência, associados a corrupção e a níveis crescentes de dívida pública. O seu impacto pode transformar regiões inteiras, afectar inúmeras comunidades e contribuir para as alterações climáticas e a perda irreversível de biodiversidade.
A transparência e a participação pública são primordiais para a gestão dos riscos desses projectos. Mas a força impulsionadora e maior accionista do BAII, o governo chinês, opera num contexto político sem controlos nem meios que assegurem o equilíbrio. Tem aumentado cada vez mais o seu domínio sobre a sociedade civil e os media, e tem em grande medida silenciado os defensores dos direitos humanos e mesmo da saúde pública.
Subscribe to Project Syndicate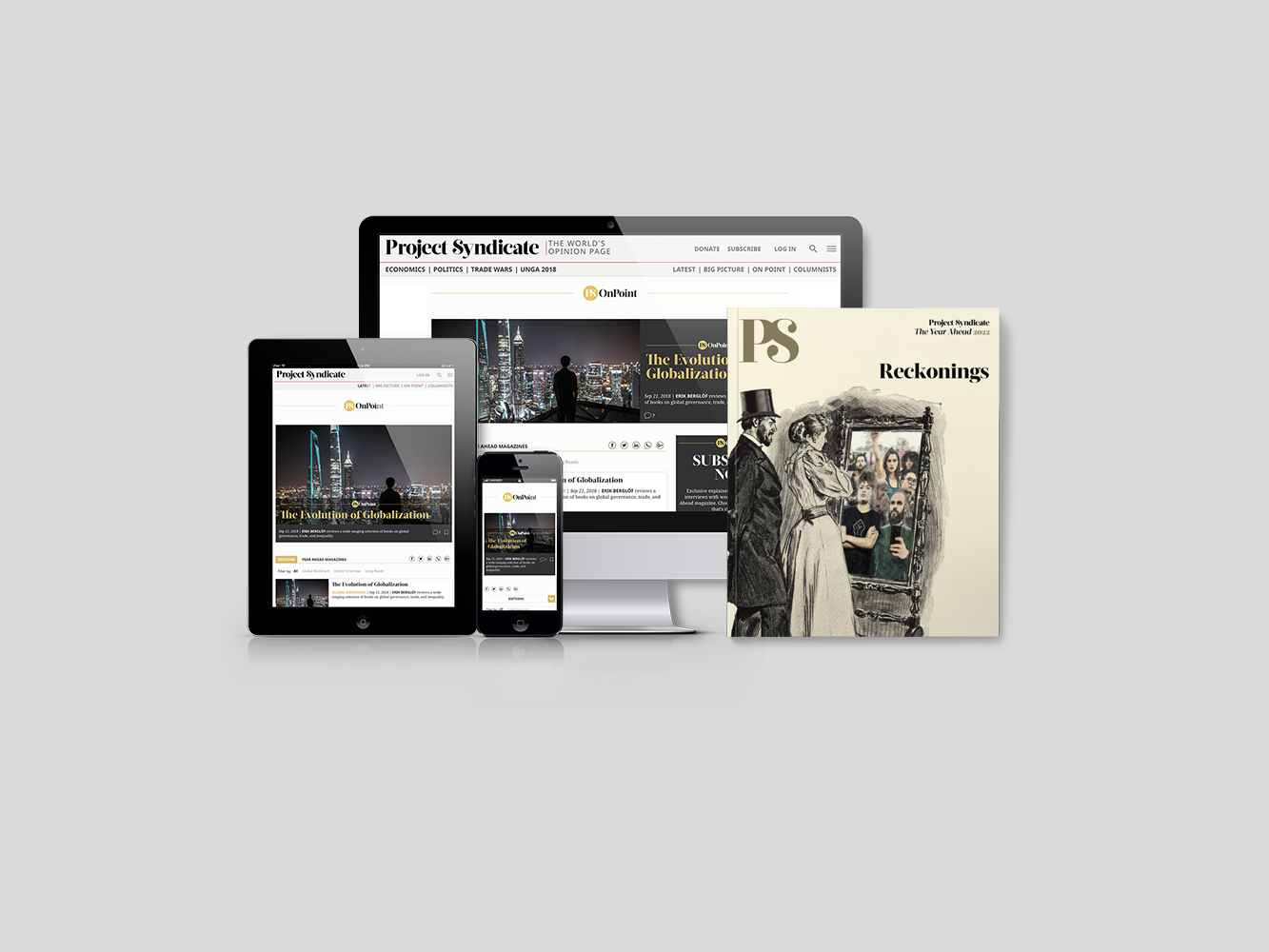 Subscribe to Project Syndicate
Our newest magazine, The Year Ahead 2022: Reckonings, is here. To receive your print copy, delivered wherever you are in the world, subscribe to PS for less than $9 a month.
As a PS subscriber, you'll also enjoy unlimited access to our On Point suite of premium long-form content, Say More contributor interviews, The Big Picture topical collections, and the full PS archive.
Inclusivamente, o BAII adoptou um modelo de governação que dá ênfase à "eficiência". Segundo a denominada "estrutura de responsabilização" da instituição, o conselho de administração, que representa os países-membros, delega no presidente do banco um crescente poder decisório sobre o financiamento de projectos.
No início, o BAII contribuía principalmente em investimentos de outros credores multilaterais, e aplicavam-se as políticas dos bancos que lideravam o investimento. Mas o BAII irá aumentar cada vez mais o seu próprio negócio de crédito, sob as suas próprias regras, com o objectivo de se tornar o líder global no financiamento de infra-estruturas. Para além da Ásia, o banco visará a África, a América Latina e a Europa.
Os principais instrumentos políticos do BAII sobre transparência e acesso público a informações são a sua Política sobre Informações Públicas (PIP), de 2018, e o seu Modelo Ambiental e Social (MAS) de 2016, que foi actualizado no ano passado. Em Setembro de 2020, o BAII publicou a versão preliminar de um MAS revisto, que o conselho do banco deverá aprovar no próximo mês de Fevereiro, após um período de consulta pública.
Os princípios da PIP (que incluem uma "presunção a favor da divulgação) são bem-vindos, mas insuficientes. A política inclui tantas excepções, que as decisões sobre quais os documentos que o BAII divulga são em última análise tomadas pelo seu presidente.
O MAS actual (2016) inclui dois parágrafos sobre divulgação de informações. Não mencionam os períodos essenciais para a divulgação pública de documentos como estudos de impacto ambiental e social. Em vez disso, o MAS refere que os documentos devem ser disponibilizados de forma "atempada", ou "assim que estejam disponíveis". Estas lacunas permitem claramente que os interesses financeiros ou corporativos suplantem o interesse público de conhecer com antecedência os riscos ambientais e sociais.
O Gabinete do Alto-Comissário das Nações Unidas para os Direitos Humanos e os accionistas europeus do BAII apelaram ao banco para que este adoptasse regras claras quanto à divulgação pública e com prazos específicos de estudos ambientais e de outros documentos relevantes. O BAII respondeu, utilizando uma linguagem e uma terminologia cuidadosamente adaptadas às sensibilidades ocidentais. Mas depois de uma leitura mais atenta, o conteúdo é frequentemente superficial e impreciso.
O modelo proposto também é surpreendentemente débil na abordagem à crescente tendência de canalizar investimentos através de intermediários financeiros como bancos comerciais e fundos de participações privadas. Mesmo quando estas entidades financiam actividades de risco elevado com o apoio do BAII, não são obrigadas a publicar informações específicas sobre o impacto ambiental e social.
Para evitar e minorar os danos, o BAII deveria garantir a plena divulgação dos estudos de impacto ambiental e social, incluindo planos para aquisição de terrenos e realojamento, antes da aprovação do projecto, quando ainda existem hipóteses de influenciar o resultado. Mas a versão preliminar da revisão do MAS demonstra a intenção do banco em delegar a responsabilidade por eventuais danos nos seus futuros clientes.
A menos que a versão preliminar seja sujeita a alterações fundamentais, perderemos uma oportunidade crítica para promover a governação transparente, a justiça e a sustentabilidade ambiental nos projectos do BAII. O maior risco é que a abordagem do banco encoraje a adopção generalizada de normas ambientais e sociais menos exigentes, à medida que as instituições financeiras internacionais forem competindo por oportunidades de investimento.
A emergência climática e a perda irreversível de biodiversidade atingiram níveis críticos, ao mesmo tempo que o espaço político em muitos países para organizações da sociedade civil está a diminuir ou já desapareceu inteiramente. A falta de transparência do BAII ameaça agravar ainda mais a situação.