Das Transparenzdefizit der AIIB
LISBON/AARHUS – Die Asiatische Infrastruktur-Investitionsbank (AIIB) mit Sitz in Peking nahm 2016 ihre Geschäftstätigkeit auf und etablierte sich rasch als wichtige multilaterale Entwicklungsinstitution. Nun zielt sie darauf ab, bis 2021 zum weltweit führenden Kreditgeber großer Infrastrukturvorhaben zu werden. Zunächst allerdings muss die Bank erst einmal ihre Bemühungen intensivieren, die Öffentlichkeit zeitgerecht über die ökologischen und sozialen Risiken ihrer Projekte zu informieren.
Der AIIB gehören derzeit 82 Mitgliedsstaaten an, und es wird erwartet, dass in Kürze 21 weitere Länder beitreten. Europas größte Volkswirtschaften - Deutschland, das Vereinigte Königreich, Frankreich und Italien – widersetzten sich offen der Administration des früheren US-Präsidenten Barack Obama und wurden Gründungsmitglieder der Bank. Diese Entscheidung bescherte China einen diplomatischen Sieg und bewies die Fähigkeit des Landes, traditionelle Verbündete zu spalten. Die Vereinigten Staaten und Japan sind der AIIB noch immer nicht beigetreten.
Die Mitgliedschaft europäischer Länder trug dazu bei, der AIIB zu internationaler Glaubwürdigkeit und einem Triple-A-Kreditrating zu verhelfen. Damit steht die Organisation auf einer Stufe mit traditionellen multilateralen Entwicklungsbanken wie der Weltbank und es versetzt sie in die Lage, sich auf den internationalen Kapitalmärkten zusätzliche Mittel zu beschaffen, um ihr Anfangskapital von 100 Milliarden Dollar aufzustocken.
Die europäischen Regierungen begründeten ihre Entscheidung für einen Beitritt zur AIIB damit, dass sie die Bank zur Einführung der höchsten internationalen Standards drängen würden – beginnend mit klaren zeitgebundenen Regeln für die Veröffentlichung wichtiger Projektdokumente. Ohne derartige Regeln kommen die ökologischen und sozialen Risiken einer Investition zu spät ans Licht, um auf sinnvolle Abhilfemaßnahmen zu drängen.
Umfangreiche Infrastrukturprojekte wie Exportkorridore, Kraftwerke und große Staudämme sind stets mit hohen ökologischen und sozialen Risiken verbunden. Außerdem stehen sie allzu oft in Zusammenhang mit Korruption und steigender Staatsverschuldung. Die Auswirkungen dieser Projekte können ganze Regionen umgestalten, zahllose Gemeinschaften betreffen und zu Klimawandel und irreversiblem Verlust der Biodiversität beitragen.
Transparenz und Öffentlichkeitsbeteiligung sind hinsichtlich des Umgangs mit den Risiken derartiger Projekte von größter Bedeutung.  Doch die treibende Kraft und größte Aktionärin der AIIB, die chinesische Regierung, agiert in politischem Kontext ohne wechselseitige Kontrollmechanismen. Sie hat den Druck auf die Zivilgesellschaft und die Medien im eigenen Land verschärft und Aktivistinnen und Aktivisten im Bereich Menschenrechte und sogar im öffentlichen Gesundheitssystem weitgehend zum Schweigen gebracht.
Secure your copy of PS Quarterly: The Year Ahead 2023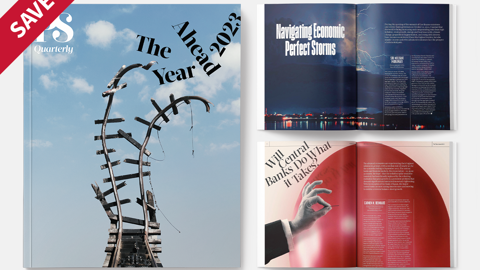 Secure your copy of PS Quarterly: The Year Ahead 2023
Our annual fourth-quarter magazine is here, and available only to Digital Plus and Premium subscribers. Subscribe to Digital Plus today, and save $15.

Überdies führte die AIIB ein Governance-Modell ein, in dem der Schwerpunkt auf "Effizienz" liegt. Gemäß des Rahmenwerks zur Rechenschaftspflicht, dem so genannten "Accountability Framework," delegiert das Direktorium, in dem die Mitgliedsstaaten vertreten sind, die Entscheidungsbefugnis hinsichtlich der Projektfinanzierung zunehmend an den Präsidenten der Bank.
Zunächst leistete die AIIB überwiegend Beiträge zu Investitionen anderer multilateraler Kreditgeber, weswegen die Richtlinien der federführenden Bank zu Anwendung kamen. Allerdings wird die AIIB in zunehmendem Maße ihre eigene Kreditvergabe-Pipeline – nach ihren eigenen Regeln – entwickeln, um so zur weltweit führenden Institution der Infrastrukturfinanzierung zu werden. Die Bank wird dafür auf Afrika ebenso abzielen wie auf Lateinamerika, Europa und auch Asien.
Die wichtigsten Politikinstrumente der AIIB im Hinblick auf Transparenz und den öffentlichen Zugang zu Informationen sind die aus dem Jahr 2018 stammende Richtlinie Policy on Public Information (PPI) sowie das 2016 verabschiedete Regelwerk zu Umwelt- und Sozialstandards Environmental and Social Framework (ESF), das im vergangenen Jahr abgeändert wurde. Im September 2020 veröffentlichte die AIIB den Entwurf eines überarbeiteten ESF, den der Vorstand der Bank im kommenden Februar nach einer öffentlichen Konsultationsphase genehmigen soll.
Die Prinzipien der PPI – darunter "die Annahme, dass die Veröffentlichung von Information befürwortet wird" -  sind begrüßenswert, aber unzureichend.  Die Politikrichtlinie enthält so viele Ausnahmen, dass die Entscheidung darüber, welche Dokumente die AIIB offen legt, letztlich bei ihrem Präsidenten liegt.
Im aktuellen ESF (2016) finden sich zwei Absätze über die Offenlegung von Informationen. Zeitspezifische Vorgaben für die Veröffentlichung von Dokumenten wie Umwelt- und Sozialverträglichkeitsprüfungen sind darin nicht enthalten. Vielmehr fordert das ESF, Dokumente "rechtzeitig" zur Verfügung zu stellen oder "sobald diese verfügbar sind." Derartige Schlupflöcher ermöglichen es, dass Finanz- oder Unternehmensinteressen über das Interesse der Öffentlichkeit gestellt werden, frühzeitig über Umwelt- und Sozialrisiken informiert zu werden.   
Das Büro des Hohen Kommissars für Menschenrechte der Vereinten Nationen und die europäischen Mitglieder der AIIB hatten die Bank aufgefordert, klare Regeln für die zeitgebundene Veröffentlichung von Umweltstudien und anderen relevanten Dokumenten einzuführen. Die AIIB reagierte darauf unter Verwendung von Sprachformeln, die sorgfältig auf westliche Sensibilitäten zugeschnitten sind. Bei genauerer Lektüre erweist sich der Inhalt jedoch oft als oberflächlich und unpräzise.
Das vorgeschlagene Rahmenwerk präsentiert sich auch auffallend schwach, wenn es darum geht, den wachsenden Trend in Richtung Kanalisierung der Investitionen durch Finanzintermediäre, wie Geschäftsbanken und Private Equity Fonds zu thematisieren. Selbst wenn diese Körperschaften mit Unterstützung der AIIB risikoreiche Aktivitäten finanzieren, sind sie nicht verpflichtet, konkrete Informationen über ökologische und soziale Auswirkungen zu veröffentlichen.
Um Schaden abzuwenden und abzumildern, sollte die AIIB für eine vollständige Offenlegung der Umwelt- und Sozialverträglichkeitsprüfungen, einschließlich der Pläne für Landerwerb und Umsiedlungen sorgen und zwar vor der Projektgenehmigung, wenn noch eine Chance besteht, das Ergebnis zu beeinflussen. Der Entwurf des ESF nach der Überprüfung offenbart jedoch die Absicht der Bank, die Verantwortung für die Rechenschaftspflicht an ihre zukünftigen Kunden zu delegieren.
Erfährt der Entwurf keine grundlegenden Änderungen, werden wir eine entscheidende Gelegenheit verpassen, im Rahmen von AIIB-Projekten transparente Regierungsführung, Fairness und ökologische Nachhaltigkeit zu fördern. Das allgemeinere Risiko besteht darin, dass mit diesem Ansatz der Bank insgesamt schwächere Umwelt- und Sozialstandards begünstigt werden, da internationale Finanzinstitutionen im Wettstreit um Investitionsmöglichkeiten stehen. 
Der Klimanotstand und der irreversible Verlust der biologischen Vielfalt haben ein kritisches Niveau erreicht, während der politische Spielraum für zivilgesellschaftliche Organisationen in vielen Ländern schrumpft oder ganz verschwunden ist. Die mangelnde Transparenz der AIIB droht eine schwierige Situation noch weiter zu verschlimmern.