A próxima Primavera da IA
LONDRES – A inteligência artificial (IA) está à nossa volta, e está a gerar entusiasmo sobre a maneira como poderá aumentar a prosperidade e transformar as nossas vidas de várias formas. Contudo, esta tecnologia também será provavelmente disruptiva. Por conseguinte, os legisladores e as empresas têm de tentar capturar o todo o valor do que a IA pode oferecer, ao mesmo tempo que evitam os riscos negativos.
A noção de IA existe há mais de meio século, e já vivemos antes períodos de entusiasmo, seguidos por grandes períodos de desilusão – os "Invernos da IA" – quando a tecnologia não cumpria as expectativas. Mas a recente evolução nos algoritmos e nas técnicas de IA, combinada com um enorme aumento do poder de computação e uma explosão na quantidade de dados disponíveis, tem promovido avanços significativos e tangíveis, que prometem gerar valor para as pessoas, para as empresas e para a sociedade no geral.
As empresas já estão a aplicar técnicas de IA nas vendas e no marketing para apresentar recomendações de produtos mais personalizadas a clientes individuais. E na indústria transformadora a IA está a melhorar a manutenção preventiva, ao aplicar a "aprendizagem profunda" a grandes volumes de dados provenientes de sensores. Ao utilizarem algoritmos para detectar anomalias, as empresas podem reduzir o tempo de inactividade da maquinaria e do equipamento, de motores a jacto a linhas de montagem. A nossa investigação salientou centenas desses exemplos de empresas, que conjuntamente têm potencial para criar um valor entre 3,5 e 5,8 biliões de dólares todos os anos.
A IA também pode contribuir para o crescimento económico através da ampliação e substituição do trabalho e do capital enquanto factores produtivos, através do incentivo à inovação, e através do reforço da criação de riqueza e do reinvestimento (a IA também criará algumas externalidades negativas e custos de transição, mas estes serão compensados pelos seus benefícios).
Estimamos que a IA e a análise de dados possam adicionar algo como 13 biliões de dólares à produção total até 2030, aumentando a taxa anual de crescimento do PIB global em mais de um ponto percentual. Além disso, a nossa investigação sugere que os benefícios da IA serão maximizados se esta se concentrar no crescimento liderado pela inovação, e se a sua difusão for acompanhada por medidas pró-activas de gestão – em especial, pela requalificação dos trabalhadores, de modo a que estes recebam as competências de que necessitam para prosperarem na nova era.
À medida que a IA contribuir para um crescimento mais rápido do PIB, o bem-estar social também deverá aumentar. Estimamos que a IA e as tecnologias conexas poderão melhorar o bem-estar em 0,5-1% por ano, entre hoje e 2030. Este impacto seria semelhante ao de anteriores vagas de adopção de tecnologia, nomeadamente ao da revolução das tecnologias de informação e de comunicação.
Subscribe now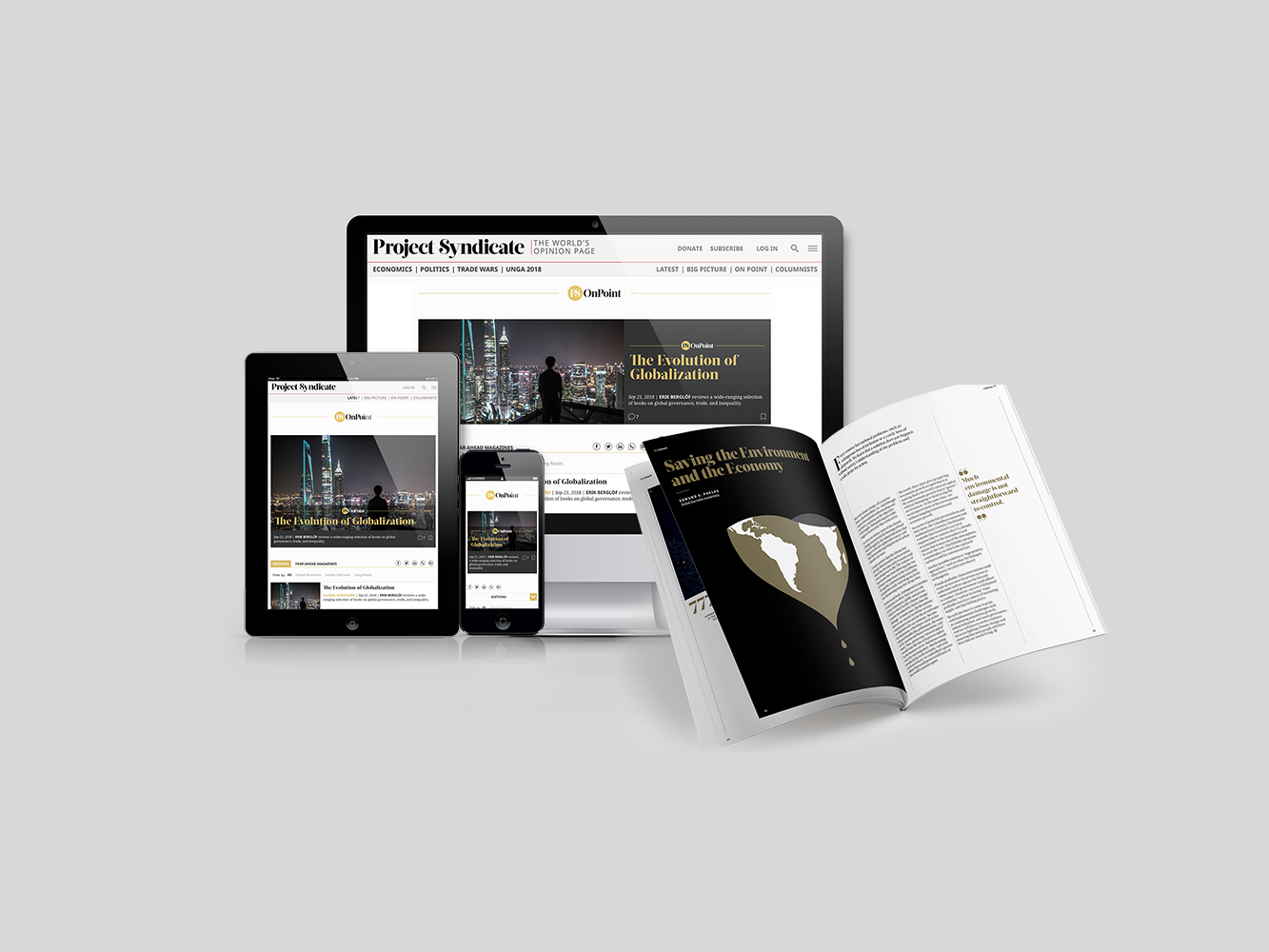 Subscribe now
Subscribe today and get unlimited access to OnPoint, the Big Picture, the PS archive of more than 14,000 commentaries, and our annual magazine, for less than $2 a week.
A IA poderia ajudar a melhorar muitos aspectos do bem-estar, desde a segurança no emprego e as condições de vida até ao ensino e à sustentabilidade ambiental. A sua maior contribuição positiva para o bem-estar poderá aparecer nas áreas da saúde e da longevidade: a descoberta de medicamentos baseada na IA é várias vezes mais rápida do que a baseada na investigação convencional. E a gestão do trânsito baseada na IA pode reduzir o impacto negativo da poluição atmosférica sobre a saúde em 3 a 15%.
Um dos aspectos mais empolgantes da IA é o seu potencial para ajudar a resolver uma ampla gama de desafios sociais. Embora a tecnologia não seja uma panaceia, poderá ajudar o mundo a cumprir todos os 17 Objectivos de Desenvolvimento Sustentável das Nações Unidas. As aplicações da IA que estão presentemente a ser testadas no terreno incluem esforços para apoiar iniciativas de assistência em catástrofes, para rastrear contrabandistas (incluindo traficantes de seres humanos), e para ajudar pessoas cegas a navegar o ambiente que as cerca. E um sistema de detecção de doenças baseado na IA consegue identificar o cancro da pele tão eficazmente como, ou mesmo melhor que os dermatologistas profissionais.
Porém, independentemente de todo o seu potencial, a IA também coloca desafios substanciais que precisam de ser enfrentados. As próprias tecnologias estão ainda numa fase inicial de desenvolvimento, e são necessárias mais evoluções para que sejam amplamente aplicáveis. E existem problemas consideráveis de disponibilidade de dados, que por sua vez afectam a qualidade dos modelos de IA.
Uma área crítica que suscita preocupações é o impacto da IA e da automação sobre o trabalho. Globalmente, esperamos que no futuro haja trabalho suficiente para todos, e que se criarão mais postos de trabalho do que os perdidos em consequência das novas tecnologias. Mas os legisladores precisarão de gerir as transições e desafios significativos decorrentes da adopção da IA aos níveis nacionais, regionais e locais.
No cenário de adopção mais rápida da automação, até 375 milhões de trabalhadores em todo o mundo terão de mudar de categoria ocupacional até 2030, e perto de 75 milhões serão afectados no cenário de adopção mediana. A natureza de quase todos os empregos será alterada, à medida que as pessoas interagirem mais proximamente com máquinas inteligentes no local de trabalho. Isso obrigará a novas competências, colocando as empresas e os legisladores perante o grande desafio de formar e requalificar completamente a mão-de-obra. E à medida que crescer a procura de empregos altamente qualificados, os trabalhadores com menos qualificações podem ser deixados para trás, provocando o aumento da desigualdade salarial e de rendimentos.
A difusão da IA também levantará questões éticas complicadas. Algumas destas questões estarão relacionadas com a utilização e a potencial utilização indevida da tecnologia, em áreas que vão das aplicações militares e de vigilância às redes sociais e à política. Os algoritmos e os dados utilizados na sua formação podem introduzir novos enviesamentos, ou perpetuar e institucionalizar os enviesamentos existentes. Outras preocupações críticas incluem a privacidade dos dados e a utilização de informações pessoais, a cibersegurança, e as "falsidades profundas" que podem ser usadas para manipular resultados eleitorais ou cometer fraudes em larga escala.
Apesar destes desafios, a IA pode gerar um valor enorme para todos nós, se os legisladores e as empresas agirem de forma rápida e inteligente para capturar todos os seus benefícios e mitigar os riscos inevitáveis. A muito aguardada "Primavera da IA" poderá estar finalmente a chegar, mas precisamos de estar preparados para gerir cuidadosamente o seu aparecimento.
,