El reto de la gobernanza de la IA
PARÍS – En los márgenes de la última reunión del Foro Económico Mundial en Davos, el ministro de comunicaciones e información de Singapur anunció discretamente el lanzamiento del primer marco nacional del mundo para la gobernanza de la inteligencia artificial. Si bien los medios del planeta se han dado un festín con este anuncio, su significado va mucho más allá de Singapur o el pueblo suizo donde se hizo público. Es un ejemplo que el resto del mundo debe seguir urgentemente, y sobre el cual sentar las bases del futuro.
En los últimos años, a través de la iniciativa estatal AI Singapore, el gobierno de Singapur ha estado trabajando para posicionar al país como el líder mundial en el sector de la IA. Y ha hecho sólidos avances: junto con Shanghái y Dubái, Singapur atrajo la mayor parte de las inversiones destinadas a IA el año pasado. Según una estimación reciente, la inversión en IA debería hacer que Singapur duplique el tamaño de su economía en 13 años, en lugar de 22.
Por supuesto, la IA se extiende por todo el mundo. Según un informe reciente de McKinsey, la IA podría sumar hasta el 16% del crecimiento mundial del PIB para 2030. Considerando su potencial, se está intensificando la inversión e innovación en IA, y se puede predecir que Estados Unidos y China irán a la vanguardia. Sin embargo, hasta ahora ningún gobierno ni entidad supranacional ha buscado desarrollar los mecanismos de gobernanza necesarios para aprovechar al máximo el potencial de la IA, además de manejar sus riesgos.
Esto no se debe a que los gobiernos consideren trivial la IA, sino que para hacerlo las autoridades y corporaciones tienen que abrir una caja de Pandora de preguntas pendientes. Piénsese en el impacto social de la IA, mucho más difícil de cuantificar –y, de ser necesario, mitigar- que sus efectos económicos. Por supuesto, las aplicaciones de IA en sectores como el de la sanidad pueden ofrecer importantes beneficios sociales. Sin embargo, los gobiernos y corporaciones no han internalizado el potencial de uso indebido o manipulación de los datos que reúnan para estas aplicaciones y que puede originar riesgos mucho mayores que aquellos relacionados con escándalos pasados de privacidad de la información, además de los daños a su reputación.
Como se observa en otro informe de McKinsey, "la realización del potencial de la IA para mejorar el bienestar social no ocurrirá de manera natural". Para tener éxito se necesitarán "intervenciones estructurales de las autoridades, combinadas con un mayor compromiso de los participantes de la industria". Por más que los gobiernos y las autoridades quieran demorar estas medidas, no se debe subestimar los riesgos de eso conllevaría, también para su propia reputación.
De hecho, en tiempos en que muchos países enfrentan una crisis de confianza en el gobierno, fortalecer la gobernanza de temas relacionados con la IA es, de muchas maneras, tan importante como enfrentar los fallos de gobernanza corporativa o política. Después de todo, como lo expresara en 2018 el Director Ejecutivo de Google, Sundar Pichai, "la IA es una de las cosas más importantes que la humanidad está desarrollando en la actualidad. Es más profunda que, no sé, la electricidad o el fuego".
Subscribe to PS Digital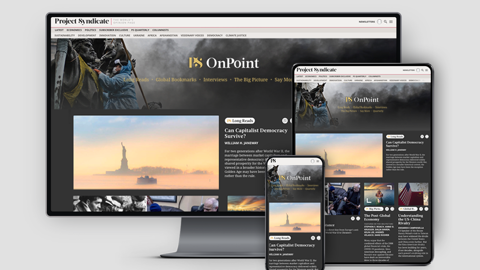 Subscribe to PS Digital
Access every new PS commentary, our entire On Point suite of subscriber-exclusive content – including Longer Reads, Insider Interviews, Big Picture/Big Question, and Say More – and the full PS archive.
La Comisión Europea parece ser uno de los pocos actores que así lo reconocen, tras publicar a fines del año pasado un "esbozo de pautas éticas para una IA fiable". Mientras las pautas de Singapur se centran en fomentar la confianza del consumidor y garantizar el cumplimiento de estándares de tratamiento de datos, el modelo europeo aspira a dar forma a una IA centrada en el ser humano con una finalidad ética.
Sin embargo, ni el marco de gobernanza de la IA de Singapur ni las pautas preliminares de la UE dan respuesta a una de las preguntas más fundamentales sobre la gobernanza de la IA: ¿dónde recaen la propiedad del sector de la IA y la responsabilidad de ella y sus tecnologías relacionadas? Esta pregunta expone el problema fundamental de la responsabilidad de la IA, y de si significa un enorme avance social o nos mete en un sistema kafkiano de apropiación y manipulación de datos.
Las pautas de la UE prometen que "se implementará un mecanismo que permita a todos los interesados apoyar y registrarse formalmente en las Pautas, de manera voluntaria". El marco de Singapur, también voluntario, no aborda el tema para nada, aunque las recomendaciones apuntan claramente al sector corporativo.
Si la IA ha de proporcionar progreso social, la responsabilidad de su gobernanza tendrá que ser compartida por los sectores público y privado. Para este fin, las corporaciones que desarrollen aplicaciones de IA o inviertan en ellas deben establecer vínculos sólidos con sus usuarios últimos y los gobiernos deben ser explícitos en el grado en que se comprometen a proteger a los ciudadanos de tecnologías potencialmente dañinas. De hecho, un sistema de responsabilidad compartida para la IA representará una prueba de fuego para el modelo de "capitalismo de partes interesadas" que se debate hoy.
La tensión de lo público frente a lo privado no es la única que debemos afrontar. Como señalara una vez Francis Fukuyama, "a medida que se despliega la tecnología moderna, da forma a las economías nacionales de un modo coherente, entrelazándolas en una vasta economía mundial". En una época en que los datos y la tecnología fluyen libremente y traspasan fronteras, es posible que el poder las de las políticas nacionales para gestionar la IA sea limitado.
Como han mostrado los intentos de gobernanza de Internet, será todo un reto crear una entidad supranacional para regir la IA, debido a imperativos políticos en conflicto. En 1998, la Corporación de Internet para la Asignación de Nombres y Números (ICANN), con base en Estados Unidos, se creó para proteger la Internet como bien público, garantizando a través del mantenimiento de las bases de datos la estabilidad y seguridad del funcionamiento de la red. Sin embargo, cerca la mitad de los usuarios mundiales de Internet todavía sufren censura en línea. Lo muchísimo que hay en juego con la IA subrayará el desafío de crear una entidad supranacional, a medida que los líderes tengan que abordar asuntos políticos similares, y potencialmente incluso más complejos.
Masayoshi Son, Director Ejecutivo del conglomerado multinacional japonés SoftBank y entusiasta inversionista en IA, declaró hace poco que su compañía busca "desarrollar robots afectuosos que hagan sonreír a la gente". Para lograrlo, los gobiernos y el sector privado tienen que concebir modelos de colaboración sólidos para regir la IA de importancia crítica de hoy. El resultado será decisivo para saber si la humanidad prevalecerá en la creación de tecnologías de IA que nos beneficien sin destruirnos.
Traducido del inglés por David Meléndez Tormen