De belofte van AI in de ontwikkelingslanden
LONDEN – Een vaak voorkomend misverstand onder waarnemers van digitale trends is dat consumenten in de ontwikkelingslanden niet profiteren van de vooruitgang op het gebied van de technologie. Of het nu gaat om het bezit van de nieuwste smartphone of om het "in dienst hebben" van robotschoonmakers, het vermogen om toegang te verkrijgen tot innovatie is een van de meest zichtbare verschillen tussen rijke en arme landen.
Deze kloof is nog geprononceerder geworden sinds de komst van kunstmatige intelligentie (AI). De overgrote meerderheid van de zogenoemde "smart speaker" persoonlijke assistenten voor thuisgebruik, zoals Amazons Alexa, wordt naar de rijke landen verscheept. In 2017 ging ruim 80% van de smart speakers wereldwijd naar Noord-Amerika.
Maar hoewel technologie de mondiale ongelijkheid nog groter kan maken, kan zij haar ook verzachten. Dit komt doordat AI veel meer kan doen dan apparaten van stroom voorzien; het kan ook op revolutionaire wijze de manier veranderen waarop gezondheidszorg, rampenhulp, financiën, logistiek, onderwijs en zakelijke diensten in het Mondiale Zuiden tot stand komen.
Over de hele wereld transformeert AI de ontwikkelingslanden al. In Nepal brengt machine learning de wederopbouwbehoeften na een aardbeving in kaart. In heel Afrika helpen AI-docenten jonge leerlingen met hun huiswerk. Humanitaire hulporganisaties gebruiken big data-analyses om de levering van goederen te optimaliseren voor vluchtelingen die conflicten en andere problemen zijn ontvlucht. En in mijn land, India, gebruiken boeren AI-applicaties om hun oogsten te verbeteren en hun winsten te verhogen.
Innovaties als deze brengen ons dichter bij de verwezenlijking van de Duurzame Ontwikkelingsdoelstellingen van de Verenigde Naties op het gebied van zaken als het uitroeien van de armoede, het beëindigen van de ongelijkheid in de gezondheidszorg, het verbeteren van de toegang tot scholing en het bestrijden van de opwarming van de aarde. En toch krabt de wereld nog maar nauwelijks aan de oppervlakte van wat AI kan doen voor de menselijke vooruitgang. Om de volledige kracht van AI ter bevordering van de ontwikkeling te kunnen gebruiken, moeten we nieuwe manieren vinden voor de toepassing ervan.
Met de juiste ondersteuning zou de lucht boven de ontwikkelingslanden bijvoorbeeld gevuld kunnen worden met drones die medische benodigdheden afleveren bij verafgelegen ziekenhuizen. Dit gebeurt al op het platteland van Rwanda, waar een uniek bondgenootschap tussen het ministerie van Volksgezondheid en Zipline, een in Silicon Valley gevestigde technologische start-up, artsen in moeilijk bereikbare klinieken de mogelijkheid biedt om bloed aan te vragen per sms, om het vervolgens binnen een paar minuten per parachute afgeleverd te krijgen. Sinds het programma in oktober 2016 van start ging is de leveringstijd met een factor vijf bekort, waardoor honderden levens zijn gered.
Subscribe to Project Syndicate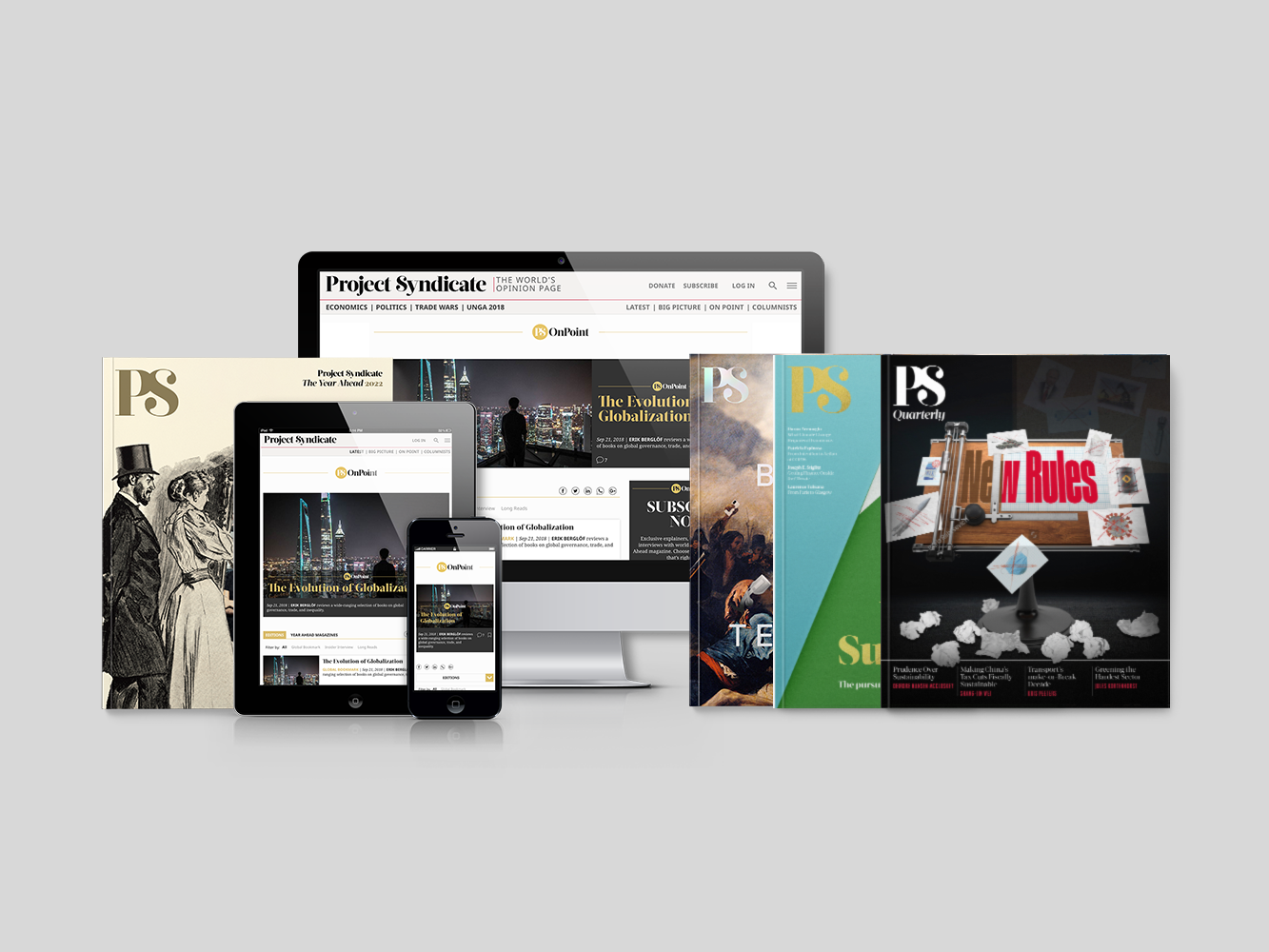 Subscribe to Project Syndicate
Enjoy unlimited access to the ideas and opinions of the world's leading thinkers, including long reads, book reviews, topical collections, short-form analysis and predictions, and exclusive interviews; every new issue of the PS Quarterly magazine (print and digital); the complete PS archive; and more. Subscribe now to PS Premium.
Maar hoewel AI-innovaties als deze indrukwekkend zijn, mogen we ze niet als vanzelfsprekend beschouwen. Tenzij we de misplaatste maar vaak geuite zorgen ontzenuwen dat de door AI teweeggebrachte ontwrichtingen erger zullen zijn dan de pluspunten, zal de ongelooflijke vooruitgang die technologiebedrijven in het Mondiale Zuiden boeken worden vertraagd.
Er is een aantal stappen dat kan worden gezet om deze uitkomst te vermijden. Om te beginnen moeten programma's als de "AI for Good"-campagne van de VN, die is gericht op het bevorderen van de dialoog over het heilzame gebruik van technologie voor humanitair werk, de volledige steun krijgen van beleidsmakers. Degenen onder ons die zich bezighouden met technologie-ontwikkeling moeten ook de projecten, initiatieven, denktanks en organisaties identificeren die zouden profiteren van samenwerking met AI-firma's – zoals Zipline in Rwanda.
Maar het allerbelangrijkst is dat gesprekken over het ontwikkelen van AI voor humanitaire doeleinden door hulporganisaties, charitatieve instellingen en overheden niet in isolement mogen worden gevoerd. Technologie-investeerders moeten ook aan tafel kunnen zitten.
Al veel te lang hebben technologie-ondernemers zich vooral gericht op het oplossen van problemen in het Mondiale Noorden, terwijl ze de problemen negeren die van oudsher in verband worden gebracht met de ontwikkelingslanden. Maar mobiele technologie schept nieuwe kansen, en het is nu zowel in humanitair als in zakelijk opzicht verstandig AI-oplossingen tot ver buiten de westerse landen aan te bieden.
Dat is de reden dat ik Rewired heb opgericht, een met $100 mln gedoteerd investeringsvehikel dat embryonale AI- en robotbedrijven steunt die zich bezighouden met oplossingen voor belangrijke sociale problemen. Rewired werkt met bedrijven in de voorhoede van de machine-perceptie – het vermogen van robots om de fysieke wereld te begrijpen en te interpreteren. We hebben geïnvesteerd in bedrijven die werken aan de imitatie van de menselijke geur, aan de ontwikkeling van betaalbare en handige protheses, en aan de creatie van draagbare machines die zijn bedoeld om productieprocessen te verbeteren.
Ons doel is het financieren van technologieën met het potentieel om de levenskwaliteit te verhogen in ieder land van de wereld. Ik geloof dat dit het samenhangende kenmerk van AI zal zijn. De machines die we vandaag de dag ontwerpen zullen niet alleen winstgevend zijn; ze zullen ons ook dichterbij de oplossing van een paar van de grootste problemen ter wereld brengen.
Vertaling: Menno Grootveld