¿Cómo puede el mundo árabe evitar el abismo?
EL CAIRO – Una serie de acontecimientos inesperados sucedidos en noviembre reveló la gravedad del estado de cosas actual en el mundo árabe. El primer ministro libanés anunció desde el extranjero su renuncia (pero más tarde se desdijo). Un misil lanzado desde Yemen impactó en Riad, la capital de Arabia Saudita. El gobierno saudita desplegó una masiva campaña anticorrupción en la que cayeron numerosas personalidades de alto perfil. Egipto, en tanto, sufrió el peor atentado terrorista del que se tenga memoria, con más de 300 civiles muertos o lesionados. Filmaciones de presuntas subastas de esclavos en Libia pusieron de manifiesto el caos en el que se debate el país tras la total desintegración del estado libio.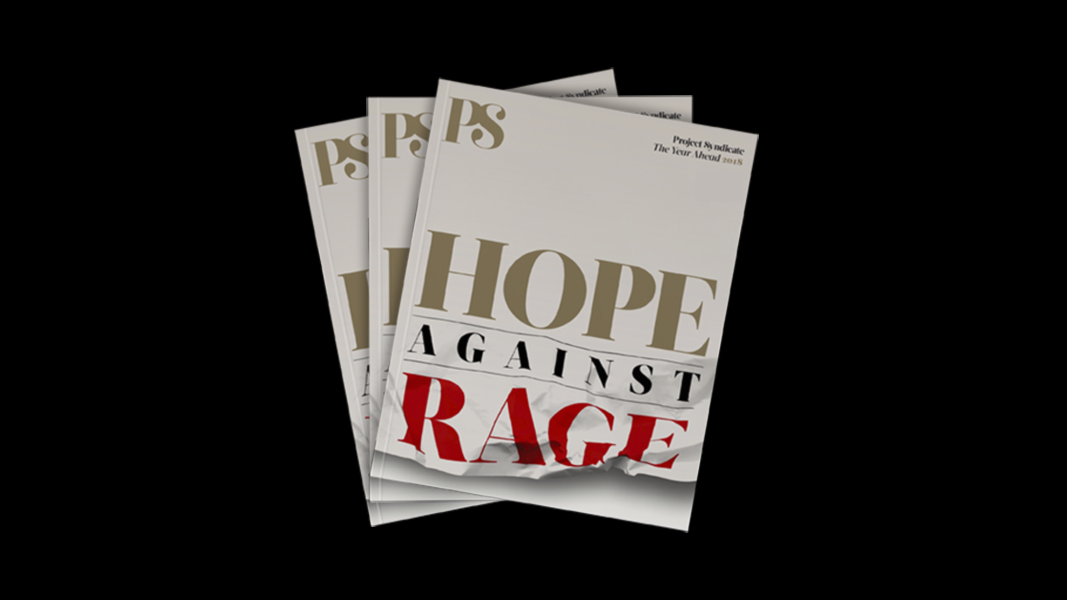 The Year Ahead 2018
The world's leading thinkers and policymakers examine what's come apart in the past year, and anticipate what will define the year ahead.
Dos hechos positivos, las victorias militares contra Estado Islámico y el reacercamiento de las facciones palestinas de Gaza y Cisjordania, no han podido aplacar la inquietud colectiva de la región, ni inspirar confianza en que de algún modo el mundo árabe podrá sustraerse al abismo. La interferencia extranjera en Siria, Líbano, Irak y Yemen ya es rutina. Y las polémicas que se desarrollan en torno de la política identitaria y las fronteras en el Levante son preludio de graves desafíos fundamentales que nos aguardan.
En realidad, la situación en Medio Oriente no sorprende, dado que en los últimos años ningún país árabe lideró algún intento de resolver los conflictos que se desarrollan en Libia, Siria y Yemen, por no hablar de la cuestión palestina‑israelí. En muchos de estos conflictos, la influencia extranjera ha sido mucho mayor a la de los árabes.
A lo largo de la historia, Medio Oriente fue objeto de numerosas invasiones extranjeras, desde las Cruzadas hasta el colonialismo europeo. Vio sus recursos naturales saqueados y fue teatro de guerras por intermediarios durante la Guerra Fría. Incluso ahora, quedan todavía territorios árabes ocupados.
Pero pese a los muchos motivos para acusar a potencias extranjeras por el peligroso estado de cosas de la región, de nada sirve repartir culpas (ni siquiera entre nosotros). Después de todo, el mundo árabe tiene también muchos problemas de factura interna, entre ellos una gobernanza ineficiente e ineficaz, alianzas cuestionables y falta de desarrollo de las capacidades nacionales.
Toda región que sea impotente para definir su propio futuro y en la que la mayoría de los ciudadanos sienten que no tienen derechos va camino del desastre. El mundo árabe es tradicionalmente conservador, pero casi el 70% de sus ciudadanos tienen menos de 35 años de edad, y en la mayoría de los países los jóvenes padecen las más altas tasas de desempleo. Esto no sólo supone un enorme despilfarro de recursos, sino también un grave problema sociopolítico a largo plazo. Y no es más que uno entre muchos desafíos internos a los que se enfrenta la región.
Los árabes deben tomar las riendas y convertirse en la fuerza principal que defina el futuro de la región y de los países que la integran. Por supuesto, deben seguir vinculándose con el mundo exterior y fortaleciendo alianzas y relaciones estratégicas. Pero también deben volverse menos dependientes de otros.
Para empezar, los gobiernos de la región deben desarrollar recursos de seguridad nacional propios, para defenderse de amenazas no existenciales y del expansionismo hegemónico. Esto a su vez realzará su influencia política y les dará más herramientas diplomáticas para encarar los problemas regionales y evitar conflictos militares.
Además, los árabes deben defender las identidades nacionales. El sistema de estados‑nación de Medio Oriente no es perfecto, pero es mucho mejor que el sectarismo religioso o étnico, que amenaza con desestabilizar todavía más la región. Para evitarlo, los estados‑nación árabes necesitan instituciones fuertes que provean gobernanza eficiente e inclusión social. Por desgracia, las instituciones de la mayoría de los países árabes están muy lejos de satisfacer este imperativo.
A futuro, los árabes deben reconocer que la reforma interna es el mejor modo de prevenir la interferencia extranjera y defender los intereses nacionales. Los resurgimientos árabes de los últimos años revelaron una clase media centrista que anhela el cambio. Partidos oportunistas trataron de aprovechar el clima turbulento creado por el cambio repentino, pero esto no niega el hecho de que estos movimientos fueron respuesta a la continuidad de la mala gobernanza y a la falta de reformas graduales de parte de las dirigencias árabes.
Los árabes también necesitan darse una variedad más amplia de opciones económicas, políticas y de seguridad, para poder adaptarse a las cambiantes circunstancias. El mundo ya no es bipolar o eurocéntrico. En realidad, las veloces transformaciones tecnológicas, económicas y sociales están poniendo a prueba no sólo el paradigma geopolítico de la posguerra sino el sistema de estados westfaliano.
Finalmente, el mundo árabe necesita confrontar actitudes hegemónicas regionales y la ocupación ilegítima de tierras árabes. Las soluciones a los problemas actuales deben respetar las aspiraciones de los pueblos que buscan soberanía y un estado propio, sin agotarse en estrategias tácticas o transaccionales que sólo ofrecerán un alivio temporal. En última instancia, toda política que no proteja los derechos básicos está condenada al fracaso.
Los países árabes, en forma individual y colectiva, necesitan una estrategia integral para confrontar las amenazas existenciales internas y externas a su soberanía y seguridad en los próximos años. Ya es hora de que la dirigencia árabe bosqueje una visión para el futuro de las relaciones entre los árabes y un plan para la cooperación con los vecinos no árabes en torno de las oportunidades y los desafíos regionales. Y sobre todo, la dirigencia árabe también debe explicar cómo proveerá a sus pueblos de una mejor gobernanza interna.
Si el mundo árabe quiere tener voz en la definición de su propio futuro, no puede quedarse de brazos cruzados ahora. Los líderes y pueblos árabes deben empezar ya mismo a hacer planes.
Traducción: Esteban Flamini