La majorité silencieuse arabe doit prendre la parole
ALGER – Depuis que le Programme de Développement des Nations Unies a commencé à travailler sur les Rapports sur le développement humain dans le monde arabe (RDHA) en 2001, la situation dans de nombreux pays arabes va de mal en pis. En effet, aujourd'hui la région ne peut même pas se rassembler pour publier un nouveau rapport. Cela est dommage, car trouver une nouvelle vision pour le peuple arabe, en particulier pour la Jeunesse arabe, est une condition sine qua non pour instaurer la paix et la prospérité au Moyen-Orient et en Afrique du Nord.
Le premier RDHA, publié en 2002, a identifié trois grands « déficits de développement », qui entravent la région : connaissance, autonomisation des femmes et liberté. Le rapport, décrit comme « écrit par les arabes pour les arabes, » a eu une influence claire sur la narration du développement régional et sur la façon dont les élites nationales ont parlé des problèmes de leurs sociétés.
Au moment du premier RDHA, le monde arabe avait des raisons d'être optimiste. Israël, après s'être retiré du Liban en 2000, s'est retiré de Gaza en 2005. Les nouveaux dirigeants arabes, comme Abdallah II de Jordanie, Mohammed VI du Maroc et Bachar el-Assad en Syrie, accédaient au pouvoir et suscitaient un espoir de changement. L'Arabie saoudite annonçait ses premières élections municipales en 2003 et les organisait en 2005. L'ةgypte et l'Irak, ont également organisé des élections démocratiques (surtout) en 2005. Et la tentative de l'Algérie de réprimer des troubles civils de longue date a été largement couronnée de succès, grâce en partie aux prix élevés du pétrole durant toute cette période.
Après le Printemps arabe, qui a commencé en décembre 2010 et a gagné du terrain jusqu'en 2011, le PNUD a débuté le RDHA 2015, qui a porté spécifiquement sur le sort des jeunes arabes. J'ai fait partie de l'équipe du RDHA 2015, avec une trentaine d'intellectuels et de militants du monde arabe. Le RDHA 2015 a partagé des thèmes similaires avec son précurseur de 2002, mais cette fois nous a engagés plus directement auprès des jeunes arabes influents pour établir les meilleures données possibles et pour donner un coup de projecteur sur les effets des guerres dans lesquelles la région s'enlisait.
Le rapport de 2015 a été finalisé en mai 2015. Mais il est resté dans les tiroirs du Bureau arabe du PNUD à New York depuis, probablement en grande partie en raison de son jugement sévère sur l'élite arabe au pouvoir.
Une découverte qui figure dans le rapport de 2015 et dont je peux parler directement est l'émergence dans le monde arabe d'une « majorité silencieuse » avec une mentalité plus libérale, en particulier chez les jeunes. Cette tendance prometteuse se révèle dans les comparaisons générationnelles des sondages d'opinion mondiaux. Les jeunes arabes ont plus accès que jamais auparavant à l'information du monde extérieur et ils adoptent les valeurs partagées par d'autres jeunes dans le monde, plutôt que les valeurs de la génération de leurs parents. Plus précisément, les jeunes arabes aspirent à une plus grande participation de la société civile, à l'émancipation des hiérarchies patriarcales et à davantage de place accordée à la créativité individuelle. Alors que l'éducation n'a pas émancipé autant que dans le reste du monde, en raison du programme conservateur, la jeunesse s'est émancipée.
Secure your copy of PS Quarterly: The Year Ahead 2023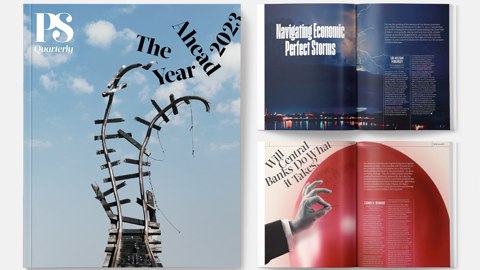 Secure your copy of PS Quarterly: The Year Ahead 2023
PS Quarterly: The Year Ahead 2023 is almost here, and available only to Digital Plus or Premium subscribers.
Subscribe now to secure a print copy of the magazine, as well as digital access to all its content, including exclusive insights from German Minister of Foreign Affairs Annalena Baerbock, US Treasury Secretary Janet Yellen, Nobel laureate economist Joseph E. Stiglitz, and more.

Compte tenu de ces conclusions, le rapport de 2015 conseille aux groupes progressistes, nationaux, régionaux et internationaux de soutenir les forces d'émancipation, qui détiennent la clé pour trouver des solutions aux défis pour assurer une meilleure gouvernance, des économies plus productives et des sociétés plus résilientes. La seule voie du changement à grande échelle dans le monde arabe est de libérer l'innovation et la créativité : et cela exige une société civile sans limites. Les droits civils fondamentaux doivent s'imposer, accompagnés de profonds changements dans le système éducatif, les réformes du droit de la famille et par un espace plus ouvert pour les médias et la culture.
Le rapport de 2015, qui je l'espère sera publié prochainement, devrait encourager une conversation régionale raisonnée et constructive. Il commence par cet avertissement : « Les jeunes de la région sont de plus en plus déçus par les structures sclérosées du pouvoir politique qui les marginalisent. ہ moins que les gouvernements ne se réveillent face à cette réalité aveuglante, ils auront bien d'autres problèmes à traiter, comparés à quelques extrémistes. »
La nouvelle majorité silencieuse est la meilleure défense contre les courants sous-marins radicaux et suicidaires qui ont rempli le vide politique créé par l'effondrement de l'ordre ancien. Les réformateurs arabes doivent viser à élargir le centre, plutôt qu'essayer de réunir les franges. Et la majorité silencieuse doit rompre son silence. Dans le cas contraire, les révoltes contre l'inacceptable statu quo vont continuer à être dirigées par des extrémistes, qui n'ont que des revendications, mais pas d'aspirations.
Le début des années 2000 a tenu sa promesse pour le monde arabe et dans les jeunes d'aujourd'hui, nous voyons cette promesse renouvelée. Les réformateurs de la société civile arabe doivent être encouragés à prendre la parole maintenant, ou risquer de perdre cette promesse pour une autre génération.