Deutschland im Übergang
BERLIN – Deutschland steht im kommenden Jahr vor einer weitreichenden Zäsur. Diese wird nicht nur durch die Rücktrittsankündigung der Bundeskanzlerin Angela Merkel vom Parteivorsitz der CDU markiert. Darüber hinaus hat Angela Merkel erklärt, dass sie bei den nächsten Bundestagswahlen nicht mehr als Kanzlerkandidatin antreten und sich völlig aus der aktiven Politik zurückziehen wird.
Kanzlerwechsel markieren in der Regel Zäsuren in Deutschland. Seit 1949 hat das Land nur acht Bundeskanzler gehabt und schon deshalb ist ein Kanzlerwechsel alles andere als eine Alltäglichkeit in der deutschen Demokratie. In der Geschichte der Bundesrepublik hing ein Wechsel im Kanzleramt aber meistens auch mit einer Veränderung der politischen und gesellschaftlichen Großwetterlage zusammen.
Der Schritt von Angela Merkel war seit dem letzten Bundestagswahltag 2017 erwartbar gewesen, denn nachdem Angela Merkel damals zum vierten Mal gewählt worden war, war es höchst unwahrscheinlich, dass die Deutschen sie noch ein fünftes Mal wählen würden. Gesichter verbrauchen sich durch den Ablauf der Zeit. Auch ohne die Ankündigung der Bundeskanzlerin war daher seitdem klar, dass sie sich in ihrer letzten Amtszeit befand.
So wichtig der Personalwechsel an der Spitze der machtpolitischen Pyramide der Republik auch immer sein mag, so ist die Tatsache von noch größerer Bedeutung, dass sich mittlerweile sowohl in der deutschen Innen- als auch in der Außenpolitik ein Gezeitenwechsel vollzogen hat und vollzieht, der kaum einen Stein auf dem anderen lassen und die Grundpfeiler der deutschen Nachkriegsdemokratie erschüttern wird – der Brexit, die Abkehr der USA vom Westen und von einem multilateralen Systems des freien Welthandel als funktionierende ordnungspolitische Konzepte und Rollenverteilung des Westens, der Aufstieg Chinas zur neuen Weltmacht, die Verlagerung des weltwirtschaftlichen Zentrums vom Nordatlantik nach Ostasien, die digitale Revolution mit Big Data und künstlicher Intelligenz, die andauernde Krise Europas bei gleichzeitiger Verschärfung der Krisen und Konflikte, ja Kriege in der europäischen Nachbarschaft, und die globale wie regionale Migrationsfrage haben die scheinbar festen Grundlagen deutscher Außenpolitik, in deren Zentrum immer die Westintegration und die EU standen, zutiefst erschüttert und verlangen dringend nach neuen strategischen Antworten. Dadurch wird eine altbekannte Grundsatzfrage erneut aufgeworfen: "Quo vadis, Deutschland?"
Diese disruptiven Veränderungen im Gefüge der Weltordnung haben innenpolitisch einen Druck aufgebaut, der mit dem Übergang von Angela Merkel zu ihrem Nachfolger oder Nachfolgerin einen sehr weitreichenden Umbau des deutschen Parteiensystems mit sich bringen wird. Das ist bereits heute absehbar.
Die beiden großen Kontinuitäts- und Stabilitätsfaktoren in der deutschen Innen- wie Außenpolitik über die Jahrzehnte hinweg, die beiden großen Volksparteien links und rechts der Mitte, sind nicht mehr groß und befinden sich in einer ernsten, ja im Falle der Sozialdemokraten in einer existenzbedrohenden Krise und zwar nicht nur in Deutschland, sondern europaweit. Die Unionsparteien rechts der Mitte sind zwar noch die stärkste parteipolitische Kraft, aber auch sie schleppen ein strukturelles Problem mit sich herum.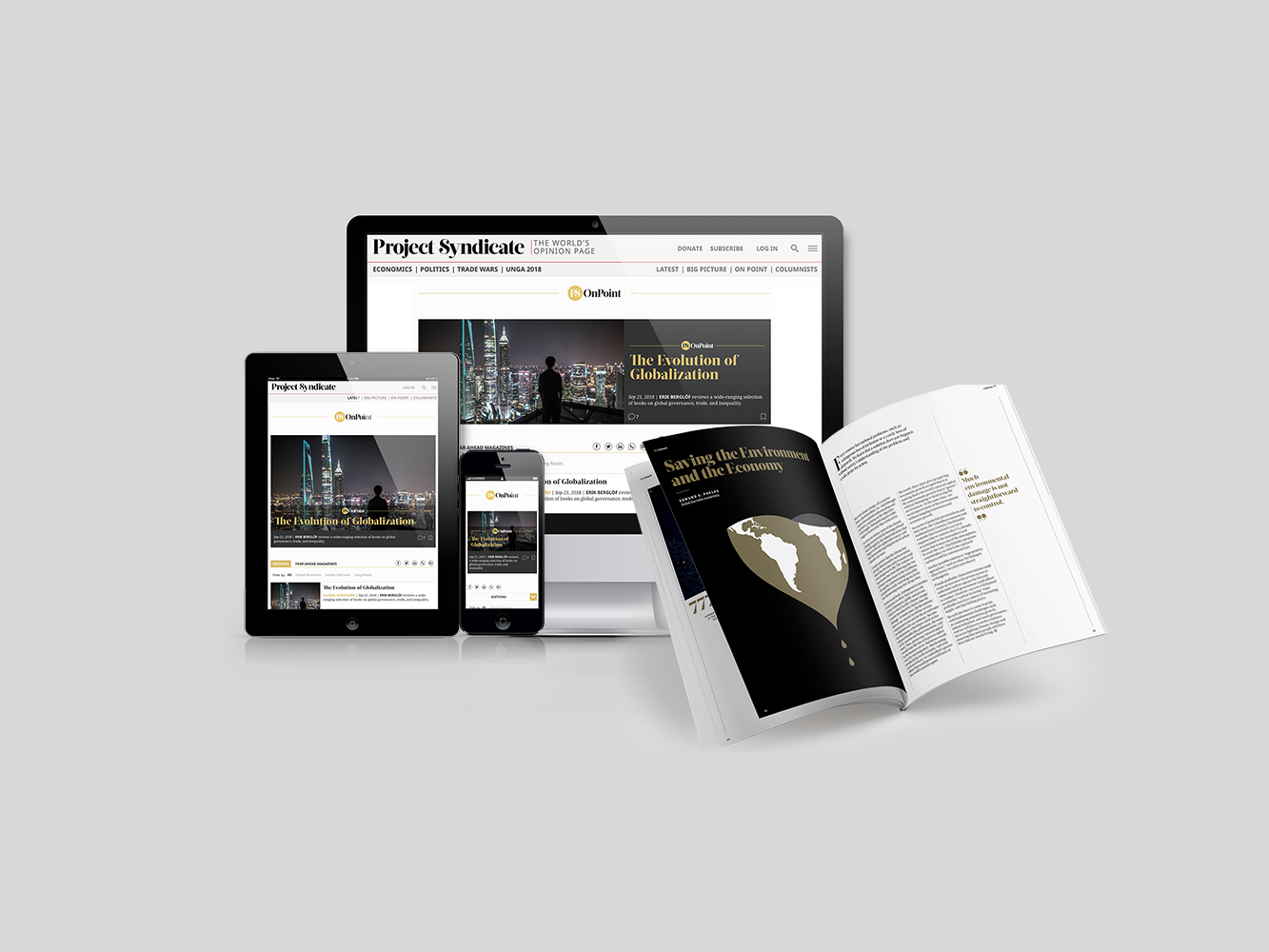 Subscribe now
For a limited time only, get unlimited access to On Point, The Big Picture, and the PS Archive, plus our annual magazine, for less than $2 a week.
Die seit 1949 funktionierende Struktur der beiden "Schwesterparteien" von CDU und bayrischer CSU, ein Garant der strukturellen Mehrheitsfähigkeit der Union als im Regelfall größte Partei und damit Kanzlerpartei, funktioniert in einem größer gewordenen wiedervereinigten Deutschland und unter den Bedingungen eines sich auf sieben Parteien ausdifferenziertes und im Deutschen Bundestag vertretenen Parteiensystems nicht mehr wirklich, zumindest nicht als verlässlicher Garant für die Rolle der strukturell stärksten Partei.
Als Angela Merkel 2005 zum ersten Mal als Kanzlerin gewählt wurde, hatte die Republik unter Rot-Grün eine Phase der schmerzhaften Anpassung des deutschen Sozialstaates bei hoher Arbeitslosigkeit an die Realitäten der Wiedervereinigung und der neuen Wirtschaftsgeographie nach dem Ende des Kalten Krieges hinter sich. Hinzu kam noch die Anpassung der Außenpolitik an die neue, auch militärische Rolle Deutschlands mit den Balkankriegen und dem 11. September 2001, der Bedrohung durch den internationalen Terrorismus.
Die Deutschen hatten damals aufregende Jahre durchlebt: das Ende des Kalten Krieges, die Wiedervereinigung, Massenarbeitslosigkeit und scheinbar endlose Reformdebatten. Damit sollte unter der Kanzlerschaft Merkels Schluss sein. Genug der Geschichte, Pragmatismus, Ruhe und Verlässlichkeit waren fortan angesagt. Die Sonne schien, der Himmel war blau, die Wirtschaft brummte, und über allem schwebte "Mutti" und ließ die Dinge geschehen. Und die Deutschen waren es zufrieden und wählten viermal Angela Merkel.
Mit der globalen Zeitenwende ist diese Zeit definitiv zu Ende gegangen. Strategische Fragen wurden durch sie aufgeworfen und müssen durch die Politik beantwortet werden. Die wichtigste Frage dabei ist, was wird aus Europa, was aus Deutschland in dieser neuen Weltordnung? Was soll, was muss dabei die Rolle des Landes sein? Wo werden wir Europäer in zehn Jahren stehen?
Angela Merkel gibt darauf keine Antworten mehr. Sie steht sich dabei mit ihrem "auf Sicht fahrenden" Pragmatismus selbst im Wege. Selbst die großen, ja historischen Entscheidungen, die sie getroffen hat, waren immer von engen tagespolitischen und taktischen Gründen getragen worden: Atomausstieg, Aussetzung der Wehrpflicht, die Antworten auf die Finanzkrise 2008. Allein bei der Grenzöffnung angesichts der Syrienflüchtlinge war das anders gewesen, dort haben eindeutig moralische Gründe gegolten.
Ihren größten Fehler aber hat sie 2008 gemacht, bei der Antwort auf die Finanzkrise. Damals wollte sie keine europäische Antwort, sondern setzte auf nationale Antworten und deren bloße Koordination zwischen den Euro-Staaten. Seitdem ist das gesamte Projekt Europa aus der Spur und die Dauerkrise Europas wird das schwierigste Erbe der Ära Merkel für ihre Nachfolger sein. Angela Merkel war die Kanzlerin der Zeit der "Friedensdividende" und auch der Stabilität. Vielleicht die letzte Kanzlerin des auf Bonn zurückgehenden Parteiensystems. Was folgt, wird neu sein, sehr viel weniger berechenbar, wie man am neuen deutschen Parteiensystem bereits heute sehen kann. Die Schicksalsfrage aber bleibt, ob Deutschland an seiner europäischen Berufung, gemeinsam mit Frankreich, festhält.