Jamais sans mon fusil
NEW YORK – Ceux qui défendent le droit des citoyens américains d'acquérir des fusils semi-automatiques ou de porter des armes à feu dissimulées démontrent le même état d'esprit que ceux qui nient toute responsabilité humaine dans le changement climatique. Ils n'entendent pas les arguments rationnels. Peu importe le nombre d'élèves morts sous les balles, ou la quantité de preuves scientifiques autour de l'impact des émissions de dioxyde de carbone, ces gens ne sont pas prêts à abandonner les convictions qui définissent leur identité.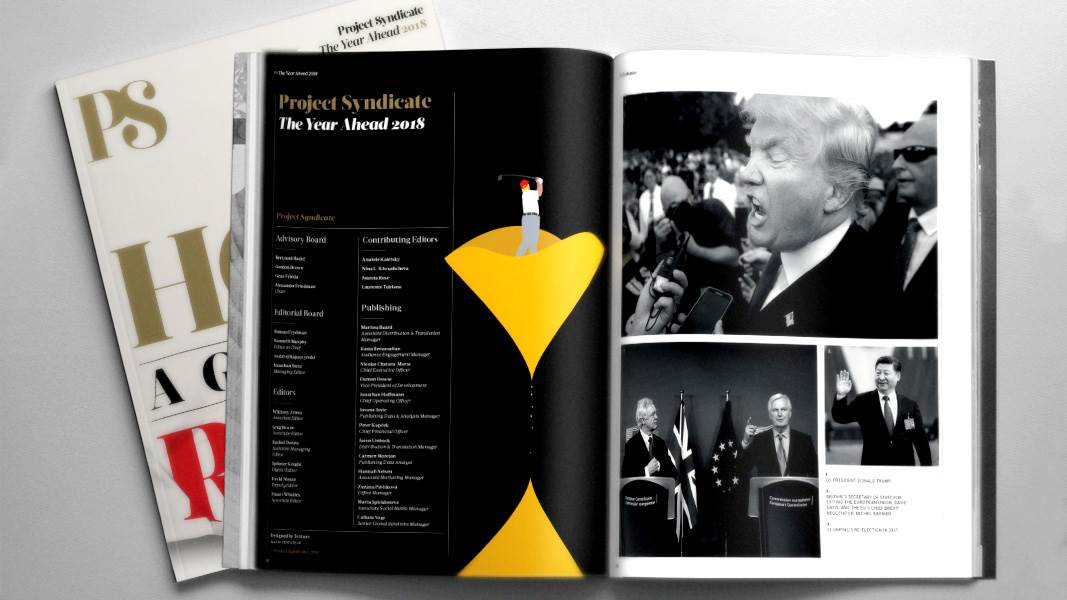 The Year Ahead 2018
The world's leading thinkers and policymakers examine what's come apart in the past year, and anticipate what will define the year ahead.
Ainsi, plus les libéraux de New York, San Francisco ou Houston élèvent la voix pour un contrôle sur la vente d'armes aux civils, plus les partisans convaincus du droit de posséder des armes létales contre-attaquent, avec souvent autant de ferveur que des croyants religieux dont le Dieu aurait été offensé.
Bien entendu, les identités collectives ont un passé historique. Le deuxième amendement de la Constitution des États-Unis, qui garantit le droit de détenir et porter des armes, a été adopté en 1791, époque à laquelle les citoyens qui s'étaient rebellés contre la monarchie britannique considéraient devoir se protéger si nécessaire contre un État oppresseur. Bien que l'interprétation de cet amendement demeure un terrain polémique, l'idée initiale résidait dans la possibilité pour les milices de s'armer.
Pour de nombreux Américains, notamment dans les régions rurales et les États du sud, cette autorisation collective s'apparente à un droit individuel conféré par Dieu lui-même. Les populistes sont passés maîtres dans l'art de dresser ces populations contre les élites urbaines et côtières, prétendument déterminées à les priver de ce droit. Cette peur qu'exploitent les populistes s'ancre dans bien davantage qu'un simple goût pour la chasse ou la notion d'autodéfense. Elle est associée à l'identité même que les individus pensent avoir. Privez-les de leurs armes, ils se sentiront anéantis sur le plan culturel et social.
Mais si tel est le cœur identitaire de nombreux Américains, intervient alors une contradiction étrange dans l'image nationale qu'ils ont d'eux-mêmes. Le deuxième amendement est évidemment un concept juridique. En un sens, ceci vaut également pour les États-Unis. En tant que pays d'immigrés, les États-Unis ne reposent pas sur une ascendance ou une culture commune. Ils sont fondés sur un ensemble de lois – seule voie permettant d'unir dans une entreprise commune un peuple aux origines culturelles si nombreuses.
Pas étonnant que de si nombreux avocats exercent aux États-Unis, et que les Américains se montrent si procéduriers, beaucoup plus que les Japonais par exemple, qui font davantage appel aux usages et traditions. Si l'Amérique exerce une religion civique, la Constitution est alors son texte saint. Et c'est précisément ainsi que les conservateurs considèrent les lois fondatrices du pays, y compris le deuxième amendement.
Par opposition, de nombreux Américains préfèrent chérir les mythes nationaux, tout aussi fondateurs à leur manière, mais qui s'inscrivent en opposition directe avec l'idée d'une nation des lois. Dans les westerns classiques, le véritable héros américain n'est autre que le flingueur, le hors-la-loi, celui qui laisse à son instinct le soin de décider de ce qui est juste ou non, ce vagabond si attaché à sa liberté, qui chevauche sa monture de confiance vers l'horizon du soleil couchant, une carabine suspendue dans le dos. John Wayne vient sauver les citoyens des affreux en costume noir, dont les agissements malfaisants menacent la liberté à la frontière américaine.
Mais qui sont ces malfaiteurs habillés de noir ? Banquiers, juristes, hommes d'affaires ou bâtisseurs de routes, ils représentent bien souvent les intérêts de puissants protagonistes des grandes villes de la côte est. Ils ont bien entendu fait appel à des mercenaires, puisque ces hommes en noir viennent du monde des contrats, des traités et de la haute gouvernance.
Dans la plupart des westerns, l'histoire racontée est celle d'une idylle dans de vastes contrées sauvages, où l'être humain a trouvé une autonomie parfaite, menacée par l'État et ses lois rédigées par des hommes. Les seules lois que respecte le héros de western sont celles que lui dictent Dieu et sa propre conscience. Et que les choses soient claires, il lui faut une arme pour les défendre.
Le problème avec le mythe américain, c'est que la poésie pastorale d'une liberté individuelle parfaite – forme d'état de nature – ne peut tout simplement exister dans un État hautement organisé, fait de banques, de tribunaux, de grandes entreprises, et de législatures. Le deuxième amendement est une faveur concédée au mythe, à la fois déguisée et révélée par son inscription dans la loi.
Ronald Reagan comprenait mieux que n'importe quel autre président le besoin de mythe qu'éprouvent tant d'Américains, sans doute parce qu'il avait lui-même été acteur de westerns. Lorsque Reagan déclare que « l'État n'est pas la solution à notre problème ; l'État est le problème », il s'adresse évidemment au flingueur, même s'il s'exprime officiellement en tant que président américain fraîchement élu.
Sur un ton autrement plus vulgaire et agressif, Donald Trump suit l'exemple de Reagan. Il est d'ailleurs lui-même une sorte de hors-la-loi, sans considération pour les usages de civilité qu'exigent les sphères du pouvoir. À de nombreux égard, Trump est parvenu à concilier les habitudes du desperado avec les intérêts des costumes noirs, chefs d'entreprise, banquiers, et leurs représentants politiques à Washington.
Trump est l'arnaqueur new-yorkais qui exploite les peurs des amoureux des armes de la Bible Belt. Tandis que les États-Unis sont divisés par une guerre culturelle autour de l'identité nationale américaine, Trump a pour aptitude étrange d'incarner tout ce qu'il y a de pire dans chaque pan de cette division : le flingueur et sa haine des lois, l'escroc des villes et sa cupidité.
Pour combler les dangereuses fissures qui fragmentent sa société, l'Amérique doit se trouver un président capable de réduire la fracture culturelle. Hélas, elle n'aurait pu élire dirigeant plus incompétent dans la réalisation de cette tâche.
Traduit de l'anglais par Martin Morel