El sucio secreto que esconde la economía estadounidense
SAN DIEGO – Hay un sucio secretillo en la economía de hoy en día: Estados Unidos se ha beneficiado (y, continúa beneficiándose) de la crisis mundial. La economía estadounidense avanza viento en popa, incluso mientras manifestantes en el Reino Unido arrojan malteadas a los Brexiteers, el presidente francés Emmanuel Macron se enfrenta a los marchistas nihilistas que protestan vistiendo chalecos amarillos, y empresas de tecnología china, como por ejemplo Huawei, temen ser dejadas al margen de los mercados extranjeros.
El año pasado, la economía de Estados Unidos creció en un 2,9%, mientras que la eurozona se expandió solamente en un 1,8%, haciendo que el presidente Donald Trump tenga aún más confianza en su estilo confrontativo de actuación. Pero el crecimiento relativamente fuerte de Estados Unidos en medio del crecimiento perezoso en otros lugares no es lo que los libros de texto de economía predecirían. ¿Qué sucedió con la economía mundial estrechamente integrada que desde la Segunda Guerra Mundial el Fondo Monetario Internacional y el Banco Mundial vinieron defendiendo; y, más recientemente ensalzando?
La economía de los Estados Unidos se encuentra en una fase pasajera, pero a su vez potente, en la cual la debilidad en el extranjero levanta los ánimos en casa. Pero, esta euforia económica no tiene nada que ver con el mal y la malicia de la Era Trump, y tiene mucho que ver con las tasas de interés.
Los costos de prestarse dinero se encuentran en la actualidad más bajos que nunca, contando este tiempo desde la fundación de la Reserva Federal de Estados Unidos el año 1913, o en el caso del Reino Unido, desde que se estableció el Banco de Inglaterra en el año 1694. Los bonos  del Tesoro de Estados Unidos a diez años están rindiendo alrededor del 2,123%; y, el mes de abril, el servicio de transmisión de videos Netflix emitió bonos basura a una tasa de tan sólo el 5,4%.
Si un economista salido del cuento Rip Van Winkle se despertara hoy después de un estar dormido durante décadas y sólo viera esas cifras, supondría que una quinta parte de los estadounidenses se encuentran desempleados y formando filas fuera de los comedores de beneficencia. En cambio, la tasa de desempleo en Estados Unidos está en su nivel más bajo desde que Neil Armstrong dio su famoso primer paso sobre la superficie de la luna hace 50 años.
La idea de que Estados Unidos gana durante una depresión mundial puede sonar a una sarcástica reflexión de algunos marxistas intransigentes en una lúgubre esquina de un salón de catedráticos. Sin embargo, tal visión no es ideológica. Por el contrario, las tasas de interés mundiales se arrastran por los suelos debido a que el crecimiento del PIB fuera de Estados Unidos es muy lento.
Subscribe now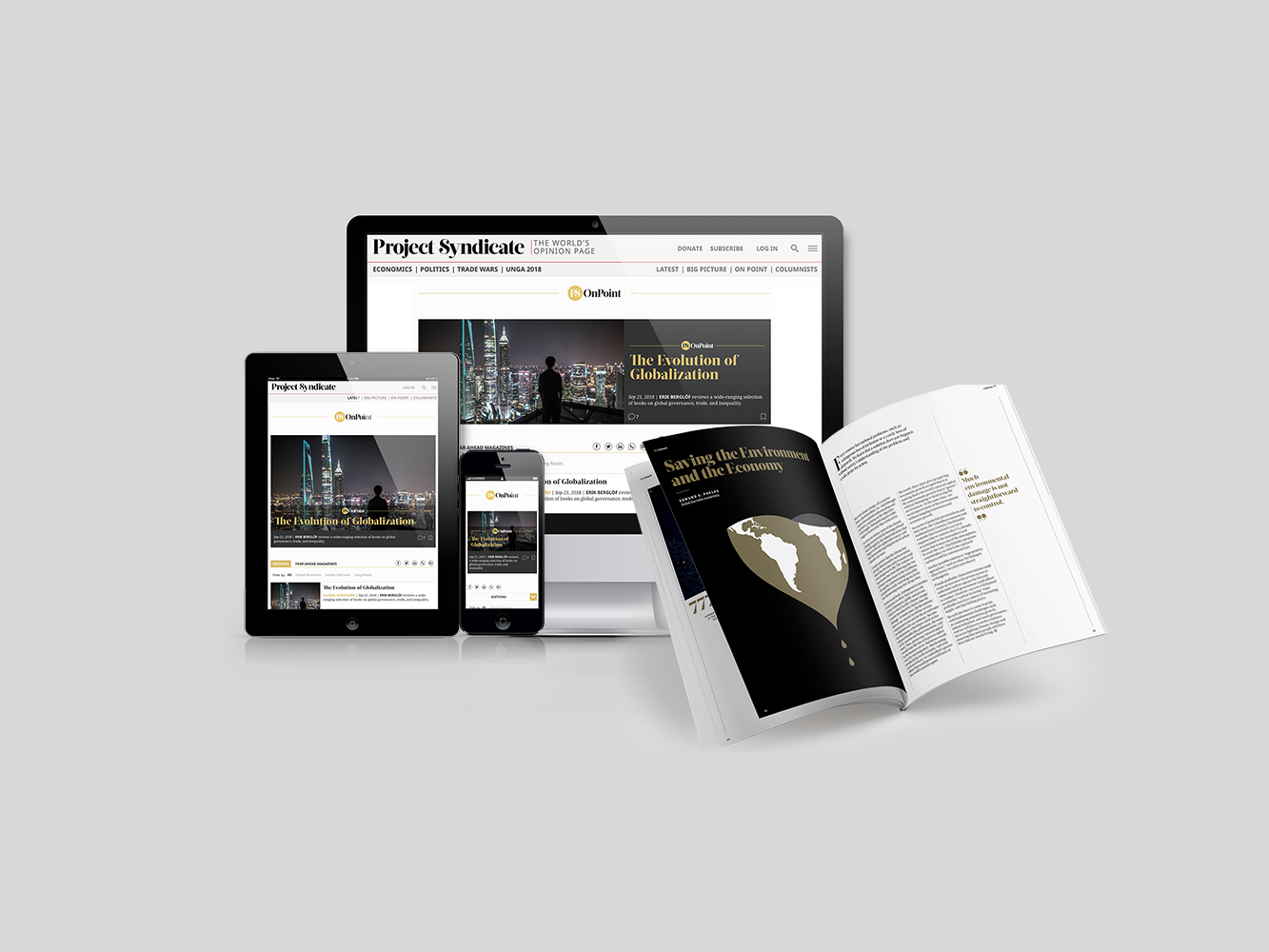 Subscribe now
Get unlimited access to OnPoint, the Big Picture, and the entire PS archive of more than 14,000 commentaries, plus our annual magazine, for less than $2 a week.
Las tasas de interés persistentemente bajas y la inflación débil traen consigo múltiples beneficios para la economía de Estados Unidos. Para empezar, los consumidores estadounidenses, cuyos salarios reales (ajustados a la inflación) finalmente están aumentando después de décadas de estancamiento, van tras la adquisición de todo tipo de gangas. Cuando visité una tienda Apple hace unos días, un empleado del mostrador de reparaciones me dijo que podía financiar un nuevo iPhone al 0% de interés. Los concesionarios de automóviles también ofrecen financiamiento sin cobrar intereses.
Por otra parte, el mercado de valores de Estados Unidos se ha disparado debido a que los rendimientos de los certificados de depósito (CD) bancarios lucen demasiado diminutos e insignificantes. Cuando yo era un niño en la década de 1970, mi madre colocó nuestros ahorros familiares en un banco y recibió no sólo un 6% de retorno, sino también una licuadora. Hoy en día, un CD bancario de seis meses podría pagar sólo un tercio de un punto porcentual. Y, mi madre ya no esperaría recibir como regalo del banco una licuadora, o incluso ni siquiera una paleta de dulce a cambio de dejar su dinero allí.
Finalmente, las bajas tasas de interés significan que las empresas estadounidenses pueden obtener financiamiento casi gratuito cuando compran equipos. Como resultado de los bajos costos de endeudamiento y las nuevas rebajas impositivas, la economía de Estados Unidos incorporó 215.000 nuevos empleos en fabricación de máquinas en el año 2018. Y, los inversores extranjeros se dan cuenta que los nuevos equipos harán que las compañías estadounidenses sean más competitivas.
Pero con seguridad, tal como se insiste en los libros de texto, una economía mundial que está renga comprimirá las exportaciones estadounidenses. Eso es cierto, especialmente cuando dicha economía mundial entra en combinación con los nuevos aranceles impuestos por China a los productos estadounidenses y un dólar fuerte, que hace que las exportaciones estadounidenses sean más caras a nivel internacional.
Sin embargo, las exportaciones representan únicamente el 12% de la economía de Estados Unidos, y casi un tercio de ellas van a  Canadá y México, países a cuyas economías les ha estado yendo bien. Además, muchas de las exportaciones más valiosas de Estados Unidos son artículos "imprescindibles" (o bienes oligopólicos fabricados por solamente unas pocas compañías), como por ejemplo aviones Boeing, chips Qualcomm o iPhones de Apple. Es difícil, incluso para los abatidos franceses o para los angustiados alemanes prescindir de los mencionados bienes.
La prosperidad de la economía de Estados Unidos preocupa a los formuladores de políticas de otros países. Estas autoridades preferirían que Estados Unidos anduviera a tropiezos a la par que sus países y se viera obligado a forjar formas cooperativas para impulsar el crecimiento mundial. En lugar de ello, Trump se dedica a pinchar en lugar de halagar para obtener acuerdos comerciales, y se embolsa con alegría a favor de la economía estadounidense los beneficios resultantes que provienen de economías estancadas en el extranjero.
Por supuesto, nadie sabe cuándo se detendrán los pinchazos comerciales de Trump. Pero mientras la inflación siga siendo un fantasma lejano, la economía de Estados Unidos continuará disfrutando de este tipo inusual de crecimiento.
Traducción del inglés: Rocío L. Barrientos