La tercera reconstrucción de Estados Unidos
NUEVA YORK – Estados Unidos es dos culturas en una nación. La primera produjo la esclavitud, el genocidio de los nativos americanos, las leyes de segregación racial y las bravuconadas, mentiras y crueldades del expresidente Donald Trump, que culminaron en la insurrección del 6 de enero en el Capitolio. La segunda produjo la emancipación, el movimiento por los derechos civiles, la presidencia de Barack Obama y ahora la elección de Joe Biden. La cultura supremacista blanca (perteneciente a una minoría cada vez más pequeña en Estados Unidos) basó siempre su poder en la violencia y en la supresión de votantes. Por eso la batalla que ambas están librando (en los estados y en Washington) por el derecho al voto es una batalla por el futuro de Estados Unidos.
La victoria de Biden ha incitado a los supremacistas blancos a redoblar la apuesta a la discriminación electoral. El Partido Republicano sabe que no puede mantener el poder en el nivel nacional en una elección justa. Por eso, las legislaturas de los estados bajo control republicano están aprobando nuevas restricciones a la participación electoral de las personas de color. En Washington, por otra parte, la cultura inclusiva está promoviendo en el Congreso las reformas por el derecho al voto más importantes desde los años sesenta, para que todos los estadounidenses tengan acceso a las urnas.
La supresión de votantes es un viejo instrumento del supremacismo blanco en Estados Unidos. La descripción más vívida de la historia puede hallarse en Black Reconstruction in America, un libro de W. E. B. Du Bois publicado en 1935. Du Bois presenta un relato integral y estremecedor de la heroica lucha de los afroamericanos por la libertad en la Guerra Civil (1861‑65) y de la que libraron después a fuerza de educación y trabajo para lograr la emancipación plena como ciudadanos en los años de la Reconstrucción (1865‑77). Pero la violencia y el terrorismo de los supremacistas blancos sureños, junto con la indiferencia o el racismo de muchos blancos del norte, pusieron un cruento final a esa emancipación. Y el régimen segregacionista sureño que siguió a la Reconstrucción tuvo entre sus elementos centrales la supresión del voto afroamericano, abiertamente contraria a la Constitución.
El movimiento de los años sesenta por los derechos civiles dio lugar a lo que se conoce como Segunda Reconstrucción, así llamada porque buscó reconstruir una vez más la democracia estadounidense poniendo fin a las leyes segregacionistas. Pero los heroicos avances, incluida la Ley de Derechos Civiles de 1964 y la Ley de Derecho al Voto de 1965, provocaron otra contrarreacción racista. Cuando los legisladores demócratas del norte vencieron la oposición de los demócratas sureños segregacionistas para aprobar esas leyes, el Partido Demócrata se dividió, y el Partido Republicano, con Richard Nixon a la cabeza, adoptó la tristemente célebre «estrategia sureña» para obtener el apoyo de los blancos racistas en la elección de 1968.
Muchos sureños blancos se pasaron del Partido Demócrata al Republicano, y el racismo en sí permaneció. Y la estrategia sureña dio paso a nuevas tácticas para la supresión de votantes, basadas esta vez en el encarcelamiento masivo de personas de color por infracciones menores (o por ninguna), hecho que las privaba del derecho al voto (a menudo, para siempre).
Pero el poder del supremacismo blanco en Estados Unidos está en declive hace mucho tiempo. La prueba está en la elección de Obama en 2008 y su reelección en 2012, junto con la elección en 2020 de la vicepresidenta Kamala Harris (primera mujer y persona de color que ocupa el cargo). La respuesta de Trump ha sido un descarado intento de subvertir el resultado para conservar el poder; primero trató de convencer a funcionarios de estados republicanos para que falsificaran los recuentos electorales, y después trató de impedir que el Congreso los certificara.
Subscribe to Project Syndicate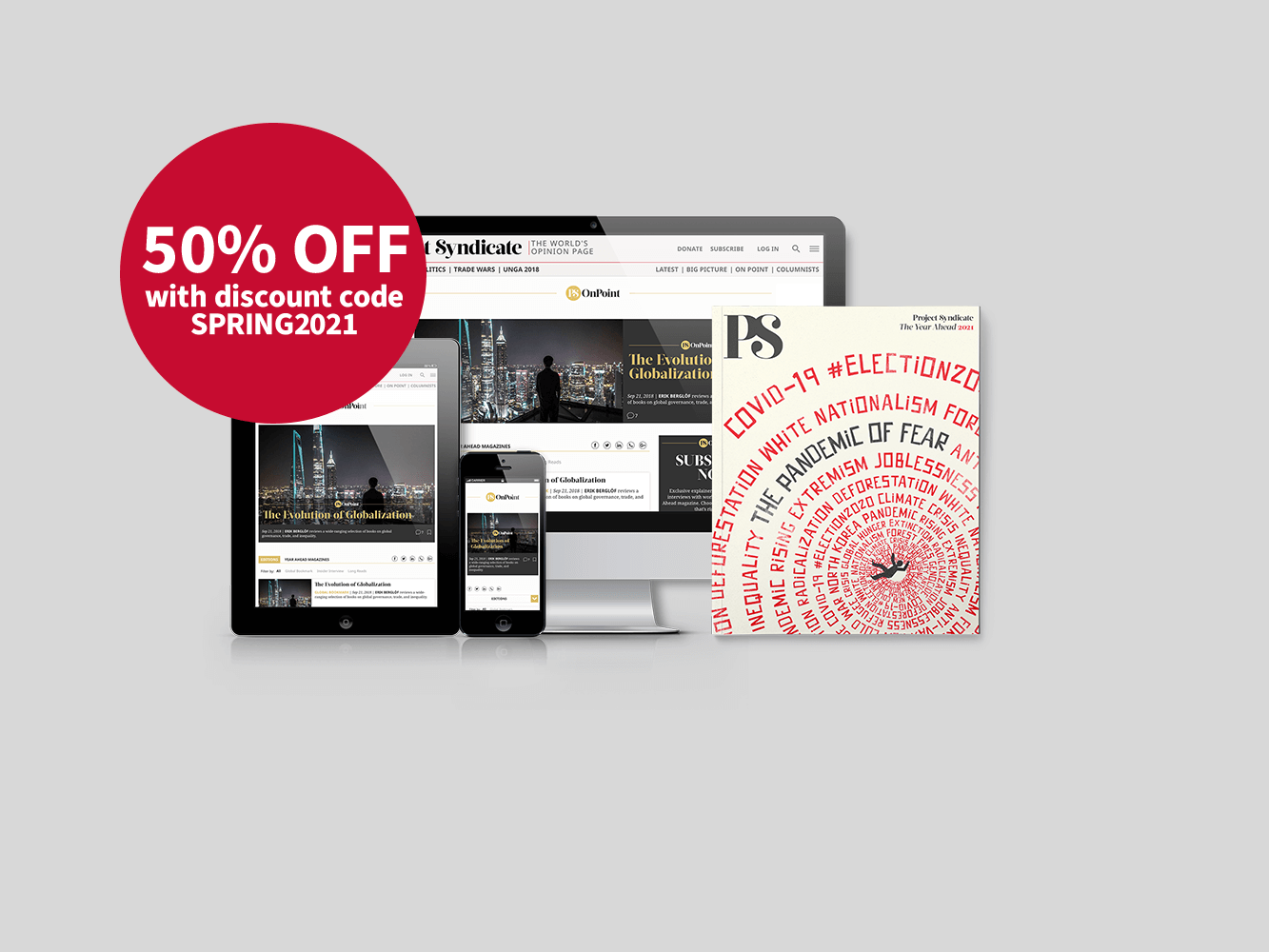 Subscribe to Project Syndicate
Enjoy unlimited access to the ideas and opinions of the world's leading thinkers, including weekly long reads, book reviews, topical collections, and interviews; The Year Ahead annual print magazine; the complete PS archive; and more. All for less than $5 a month.
Como muestra un minucioso análisis del Brennan Center for Justice de la Escuela de Derecho de la Universidad de Nueva York, la derrota de Trump llevó a legisladores republicanos a presentar una andanada de proyectos de ley (más de 250 en 43 estados) para la supresión de votantes. El Brennan Center lo resume así: «Los proyectos dificultan la emisión del voto, discriminan a los votantes de color y suprimen las modificaciones al sistema electoral (por ejemplo, el voto por correo) que permitieron que la elección de 2020» (celebrada durante una pandemia) «fuera no sólo exitosa sino posible».
Biden no se equivoca al decir que la nueva ley restrictiva aprobada en el estado de Georgia (bajo control republicano) es un claro ejemplo de segregacionismo del siglo XXI. De modo que exactamente 160 años después de que los estados del sur se separaran del resto para preservar y extender la esclavitud y la supremacía blanca, Estados Unidos tiene ante sí una Tercera Reconstrucción. La primera fue necesaria para poner fin a la esclavitud; la segunda, para poner fin a la versión estadounidense del apartheid; y la tercera para poner fin a la supresión y el encarcelamiento masivo de votantes. (Uno de los líderes de la Tercera Reconstrucción, el reverendo William J. Barber, ha escrito un libro homónimo que hace una vívida descripción del desafío.)
El racismo estadounidense se resiste a morir, pero tiene los días contados. La Cámara de Representantes de los Estados Unidos acaba de dar media sanción a la ley de reforma política y derechos electorales más importante desde la Ley de Derecho al Voto. El proyecto que ahora está a consideración del Senado busca crear una normativa nacional para facilitar la inscripción de votantes y la emisión del voto, incluido en esto el voto anticipado y por correo; hacer valer la legislación federal contra la discriminación de votantes; y reinstituir el derecho de exconvictos a votar en elecciones federales. Además, incluye varias reformas importantes en lo referido a la financiación de campañas.
En cuanto el Senado comience a tratar el proyecto, los senadores republicanos representantes del supremacismo blanco intentarán impedir su aprobación usando maniobras dilatorias (el filibustering) que obligan a reunir 60 votos para aprobar una ley en vez de la mayoría simple de 51. Es la misma táctica que usaron los segregacionistas para frustrar la aprobación de leyes de derechos civiles (y que en los sesenta dejó de darles resultado). Todo indica que el nuevo intento fracasará. Los demócratas, decididos a enterrar de una buena vez el supremacismo blanco, no se quedarán de brazos cruzados mientras los racistas intentan otra vez suprimir el voto de la gente de color. Lo más probable es que el Senado cambie sus normas de procedimiento para que maniobras dilatorias no puedan impedir la aprobación de esta legislación crucial, de modo tal que todos los estadounidenses tengan garantizado por fin el acceso equitativo al voto, más de 230 años después de la aprobación de la Constitución de los Estados Unidos.
Traducción: Esteban Flamini