Die Einigung zwischen den USA und China ist nicht erfolgsversprechend
NEW HAVEN: Erfolgreiche Geschäftsleute wissen, wann sie die Reißleine ziehen müssen. Und so ist es auch beim selbsternannten größten "Dealmaker" überhaupt: US-Präsident Donald Trump. Nachdem er einen "großen Deal" mit China versprochen hatte, stand am Ende der 13. Runde bilateraler Handelsverhandlungen am 11. Oktober kaum mehr als ein Gewimmer. Das Ergebnis war eine verwässerte "erste" Teileinigung.
So hatte das eigentlich nicht sein sollen. Die dreigleisige Verhandlungsstrategie der Trump-Regierung sah lange eine deutliche Verringerung des bilateralen Handelsdefizits, einen Rahmen zur Konfliktbewältigung – um vom angeblichen Diebstahl geistigen Eigentums und erzwungenen Technologietransfers bis zu Reformen im Dienstleistungsbereich und sogenannten nicht tarifären Handelsbarrieren reichende Probleme anzusprechen – sowie einen robusten Durchsetzungsmechanismus vor. Laut einem der US-Verhandlungsführer, Finanzminister Steven Mnuchin, stand dieser "große Deal" im Mai bereits zu 90%, bis dann alles unter gegenseitigen Schuldzuweisungen und einer weiteren Eskalation sich gegenseitig in die Höhe schaukelnder Zölle zerbrach.
Doch die Hoffnung stirbt bekanntlich zuletzt. Angesichts der sich in beiden Volkswirtschaften abzeichnenden deutlichen Anzeichen von Problemen kam neuer Optimismus auf, dass sich die Vernunft endlich durchsetzen würde – trotz eines eskalierenden Einsatzes der Politik als Waffe durch die USA, mit Androhung von Kapitalkontrollen, Gerüchten über den Entzug der Zulassungen an US-Börsen notierter chinesischer Unternehmen, neuen Visabeschränkungen, einer steilen Ausweitung der Zahl auf die gefürchtete Entity List (eine Schwarze Liste) gesetzter chinesischer Firmen und Diskussionen über die Verabschiedung des Hong Kong Human Rights and Democracy Act von 2019 im Kongress. Die Finanzmärkte jedoch schauten weg und schossen in den Tagen vor der Verkündung vom 11. Oktober erwartungsfroh steil in die Höhe.
Und doch enttäuscht die mit großem Tamtam angekündigte Teileinigung enorm. Zunächst einmal umfasst sie weder eine kodifizierte Übereinkunft noch klare Durchsetzungsmechanismen, sondern bloß ein vages Versprechen, die chinesischen Absichten zum Kauf von US-Agrarprodukten im Wert von rund 40-50 Milliarden Dollar in den kommenden Wochen zu präzisieren, eine Anspielung auf eine eher bedeutungslose Vereinbarung zu Währungsmanipulationen und einige Hinweise über Initiativen zum Schutz geistigen Eigentums und zur Liberalisierung des Finanzsektors. Und hierfür erhalten die Chinesen ein wichtiges Zugeständnis: einen zweiten Aufschub in Bezug auf eine neue Runde von Zöllen auf Exporte in die USA im Wert von rund 250 Milliarden Dollar, die ursprünglich am 1. Oktober in Kraft treten sollten.
Diese losen Zusagen sind alles andere als ein Durchbruch, sondern haben wie vergleichbare frühere Versprechungen wenig Substanz. China verfolgt, um Handelsspannungen mit den USA zu entschärfen, seit Jahren den Ansatz der "dicken Brieftasche". Früher bedeutete dies höhere Einfuhrkontingente für amerikanische Flugzeuge, heute den Kauf von mehr Sojabohnen. Und natürlich hat das Land eine noch längere Einkaufsliste an US-Produkten, die insbesondere mit der technologischen Lieferkette des Telekommunikationsausrüsters Huawei verknüpfte Produkte umfasst.
Doch wird Chinas geöffnete Brieftasche Amerikas tiefergehende Wirtschaftsprobleme nicht lösen. Das 879 Milliarden Dollar umfassende US-Defizit beim Warenhandel aus 2018 (das sich im zweiten Quartal 2019 auf 919 Milliarden Dollar belief) spiegelt Handelsungleichgewichte mit 102 Ländern wider. Dies ist ein multilaterales Problem und nicht das chinazentrische bilaterale Problem, das laut Aussagen der Politik gelöst werden muss, um alle Sorgen amerikanischer Hersteller und Arbeitnehmer zu lindern. Doch ohne Abbau der diesem multilateralen Handelsdefizit zugrunde liegenden gesamtwirtschaftlichen Ungleichgewichte – namentlich der chronisch niedrigen nationalen Sparquote –, läuft eine Lösung der Probleme mit China allenfalls auf eine Umleitung des Handels hin zu teureren ausländischen Produzenten hinaus, was funktional einer Steuererhöhung für die US-Verbraucher gleichkäme.
Subscribe now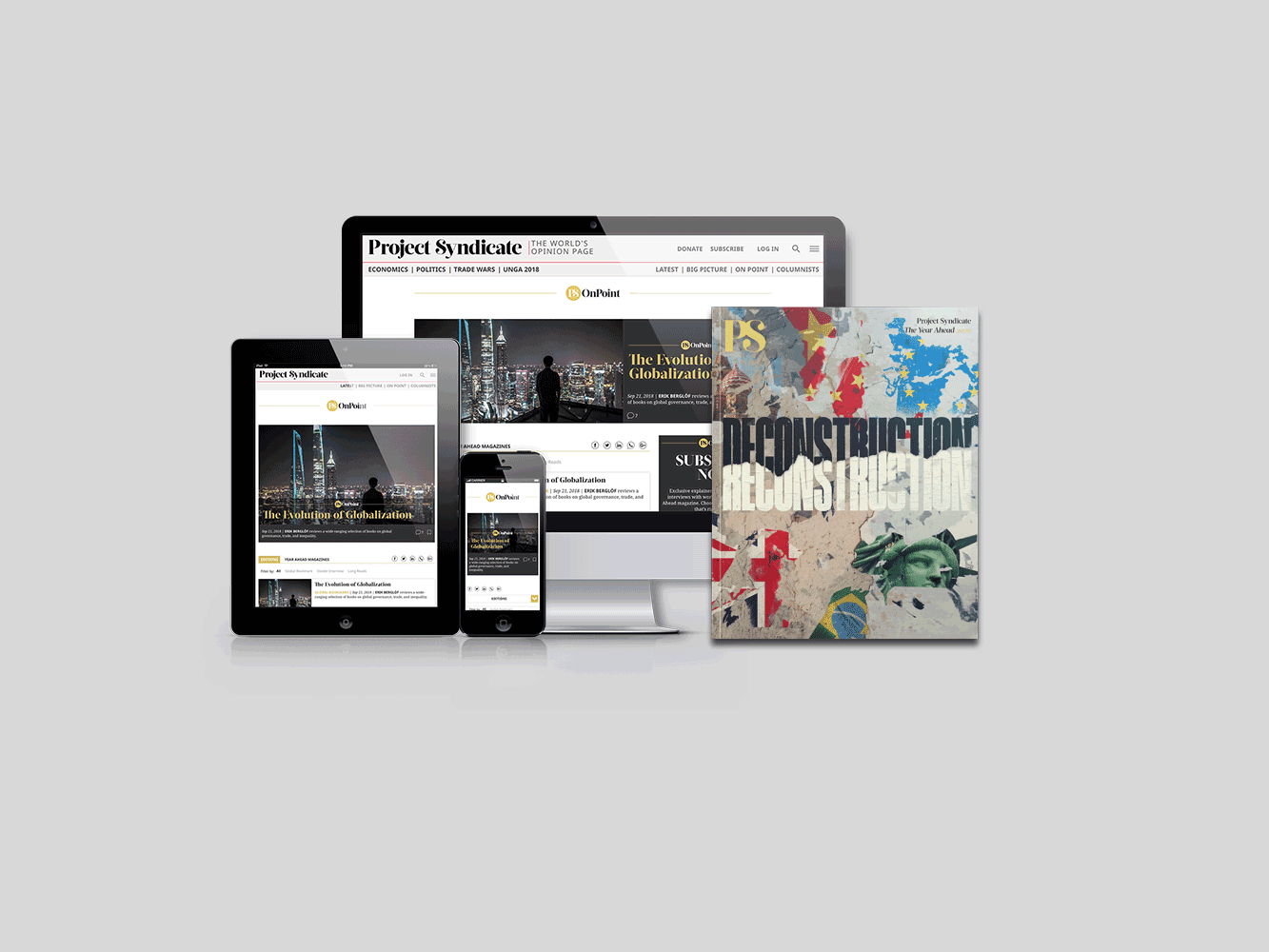 Subscribe now
Subscribe today and get unlimited access to OnPoint, the Big Picture, the PS archive of more than 14,000 commentaries, and our annual magazine, for less than $2 a week.
Die Versprechungen über ein Währungsabkommen sind genauso verdächtig. Dies ist eine einfache, aber unnötige Ergänzung zu jeder Übereinkunft. Auch wenn der Wechselkurs des Renminbi gegenüber dem US-Dollar seit Beginn des Handelskrieges im März 2018 um 11% gefallen ist, ist er seit Ende 2004 gegenüber einer breiten Konstellation von Chinas Handelspartnern inflationsbereinigt um 46% gestiegen. Will man beurteilen, ob ein Land den Kurs seiner Währung manipuliert, um sich einen unfairen Wettbewerbsvorteil zu verschaffen, muss man Währungen, wie den Handel, aus multilateraler Perspektive bewerten.
Eine derartige Bewertung zeigt, dass China die weithin akzeptierten Kriterien für Währungsmanipulationen nicht erfüllt. Sein einst übergroßer Leistungsbilanzüberschuss ist so gut wie verschwunden, und es gibt keine Hinweise auf offene staatliche Interventionen an den Devisenmärkten. Im August bestätigte der Internationale Währungsfonds diese Schlussfolgerung erneut in seiner sogenannten Artikel-IV-Analyse Chinas. Obwohl das US-Finanzministerium China kürzlich der Währungsmanipulation schuldig befand, stand dieses Urteil im Widerspruch zu den eigenen Kriterien des Finanzministeriums, und Mnuchin deutet inzwischen an, dass diese Einschätzung zurückgenommen werden könnte. Ein neues Währungsabkommen ist alles andere als eine Notwendigkeit; es ist lediglich ein lahmes Bemühen um eine politische Erfolgsmeldung.
Das wahre Problem der Teileinigung ist die Grundstruktur der Übereinkunft, in die Erstere vorgeblich eingepasst ist. Der Ansatz ist von Handels- bis hin zur Währungsfragen derselbe: Es werden bilaterale Lösungen für multilaterale Probleme vorgeschlagen. Das wird nicht funktionieren. Multilaterale Probleme erfordern Lösungen, die auf die gesamtwirtschaftlichen Ungleichgewichte zielen, auf denen diese Probleme beruhen. Das könnte einen Rahmen zur wechselseitigen Öffnung der Märkte wie einen bilateralen Investitionsvertrag oder die Neuaustarierung von Unterschieden bei den Sparquoten zwischen beiden Ländern bedeuten, die jeweils an unterschiedlichen Enden des Sparquoten-Spektrums stehen.
Besonders wichtig ist das Sparproblem für die USA. Amerikas nationale Netto-Sparquote von im zweiten Quartal 2019 bloßen 2,2% des Volkseinkommens liegt deutlich unter dem Durchschnitt der letzten drei Jahrzehnte des 20. Jahrhunderts von 6,3%. Mehr zu sparen – genau das Gegenteil von dem, was die USA angesichts der ominösen Entwicklung ihres Haushaltsdefizits tun – wäre der deutlich kosteneffektivste Weg, um Amerikas multilaterales Handelsungleichgewicht gegenüber China und 101 anderen Ländern zu verringern. Dies würde zudem die fehlgeleitete Fokussierung auf eine bilaterale Bewertung des Dollars in einer multilateralen Welt beenden.
Es fällt Politikern immer schwer, eine gesamtwirtschaftliche Perspektive einzunehmen. Dies gilt heute insbesondere für die USA, weil es nicht ohne Weiteres zu fremdenfeindlichen bilateralen Fixierungen wie dem Einprügeln auf China passt. Angesichts sich abzeichnender neuerlicher Anzeichen chinesischen Widerstands wird die Teilvereinbarung womöglich nie das Licht der Welt erblicken. Tut sie es jedoch, wird sie bei der Bewältigung eines der derzeit schwierigsten wirtschaftlichen Probleme der Welt mehr Schaden als Nutzen anrichten.
Aus dem Englischen von Jan Doolan