Kann Fernández Argentinien retten?
BUENOS AIRES – Die akute Wirtschaftskrise, die Argentinien seit 2018 heimsucht, hat gerade zu einem Regierungswechsel geführt. Der neu gewählte Präsident Alberto Fernández übernimmt von seinem Vorgänger Mauricio Macri eine schwer beschädigte Wirtschaft. Argentinien leidet heute gleichzeitig unter einer hohen Schuldenlast, verschlechterten sozialen Bedingungen, steigender Inflation und massiver Arbeitslosigkeit.
Seit 2012 bemüht sich das Land, durch Exporte genug Dollar ins Land zu bekommen. Zwischen 2011 und 2015 hat die damalige Präsidentin Cristina Fernández de Kirchner (die jetzt Vizepräsidentin wird) strenge Währungskontrollen eingeführt, die zu makroökonomischen Verhärtungen geführt haben. Aber seitdem die Kapitalkontrollen im Jahr 2015 abgeschafft wurden, hat Macris Regierung das Problem nur noch verschlimmert. Statt nur die Kontrollen, die den Währungsmarkt verzerrt haben, rückgängig zu machen, hat die Regierung einfach alle Kontrollen aufgehoben – darunter auch diejenigen, die spekulative Investitionen verhindert haben und damit als makroökonomische Sicherungsmaßnahmen gedacht waren.
Macri hat auch die Kreditaufnahme auf einen Rekordwert erhöht, was zusätzliche Schulden in Höhe von 193 Milliarden Dollar zur Folge hatte. Dazu gehört auch ein 57-Milliarden-Dollar-Kredit vom Internationalen Währungsfonds (IWF), obwohl bereits einer in Höhe von 44 Milliarden bestand (63% der Kreditlinien des IWF werden nun allein von Argentinien in Anspruch genommen). Bis Ende des Jahres wird laut Vorhersagen des IWF das Verhältnis der argentinischen Schulden zum BIP von 52% auf 93% gestiegen sein. Darüber hinaus wird die bereits jetzt heikle Zahlungsbilanz des Landes durch kurzfristige Kreditfälligkeiten weiter unter Druck gesetzt.
Und schließlich hat Macris Regierung, um die Inflation abzumildern, die Zentralbank ermutigt, die Zinsen noch weiter zu erhöhen – bis zu einem Rekordwert von 70% im Oktober 2018 (momentan liegen sie immer noch über 60%). Dies hat allerdings die spekulativen Investments weiter angeheizt.
Unter diesen Bedingungen begann das argentinische Schiff just in dem Augenblick zu sinken, als die Weltwirtschaft einen Wendepunkt erreichte. Als die Federal Reserve der USA im März 2018 ihre eigenen Leitzinsen erhöhte, traten die grundlegenden Schwächen der argentinischen Wirtschaft offen zutage. Aufgrund erhöhter Dollar-Nachfrage ist der Peso nun gegenüber der US-Währung um 210% gefallen, und die Inflation stieg doppelt so schnell wie normal. 2018 erreichte sie 48% und soll in diesem Jahr sogar auf 60% steigen.
Und als ob dies nicht schlimm genug wäre, hat es Macri noch nicht einmal geschafft, sein zentrales Ziel eines ausgeglichenen Haushalts zu erreichen. 2019 wird Argentinien ein Primärdefizit (ohne Zinszahlungen) von 0,8% des BIP aufweisen und ist dabei, dies im Jahr 2020 (bei einem Grundszenario) sogar noch zu verdoppeln. Ursache dafür sind die 2017 geplanten Steuersenkungen und geringere Einkünfte aufgrund der Rezession.
Subscribe now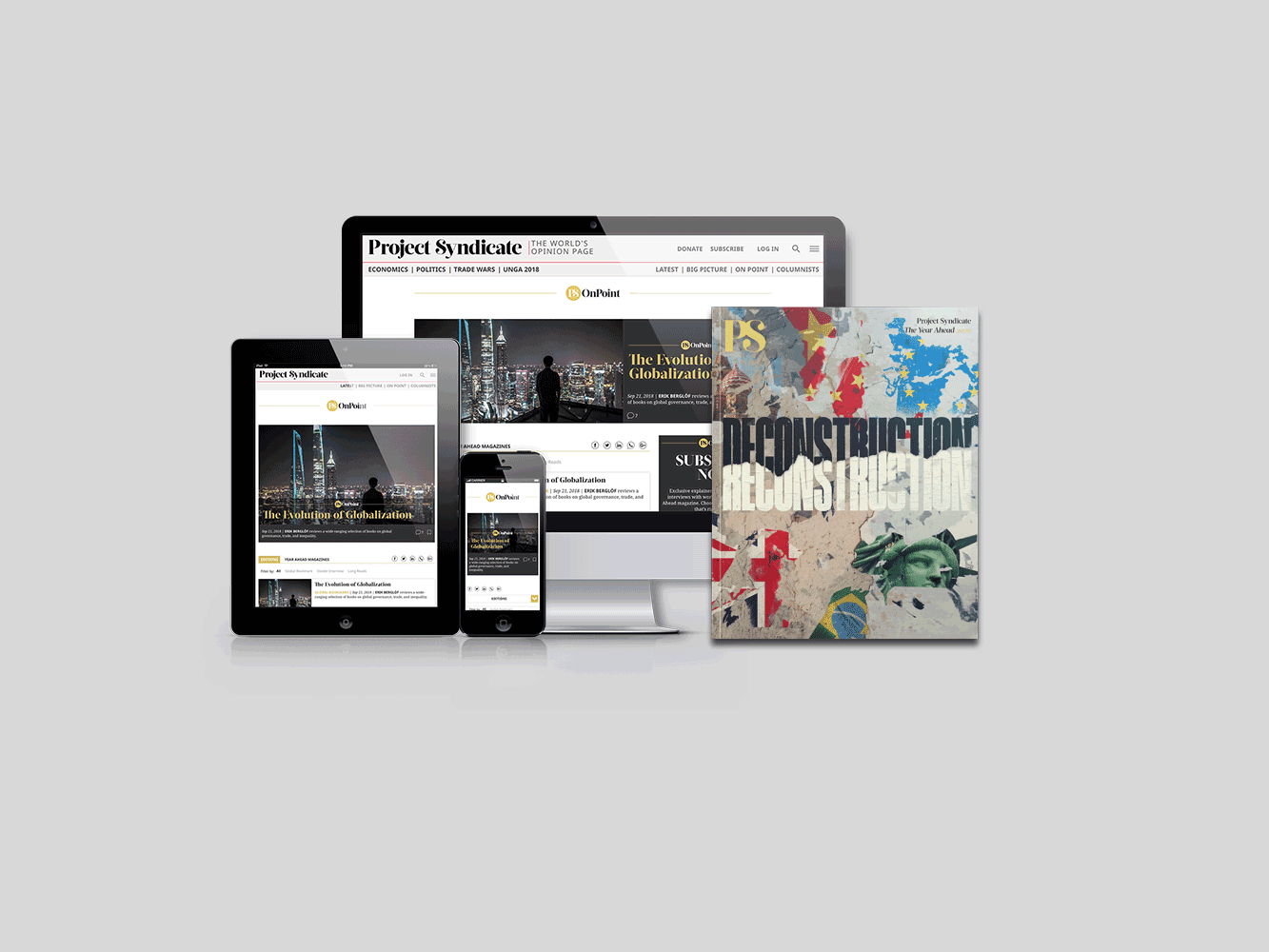 Subscribe now
Subscribe today and get unlimited access to OnPoint, the Big Picture, the PS archive of more than 14,000 commentaries, and our annual magazine, for less than $2 a week.
Aber die Krise der argentinischen Realwirtschaft ist sogar noch schlimmer. In drei von Macris vier Amtsjahren war das BIP rückläufig. Wenn er im Dezember abtritt, könnte die Armutsquote 40% erreicht haben, und nach dem Verlust von 140.000 industriellen Facharbeiterjobs im Produktions- und Handelssektor wird die Arbeitslosigkeit bei 10% liegen.
Argentiniens Herausforderung besteht nun darin, alle unterschiedlichen Dimensionen dieser Krise in Angriff zu nehmen. Jetzt müssen die Politiker nicht nur das Wachstum steigern sowie Konsum und echte Investitionen fördern, sondern auch den Wechselkurs stabilisieren, um den Investoren Sicherheit zu geben und die Rückzahlung der Schulden zu gewährleisten.
Diese Ziele sind nicht notwendigerweise miteinander kompatibel. Argentinien muss die Fälligkeitsdaten seiner Kredite mit seinen privaten Gläubigern neu verhandeln und die aktuelle Bereitstellungsvereinbarung mit dem IWF revidieren, dessen Hilfe mehr politischer als technischer Art war. Aber die Umstrukturierung der Schulden erfordert eine bessere Haushaltsbilanz, und die aktuelle tiefe Rezession macht einen Primärüberschuss im Jahr 2020 zunehmend unwahrscheinlich. Die dafür nötige strenge wirtschaftliche Anpassung könnte die Argentinier angesichts dessen, wie stark sich die Realwirtschaft schon verschlechtert hat, überfordern. Und wie die Volksaufstände in Chile und Ecuador gezeigt haben, sind die lateinamerikanischen Gesellschaften immer weniger bereit, zusätzliche schmerzhafte Einschnitte zu akzeptieren.
Die neue Regierung hat bereits angekündigt, den Konsum im Land ankurbeln zu wollen, um die Armut zu erleichtern. Angesichts begrenzter Haushaltsressourcen muss sie sich darauf konzentrieren, durch Cash-Transfer-Programme wie das Allgemeine Kindergeld (Asignación Universal por Hijo) die Bedingungen für die verarmten sozialen Gruppen zu verbessern. Ein weiteres großes Ziel besteht darin, einen neuen Sozialpakt zu schließen. Dazu sollen die Gewerkschaften und die Unternehmen ermutigt werden, Lohnvereinbarungen vorzuschlagen, die mit den größeren haushalts- und geldpolitischen Zielen in Einklang stehen.
Fernández muss zeigen, dass er genug politischen Einfluss hat, um die Erwartungen der unterschiedlichen Interessengruppen aneinander auszurichten und Maßnahmen zu ergreifen, die den Konsum fördern und die richtigen Signale an die Märkte senden. In einer derart fragilen Volkswirtschaft besteht wenig Handlungsspielraum. Aber Fernández' Sieg zeigt, dass die Argentinier von dem momentanen Ansatz und, allgemeiner, von den wirtschaftlichen Nöten ihres Landes die Nase voll haben.
Argentinien ist reich an Bodenschätzen und natürlichen Ressourcen wie Metallen, Kohlenwasserstoffen, Holz und Vieh. Das Land verfügt über eine diversifizierte Produktionsindustrie, deren Produkte von Stahl und Automobilen bis hin zu biochemischen Erzeugnissen reichen, und es ist die Heimat gut ausgebildeter, hochqualifizierter Arbeitskräfte für Dienstleistungen hoher Qualität. Ist die Krise erst einmal vorbei, besteht die Hoffnung, dass das enorme Potenzial der 45 Millionen argentinischen Einwohner freigesetzt und für Wachstum und Entwicklung eingesetzt werden kann. Dies ist die wahre Herausforderung für Argentinien und seine neue Regierung.
Aus dem Englischen von Harald Eckhoff