Opkomst van de voedselbaronnen
BERLIJN – De industriële landbouw ligt al lange tijd onder vuur vanwege praktijken die bijdragen aan klimaatverandering, natuurschade, en rurale armoede. En toch heeft de sector vrijwel geen enkele stap ondernomen om de kwaliteit en duurzaamheid te verbeteren of om sociale gerechtigheid te bevorderen.
Dit mag geen verrassing heten. Alhoewel er wereldwijd meer dan 570 miljoen boeren en 7 miljard consumenten zijn controleert slechts een handjevol bedrijven de productieketen van de mondiale industriële landbouw – van het veld tot aan de kassa. Gegeven de hoge winsten en grote politieke macht van deze bedrijven zijn veranderingen aan de status quo niet in hun belang.
Bovendien stijgt de marktconcentratie in de landbouwsector nog steeds, door de groeiende vraag naar landbouwgrondstoffen die nodig zijn voor (dieren-)voedsel en energieproductie. Doordat de middenklasse in zuidelijke landen gegroeid is zijn de consumptiepatronen veranderd, wat de mondiale vraag naar bewerkt voedsel opdrijft – en een strijd om de markt tussen multinationale, chemische, en voedselbedrijven veroorzaakt.
De grootste spelers in deze sectoren zijn hun kleinere concurrenten al jaren aan het uitkopen. Maar nu kopen ze elkaar ook uit, vaak met financiering van investeerders uit totaal andere sectoren.
Neem de zaden en agrochemische sectoren waar Bayer, de één na grootste producent van pesticiden ter wereld, voor 66 miljard euro Monsanto wil overnemen, de één na de grootste zadenproducent. Wanneer de Verenigde Staten en de Europese Unie de overname goedkeuren, wat waarschijnlijk lijkt, zullen slechts drie conglomeraten – Bayer-Monsanto, Dow-DuPont en ChemChina-Syngenta – controle hebben over 60% van de mondiale zaden- en agrochemische markt. 'Baysanto' alleen al zou de eigenaar worden van vrijwel elke genetisch gemodificeerde plant ter wereld.
Met andere grote fusies in het verschiet kan de mondiale markt voor landbouw er eind 2017 heel anders uitzien dan aan het begin van dit jaar. Elk van de drie conglomeraten zal dichter bij zijn doel om de zaden- en pesticidenmarkt te domineren zijn gekomen – op welk punt ze in staat zullen zijn om voedselproductie, -prijzen, en -kwaliteit wereldwijd te dicteren.
Subscribe to PS Digital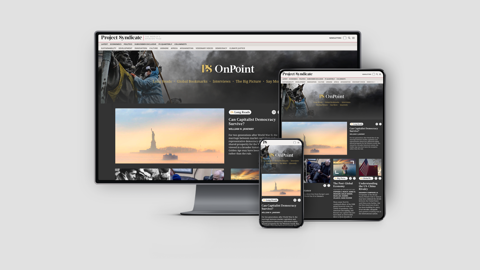 Subscribe to PS Digital
Access every new PS commentary, our entire On Point suite of subscriber-exclusive content – including Longer Reads, Insider Interviews, Big Picture/Big Question, and Say More – and the full PS archive.
De agrotechnische sector heeft met een aantal van dezelfde veranderingen als de zadensector te maken. De vijf grootste bedrijven zijn verantwoordelijk voor 65% van de markt, met Deere & Company, de eigenaar van het merk John Deere, als grootste. Voor 2015 meldde Deere & Company 29 miljard dollar omzet, meer dan de 25 miljard dollar die Monsanto en Bayer samen verdienden met de verkoop van zaden en pesticiden.
De meest veelbelovende nieuwe kans voor voedselbedrijven ligt momenteel in de digitalisering van de landbouw. Dit proces staat nog in zijn kinderschoenen, maar krijgt steeds meer momentum, en zal uiteindelijk alle facetten van de productie omvatten. Het zal niet lang meer duren voordat drones de taak van het spuiten van pesticiden zullen overnemen; vee zal voorzien zijn van sensoren om de hoeveelheid melk, beweegpatronen en voedselrantsoenering in kaart te brengen; tractoren zullen gecontroleerd worden door gps; en door apps gestuurde zaaimachines zullen de kwaliteit van de grond inschatten om de optimale afstand tussen zaaibedden en planten te bepalen.
Om de voordelen van deze nieuwe technologieën te maximaliseren zijn de bedrijven die de procesketen al domineren beginnen samen te werken. De John Deeres en Monsantos hebben hun krachten gebundeld. De vereniging van 'big data' over bodemgesteldheid en weer, nieuwe landbouwtechnologieën, genetisch gemodificeerde gewassen, en nieuwe ontwikkelingen in de agrochemie zullen deze bedrijven helpen geld te besparen, natuurlijke hulpbronnen te beschermen, en oogstopbrengsten wereldwijd te maximaliseren.
Maar alhoewel deze mogelijke toekomst goed nieuws is voor een aantal van de grootste bedrijven ter wereld, laat ze de milieu- en sociale problemen geassocieerd met de industriële landbouw onopgelost. De meeste boeren, vooral in het mondiale zuiden, zullen zich nooit dure digitale machinerie kunnen veroorloven. De slogan 'groei of ga' zal vervangen worden door 'digitaliseer of verdwijn.' De ETC-groep, een Amerikaanse non-gouvernementele organisatie, heeft al een toekomstscenario geschetst waarin de grote landbouwtechnologiebedrijven boven komen drijven en de zaden- en pesticidenproducenten zullen absorberen. Op dat punt aangekomen zullen slechts een paar bedrijven beslissen over alles wat we eten.
Hetzelfde probleem van marktconcentratie is ook van toepassing op andere schakels in de procesketen, zoals op handelaars in landbouwgoederen en supermarkten. En zelfs alhoewel de verwerking van voedsel nog niet op mondiale schaal geconsolideerd is wordt deze regionaal wel gedomineerd door firma's als Unilever, Danone, Mondeleze en Nestlé. Deze bedrijven verdienen geld wanneer vers of half verwerkt voedsel vervangen wordt door volledig verwerkt gemaksvoedsel zoals diepvriespizza's, soep uit blik, en kant-en-klare maaltijden.
Alhoewel lucratief is dit verdienmodel nauw verbonden met obesitas, diabetes, en andere chronische ziekten. Nog erger is dat voedselbedrijven ook nog eens profiteren van de verspreiding van ziekten waarvoor ze gedeeltelijk verantwoordelijk zijn, door het marketen van 'gezonde' verwerkte voeding verrijkt met proteïnen, vitaminen, probiotica, en omega 3-vetzuren.
Ondertussen verwerven bedrijven marktpositie ten koste van degenen aan het begin van de productieketen: boeren en arbeiders. Normen van de Internationale Arbeidsorganisatie (ILO) garanderen alle arbeiders het recht op organisatie, en ze verbieden kinder- en gedwongen arbeid en discriminatie op grond van ras of sekse. Maar overtredingen van arbeidswetgeving zijn de norm geworden, omdat inspanningen om ILO-regels af te dwingen vaak de kop ingedrukt worden, terwijl leden van vakbonden routinematig bedreigd, ontslagen, en zelfs vermoord worden.
In dit vijandelijke klimaat worden minimumlonen, betaling voor overwerk, en veiligheidsnormen op de werkplek openlijk genegeerd. En vrouwen zijn in het bijzonder in het nadeel omdat ze minder betaald krijgen dan hun mannelijke tegenhangers en het vaak moeten doen met seizoens- of tijdelijk werk.
Vandaag de dag bestaat de helft van de 800 miljoen hongerende mensen op de wereld uit kleine boeren of arbeiders verbonden aan de landbouwsector. Hun lot zal waarschijnlijk niet verbeteren als de weinige bedrijven die de sector nu al domineren zelfs nog machtiger worden.
Vertaling Melle Trap