Nach dem US-chinesischen Handelskrieg
NEW HAVEN – Der Konflikt zwischen den USA und China beherrscht seit inzwischen zwei Jahren die Debatte an den Wirtschafts- und Finanzmärkten, und das aus gutem Grund. Nach Drohungen und Anschuldigungen, die der Wahl von US-Präsident Donald Trump lange vorhergingen, hat die Rhetorik Taten Platz gemacht. Während der vergangenen 17 Monate haben sich die beiden weltgrößten Volkswirtschaften in den schwerwiegendsten Handelskrieg seit den frühen 1930er Jahren verstrickt. Und der Einsatz der US-Handelspolitik als Waffe gegen einzelne, als Bedrohung wahrgenommene Unternehmen wie Huawei hat die Front in diesem Kampf verbreitert.
Ich muss mir wie alle anderen vorwerfen lassen, dass ich auf jede Wendung dieses epischen Konflikts zwischen den beiden weltgrößten wirtschaftlichen Schwergewichten fixiert bin. Dies war von Beginn an ein politischer Konflikt, der mit wirtschaftlichen Waffen ausgefochten wurde, und das dürfte auf absehbare Zeit so bleiben. Die Folge ist natürlich, dass die Aussichten für die Wirtschafts- und Finanzmärkte im Wesentlichen von der politischen Dynamik zwischen den USA und China abhängig sind.
In diesem Sinne könnte die am 11. Oktober mit großem Tamtam verkündete erste "magere" Teileinigung ein wichtiges politisches Signal darstellen. Während die Übereinkunft, wenn sie denn je in die Tat umgesetzt wird, praktisch keine wesentlichen wirtschaftlichen Auswirkungen haben wird, bietet sie einen starken Anhaltspunkt, dass Trump endlich genug hat von seinem Handelskrieg. Verzehrt von innenpolitischen Sorgen – insbesondere dem Impeachment und den 2020 anstehenden Wahlen – liegt es in Trumps Interesse, sich zum Sieger zu erklären und zu versuchen, hieraus Kapital zu schlagen, um damit seine Probleme zu Hause zu parieren.
China seinerseits täte nichts lieber, als den Handelskrieg zu beenden. Zwar läuft Politik in einem Einparteienstaat offensichtlich ganz anders ab, doch wird die chinesische Führung ihre Kernprinzipien der Souveränität und ihre für die Jahrhundertmitte angestrebten Ziele der Verjüngung, des Wachstums und der Entwicklung nicht aufgeben. Zugleich ist der Abwärtsdruck auf die Wirtschaft unverkennbar. Da die chinesischen Entscheidungsträger aber entschlossen sind, ihre dreijährige Entschuldungskampagne – eine wichtige hausgemachte Quelle des gegenwärtigen Abschwungs – aufrechtzuerhalten, sollten sie umso eifriger bestrebt sein, etwas gegen den vom Konflikt mit den USA ausgehenden Druck im Bereich des Handels zu tun.
Entsprechend nähert sich das politische Kalkül beider Länder zunehmend an, und jedes sucht nach einem gesichtswahrenden Waffenstillstand. Zwar besteht immer ein Risiko, dass andere Komplikationen auftreten könnten; man denke etwa an die jüngsten Ereignisse in Hongkong und die Enthüllungen über Entwicklungen in der chinesischen Provinz Xinjiang. Doch zumindest für den Moment deutet die Politik des Handelskrieges jetzt auf eine Deeskalation statt auf eine neuerliche Verschärfung der Spannungen hin.
Für den Fall, dass das stimmt und eine erste Einigung erreicht wird, sollten wir überlegen, wie die Welt nach dem Handelskrieg aussehen wird. Ganz oben auf meiner Liste stehen mehrere Möglichkeiten: Entglobalisierung, Entkoppelung und Umlenkung von Handelsströmen.
Subscribe now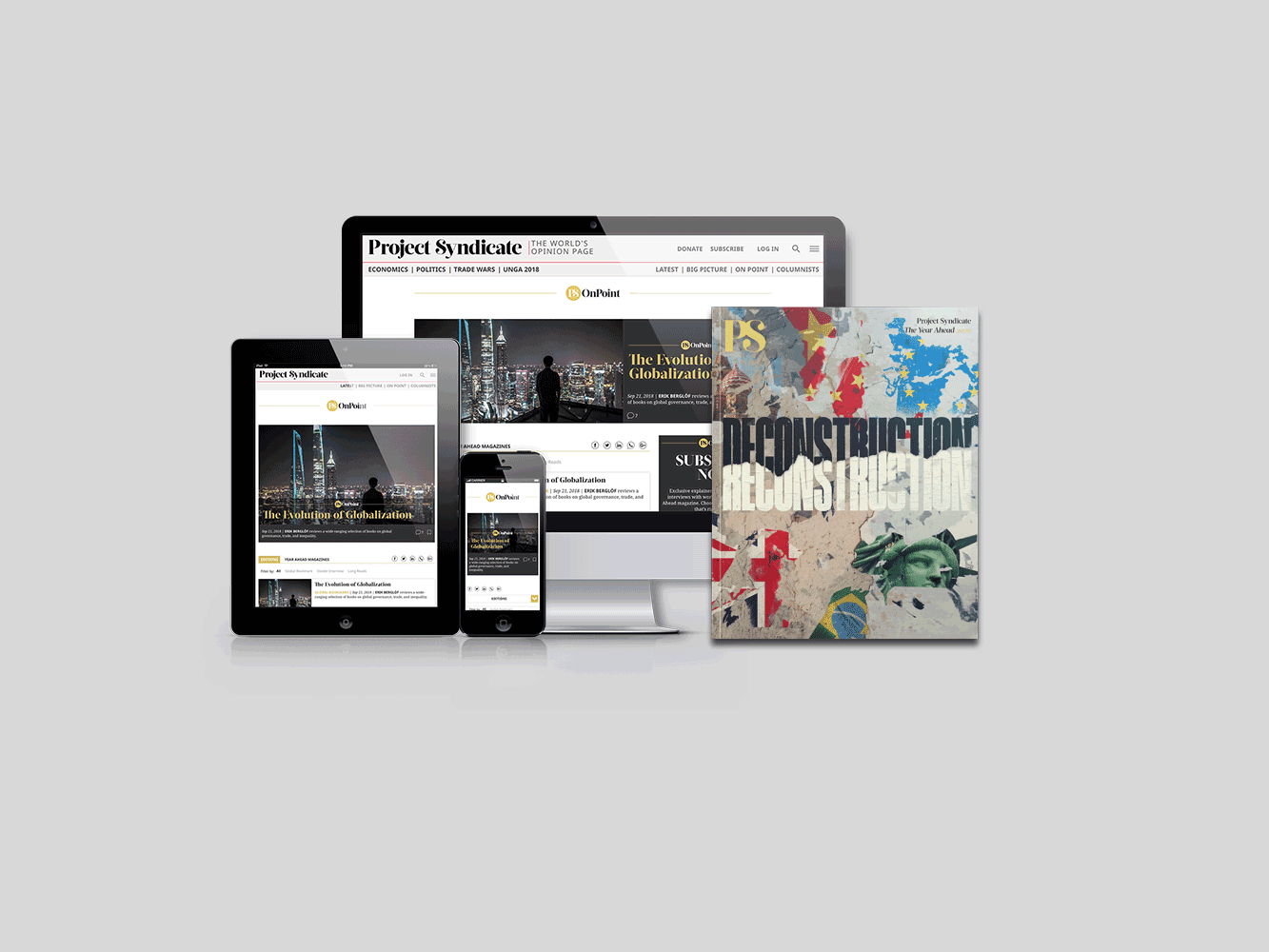 Subscribe now
Subscribe today and get unlimited access to OnPoint, the Big Picture, the PS archive of more than 14,000 commentaries, and our annual magazine, for less than $2 a week.
Eine Entglobalisierung ist unwahrscheinlich. Wie die erste Welle der Globalisierung, die so schmachvoll zwischen dem Ersten Weltkrieg und der Großen Depression endete, hat die aktuelle Welle eine zunehmende Gegenreaktion hervorgerufen. Der Populismus feiert weltweit fröhlich Urstände, und die Spannungen über die Ungleichheit von Einkommen und Vermögen – die durch Befürchtungen verschärft werden, dass technologische Innovationen wie die künstliche Intelligenz die Sicherheit der Arbeitsplätze untergraben werden – beherrschen den politischen Diskurs. Doch das zentrale Ereignis, das den Niedergang der ersten Welle der Globalisierung unterstrich, war ein 60%iger Rückgang beim Welthandel Anfang der 1930er Jahre. Ungeachtet der derzeitigen politischen Dysfunktionalität sind die Aussichten, dass heute etwas Ähnliches passiert, verschwindend gering.
Eine globale Entkoppelung ist ebenfalls unwahrscheinlich. Die Welt ist heute viel stärker vernetzt als je zuvor, was das explosive Wachstum der globalen Wertschöpfungsketten während der vergangenen 25 Jahre widerspiegelt. Dies hat den globalen Wettbewerb vom länderspezifischen Paradigma der Vergangenheit in einen deutlich stärker fragmentierten Wettbewerb zwischen weit verteilten Plattformen für Vorleistungen, Baugruppen, Design- und Montagefunktionen verwandelt. Eine aktuelle IWF-Studie hat ergeben, dass volle 73% des rapiden Wachstums der 20 Jahre von 1993 bis 2013 auf die globalen Wertschöpfungsketten entfielen. Die durch irreversible Trends steil fallender Transportkosten und technologischer Durchbrüche im Logistik- und Beschaffungswesen ermöglichten Verknüpfungen dieser globalen Wertschöpfungsketten, die inzwischen die weltweite wirtschaftliche Integration stützen, sind nur geringen Entkoppelungsrisiken ausgesetzt.
Mit der Umlenkung der Handelsströme ist das eine ganz andere Sache. Wie ich seit langem argumentiere, können bilaterale Handelskonflikte – und selbst eine bilaterale Entkoppelung – nichts zur Auflösung multilateraler Ungleichgewichte beitragen. Einen von vielen Handelspartnern unter Druck zu setzen – so wie es die USA tun, wenn sie China in dem Bemühen drangsalieren, ihr Warenhandelsdefizit mit 102 Ländern zu reduzieren – dürfte nach hinten losgehen. Der Grund dafür ist, dass Amerikas multilaterales Handelsdefizit einen profunden Mangel an nationalen Ersparnissen widerspiegelt, der sich angesichts des derzeit außer Kontrolle geratenden Bundeshaushaltsdefizits nur verschlimmern wird. Ohne Maßnahmen zur Behebung dieses chronischen Sparproblems werden gegen China gerichtete Schritte den chinesischen Teil des multilateralen Defizits lediglich Amerikas anderen Handelspartnern zuschieben. Eine derartige Umlenkung wird den Handel auf teurere Bezugsquellen verlagern – was funktional einer Steuererhöhung gegenüber den US-Verbrauchern gleichkäme.
Unabhängig davon, ob es einen Waffenstillstand beim Handel gibt oder nicht, hat bereits ein langwieriger wirtschaftlicher Konflikt zwischen den USA und China begonnen. Ein Waffenstillstand zum gegenwärtigen Zeitpunkt wäre dabei nichts mehr als eine politisch zweckdienliche Unterbrechung eines vermutlich lang andauernden, dem Kalten Krieg ähnelnden Konflikts. Dies sollte die USA, denen es an einem langfristigen strategischen Rahmen fehlt, beunruhigen. Auf China trifft das nicht zu. Das ist mit Sicherheit die Botschaft aus Sun Tzus Die Kunst des Krieges: "Wenn deine Strategie tief und weitreichend ist … kannst du gewinnen, noch bevor du kämpfst."
Aus dem Englischen von Jan Doolan