Vorrang für afrikanische Mittelstädte
JOHANNESBURG – Im jüngsten Städtevergleich nach Lebensqualität von Mercer kam Port Louis in Mauritius, die höchstplatzierte afrikanische Stadt, auf den 83. von 231 Plätzen. Dies scheint einem allgemeinen Muster zu entsprechen: Was die Lebensqualität angeht, hinkt Afrika hinter den meisten anderen Weltregionen hinterher.
Dass die afrikanischen Städte so schlecht abschneiden, muss man der dortigen Stadtplanung vorwerfen – insbesondere weil die Urbanisierung weitergeht, und zwar unabhängig davon, ob die zuständigen Behörden Pläne dafür haben. Da "Afrika voraussichtlich die weltweit größte städtische Wachstumsrate aufweisen wird", ist die OECD der Ansicht, dass die Städte des Kontinents bis 2050 "950 Millionen zusätzliche Menschen aufnehmen müssen". Angesichts dieser Entwicklung sollten die afrikanischen Politiker die Städte der Region dringend für internationale Investoren, Unternehmer und Touristen attraktiver machen und gleichzeitig gewährleisten, dass die Urbanisierung auf faire und inklusive Weise stattfindet.
Aber es gibt einen weiteren wichtigen Trend, der bisher vernachlässigt wurde: die wachsende Bedeutung der mittelgroßen Städte Afrikas. Bei der afrikanischen Urbanisierung geht es nicht nur um Megastädte wie Johannesburg, Kinshasa, Nairobi, Khartum, Casablanca oder den Großraum von Kairo, wo bis 2050 allein schätzungsweise 38 Millionen Menschen leben werden. Auch in Afrikas "Mittelstädten", die die abgelegenen und ländlichen Gebiete mit den größeren Stadtzentren verbinden, wächst die Bevölkerung.
Beim Versuch, die erheblichen sozialen, wirtschaftlichen und politischen Herausforderungen der Zukunft zu bewältigen, werden solche mittelgroßen Städte eine entscheidende Rolle spielen. Aber von den meisten Entscheidungsträgern werden sie zu wenig beachtet. Beispielsweise sind für diese Städte keine umfassenden Daten über Kriminalität und Polizeipräsenz verfügbar. Und wenn Thinktanks und multilaterale Institutionen spezialisierte Berichte über die afrikanische Urbanisierung veröffentlichen, setzen sie ihren Schwerpunkt meist auf die Probleme und Errungenschaften der Metropolen. Die Verwaltungsprobleme, Wirtschaftsbedingungen und Infrastrukturentwicklungen der weniger großen Stadtgebiete werden ignoriert.
Glücklicherweise hat Africapolis, eine Partnerschaft zwischen dem Sahel- und Westafrikaclub der OECD und e-Geopolis.org, umfangreiche neue Daten erhoben, um damit die Bandbreite der afrikanischen Urbanisierungsdebatte zu erweitern. Durch die Integration von Daten über Tausende menschlicher Agglomerationen – viele von ihnen kleiner als 100.000 Einwohner – bietet Africapolis eine Datenbasis, die Politiker nutzen können, um die Entwicklung der Urbanisierung zu überwachen.
In den Bereichen der Infrastruktur, der Finanzinvestitionen, der Landentwicklung und der Stadtverwaltung zeigen die Daten von Africapolis beispielsweise, dass nur wenige afrikanische Mittelstädte über die nötige Eigenständigkeit verfügen, um langfristig strategisch planen zu können. Dies bedeutet, dass die staatlichen Regierungen mehr Macht an die städtischen Behörden delegieren müssen. Und auch bei der Aufstellung nationaler und regionaler Entwicklungsstrategien müssen sie mittelgroße Städte stärker berücksichtigen. Indem sie mehr Regierungs- und Verwaltungsdienste in die Mittelstädte verlegen, können die Nationalregierungen diese städtischen Räume attraktiver machen und die Bedürfnisse ihrer Bewohner besser erfüllen.
Subscribe now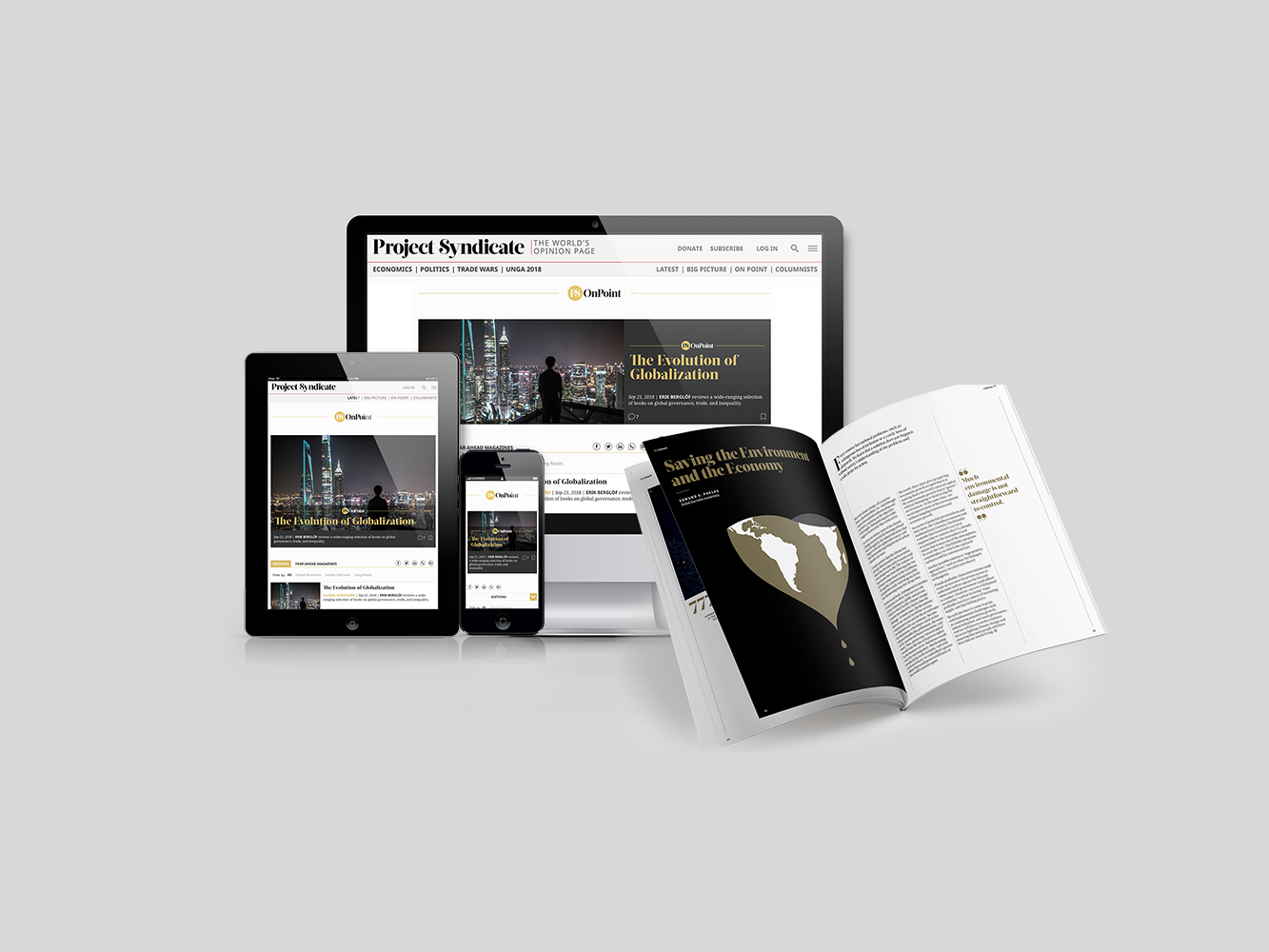 Subscribe now
Get unlimited access to OnPoint, the Big Picture, and the entire PS archive of more than 14,000 commentaries, plus our annual magazine, for less than $2 a week.
Erkenntnisse aus dem Africapolis-Projekt legen auch nahe, dass die afrikanischen Metropolen mit den Mittelstädten stark vernetzt sind. Indem die Megastädte die Versorgung mit öffentlichen Dienstleistungen optimieren und Arbeitnehmern hochqualifizierte Arbeitsplätze zur Verfügung stellen, können sie ihren Bürgern eine Fülle von Möglichkeiten bieten. Aber das schnelle Bevölkerungswachstum kann zu geringeren Löhnen, anhaltender Armut, Wohnungsmangel und sonstigen Problemen führen.
Dank ihrer geringeren Größe können Mittelstädte einige der negativen Begleiterscheinungen der massiven Urbanisierung der Megastädte ausgleichen und so zu einem Gleichgewicht beitragen. Immerhin können auch sie grundlegende Waren und Dienstleistungen wie Wohnungen, Gesundheitsmaßnahmen und Ausbildung bereitstellen – und dies wahrscheinlich zu geringeren Kosten. Daher betrachten Urbanisierungsexperten die Mittelstädte zunehmend als Schlüssel für ein inklusiveres Wachstum. Um dies zu erreichen, müssen die Möglichkeiten aber besser über die gesamte Gesellschaft verteilt werden, anstatt sich auf ein paar exklusive Knotenpunkte zu konzentrieren.
Auch die afrikanischen Volkswirtschaften können von mittelgroßen Städten profitieren. Dort werden nicht nur öffentliche Dienstleistungen und Einrichtungen bereitgestellt, sondern sie können auch als Verarbeitungszentren für Landwirtschaft und Rohstoffförderung dienen – so wie Warri in Nigeria, Garoua in Kamerun und der Huye-Bezirk in Ruanda. Indem die Politiker die geografischen Vorteile der Mittelstädte nutzen, können sie das nationale oder sogar globale Profil dieser Gebiete stärken und dort extrem wettbewerbsfähige Handels- und Produktionszentren aufbauen.
Die Mittelstädte in ihre nationalen Entwicklungsstrategien aufzunehmen liegt im Interesse aller afrikanischer Regierungen. Integrative Urbanisierung und Wachstum können nicht auf die Megastädte allein beschränkt werden. Aber gemeinsam mit den mittelgroßen Städten können die Metropolen innerhalb eines größeren Netzes wirtschaftlicher Aktivitäten über das gesamte Gebiet eines Landes hinweg als Knotenpunkte dienen. Und davon, dass die Förderung der Mittelstädte zur Beschleunigung der regionalen Entwicklung beiträgt, profitieren wiederum auch die großen Städte. So spricht nichts dagegen, dass die afrikanischen Mega- und Mittelstädte gemeinsam Menschen des gesamten Kontinents und aus aller Welt anziehen.
Aus dem Englischen von Harald Eckhoff