Het economische potentieel van gendergelijkheid in Afrika
JOHANNESBURG – Afrika, het continent waar zich een paar van de snelstgroeiende economieën ter wereld bevinden, is een opwindende plek voor bedrijven die op zoek zijn naar mogelijkheden om nieuwe markten te veroveren. Toch wordt het potentieel van het continent beperkt door de aanhoudende genderongelijkheid.
Ondanks succesverhalen over vrouwen aan de top van de piramide delen miljoenen gewone Afrikaanse vrouwen niet gelijkelijk in Afrika's economie en samenleving. Erger nog: de vooruitgang in de richting van gendergelijkheid is de afgelopen jaren gestagneerd of zelfs teruggelopen. Hoewel vrouwen ruim 50% van de bevolking van het continent vertegenwoordigen, hebben ze in 2018 slechts 33% van het Afrikaanse bbp gegenereerd.
De vooruitgang op weg naar gendergelijkheid verschilt uiteraard van regio tot regio en van land tot land. Terwijl zuidelijk en oostelijk Afrika stevige progressie hebben geboekt, geldt dat nog steeds niet voor andere landen in het ten zuiden van de Sahara gelegen deel van Afrika, en evenmin voor noordelijk Afrika. Sommige Afrikaanse landen hebben gendergelijkheid op de werkplek op de voorgrond geplaatst, maar niet in de samenleving in haar geheel, en vice versa. Uiteindelijk is vooruitgang op het ene front echter onmogelijk zonder vooruitgang op het andere.
Grotere gendergelijkheid op beide fronten zou aanzienlijke economische voordelen opleveren. Uit nieuw onderzoek van het McKinsey Global Institute (MGI) en McKinsey & Company in Afrika blijkt dat het continent tussen nu en 2025 $316 mrd aan zijn bbp zou kunnen toevoegen (een stijging met 10%), als ieder land de vooruitgang zou kunnen matchen die is geboekt door het land uit de regio dat met betrekking tot een specifieke indicator het best heeft gepresteerd. Maar dit scenario blijft een verafgelegen mogelijkheid. In het huidige tempo kan het Afrika ruim 140 jaar kosten om gendergelijkheid te bereiken.
[Infographic]
Sommige Afrikaanse landen – met name Botswana, Kenia, Oeganda, Rwanda en Zuid-Afrika – hebben forse vooruitgang verwezenlijkt bij het opnemen van meer vrouwen in de ondernemingsbesturen. Over het hele continent bezetten vrouwen nu 25% van de bestuursposities – ruim boven het mondiale gemiddelde van 17%. Toch heeft zich dat niet vertaald in een verbetering over de hele linie. Hoewel de participatie van vrouwen op de arbeidsmarkt in Afrika hoger ligt dan het mondiale gemiddelde, hebben de meeste Afrikaanse vrouwen slecht betaalde banen in de informele sector, en hebben ze noch de vaardigheden noch de mogelijkheden om vooruit te komen. Het percentage Afrikaanse vrouwen in het middenmanagement is de afgelopen vier jaar zelfs gedaald. Om vooruitgang te boeken zullen meer Afrikaanse landen moeten leren van de voorbeelden van Rwanda en Zuid-Afrika, waar de vertegenwoordiging van vrouwen in het middenmanagement met respectievelijk 27% en 15% is toegenomen.
Subscribe now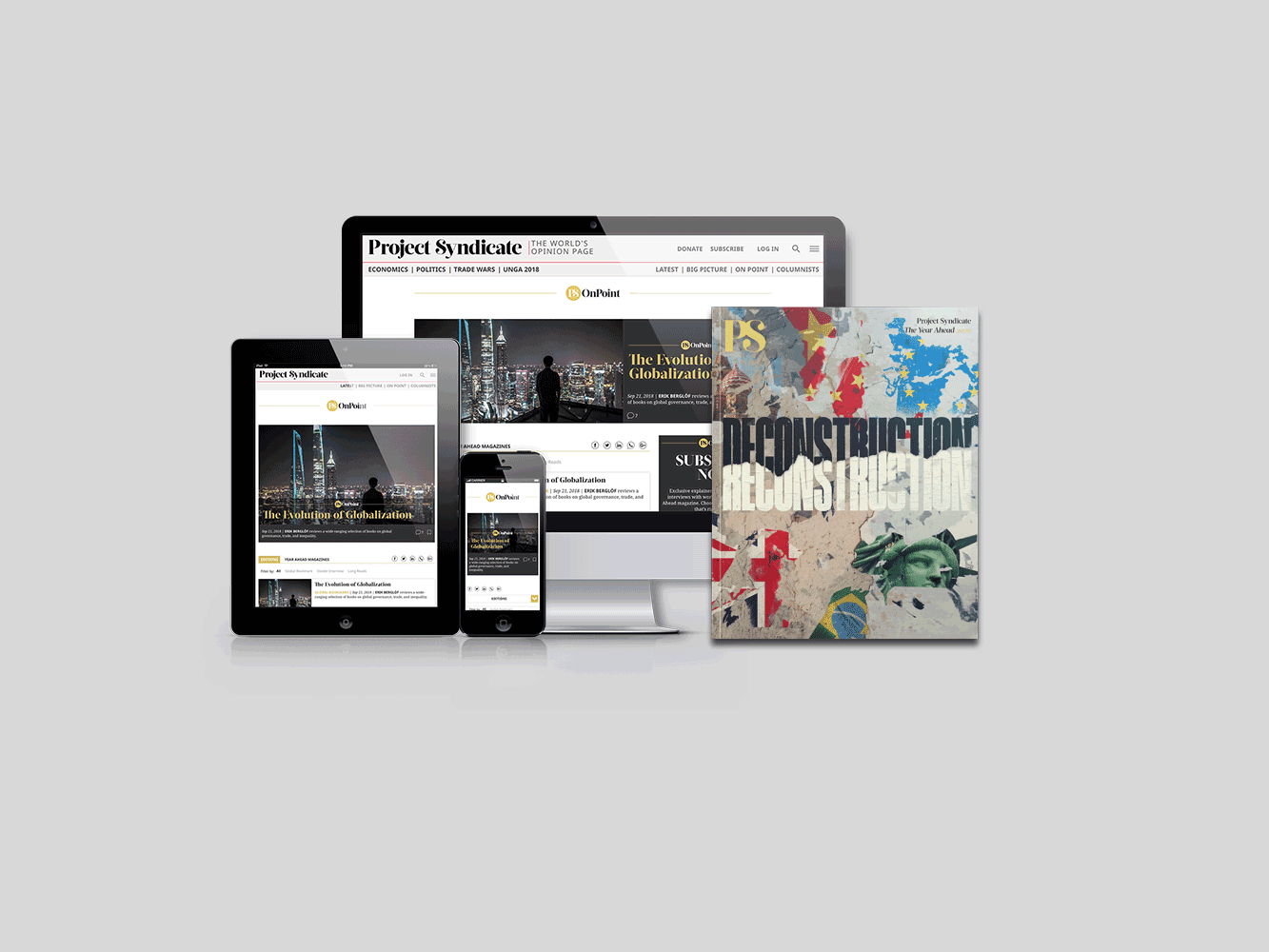 Subscribe now
Subscribe today and get unlimited access to OnPoint, the Big Picture, the PS archive of more than 14,000 commentaries, and our annual magazine, for less than $2 a week.
Buiten de arbeidsmarkt is Afrika's vooruitgang in de richting van gendergelijkheid vergelijkenderwijs magertjes. Hoewel Algerije de moedersterfte met zo'n 9% omlaag heeft weten te brengen, is het gemiddelde sterftecijfer op het continent nog steeds hoger dan in enige andere regio ter wereld. Afrika komt ook onder het mondiale gemiddelde uit als het gaat om vrouweneducatie, en financiële en digitale emancipatie, in vergelijking met mannen. De indicatoren voor financiële emancipatie van vrouwen zijn de afgelopen vier jaar feitelijk afgenomen. En Afrika heeft een hoog niveau van geweld tegen vrouwen: 19% van de Afrikaanse vrouwen is slachtoffer geworden van geweld van de kant van een intieme partner, tegen 11% mondiaal.
Een positief punt is de politieke emancipatie. Met 25% is de vertegenwoordiging van Afrikaanse vrouwen in regeringen en parlementen hoger dan het mondiale gemiddelde (22%) en in recente jaren met respectievelijk 6% en 3% gestegen. Drie landen liggen hierbij duidelijk voorop: Ethiopië (dat een vrouwelijke president heeft), Rwanda en Zuid-Afrika hebben allemaal gendergelijkheid bewerkstelligd in hun regeringen. Maar in twaalf andere landen – waaronder Marokko, Niger en Nigeria – is de politieke vertegenwoordiging van vrouwen sinds 2015 juist gedaald.
Als Afrika het economische dividend wil zeker stellen dat zal voortkomen uit het van macht voorzien van vrouwen, zal het continent er een schepje bovenop moeten doen. Het van macht voorzien van alle Afrikaanse vrouwen, en niet alleen die aan de top, vergt systematische en gezamenlijke actie van overheden, bedrijven en leiders van gemeenschappen. Er zijn vijf prioriteitsgebieden.
In de eerste plaats moet Afrika zijn menselijk kapitaal uitbreiden door in het onderwijs van meisjes te investeren. In het ten zuiden van de Sahara gelegen deel van Afrika gaan er op iedere 100 jongens die naar de onderbouw van de middelbare school gaan nog geen 90 meisjes, en dat aantal daalt nog verder tot onder de 85 procent in de bovenbouw. Buiten basiseducatie hebben vrouwen veel meer steun nodig om hun digitale, financiële en juridische geletterdheid te ontwikkelen, evenals de vaardigheden die nodig zijn voor de arbeid van de toekomst.
In de tweede plaats moeten Afrikaanse landen uitkijken naar manieren om meer economische mogelijkheden voor vrouwen te creëren, zowel in de informele als in de formele economie. Als ze daar succes mee hebben, zullen beleidsmakers er ook voor moeten zorgen dat vrouwen gelijke toegang krijgen tot de digitale en mobiele technologieën die steeds meer deuren voor economische kansen openen. In het ten zuiden van de Sahara gelegen deel van Afrika heeft vandaag de dag slechts zo'n 25% van de vrouwen toegang tot het mobiele internet, tegen de helft van de mannen.
In de vierde plaats moeten beleidsmakers, leiders uit het bedrijfsleven en leiders uit de gemeenschappen een grotere inspanning leveren om diepgewortelde sociale standpunten over de rol van vrouwen in de samenleving en op de arbeidsmarkt te veranderen, omdat die ten grondslag liggen aan vele uitingen van genderongelijkheid. In de laatste plaats hebben Afrikaanse vrouwen behoefte aan de steun van het recht, wat begint met het feitelijk afdwingen van anti-discriminatiewetten waar die al bestaan.
Over het hele continent beginnen landen expliciet beleid te omarmen, dat is bedoeld om de kloof op gendergebied te elimineren. Sommige landen boeken snelle vooruitgang, en laten zien wat er mogelijk is met een vooruitziende blik en de wil om tot handelen over te gaan. Als overheden en bedrijven de weg voor meer vrouwen kunnen openen om stijgende inkomens en bevredigend werk te ervaren, en om gezondere en evenwichtiger levens te leiden, zullen de voordelen niet alleen naar miljoenen vrouwen, maar naar alle Afrikanen toe vloeien.
Vertaling: Menno Grootveld
,