Afrika heeft traditionele media nodig
ABUJA – In juni heeft de broer van de Senegalese president Macky Sall, Aliou Sall, ontslag genomen als hoofd van een spaarfonds van de staat, na publieke verontwaardiging over aantijgingen (die hij ontkent) dat hij betrokken was bij corrupte olie- en gasdeals. Aan die verontwaardiging werd uitdrukking gegeven via de sociale media en in de straten van Dakar. Maar het was onderzoeksjournalistiek van de Britse BBC die er de aanzet toe gaf, waardoor het vermogen van de traditionele media werd onderstreept om veranderingen te bewerkstelligen.
Hoewel sociale mediaplatforms veel aandacht krijgen wegens hun snelheid en toegankelijkheid, blijft een geloofwaardige vrije pers – die niet eenvoudigweg de officiële retoriek van overheden of speciale belangengroepen na-papegaait, maar gewoon de waarheid zoekt – van essentieel belang om de verantwoordelijkheid te versterken op plekken waar die dikwijls lastig te vinden is. En onafhankelijke onderzoeksjournalisten in Afrika hebben vaak corruptie op hoog niveau, machtsmisbruik en duistere zakendeals aan de kaak gesteld.
In Kenia heeft een toonaangevend lokaal dagblad bijvoorbeeld gemeld dat Philip Kinisu, de vroegere voorzitter van de Ethiek- en Anti-corruptiecommissie, verdachte betalingen had ontvangen van de National Youth Service. Verdere onderzoeken brachten nog meer corrupte deals aan het licht, waardoor Kenianen ertoe werden aangezet uit protest de straat op te gaan.
Maar de machthebbers weten hoe ze moeten terugvechten – en ze houden hun vuisten niet in. Als gevolg daarvan wordt de vrije pers in veel Afrikaanse landen gesaboteerd, onderdrukt en zelfs ontmanteld.
Het meest extreme voorbeeld van de onderdrukking van de Afrikaanse media kan in Eritrea worden aangetroffen, waar volgens Reporters Without Borders minstens elf journalisten wegkwijnen in de gevangenis. Het land heeft slechts één onafhankelijk en onpartijdig nieuwsorgaan – een radiostation dat wordt gerund door verbannen journalisten, gevestigd in Parijs – en het signaal wordt vaak gestoord.
Maar de aanvallen op de toch al penibele vrijheid van de Afrikaanse nieuwsmedia nemen toe. Ze komen vaak in de vorm van geweld tegen onafhankelijke journalisten. Vorig jaar werden twee journalisten in Nigeria aangevallen door veiligheidsfunctionarissen van de president. In januari werd een undercover-journalist in Ghana doodgeschoten, nadat een politicus had opgeroepen tot vergelding omdat de betreffende journalist een verhaal had gepubliceerd over corruptie in de voetbalcompetities van het land.
Subscribe now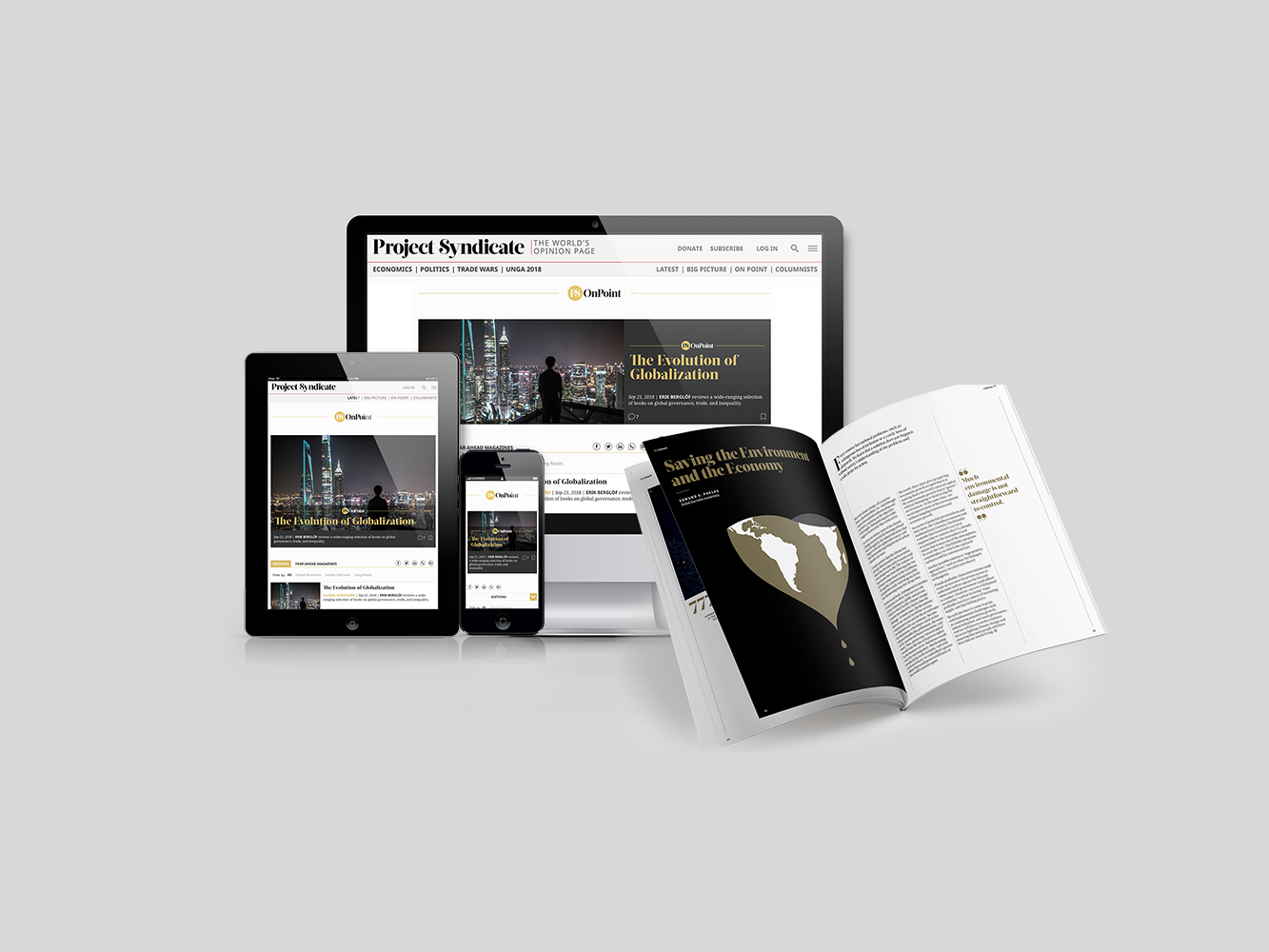 Subscribe now
Subscribe today and get unlimited access to OnPoint, the Big Picture, the PS archive of more than 14,000 commentaries, and our annual magazine, for less than $2 a week.
Overheden proberen ook de controle te verkrijgen over media-outlets, ook al betekent dit dat deze hun activiteiten moeten staken. In Tanzania heeft de regering van president John Magufuli dagbladen en radiostations die kritisch staan tegenover zijn regering tot nader order gesloten, met behulp van voorwendselen als "opruiing" en "gevaar voor de nationale veiligheid." Nieuwsorganisaties zijn onder druk gezet – minstens één keer door gewapende mannen – om verhalen te publiceren die gunstig zijn voor de heersende elite.
Onafhankelijke media wordt het werk verder onmogelijk gemaakt door chronische onderfinanciering. Journalisten ontberen niet alleen de middelen om hun werk te ondersteunen, ze verdienen vaak zó weinig dat ze zelf kwetsbaar worden voor corruptie. In Nigeria is de "bruine enveloppen-journalistiek" – als verslaggevers door individuen en organisaties worden betaald om voor hen gunstige verhalen te publiceren – de gewoonste zaak ter wereld.
Waar onafhankelijke media het zwijgen wordt opgelegd of een bepaalde koers wordt opgedrongen heeft het publiek weinig mogelijkheden om aan informatie te komen buiten de kanalen om die worden gecontroleerd door overheden en speciale belangen. Sociale mediaplatforms kunnen een rol spelen, maar hun voornaamste kracht – hun democratische aard – is ook hun zwakste punt. Ze zijn ideaal gebleken voor het verspreiden van fake news, dat de publieke discussie bezoedelt en het vertrouwen doet afbrokkelen in feiten en instituties.
Deze dynamiek was prominent aanwezig tijdens de jongste verkiezingscampagne voor het Nigeriaanse presidentschap. Fake nieuwsverhalen – waaronder de bewering dat president Muhammadu Buhari was overleden en was vervangen door een lookalike – gingen viraal op de sociale media. Miljoenen Nigerianen werden hierdoor overtuigd, en sommigen pleegden zelfs moorden ter vergelding van verzonnen geweld. Figuren die dichtbij de politieke partijen stonden en zich bewust waren van de kracht van deze verhalen begonnen beweringen te verzinnen en te laten circuleren die hun kandidaten voordeel brachten – waardoor de verkiezingscampagne ernstig werd verstoord.
Onafhankelijke, traditionele nieuws-outlets vermijden dit probleem niet alleen, zij zijn van levensbelang voor het aanpakken ervan, omdat alleen zij op geloofwaardige wijze het nieuws kunnen verifiëren dat de ronde doet op de sociale media. Dat is de reden dat Facebook en Google hebben samengewerkt met traditionele media-organisaties om de verspreiding van fake news te bestrijden op hun platforms in Nigeria, Zuid-Afrika, Zambia, Kenia en Zimbabwe.
Maar als traditionele onafhankelijke media hun essentiële rol willen gaan vervullen hebben ze middelen nodig. Op plekken waar overheden belemmeringen opwerpen voor de persvrijheid moeten westerse donoren de noodzakelijke financiering verhogen. Gezien het belang van een geloofwaardige vrije pers voor zowel de ontwikkeling als de democratie is dit ongetwijfeld een gezonde investering.
Vertaling: Menno Grootveld
Adewunmi Emoruwa, een belegger in Afrikaanse media-startups die de toegang tot informatie democratiseren, zoals thescoopng.com en The Election Network, is Lead Strategist bij Gatefield, een strategische consultancy.