A estratégia para a transformação digital de que África necessita
ADIS ABEBA/PARIS – Muitos países africanos reagiram de forma rápida e eficaz para atenuarem os riscos sanitários e económicos decorrentes da COVID-19. Menos bem documentada é a agilidade com que os intervenientes privados e públicos da região adaptaram as suas práticas digitais face às restrições relacionadas com a pandemia. Mas os casos de sucesso são espectaculares.
Por exemplo, as transferências monetárias móveis interpessoais no Ruanda quadruplicaram durante o primeiro mês de confinamento, entre meados de Março e meados de Abril de 2020, quando os pagamentos contactless se tornaram no "novo normal". Para abrandar a transmissão do coronavírus, start-ups inovadoras desenvolveram soluções digitais, como a aplicação remota móvel DiagnoseMe no Burkina Faso e as ferramentas para triagem da COVID-19 na Nigéria. Os ministérios da educação de pelo menos 27 países africanos implementaram plataformas de e-learning para os estudantes afectados pelo fecho das escolas.
Com efeito, os africanos empreendedores e com experiência em tecnologia já muito antes da pandemia desenvolviam respostas digitais às necessidades crescentes do continente. Já tinham reformulado os modelos de negócio de muitos sectores, desde o financeiro ao comércio electrónico, à agricultura, ao ensino e à saúde, e criaram mais de 640 pólos tecnológicos activos na região.
Mas estes extensos recursos empresariais, e as oportunidades criadas pela revolução digital global, não serão suficientes para alimentar a transformação económica prevista na Agenda 2063 da União Africana. Em especial, é tal a magnitude do desafio de criação de emprego para África, que as histórias isoladas de sucesso não conseguirão melhorar substancialmente os números.
À medida que o número de africanos com idades entre os 15 e 29 anos e com ensino secundário ou superior concluído subir dos actuais 77 milhões para uns previstos 164 milhões em 2040,a procura por mais empregos continuará a crescer. Por si só, o sector digital de pouco adiantará: tipicamente, as start-ups criam poucas oportunidades, normalmente para inovadores altamente qualificados. A solução reside na disseminação generalizada da inovação digital por toda a economia no seu conjunto.
Por conseguinte, desencadear a criação em larga escala de empregos em África requer políticas que transportem soluções digitais para a economia não-digital. Porém, embora oito em cada dez países africanos já tenham adoptado estratégias para a digitalização, estas tendem a concentrar-se maioritariamente no sector digital. Na edição de 2021 do Africa's Development Dynamics, um relatório conjunto da Comissão da União Africana e do Centro da OCDE para o Desenvolvimento, propomos quatro princípios fundamentais para ajudar os governos na reorientação e no fortalecimento das suas estratégias de digitalização.
Subscribe to Project Syndicate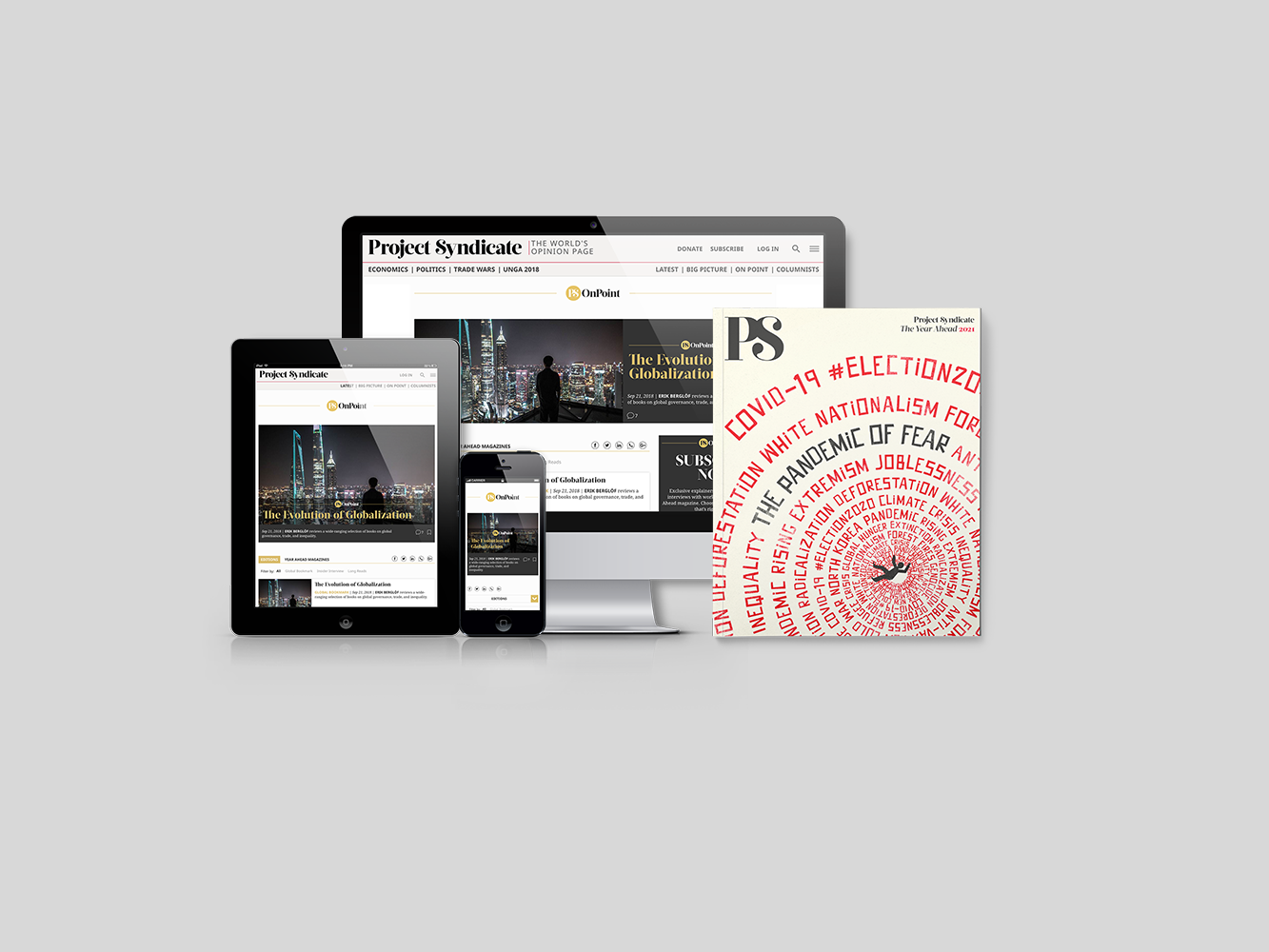 Subscribe to Project Syndicate
Enjoy unlimited access to the ideas and opinions of the world's leading thinkers, including weekly long reads, book reviews, and interviews; The Year Ahead annual print magazine; the complete PS archive; and more – All for less than $9 a month.
Primeiro, os legisladores têm de promover a disseminação da inovação digital para todos, e não apenas para os que habitam nas grandes cidades. Apesar de se prever que 73% dos africanos vivam em cidades de média dimensão e em áreas rurais em 2040, hoje apenas 35% dessas cidades estão a menos de dez quilómetros (6,2 milhas) de uma rede terrestre de fibra óptica de alta velocidade. Do mesmo modo, apenas 25% dos habitantes rurais do continente têm acesso à internet, comparativamente a 35% na Ásia e 40% na América Latina. O acesso universal às tecnologias digitais também requer a melhoria generalizada da acessibilidade aos dados. Actualmente, só 17% da população de África consegue pagar um gigabyte de dados por mês, comparativamente a 37% na América Latina e Caraíbas e 47% na Ásia.
Uma segunda prioridade consiste em preparar a mão-de-obra africana para adoptar a transformação digital. Perto de 45% dos jovens acreditam que as suas competências são inadequadas aos seus empregos. Segundo as tendências actuais, os trabalhadores independentes e familiares serão responsáveis por 65% do emprego total da região até 2040, comparativamente a 68% em 2020. O aparecimento de novas formas de trabalho na economia digital será responsável por grande parte deste crescimento, e apela a um enquadramento regulamentar sólido e a regimes de protecção social universais, especialmente para os trabalhadores independentes que dependem de disposições contratuais inseguras junto de plataformas electrónicas.
Terceiro, os governos precisam de ajudar as start-ups e as pequenas e médias empresas africanas na adopção das ferramentas digitais mais eficazes para competir e inovar na era digital. Só 31% das empresas no sector formal de África têm um website, comparativamente a 39% na Ásia e 48% na América Latina e Caraíbas. E apenas 17% dos empreendedores nascentes de África esperam criar pelo menos seis empregos, a percentagem mais baixa de qualquer região.
Por último, os legisladores têm de coordenar-se ao nível regional e continental. As estratégias nacionais de digitalização não podem funcionar isoladamente. A integração das economias digitalizadas do continente na Zona de Comércio Livre Continental Africana apela à cooperação supranacional em áreas que incluem a tributação digital, a segurança de dados, as normas de privacidade, os fluxos transfronteiriços de dados e a interoperabilidade. Hoje, só 28 países africanos dispõem de legislação para protecção de dados pessoais, e apenas 11 adoptaram leis concretas sobre a cibercriminalidade. Estes países deveriam partilhar com o resto do continente as suas experiências e as lições que aprenderam.
A digitalização progride a bom ritmo em África, mas o desenvolvimento dos seus benefícios requer políticas públicas ousadas e coordenadas. Com a crise da COVID-19 a perturbar provavelmente a economia global durante mais algum tempo, os líderes africanos deveriam dedicar-se à implementação dos componentes críticos da Estratégia para a Transformação Digital de África para navegarem os desafios e oportunidades do futuro.