Les sociétés commerciales à l'avant-garde de la transformation de l'Afrique
ADDIS ABEBA – La Zone de libre-échange continentale africaine, inaugurée lors du 12ème Sommet extraordinaire de l'Union africaine les chefs d'État et de Gouvernement en juillet 2019 est le plus grand accord commercial multilatéral depuis la création de l'Organisation Mondiale du Commerce. Composée d'un milliard de personnes et représentant plus de 2 000 milliards de dollars du PIB du continent, la ZLECAf promet de soutenir le dynamisme des marchés de l'Afrique pour les années à venir.
Mais si la ZLECAf doit tenir ses promesses, les sociétés africaines vont devoir se préparer à un nouveau paysage économique plus compétitif. Entre 2000 et 2018, le marché africain a connu une croissance de 4,6 % par an et la demande intérieure a représenté 69 % de cette croissance. Mais il s'agit à présent pour le continent africain d'atteindre son plein potentiel en matière de développement économique, d'emplois et de réduction de la pauvreté.
ALors que près de 22 % des Africains en âge de travailler fondent de nouvelles entreprises - comparativement à 19 % en Amérique latine et 13 % en Asie - l'Afrique a le plus fort taux d'entreprenariat dans le monde. Mais les sociétés d'Afrique vont devoir améliorer leurs capacités technologiques, de productivité et d'organisation. À cette fin, la deuxième édition du rapport économique phare de l'Union africaine, Dynamique du développement de l'Afrique, réalisée en partenariat avec le Centre de développement de l'OCDE, propose une stratégie à trois volets aux chefs d'entreprises et aux décideurs politiques.
En premier lieu,la fourniture de produits et de services de haute qualité - aussi bien dans le développement des infrastructures, de l'administration, de l'énergie, ou du conseil juridique - doit devenir l'objectif principal pour toute personne qui élabore des politiques publiques ou qui définit les priorités du marché. Les décideurs africains doivent faire davantage pour aider les entreprises locales à améliorer leur performance propriétaire, industrielle et commerciale.
Alors que les sociétés africaines comptent à présent trois fois plus de certifications par l'Organisation internationale de normalisation (ISO) par an qu'en 2000, seules les sociétés malaisiennes ont déposé un plus grand nombre de certifications en 2015. Des subventions de contrepartie ou des prêts à faible coût, qui pourraient aider de nouvelles sociétés innovantes à couvrir les coûts de certification, seraient des dépenses bien inspirées. Des témoignages issus de 41 pays africains montrent que les sociétés manufacturières avec un certificat ISO réalisent 77 % de ventes supplémentaires par employé et que les sociétés de services certifiées ont 55 % de ventes de plus par employé.
En outre, la mauvaise qualité des infrastructures de transport africaines représente environ 40 %, des coûts de logistique dans les pays côtiers et 60 % dans les pays sans littoral. Simplement en adoptant une approche régionale de la réforme de l'infrastructure, les décideurs pourraient éliminer bon nombre des lacunes qui font augmenter les coûts.
Subscribe now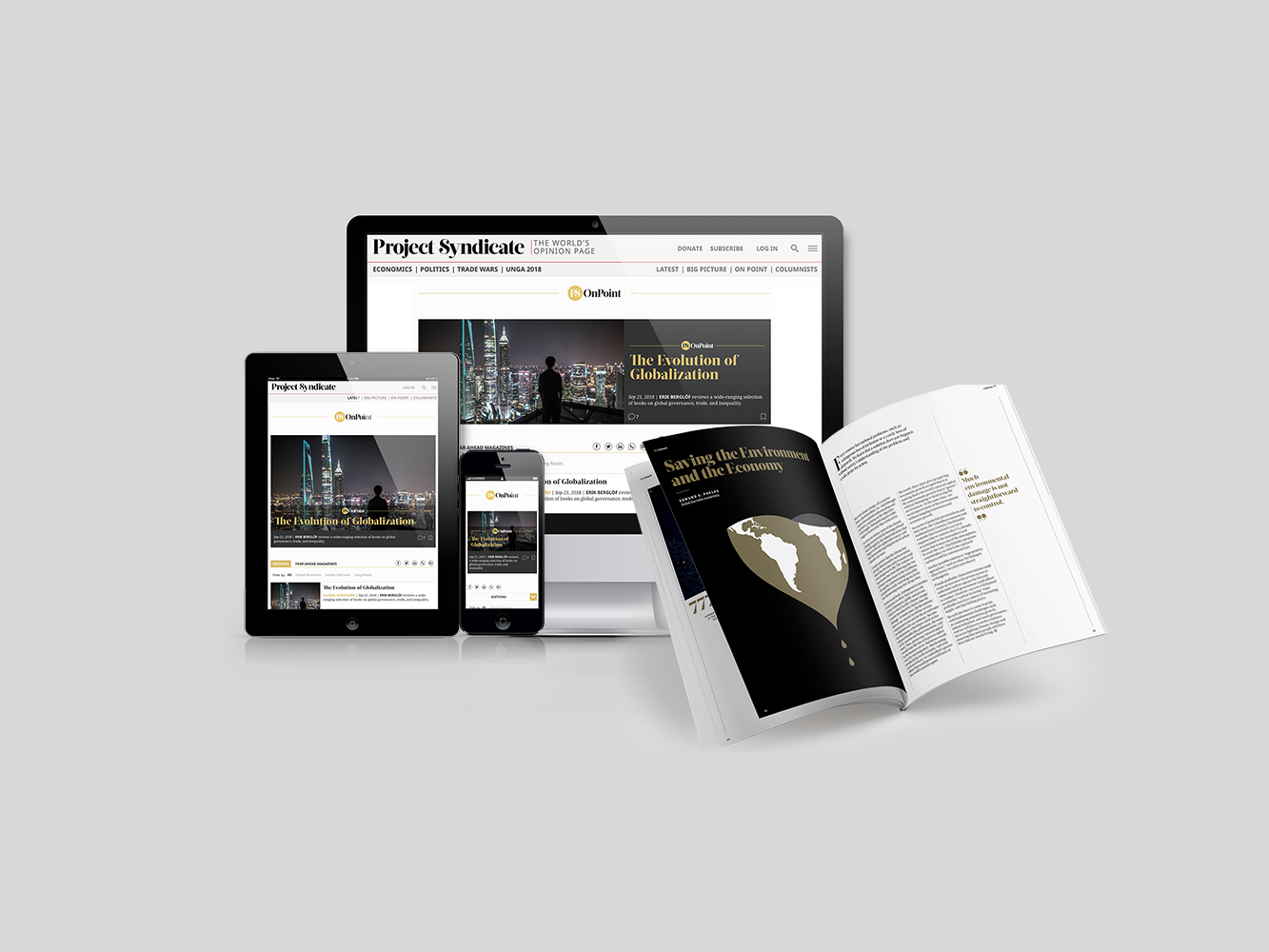 Subscribe now
Subscribe today and get unlimited access to OnPoint, the Big Picture, the PS archive of more than 14,000 commentaries, and our annual magazine, for less than $2 a week.
Deuxièmement, les gouvernements doivent concentrer leurs ressources sur l'aide aux sociétés de services commerciaux destinée aux groupes d'entreprises. Ces groupes permettent aux gouvernements ayant des budgets limités de tirer le meilleur parti de leurs actifs en concentrant leurs investissements sur un seul emplacement. Les dépenses de ce genre sont particulièrement efficaces lorsque les gouvernements fournissent des services commerciaux pour améliorer la spécialisation, le chaînage et les qualifications.
Par exemple, depuis sa création en 2013, la Zone économique spéciale de Kigali (KSEZ) a fortement contribué au développement économique du Rwanda. Par rapport à des sociétés similaires à l'extérieur de ce groupe, celles de la KSEZ ont déjà doublé leurs ventes ainsi que leur valeur ajoutée et ont augmenté leurs effectifs de 18 %.
Dans le même temps, les décideurs doivent s'assurer que les groupes tirent parti des réseaux de production régionaux. Les chaînes de valeur en cours d'élaboration dans chacune des cinq régions du continent offrent des opportunités aux entreprises ambitieuses. En Afrique centrale, les principaux secteurs d'activité sont la transformation du bois et les produits pétroliers, alors que l'Afrique de l'Est connaît une croissance dans celui du tourisme et des services numériques. En Afrique du Nord, les textiles, les vêtements et l'aéronautique figurent parmi les secteurs de pointe. L'Afrique de l'Ouest investit dans le cacao, le beurre de karité et les produits dérivés du manioc. L'Afrique australe est en train de développer son secteur automobile et son industrie agro-alimentaire, entre autres - et la Communauté de développement de l'Afrique australe (SADC) met en œuvre un cadre de politique d'investissement pour optimiser les résultats et les avantages du développement des investissements directs étrangers.
Enfin, les décideurs politiques doivent se concentrer sur la réduction des incertitudes qui empêchent les sociétés d'accéder à de nouveaux marchés. Les entreprises les plus prospères sous la ZLECAf seront celles qui embrasseront le commerce intra-africain et le commerce mondial pour répondre à la demande croissante. Pourtant en l'état actuel des choses, seulement 18 % des nouveaux exportateurs du continent survivent à leur troisième année, par rapport à 22 % des exportateurs dans d'autres pays en développement.
En levant les obstacles commerciaux non tarifaires au commerce intra-africain, les gouvernements africains peuvent multiplier les gains de bien-être en divisant par cinq tous les droits de douane, passant ainsi de 0,65 % à 3,15 % du PIB. La communauté du Territoire douanier unique de l'Afrique de l'Est, par exemple, a réduit les temps de transport d'environ 50 % et les coûts d'environ 30 % pour les marchandises entrant à Mombasa.
En outre, alors que les marchés d'exportation intra-africains sont 4,5 fois plus diversifiés que les exportations vers des marchés en dehors de l'Afrique, leur valeur totale est 8,5 fois inférieure aux exportations africaines vers la Chine. Contrairement à des approches « à taille unique », ces différences soulignent le besoin d'approches ciblées pour les marchés d'exportation.
La poursuite de réformes dans ces trois domaines seront déterminantes pour déclencher un cercle vertueux du développement et du commerce, qui permettra aux entreprises africaines de se montrer compétitives au sein de la ZLECAf et au-delà. La croissance des sociétés africaines va contribuer au développement économique du continent et au bien-être de ses habitants, en contribuant ainsi à réaliser la vision de l'Agenda de l'Union africaine 2063 d'une Afrique intégrée et prospère.
,