El ultimátum palestino
AMÁN – El presidente palestino Mahmoud Abbás sólo tenía diez años cuando se creó Naciones Unidas. El mes pasado, en su discurso ante la 76.ª Asamblea General, pronunció un audaz ultimátum: si pasado un año, Israel no se retira del territorio palestino que ocupó en 1967 (incluida Jerusalén oriental), los palestinos ya no reconocerán a Israel según las fronteras de 1967, y denunciarán la ocupación ante la Corte Internacional de Justicia.
Abbás (igual que más de la mitad de los palestinos) es un refugiado. Aún posee la escritura del solar de su familia en lo que hoy es la ciudad israelí de Safed (y como señaló, dicha escritura consta en registros de la ONU). También aclaró que la situación no es culpa de los palestinos: «A quienes afirman que no hay un socio palestino para la paz y que "nunca perdemos una oportunidad de perder una oportunidad", los desafío a demostrar que alguna vez hayamos rechazado una propuesta de paz auténtica y seria».
Es verdad que en septiembre de 1967, después de la guerra en junio de ese año, la dirigencia árabe formuló un compromiso con «los tres no»: «no a la paz con Israel, no al reconocimiento de Israel, no a las negociaciones con Israel». Pero hoy es al revés. Como señaló hace poco el primer ministro palestino Mohammad Shtayyeh, ahora es Israel el que se niega a hablar con Abbás, a entablar negociaciones sinceras y a reconocer al estado palestino.
En cambio, Abbás afirma que los palestinos «están dispuestos a trabajar durante todo ese año en la demarcación de las fronteras y en la resolución de todo lo referido al estatuto final, bajo los auspicios del Cuarteto Internacional» (la ONU, Estados Unidos, la Unión Europea y Rusia), y de conformidad con las resoluciones de la ONU. Pero al final del año, Israel deberá poner fin a la ocupación.
La dirigencia israelí, por supuesto, no tiene intención de hacer tal cosa, y parece improbable que sus socios estadounidenses los presionen mucho. Es verdad que cuando el mes pasado el primer ministro israelí Naftalí Bennett visitó la Casa Blanca, el presidente estadounidense Joe Biden afirmó, como era de esperar, la oposición de su gobierno a la construcción israelí de asentamientos, y formuló el consabido apoyo a la solución de dos estados.
Pero no hay motivos para creer que Biden tiene planes de presionar a Israel en alguna de estas dos cuestiones (en particular, porque querrá evitar tensiones en la frágil coalición de gobierno del país). De hecho, se dice que Bennett y Biden coincidieron en que todavía no es buen momento para negociaciones directas entre palestinos e israelíes. Parece que quieren resolver los problemas de «calidad de vida» que padecen los cinco millones de palestinos bajo ocupación militar sin hacer nada en el sentido de eliminar la causa de esos problemas.
Subscribe to Project Syndicate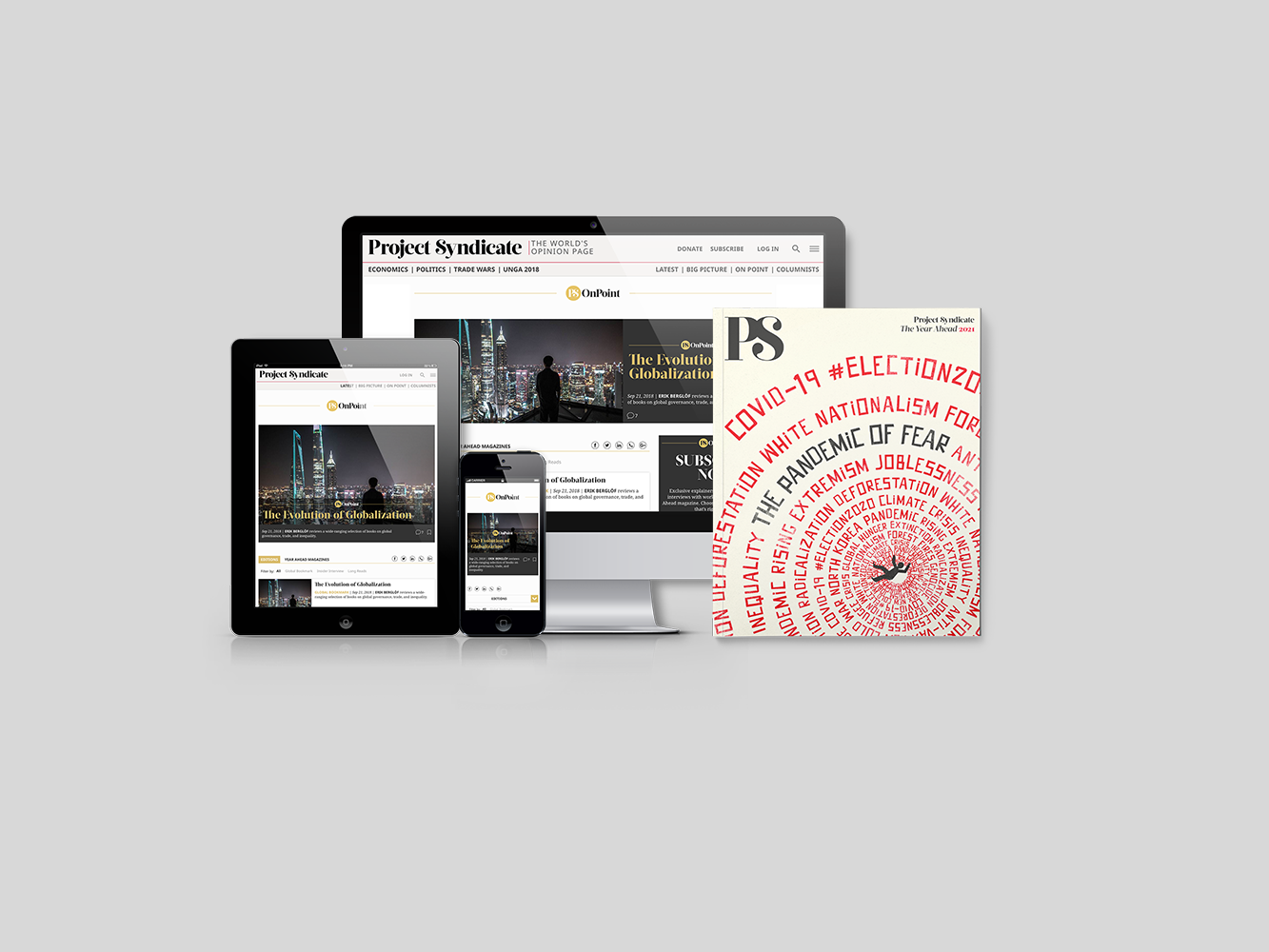 Subscribe to Project Syndicate
Enjoy unlimited access to the ideas and opinions of the world's leading thinkers, including weekly long reads, book reviews, topical collections, and interviews; The Year Ahead annual print magazine; the complete PS archive; and more – for less than $9 a month.
Los palestinos llegaron a un punto límite, y esto es en parte culpa del propio Abbás. En abril volvió a posponer las elecciones legislativas (supuestamente por diferencias en torno de la votación en Jerusalén oriental, pero en realidad para evitarle una derrota a su partido Fatah) y reprimió a manifestantes. Cuando la gente lleva tanto tiempo viviendo bajo una ocupación, y se queda en la práctica sin proceso político, es inevitable que se ponga de malhumor.
En tanto, la violencia está sustituyendo a la diplomacia como principal canal de contacto entre israelíes y palestinos. En mayo Hamás disparó cohetes desde Gaza contra centros poblados israelíes, y casi no pasó un día durante el último verano sin ataques con bombas molotov y actos de resistencia armada contra las fuerzas israelíes. Israel respondió con eficiencia brutal, pero Hamás mostró que está listo para luchar.
En respuesta a la violencia, Israel impuso nuevas restricciones económicas a la Franja de Gaza. Después declaró que el proceso de reconstrucción en Gaza (que debe comenzar con el levantamiento del bloqueo ilegal) dependía de un intercambio de prisioneros. Pero la negativa de Israel a ofrecer concesiones hizo imposible llegar a un acuerdo para llevarlo a cabo, y las tensiones siguieron en ascenso.
Fue en este contexto que seis prisioneros palestinos escaparon a principios de septiembre de la cárcel de Gilboa, uno de los centros de detención más seguros de Israel. Durante su persecución y posterior captura, hubo intercambio de bombardeos entre Israel y Gaza. Hamás (que tiene en custodia a dos soldados israelíes y los cadáveres de otros dos implicados en el ataque de 2014 a Gaza) se comprometió a exigir la liberación de los recapturados.
Mientras sucedía todo esto, Estados Unidos hizo poco y nada. La administración Biden no presentó algún marco político para poner fin al conflicto entre israelíes y palestinos; ni siquiera apoyó alguna «hoja de ruta» hacia una solución. Los presidentes que precedieron a Biden designaron enviados para la paz entre Israel y Palestina; hoy el único funcionario estadounidense a cargo del tema es un subsecretario de Estado adjunto.
Pero igual que gobiernos estadounidenses anteriores, la administración Biden no ha dejado de colmar de dinero a los israelíes. Ahora es cómplice de la negación del derecho a la autodeterminación del pueblo palestino. Y es culpable (al menos en parte) de cualquier violencia que se produzca. Como expresó Abbás en su discurso ante la ONU: «Nuestra paciencia y la paciencia de nuestro pueblo tienen límites».
Los israelíes tienen hace décadas una especie de aval del mundo para la ocupación de tierras palestinas, por los crímenes espantosos cometidos contra los judíos durante la Segunda Guerra Mundial. Pero esto ya no puede ser excusa para el sometimiento de los palestinos. Ya es hora de terminar el bloqueo israelí de Gaza, detener la construcción de asentamientos tal como demanda la Resolución 2334 del Consejo de Seguridad de la ONU e iniciar negociaciones auténticas tendientes al fin de la ocupación.
Abbás quiere ver algún avance hacia la paz antes de su salida de la escena política. Con su ultimátum ante la ONU, confió en sacar a Estados Unidos de la autocomplacencia y obligar a Israel a iniciar negociaciones reales para poner fin a la ocupación. Los palestinos no aceptarán menos que eso.
Traducción: Esteban Flamini