Das palästinensische Ultimatum
AMMAN – Palästinenserpräsident Mahmoud Abbas war erst zehn Jahre alt, als die Vereinten Nationen gegründet wurden. Im vergangenen Monat nun hielt er eine Rede vor der 76. UN-Generalversammlung und stellte dabei ein kühnes Ultimatum: Er gab Israel ein Jahr Zeit, sich aus den von ihm seit 1967 besetzten Gebieten einschließlich Ost-Jerusalems zurückzuziehen, oder die Palästinenser würden Israel auf Basis der Grenzen von 1967 nicht länger anerkennen und es wegen der Besatzung vom dem Internationalen Gerichtshof verklagen.
Abbas ist wie mehr als die Hälfte aller Palästinenser ein Flüchtling. Er besitzt noch immer die Eigentumsurkunde für das Land seiner Familie in der heutigen israelischen Stadt Safed – eine Urkunde, die, wie er hervorhob, als Teil der UN-Unterlagen registriert ist. Dieser Zustand, so stellte er klar, sei nicht Schuld der Palästinenser: "Was jene angeht, die behaupten, es gäbe keinen palästinensischen Partner für einen Frieden und dass wir keine 'Gelegenheit verpassen, eine Gelegenheit zu verpassen', so fordere ich sie auf, zu beweisen, dass wir auch nur einmal eine echte und ernst gemeinte Friedensinitiative abgelehnt haben."
Sicherlich bekannten sich arabische Staats- und Regierungschefs im September 1967 im Gefolge des Junikrieges zu den sogenannten "drei Neins": "Kein Frieden mit Israel, keine Anerkennung Israels, keine Verhandlungen mit ihm." Heute jedoch ist es umgekehrt. Wie der palästinensische Ministerpräsident Mohammad Shtayyeh vor kurzem feststellte, ist es inzwischen Israel, das sich weigert, mit Abbas zu sprechen, nach Treu und Glauben Verhandlungen zu führen oder den Staat Palästina anzuerkennen.
Abbas dagegen hat bekräftigt, dass die Palästinenser "bereit [seien], während dieses Jahres an der Festlegung der Grenzen und der Beilegung aller Fragen zum Endzustand zu arbeiten – unter Federführung des internationalen Quartetts" (UN, USA, Europäische Union und Russland) und im Einklang mit den UN-Resolutionen. Doch wenn dieses Jahr vorbei sei, müsse Israel seine Besatzung beenden.
Natürlich beabsichtigt die Regierung Israels nichts Derartiges, und es scheint unwahrscheinlich, dass ihre amerikanischen Partner diesbezüglich viel Druck auf sie ausüben werden. Zwar bekräftigte US-Präsident Joe Biden beim Besuch des israelischen Ministerpräsidenten Naftali Bennett im Weißen Haus wie vorhersehbar den Widerstand seiner Regierung gegen den israelischen Siedlungsbau und legte ein Lippenbekenntnis zu einer Zwei-Staaten-Lösung ab.
Doch gibt es keinen Grund, zu glauben, dass Biden plant, Israel in einer dieser Fragen zu drängen – nicht zuletzt, weil er ein Auseinanderbrechen der zerbrechlichen Regierungskoalition des Landes zu vermeiden sucht. Tatsächlich sind Bennett und Biden laut Berichten übereingekommen, dass die Zeit für direkte Verhandlungen zwischen Palästinensern und Israelis noch nicht reif sei. Sie wollen anscheinend die Probleme bei der "Lebensqualität", denen sich fünf Millionen Palästinenser unter der militärischen Besatzung ausgesetzt sehen, lösen, ohne die Ursache für diese Probleme zu beseitigen.
Subscribe to Project Syndicate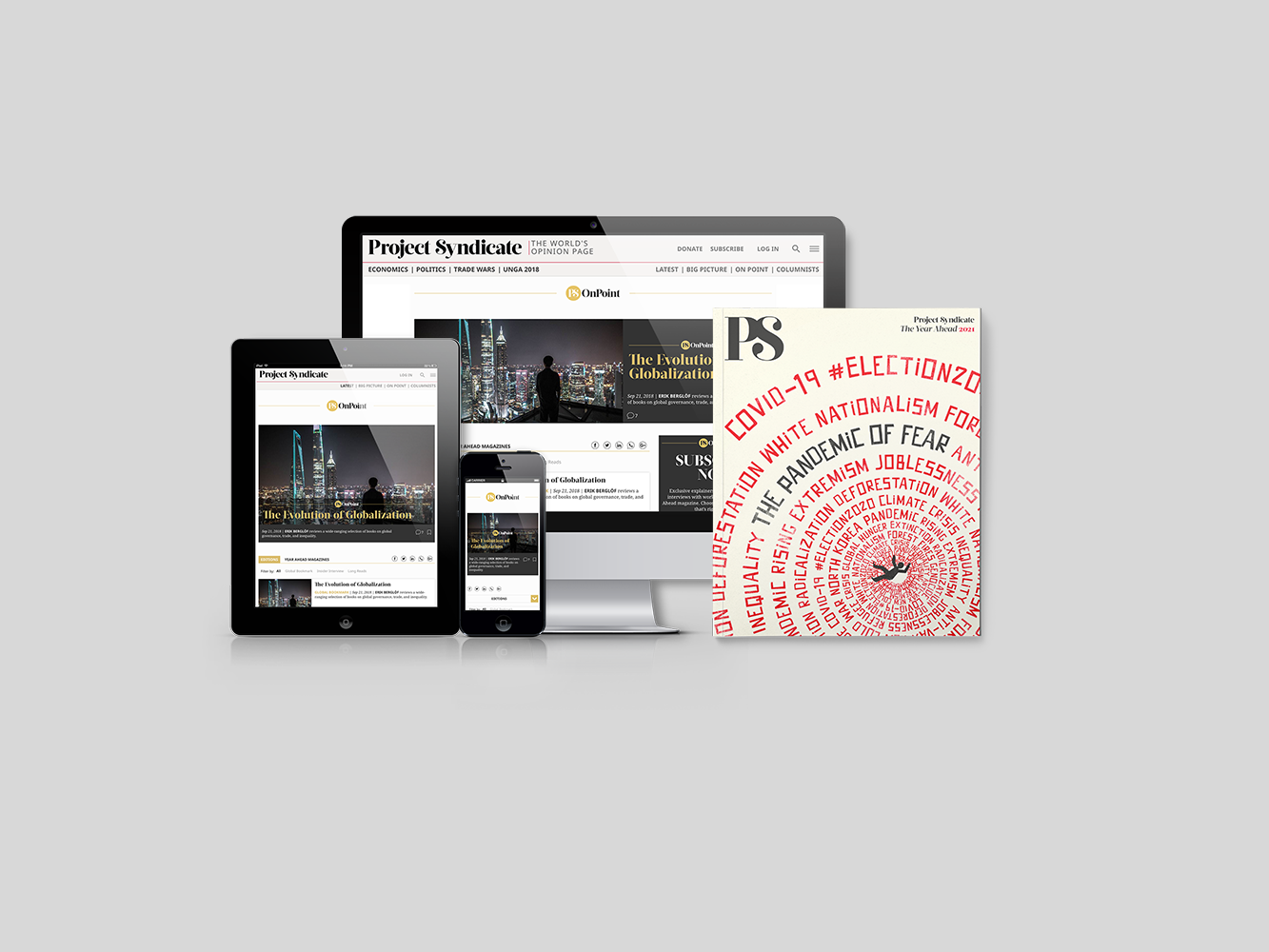 Subscribe to Project Syndicate
Enjoy unlimited access to the ideas and opinions of the world's leading thinkers, including weekly long reads, book reviews, topical collections, and interviews; The Year Ahead annual print magazine; the complete PS archive; and more – for less than $9 a month.
Die Palästinenser haben die Grenzen ihrer Belastbarkeit erreicht, und das ist zum Teil Abbas' Schuld. Im April verschob er – angeblich wegen eines Streits über die Stimmabgabe in Ost-Jerusalem, in Wahrheit jedoch, um eine Niederlage seiner Fatah-Partei zu vermeiden – erneut die Wahlen zur Legislative und setzte dabei Gewalt gegen Demonstranten ein. Wenn Menschen derart lange unter einer Besatzung leben und ihr politischer Prozess faktisch abgewürgt wird, verdüstert sich ihre Stimmung unweigerlich.
Schon jetzt ersetzt die Gewalt die Diplomatie als primäres Mittel des Engagements zwischen Israelis und Palästinensern. Im Mai hat die Hamas von Gaza aus Raketen auf israelische Bevölkerungszentren abgefeuert. Der Sommer war von fast täglichen Angriffen mit Molotow-Cocktails und bewaffnetem Widerstand gegen die israelischen Truppen gekennzeichnet. Auch wenn Israel darauf mit brutaler Effizienz reagierte, zeigte die Hamas ihre Bereitschaft zum Kampf.
In Reaktion auf die Gewalt verhängte Israel neue Wirtschaftsbeschränkungen gegen den Gazastreifen. Es erklärte dann, dass der Wiederaufbau in Gaza, angefangen mit dem Ende der illegalen Blockade, unter dem Vorbehalt eines Gefangenenaustauschs stehe. Doch Israels Weigerung, Zugeständnisse anzubieten, machte eine Einigung über einen Austausch unmöglich. Die Spannungen stiegen weiter.
Dies ist der Hintergrund, vor dem sechs palästinensische Gefangene Anfang September aus dem israelischen Hochsicherheitsgefängnis Gilboa ausbrachen. Während der Jagd auf die Männer und ihrer schließlichen Ergreifung kam es zum Raketenbeschuss zwischen Israel und Gaza. Die Hamas – die zwei israelische Soldaten gefangen hält und die Leichen zweier weiterer am Angriff auf Gaza 2014 beteiligter israelischer Militärangehöriger zurückhält –, hat nun erklärt, sie verlange die Freilassung dieser ehemaligen Flüchtlinge.
Während all dies geschah, haben die USA kaum etwas getan. Die Regierung Biden hat es versäumt, einen politischen Rahmen zur Beendigung des israelisch-palästinensischen Konflikts vorzulegen; sie hat noch nicht einmal einer "Roadmap" hin zu einer Lösung zugestimmt. Während frühere US-Präsidenten einen Friedensvermittler für Israel und Palästina ernannten, ist seitens der amerikanischen Regierung heute einzig ein Abteilungsleiter im US-Außenministerium mit dem Konflikt betraut.
Zugleich jedoch überschüttet die Regierung Biden Israel wie frühere US-Regierungen mit Geld. Sie ist nun ein Komplize dabei, dem palästinensischen Volk sein Recht auf Selbstbestimmung zu verweigern. Und sie trägt zumindest eine Teilschuld für kommende Gewalt. Abbas hat es in seiner UN-Rede so formuliert: "Unsere Geduld und die Geduld unseres Volkes haben Grenzen."
Die Welt hat den Israelis wegen der schrecklichen im Zweiten Weltkrieg an den Juden begangenen Verbrechen seit Jahrzehnten im Wesentlichen Carte blanche erteilt, palästinensisches Gebiet zu besetzen. Doch können diese nicht länger als Entschuldigung für die Unterdrückung der Palästinenser herhalten. Die Zeit ist gekommen, die israelische Blockade von Gaza zu beenden, einen echten Siedlungsstopp wie in Resolution 2334 des UN-Sicherheitsrates verlangt umzusetzen und echte, auf ein Ende der Besatzung abzielende Verhandlungen aufzunehmen.
Abbas möchte vor seinem Ausscheiden aus der Politik Fortschritte auf dem Weg zu einem Frieden sehen. Er hat gehofft, die USA mit seinem UN-Ultimatum aufzurütteln und Israel zu zwingen, echte Verhandlungen über ein Ende der Besatzung einzuleiten. Die Palästinenser werden weniger nicht akzeptieren.
Aus dem Englischen von Jan Doolan