Ein weiteres gefährliches Jahr
NEW YORK – Das Jahr 2019 endet in vielen Ländern mit großen Demonstrationen, steigender Ungleichheit und einer Repräsentationskrise. Die Welt stolpert in eine Rezession und beutet dabei die Umwelt aus. Allerdings können die Regierungen und letztlich die Menschen diese alarmierenden Trends im Jahr 2020 umkehren.
In diesem Jahr werden in 61 Ländern Präsidentschafts- oder Parlamentswahlen stattfinden. Viele Bürger haben genug von der konventionellen, orthodoxen Politik. Sie wollen Veränderungen, und sie werden neue Parteien wählen, um sie zu bekommen.
Dies ist eine wichtige Gelegenheit, um die aktuelle Lage zu ändern, aber viele der neuen Parteiführer sind rechtsextreme Demagogen, die für die heutigen Probleme die Sozialsysteme, Migranten oder Armen verantwortlich machen und versuchen, die letzten Hindernisse für das Großkapital zu beseitigen. Wie in Großbritannien werden viele, die unter dem Neoliberalismus leiden, diese Politiker wählen, was die Welt zu einem ungleicheren und riskanteren Ort machen wird.
Viel wird von den Vereinigten Staaten abhängen, die immer noch die Hegemonialmacht der Welt sind. Wie die US-Bürger (von denen viele nur wenig über die Ereignisse auf der Welt wissen) bei der Präsidentschaftswahl von 2020 abstimmen, wird für die Bürger des restlichen Planeten erhebliche Folgen haben.
Bereits bisher hatte US-Präsident Donald Trump einen großen Einfluss auf die Welt. Im Rahmen seiner "America-First"-Agenda untergräbt er multilaterale Institutionen, Handelsabkommen und globale Initiativen. Trotz der populistischen Rhetorik haben die meisten Amerikaner davon kaum profitiert. Trumps große Steuererleichterungen für die Reichen, Einschnitte bei der Gesundheitsversorgung und Steigerungen des US-Verteidigungshaushalts sind regressiv und führen zu stärkerer Ungleichheit.
Aber trotzdem gewinnt die Rechte weiterhin Stimmen. Dies liegt teilweise daran, dass sie immer radikaler wird und unkonventionelle oder "undenkbare" Maßnahmen vorschlägt – vom Bau von Mauern bis hin zum Austritt aus der Europäischen Union. Dies gefällt vor allem jenen, denen Veränderung wichtiger ist als alles andere.
Subscribe now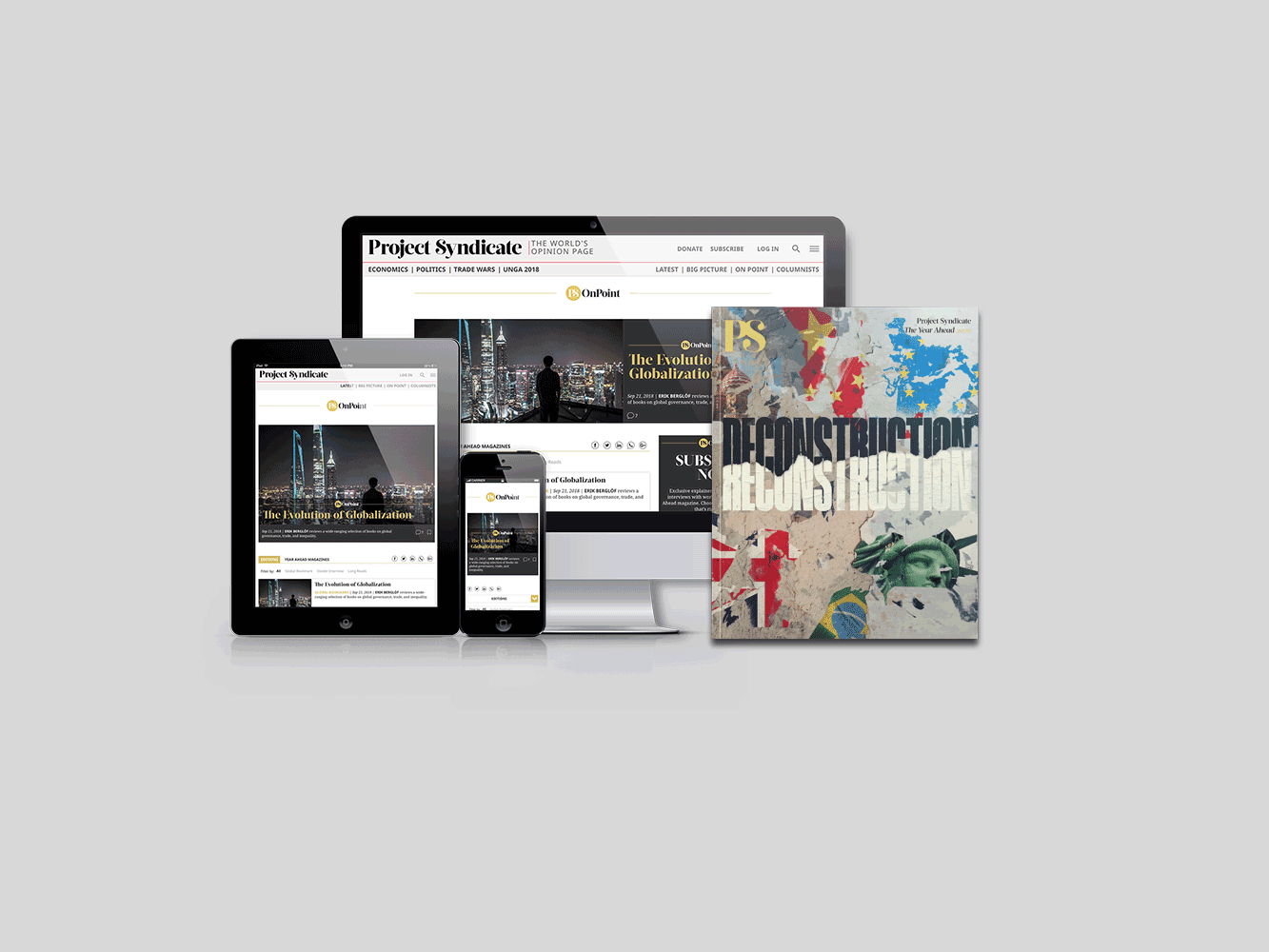 Subscribe now
Subscribe today and get unlimited access to OnPoint, the Big Picture, the PS archive of more than 14,000 commentaries, and our annual magazine, for less than $2 a week.
Schaffen es die Sozialdemokraten 2020 nicht, eine radikale und attraktive progressive Politik anzubieten, wird die radikale Rechte weiter wachsen, und mit ihr auch der Trend zu höherer Ungleichheit, wirtschaftlichen Risiken und ökologischer Zerstörung.
Wie wir an diesen Punkt gelangen konnten, ist nicht schwer zu sehen: Vier Jahrzehnte neoliberaler Politik haben die Lebensbedingungen in den meisten Ländern ausgehöhlt. Sowohl linke als auch rechte Regierungen haben auf Rat des Internationalen Währungsfonds, der Weltbank und anderer Organisationen eine Politik der Angebotsseite betrieben und sich auf die Verbesserung der Wettbewerbsfähigkeit konzentriert, die zu "flexibleren" Arbeitsmärkten, geringerer Unternehmensbesteuerung und größerer Einkommensungleichheit geführt hat. Und während die Unternehmen inmitten sinkender Lebensstandards und steigender Staatsschulden ihre Wettbewerbsfähigkeit verbessern, stagniert die globale Nachfrage.
Ebenso haben die Regierungen die Sozialausgaben gekürzt und öffentliche Dienstleistungen privatisiert. Paradoxerweise sind die meisten der Ersparnisse durch diese Einschnitte über Steuererleichterungen und Rettungsmaßnahmen an Privatunternehmen gegangen, um das Wachstum zu fördern. Daher mussten die Durchschnittsbürger erhebliche Wohlstandseinbußen hinnehmen, und das Wachstum blieb schwach, da die strukturellen Langfristursachen des Problems der Überproduktion und Überkapazitäten durch kurzfristige neoliberale Maßnahmen nicht behoben werden können.
Wird der aktuelle Kurs nicht gewechselt, wird es auch 2020 wieder Sparmaßnahmen mit Einschnitten in Renten, Löhne, Sozialprogramme und Arbeitsschutzmaßnahmen geben. Dann werden diese Maßnahmen die "neue Normalität" darstellen, 113 Länder oder über 70% der Weltbevölkerung betreffen und die soziale Unzufriedenheit weiter anfachen.
Absurderweise kürzen viele Regierungen die Sozialausgaben, steigern aber gleichzeitig die Militärausgaben – und unterstützen durch öffentliche Mitteln und schwache Regulierung die Großkonzerne. Und da immer noch die Hälfte der Weltbevölkerung in Armut lebt (also weniger als 5,50 Dollar täglich verdient), wird dies 2020 wahrscheinlich zu mehr Protesten und Konflikten führen.
Dabei sind Sparmaßnahmen gar nicht nötig. Sogar in den ärmsten Ländern gibt es Alternativen. Die Internationale Arbeitsorganisation, die UN-Frauen und UNICEF beschreiben mindestens acht Finanzierungsmöglichkeiten, um Ressourcenstabilität herzustellen und Einschnitte in die Sozialsysteme zu vermeiden. Beispielsweise könnten die Länder illegale Finanzflüsse eindämmen, Steuervermeidung bekämpfen, das Steuersystem progressiver gestalten, den Schuldendienst durch bessere Kreditverwaltung verringern oder flexiblere makroökonomische Rahmenbedingungen schaffen. In jüngster Zeit gibt es dafür viele erfolgreiche Beispiele.
Beenden die Regierungen die Sparmaßnahmen, können 2020 mehr Länder die Einkünfte für ihre nationale Entwicklung erfolgreich erhöhen, die öffentlichen Investitionen zum Nutzen der Menschen steigern sowie echte wirtschaftliche Aktivitäten und menschliche Entwicklung unterstützen – im Hinblick darauf, angemessene Arbeitsmöglichkeiten zu schaffen und ökologische Nachhaltigkeit zu garantieren.
Gemeinsam mit der Verbesserung der finanziellen Regulierung und der Umgestaltung der Finanzierungsprozesse können diese Maßnahmen dazu beitragen, die Gefahr einer Rezession und die möglichen wirtschaftlichen und finanziellen Krisen abzuwenden, die von Institutionen wie der UN, J.P. Morgan und Moody's vorhergesagt werden.
Aber selbst wenn die Welt im Jahr 2020 wirtschaftliche Schwierigkeiten verhindern kann, wird die Umweltzerstörung andauern. Weltweit gehen jedes Jahr über 26 Millionen Hektar Wald verloren – ein Gebiet von der Größe des Vereinigten Königreichs, das hauptsächlich aus tropischem Regenwald besteht. Dies beeinträchtigt sowohl das Klima als auch die Artenvielfalt. Finden keine angemessenen Maßnahmen statt, werden Abholzung, Überfischung, Kohlenstoffemissionen und Abfallvolumen im nächsten Jahr absolut betrachtet zunehmen.
Dies sind nicht nur nationale Themen. Globale Probleme erfordern globale Lösungen, und der Multilateralismus darf nicht geschwächt, sondern muss gestärkt werden. Gemeinsam müssen wir nachhaltige Maßnahmen finden, um das Leben der Menschen zu verbessern.
Eine bessere Zukunft für alle ist möglich. Regierungen und letztlich die Bürger können die Welt im Jahr 2020 verbessern. Aber wenn sie sich weiterhin auf Kosten einer langfristigen Vision auf Aktienkurse und Quartalsberichte konzentrieren, die Verteidigungsausgaben erhöhen und die Sozialausgaben senken, Migranten und Arme beschuldigen, während die Reichen immer reicher werden und die Umwelt immer mehr leidet, wird das nächste Jahr ein weiteres langes und gefährliches Jahr werden.
Aus dem Englischen von Harald Eckhoff