What Sank the Kim-Trump Summit?
The abrupt cancellation of next month's planned meeting between the North Korean and US leaders should surprise no one. Developments in recent weeks exposed three factors that doomed the initiative to collapse.
CANBERRA – When US President Donald Trump abruptly canceled his summit with North Korea's leader Kim Jong-un, he blamed "tremendous anger and open hostility" from the North. In fact, the summit, scheduled for June 12 in Singapore, was doomed for three reasons.
First, the two sides mirrored each other's misperception of the main motivation for the summit. Both thought the other had agreed to meet because of weakness and had made major concessions. Kim believed that his nuclear strength had forced Trump to the summit without preconditions, making him Trump's equal as a head of state. He could afford to explore possible avenues for a peace regime, he thought, because North Korea's nuclear sword provided immunity from US attacks.
But the Americans concluded that international sanctions had brought North Korea to its knees, leaving Kim desperate to conclude a deal on US terms. Part of the US strategy was to place additional pressure on China to rein in its client state or itself face tough financial penalties from Washington.
South Korea's President Moon Jae-in, who deserves the most credit for recent developments on the Korean Peninsula, unwittingly stoked this misperception by attributing his summit with Kim to Trump's policy of "maximum pressure" on the North. This was calculated flattery on Moon's part. By validating Trump's self-serving belief that tough sanctions bend countries to America's will, Moon gained political cover from US foreign-policy hawks unhappy about diplomatic overtures to Kim.
Unfortunately, endorsement of this narrative emboldened the US hardliners now surrounding Trump to prevail upon him to exit the Iran nuclear deal. To Kim, who expects to rule for decades, the reinstatement of US sanctions against Iran signaled that a deal concluded with one administration could be canceled without penalty by the next. To China (and Russia), it signaled the futility of falling in line with US demands against an ally and the pointlessness of engaging in tough multi-party negotiations over several years. To the rest of the world, it highlighted America's growing international isolation.
The second reason for the summit's cancellation was contradictory understandings of "denuclearization" – the single most critical issue in the entire episode. The US, believing Kim had buckled under pressure, understood this to mean achievement of its long-sought goal of "CVID": complete, verifiable, and irreversible denuclearization of North Korea. The North, mistakenly concluding that its nuclear deterrent had brought Trump to the summit, believed it was on the cusp of achieving its own long-sought goal: a nuclear-free Korean Peninsula, including an end to the US nuclear umbrella for Japan and South Korea. If it played its cards right, it could even end the US alliance with South Korea and Japan, with all US troops withdrawing from East Asia.
Because the US misread Kim's primary motivation and expectations, it ran into a third problem – in fact a trap of its own making, from which there was no escape.
The North Koreans made it abundantly clear that they understood what can happen to regimes that pick fights with America without having the ultimate weapon. They were very conscious of what happened to Slobodan Milošević, Saddam Hussein, and Muammar el-Qaddafi. And the example of Qaddafi turned out to be especially important.
After abandoning his quest for nuclear weapons in exchange for normalization of relations with the US and the world, Qaddafi died a horrible death (during which he was tortured and sodomized with a bayonet). And then, on April 30, Trump's national security adviser, John Bolton, made the incendiary suggestion that North Korea could follow the "Libya model" of denuclearization.
Vice Foreign Minister Kim Kye-gwan delivered the North's furious response: "We do not hide our feeling of repugnance toward him." The North was not interested in a dialogue aimed at a coerced "unilateral nuclear abandonment." The "world knows too well that our country is neither Libya nor Iraq, which have met miserable fates."
Although Trump distanced himself from Bolton's remarks, Vice President Mike Pence warned three weeks later that if North Korea did not make a deal, it would indeed meet with Libya's fate. Choe Son Hui, vice minister of foreign affairs, replied by threatening a "nuclear-to-nuclear showdown" if Washington stuck to "unlawful and outrageous" belligerence.
So what happens next? If North Korea resumes nuclear and long-range missile tests, Trump, whose instinct is to escalate the rhetoric of conflict, will come under pressure to respond forcefully. Amid a re-run of last year's lurid schoolyard taunts – "little rocket man" and "mentally deranged dotard" – Moon will be desperate to rescue a semblance of improvement in relations with the North. Kim could try to drive a deep wedge between South Korea and the US. Japan's hardline Prime Minister Shinzo Abe is probably relieved that the summit has been called off.
The best the rest of the world can hope for is that, however slim the prospects, a diplomatic process will be maintained, along with channels of clear, accurate communication. A modest goal would be to reach an agreement to keep North Korea's nuclear and missile program at current levels of capability.
But the US may have cornered itself by rejecting such a cap with respect to Iran. Having made the perfect the enemy of the good in the Middle East, the Trump administration will find it humiliating to agree to a comparable arrangement on the Korean Peninsula. For Trump, the art of breaking deals is more important.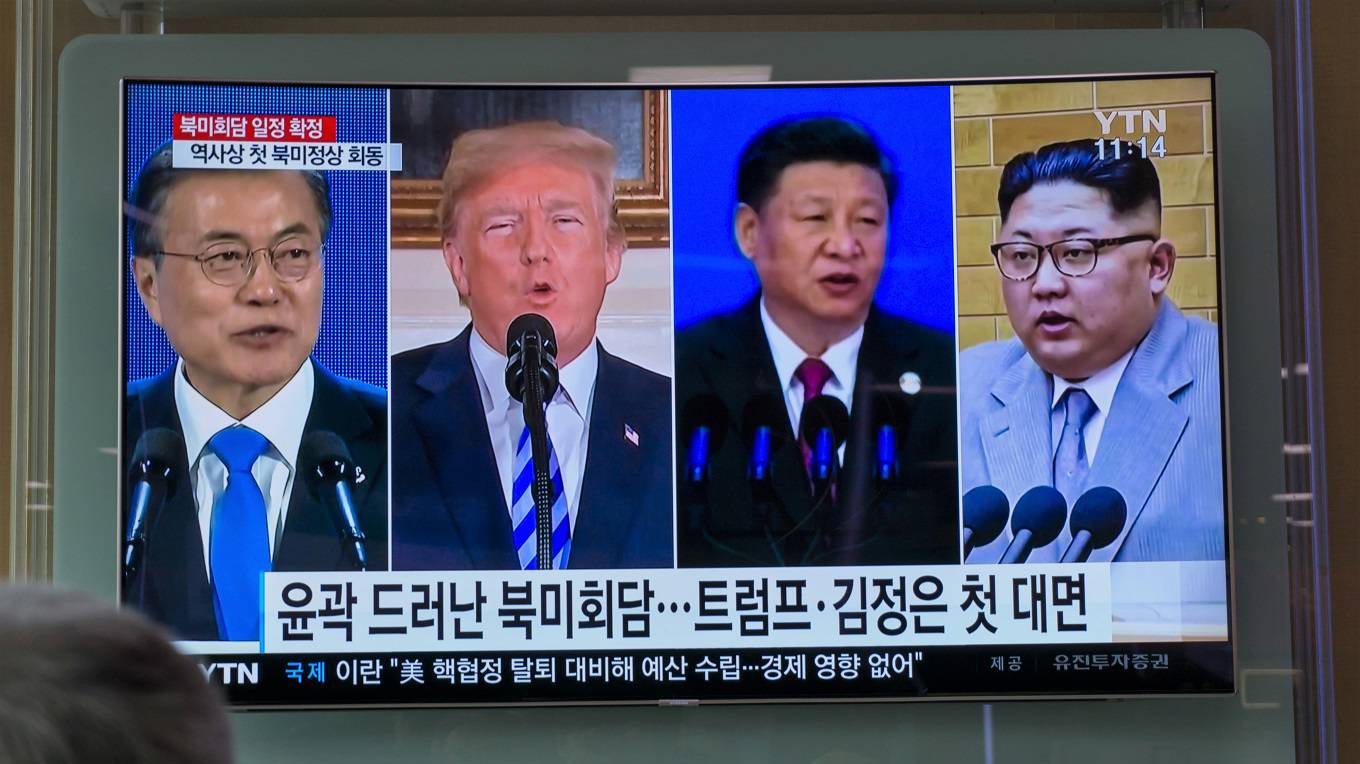 Trump Cancels, China Wins
By pulling out of the planned nuclear summit with North Korean leader Kim Jong-un, Donald Trump has somehow managed to make the United States look worse than any other strategic actor in East Asia. China, in particular, now finds itself in an even stronger position.
LONDON – US President Donald Trump's abrupt decision to cancel his planned June 12 summit with Kim Jong-un represents a diplomatic coup for the North Korean leader, and an even bigger victory for China. In the space of just a few months, Kim's image has gone from that of international pariah to that of thwarted peacemaker.
Kim could hardly have dreamed of a greater success. In the face of threatened US airstrikes and tight economic sanctions – even from its neighbor and supposed ally China – North Korea has achieved the status of a nuclear-weapons state. And now it can even claim a kind of moral high ground. Kim, after all, was the first to raise the idea of a historic bilateral summit with the United States, and he has now had his overture rejected – after first being accepted – by Trump.
To be sure, no one in East Asia harbors any illusions that Kim has changed. He is still a brutal dictator and a potential menace to regional peace. But so far all of North Korea's neighbors – Japan, South Korea, China, and Russia – have found his diplomatic strategy to be more predictable, and even more credible, than that of the US.
Since the idea of talks was first raised, Kim's promise to put "denuclearization" on the table always called for a pinch of salt. After so much time and effort developing a nuclear deterrent, he was never going to give it up easily. Still, proposals to de-escalate military tensions – perhaps accompanied by a peace treaty and a broader framework for managing relations in the region – represented a welcome development, especially in the eyes of the South Koreans and the Chinese.
The same could not be said of America's apparent negotiating position. The Trump administration's demand for the complete and verifiable dismantling of North Korea's nuclear and missile forces was never realistic. And, making matters worse, US credibility has been thoroughly eroded by Trump's decision to abandon the Iran nuclear deal, and by comments from his national security adviser, John Bolton, and Vice President, Mike Pence, both likening North Korea's situation to that of Libya under Muammar el-Qaddafi.
It should have been obvious that lumping Kim together with Qaddafi – who was overthrown and murdered by rebels in 2011 – would cause North Korea to respond with "anger and open hostility," as Trump put it in his letter canceling the summit. That is a fair description of the Kim regime's statements; but it doesn't change the fact that the North Koreans now look like the victims of American intimidation.
Regardless of whether Trump's plan was actually to start with a demand for full denuclearization and then retreat to something more credible, the question now is what the administration might do to achieve denuclearization – or even regime change – in the absence of a summit. It remains to be seen how America's core strategic partners in the region will respond. Japan and South Korea both feel buffeted, bypassed, and ignored by Trump's impulsive decision-making. Japan, in particular, has come to fear US actions more than North Korean moves. It doesn't help that the Trump administration has refused to grant Japanese steelmakers exemptions from its threatened tariffs.
Where does this all lead? In response to Trump's cancellation of the summit, North Korea, sensing that it controls the moral high ground, has expressed its continued openness to talks, leading Trump to muse confusingly about re-instating the meeting. But the real question is how China will respond.
Last year, China acceded to US pressure to tighten economic controls on its North Korean client, proving that it is willing to do its part to preserve regional stability. More recently, it hosted Kim twice in the space of less than two months. These were Kim's first trips abroad as North Korean leader, and they showed that he was willing to pay obeisance to Chinese President Xi Jinping, and to seek Xi's diplomatic backing.
Now that Trump has canceled the summit, the Chinese will see little reason to maintain pressure on North Korea. In fact, Trump has given China an enviable choice: it can use its leverage with North Korea as a bargaining chip in ongoing trade negotiations with the US, or it can restore trade and other economic relations with North Korea to remind Kim that he is wholly dependent on China.
Either way, with both the European Union and Japan bristling at the Trump administration's aggressive moves on trade, North Korea, and the Iran nuclear deal, there is not much global pressure on China to bend to US demands. China's biggest worry now is that the US will pursue military strikes against North Korea — though, as things stand, that remains a remote possibility.
Anything short of a military confrontation on the Korean Peninsula counts as a strategic win for China. In addition to regaining a tributary ally, the country has shown that it can be a force for peace and stability. Now, anything it does in the region will look reasonable compared to US actions. The decline of US influence, and the strengthening of China's strategic clout, continues unabated. Thanks to Trump, that process has just been accelerated.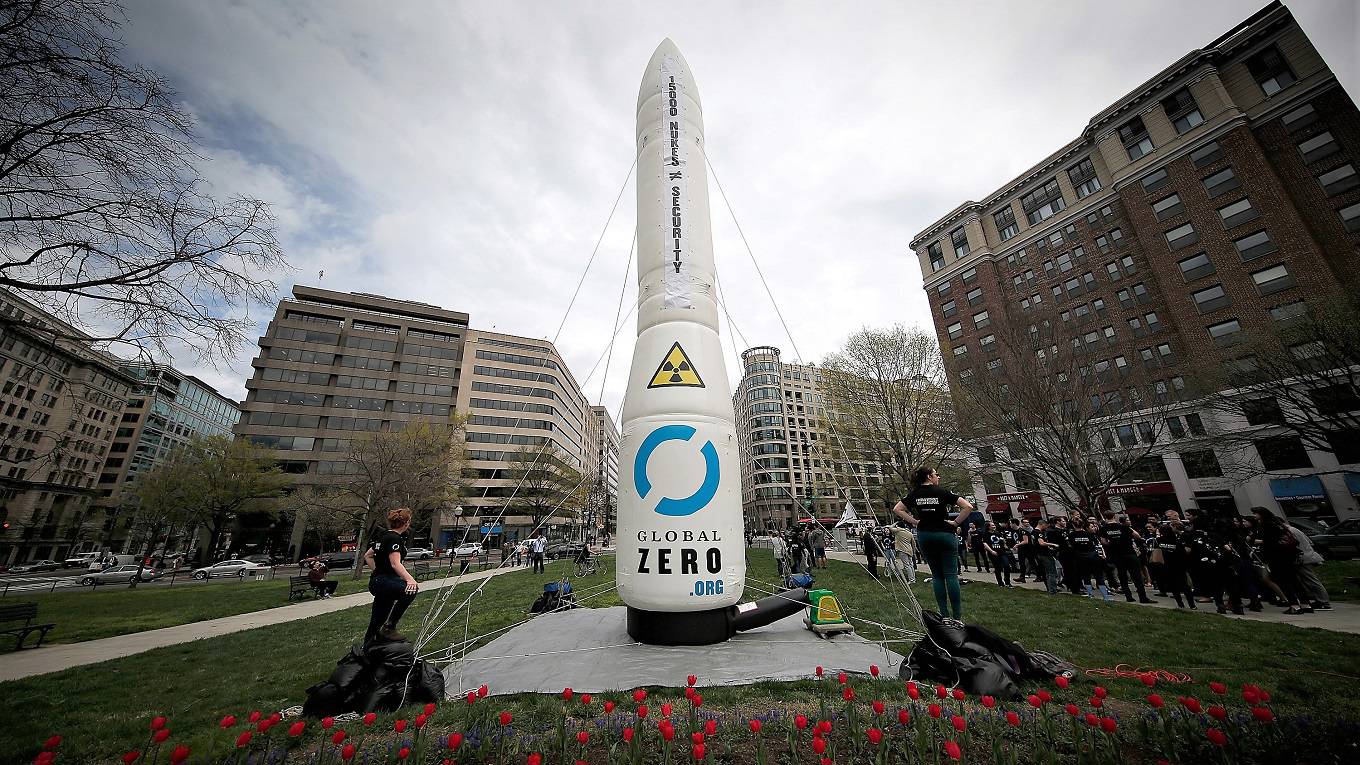 Denuclearization Means the US, Too
The US demands that North Korea adhere to the provisions of the Nuclear Non-Proliferation Treaty, and on that basis has encouraged the UN Security Council to impose sanctions in pursuit of denuclearization. Yet the brazenness with which the US demands not true denuclearization, but rather its own nuclear dominance, is stunning.
NEW YORK – There are two types of foreign policy: one based on the principle "might makes right," and one based on the international rule of law. The United States wants to have it both ways: to hold other countries accountable to international law while exempting itself. And nowhere is this truer than on the matter of nuclear weapons.
America's approach is doomed to fail. As Jesus declared, "all they that take the sword shall perish with the sword." Rather than perishing, it's time to hold all countries, including the US and other nuclear powers, accountable to the international rules of non-proliferation.
The US demands that North Korea adhere to the provisions of the Nuclear Non-Proliferation Treaty (NPT), and on that basis has encouraged the United Nations Security Council to impose sanctions on North Korea in pursuit of denuclearization. Similarly, Israel calls for sanctions or even war against Iran to stop the country from developing a nuclear weapon in violation of the NPT. Yet the US brazenly violates the NPT, and Israel does worse: it has refused to sign the treaty and has claimed the right to a massive nuclear arsenal, acquired through subterfuge, that it refuses to acknowledge to this day.
The Nuclear Non-Proliferation Treaty was signed in 1968, with signatories agreeing to three key principles. First, nuclear-weapon states pledge not to transfer nuclear weapons or to assist non-nuclear states' manufacture or acquisition of them, and non-nuclear states pledged not to receive or develop nuclear weapons. Second, all countries have the right to the peaceful use of nuclear energy. Third, and crucially, all parties to the treaty, including the nuclear powers, agree to negotiate nuclear – and indeed general – disarmament. As the NPT's Article VI puts it:
"Each of the Parties to the Treaty undertakes to pursue negotiations in good faith on effective measures relating to cessation of the nuclear arms race at an early date and to nuclear disarmament, and on a treaty on general and complete disarmament under strict and effective international control."
The core purpose of the NPT is to reverse the nuclear arms race, not to perpetuate the nuclear monopoly of a few countries. Still less is it to perpetuate the regional nuclear monopoly of countries that have failed to sign the treaty, such as Israel, which now seems to believe that it can evade negotiations with the Palestinians because of its overwhelming military power. Such is the self-destructive hubris conjured by nuclear weapons.
Most of the international community – with the conspicuous exception of the existing nuclear powers and their military allies – reiterated the call for nuclear disarmament by adopting in 2017 the Treaty on the Prohibition of Nuclear Weapons. The treaty calls on every nuclear-armed state to cooperate "for the purpose of verifying the irreversible elimination of its nuclear-weapon program." Whereas 122 countries voted for it, one voted against, one abstained, and 69, including the nuclear powers and NATO members, did not vote. As of last week, 58 countries had signed the treaty and eight had ratified it.
The US demands that North Korea live up to its NPT obligations and denuclearize, and the Security Council agrees. Yet the brazenness with which the US demands not true denuclearization, but rather its own nuclear dominance, is stunning. The Trump administration's Nuclear Posture Review, published in February, calls for a massive modernization of the US nuclear arsenal while paying no more than lip service to its NPT treaty obligations:
"Our commitment to the goals of the Treaty on the Non-Proliferation of Nuclear Weapons (NPT) remains strong. Yet we must recognize that the current environment makes further progress toward nuclear arms reductions in the near term extremely challenging.…This review rests on a bedrock truth: nuclear weapons have and will continue to play a critical role in deterring nuclear attack and in preventing large-scale conventional warfare between nuclear-armed states for the foreseeable future."
In short, the US demands that only other countries denuclearize. Denuclearizing itself would be "challenging" and would violate the "bedrock truth" that nuclear weapons serve US military needs.
Aside from America's failure to abide by its NPT obligations, another huge problem is that US military needs are not really about deterrence. The US is the major war-making entity in the world by far, fighting wars of choice in the Middle East, Africa, and elsewhere. Its military has repeatedly engaged in regime-change efforts during the past half-century, wholly in violation of international law and the UN Charter, including two recent operations to overthrow leaders (Iraq's Saddam Hussein and Libya's Muammar el-Qaddafi) who had acceded to US demands to end their nuclear programs.
We can put it this way: power corrupts, and nuclear power creates the illusion of omnipotence. Nuclear powers bluster and boss rather than negotiate. Some overthrow other countries' governments at their whim, or at least aim to do so. The US and it nuclear allies have repeatedly arrogated to themselves the right to ignore the UN Security Council and the international rule of law, such as the illegal NATO attacks against Qaddafi's regime in Libya and the illegal military incursions by the US, Israel, the United Kingdom, and France in Syria in the effort to weaken or overthrow Bashar al-Assad.
By all means, let us urge a rapid and successful denuclearization of North Korea; but let us also, with equal urgency, address the nuclear arsenal of the US and others. The world is not living under a Pax Americana. It is living in dread, with millions pushed into the vortex of war by an unrestrained and unhinged US military machine, and with billions living in the shadow of nuclear annihilation.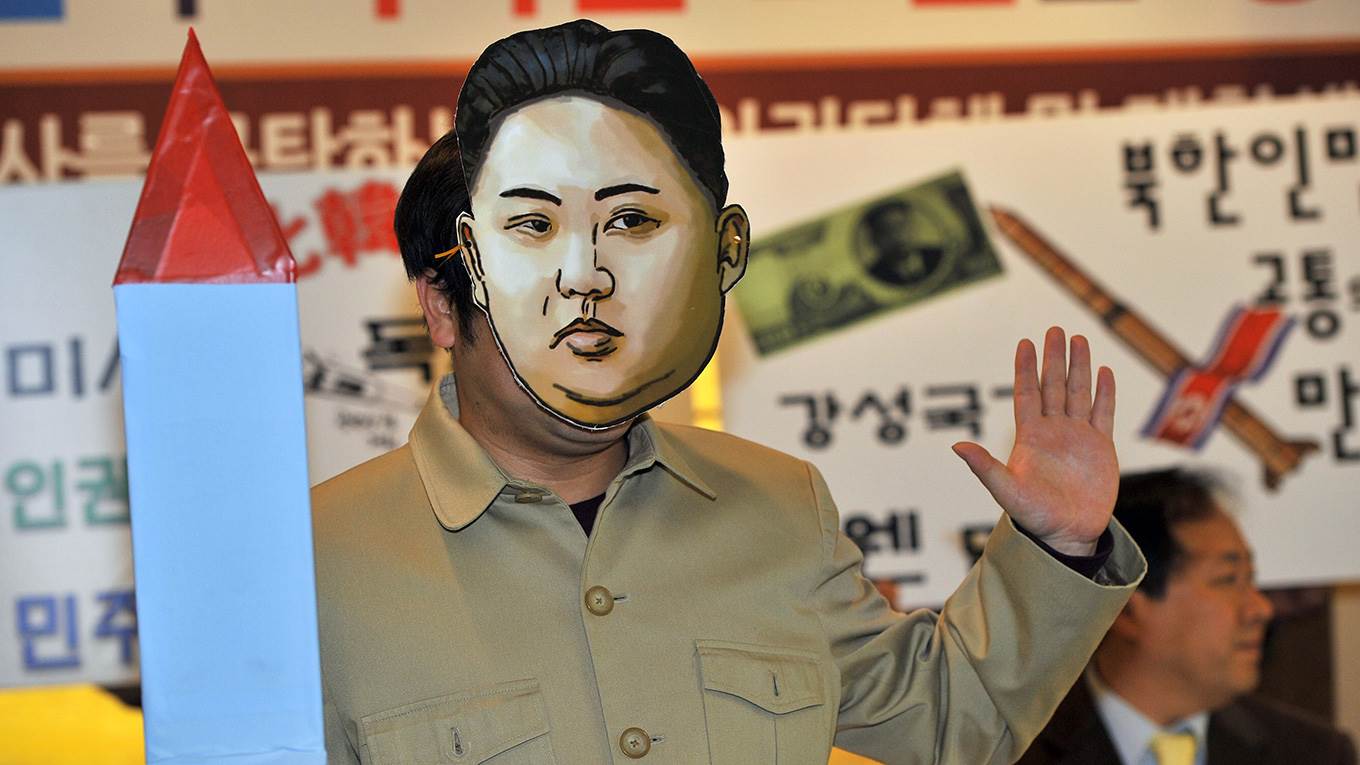 Ten Lessons from North Korea's Nuclear Program
Many governments are now debating how to prevent or slow further advances in North Korea's capacity to produce and deliver nuclear weapons, and what should be done if such efforts fail. But while these are obviously important questions, they are not the only ones.
SEOUL – North Korea has produced a number of nuclear warheads and is developing ballistic missiles capable of delivering them around the world. Many governments are debating how to prevent or slow further advances in North Korea's capacity and what should be done if such efforts fail.
These are obviously important questions, but they are not the only ones. It also is important to understand how North Korea has succeeded in advancing its nuclear and missile programs as far as it has, despite decades of international efforts. It may be too late to affect North Korea's trajectory decisively; but it is not too late to learn from the experience. What follows are ten lessons that we ignore at our peril.
First, a government that possesses basic scientific knowhow and modern manufacturing capability, and is determined to develop a number of rudimentary nuclear weapons, will most likely succeed, sooner or later. Much of the relevant information is widely available.
Second, help from the outside can be discouraged and limited but not shut down. Black markets exist any time there is a profit to be made. Certain governments will facilitate such markets, despite their obligation not to do so.
Third, there are limits to what economic sanctions can be expected to accomplish. Although sanctions may increase the cost of producing nuclear weapons, history suggests that governments are willing to pay a significant price if they place a high enough value on having them. There is also evidence that some or all of the sanctions will eventually disappear, as other governments come to accept the reality of a country's nuclear status and choose to focus on other objectives. That is what happened in the case of India.
Fourth, governments are not always willing to put global considerations (in this case, opposition to nuclear proliferation) ahead of what they see as their immediate strategic interests. China opposes proliferation, but not as much as it wants to maintain a divided Korean Peninsula and ensure that North Korea remains a stable buffer state on its borders. This limits any economic pressure China is prepared to place on North Korea over its nuclear efforts. The United States opposed Pakistan's development of nuclear weapons, but was slow to act, owing to its desire in the 1980s for Pakistani support in fighting the Soviet Union's occupation of Afghanistan.
Fifth, some three quarters of a century since they were first and last used, and a quarter-century after the Cold War's end, nuclear weapons are judged to have value. This calculation is based on security more than prestige.
Decades ago, Israel made such a calculation in the face of Arab threats to eliminate the Jewish state. More recently, Ukraine, Libya, and Iraq all gave up their nuclear weapons programs either voluntarily or under pressure. Subsequently, Ukraine was invaded by Russia, Iraq by the US, and Libya by the US and several of its European partners. Saddam Hussein in Iraq and Muammar el-Qaddafi in Libya were ousted.
North Korea has avoided such a fate, and the third generation of the Kim family rules with an iron fist. It is doubtful that the lesson is lost on Kim Jong-un.
Sixth, the Non-Proliferation Treaty – the 1970 accord that underpins global efforts to discourage the spread of nuclear weapons beyond the five countries (the US, Russia, China, the United Kingdom, and France) that are recognized as legitimate nuclear weapons states for an unspecified but limited period of time – is inadequate. The NPT is a voluntary agreement. Countries are not obliged to sign it, and they may withdraw from it, with no penalty, if they change their mind. Inspections meant to confirm compliance are conducted largely on the basis of information provided by host governments, which have been known not to reveal all.
Seventh, new diplomatic efforts, like the recent ban on all nuclear weapons organized by the United Nations General Assembly, will have no discernable effect. Such pacts are the modern-day equivalent of the 1928 Kellogg-Briand Pact, which outlawed war.
Eighth, there is a major gap in the international system. There is a clear norm against the spread of nuclear weapons, but there is no consensus or treaty on what, if anything, is to be done once a country develops or acquires nuclear weapons. The legally and diplomatically controversial options of preventive strikes (against a gathering threat) and preemptive strikes (against an imminent threat) make them easier to propose than to implement.
Ninth, the alternatives for dealing with nuclear proliferation do not improve with the passage of time. In the early 1990s, the US considered using military force to nip the North Korean program in the bud, but held off for fear of triggering a second Korean War. That remains the case today, when any force used would need to be much larger in scope and uncertain to succeed.
Finally, not every problem can be solved. Some can only be managed. It is much too soon, for example, to conclude that Iran will not one day develop nuclear weapons. The 2015 accord delayed that risk, but by no means eliminated it. It remains to be seen what can be done vis-à-vis North Korea. Managing such challenges may not be satisfying, but often it is the most that can be hoped for.