A Dangerous Trump Spring
Donald Trump's disregard for liberal democratic values is weakening the institutional pillars of the world order that the US itself had long championed. Only if the world's other liberal democracies cooperate to push back against the US can the international community hope to hold on until more responsible American leadership returns.
LONDON – It's spring in the Northern Hemisphere. Flowers are starting to bloom, as the sun shines brighter and longer each day. When it comes to world affairs, however, the outlook is hardly rosy.
In the Middle East, Israel has threatened military action against Syria and Iran. Saudi Arabia is also challenging Iran, in an attempt to curb the country's growing influence in the region. In Egypt, President Abdel Fattah el-Sisi has been tightening his grip on power, including by using the military to crack down on political opponents, and has just secured a bogus electoral victory. (Will Arab soldiers never learn that dictatorship increases Islamist fundamentalism and promotes instability?)
But this trend is far from limited to the Middle East. President Vladimir Putin has just sailed to his own guaranteed electoral victory, thanks partly to his use of the security services and their friends in the Russian mafia to eliminate any potential threat to his regime. But the Kremlin is not satisfied with damaging Russia's own polity with plutocratic gangsterism; it is also working to undermine democratic processes elsewhere.
Then there is China, where President Xi Jinping has muscled his way to becoming the most dominant leader since Mao Zedong. Now that the presidential term limits introduced by Deng Xiaoping to insulate the country against another one-man dictatorship have been eliminated, the future of the Communist dynasty rests on the shoulders of one supreme leader.
Even the United States, the country that we used to associate with leadership of the free world, is now facing bleak prospects. Under leaders like Harry Truman, Dwight Eisenhower, George H.W. Bush, John F. Kennedy, and Barack Obama, the country shaped the international system for the better. Now, Donald Trump – ignorant, prejudiced, deceitful, mendacious, and amoral as he is – is destroying that legacy.
When Trump was first elected, some suggested that he would rise to the occasion. Leaving the campaign trail behind, cooler heads and wiser advisers would constrain him, and he would inevitably learn how the US government works. That optimism was sorely misplaced.
Well into his second year in office, Trump is behaving even worse than his record indicated he would, unceremoniously tossing aside advisers and other officials whenever the mood takes him. Most recently, he replaced Rex Tillerson – frequently viewed as one of the "adults in the room" who would protect the US and the world from Trump's worst instincts – with the combative former CIA director Mike Pompeo as Secretary of State.
Even worse, Trump has replaced former National Security Adviser General H.R. McMaster with John Bolton – the foreign-policy official with perhaps the most dangerous views in the entire Western world. Bolton is an "America First" devotee and a bureaucratic thug, adept at eliminating rivals.
More dangerous, Bolton is the ultimate foreign-policy hardliner, the hawk to end all hawks. Among the loudest cheerleaders for the US invasion of Iraq, Bolton seems to think that virtually every problem merits a military response. The current conflicts with North Korea (where he has called for preemptive military action) and Iran (where he has repeatedly proposed regime change by force) are no exceptions.
Between Bolton and Pompeo, the chances that the US will withdraw from the Iran nuclear deal and re-impose sanctions on that country have increased. The mere expectation of that outcome has already driven up oil prices – another gift from Trump to Putin.
Things are not much better on the economic-policy front. Now that Trump has filled his economic team with nationalists, his long-promised trade protectionism is becoming a reality. To be sure, Trump is not wrong to confront China over intellectual-property theft and flagrant mercantilism. What is wrong is his approach: instead of recruiting allies like Japan and the European Union to put pressure on China, he has angered friend and foe alike with unilateral tariffs and other ill-advised barriers, risking a trade war that would hurt everyone.
Unsurprisingly, Trump's behavior has rapidly eroded US global leadership, as his disregard for liberal democratic values weakens the institutional pillars of the world order that the US itself had long championed. The only way to arrest this decline is for the world's other liberal democracies – in Europe, Asia, and the Commonwealth – to take action.
For starters, these countries must move urgently to defend free trade and open markets. Working with the World Trade Organization, they should mount a coordinated effort to push back against abuses by both China and the US.
Moreover, these countries should work to fortify the international rule of law – a concept that makes Bolton reach for his gun – by committing to strengthen the United Nations, the World Bank, and the International Monetary Fund. This means upholding the principles that have helped to support peace and prosperity since the 1950s, including by backing the Iran nuclear deal, as long as the country continues to hold up its end up the bargain, and pursuing a peaceful resolution to the North Korea crisis.
As Trump and his team devise one damaging policy after another, the world's other democracies must respond efficiently and cooperatively. Only then can the international community hope to hold on until more responsible American leadership returns.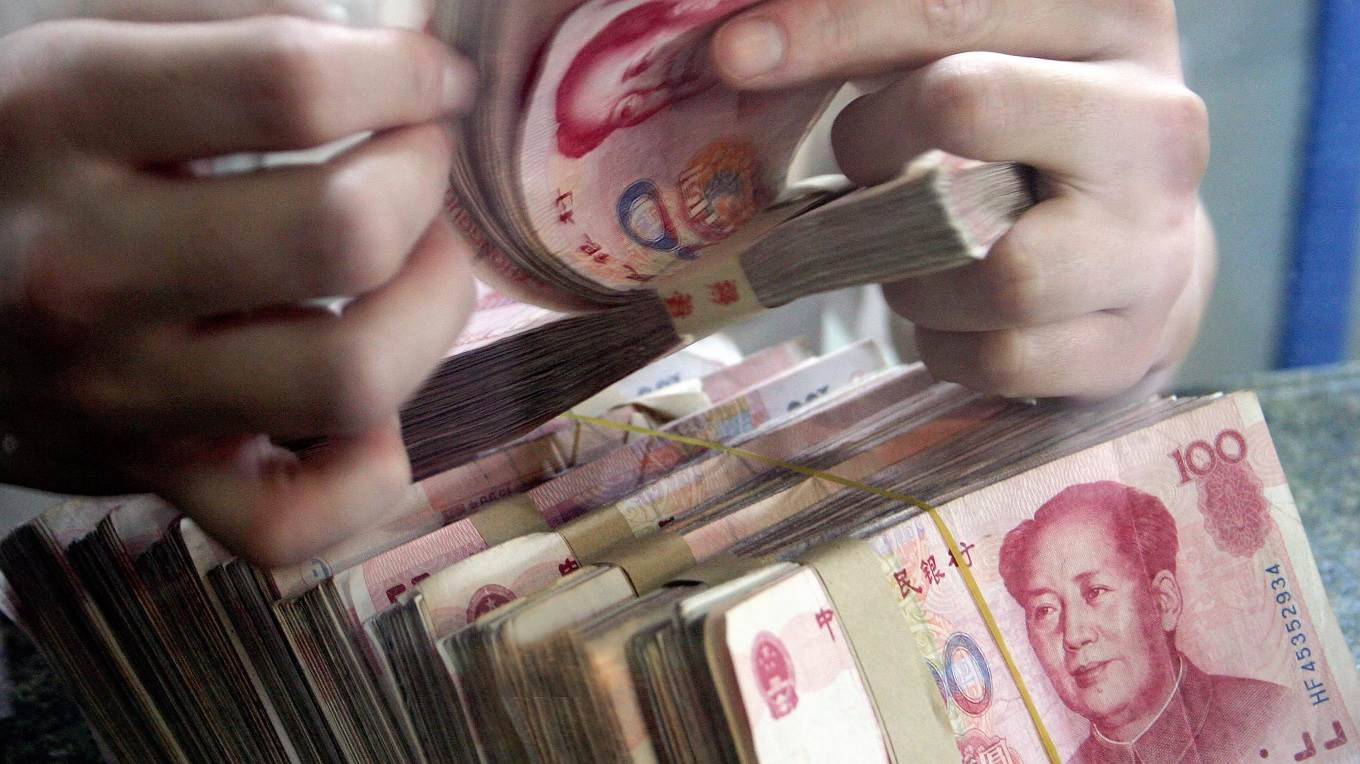 Will Trump Launch a Currency War, Too?
Last month, Donald Trump personally announced a series of import tariffs and other measures to restrict the flow of Chinese goods and capital into the United States. Clearly, Trump views China as a significant economic threat, so it may be only a matter of time before he sets his sights on the renminbi as well.
SANTA BARBARA – In recent weeks, the Trump administration has rolled out a series of trade and investment measures that put China squarely in its crosshairs. Clearly, Trump and his advisers view China as America's chief "economic enemy." The question now is whether they will follow up with an attack on the renminbi, China's increasingly popular currency.
So far, the US has imposed sweeping import tariffs of 25% on steel and 10% on aluminum, which Trump personally announced early last month. Since then, the administration has carved out exemptions for certain US allies, while using the tariffs as a bargaining chip to extract concessions from others.
China, for its part, is not a major supplier of steel or aluminum to the United States. But Chinese overcapacity has been putting downward pressure on steel and aluminum prices globally, to the detriment of US producers. So, the Trump administration's aim is to force China to reduce its own output sharply.
Even more dramatically, the Trump administration has unveiled plans to impose import tariffs on a wide range of Chinese goods, valued at up to $60 billion. It is also tightening restrictions on corporate acquisitions and investments by foreign firms; and it has signaled its intention to challenge China's forced technology transfers at the World Trade Organization.
Moreover, the administration is moving to bar Chinese companies from investing in sensitive US sectors such as semiconductors and 5G wireless-communications technologies. Trump has already blocked a $117 billion bid by Broadcom – a Singapore-based firm with close ties to China – to acquire the US tech giant Qualcomm.
Similarly, the Trump-appointed commissioner of the Federal Communications Commission, Ajit Pai, has agreed to treat Huawei, China's top telecommunications equipment maker, as a national security risk. And, under a proposed new rule, firms with that classification will no longer be able to supply equipment to companies building Internet infrastructure in the US.
To date, the Trump administration has not taken any direct action against the renminbi. But if it views Chinese exports and investments as a threat, it may be only a matter of time before it targets the Chinese currency, too.
Since the 2008 global financial crisis, China's government has gone to great lengths to promote the renminbi's international standing. It has eased regulations so that more trade-related transactions may be settled in renminbi, thus bypassing traditional invoicing currencies like the US dollar. It has established a network of renminbi clearing banks that spans financial centers around the world. It has cultivated active markets for renminbi deposits and renminbi-denominated bonds in Hong Kong and elsewhere. And it has reached currency-swap agreements with dozens of foreign central banks, in the hope that the renminbi will become a new global reserve asset.
Meanwhile, China achieved a major milestone in 2015, when the International Monetary Fund agreed to include the renminbi in the basket of currencies that determines the value of its synthetic reserve asset, the Special Drawing Right (SDR). Previously, that privileged status had been granted only to the US dollar, the British pound, the Japanese yen, and the euro. Inclusion in the SDR currency basket thus provided a major boost to the renminbi's international standing, and encouraged China to go even further in promoting the currency. Most recently, China launched a new exchange for renminbi-denominated crude oil futures, which some observers see as a direct challenge to the dollar.
As part of its increasingly ambitious bid for global influence, China aims to develop a currency that could be worthy of a global superpower. The US has long benefited from the dollar's dominant position in financial markets and central-bank reserves, and China now wants to reap similar rewards. If the renminbi's rise comes at the expense of the dollar, that's too bad.
Before Trump, US policy for maintaining the dollar's primacy was largely passive, if not conciliatory. Even when it was clear that China was promoting the renminbi as an alternative to the dollar, the Obama administration did little to defend the greenback. In fact, the US actually supported the renminbi's entry into the SDR basket, despite widespread doubts about the currency's qualifications, because it wanted to encourage China to become a more reliable stakeholder in the existing monetary system.
But then came Donald Trump, and all bets were off. Although its international standing has risen, China's currency is still a long way from major-league status. Trump, the self-proclaimed dealmaker, presumably knows this, and will be tempted to exploit the renminbi's vulnerabilities.
For example, if China chooses to resist Trump's demands for concessions on trade, the US could prohibit the renminbi's use in invoicing or settlements by US businesses transacting with Chinese partners. It could discourage, or establish new barriers to, investments in renminbi-denominated assets. Or it could offer swap agreements on favorable terms to any central bank that is prepared to abandon its agreement with China. The list of possible punitive actions is long.
Of course, a currency war alongside a trade war would be dangerous, and possibly disastrous. At a minimum, financial markets could be destabilized, and international lending could be disrupted. Unfortunately, a man who thinks that "trade wars are good, and easy to win" is unlikely to be deterred by these possibilities. We can only hope that cooler heads will prevail.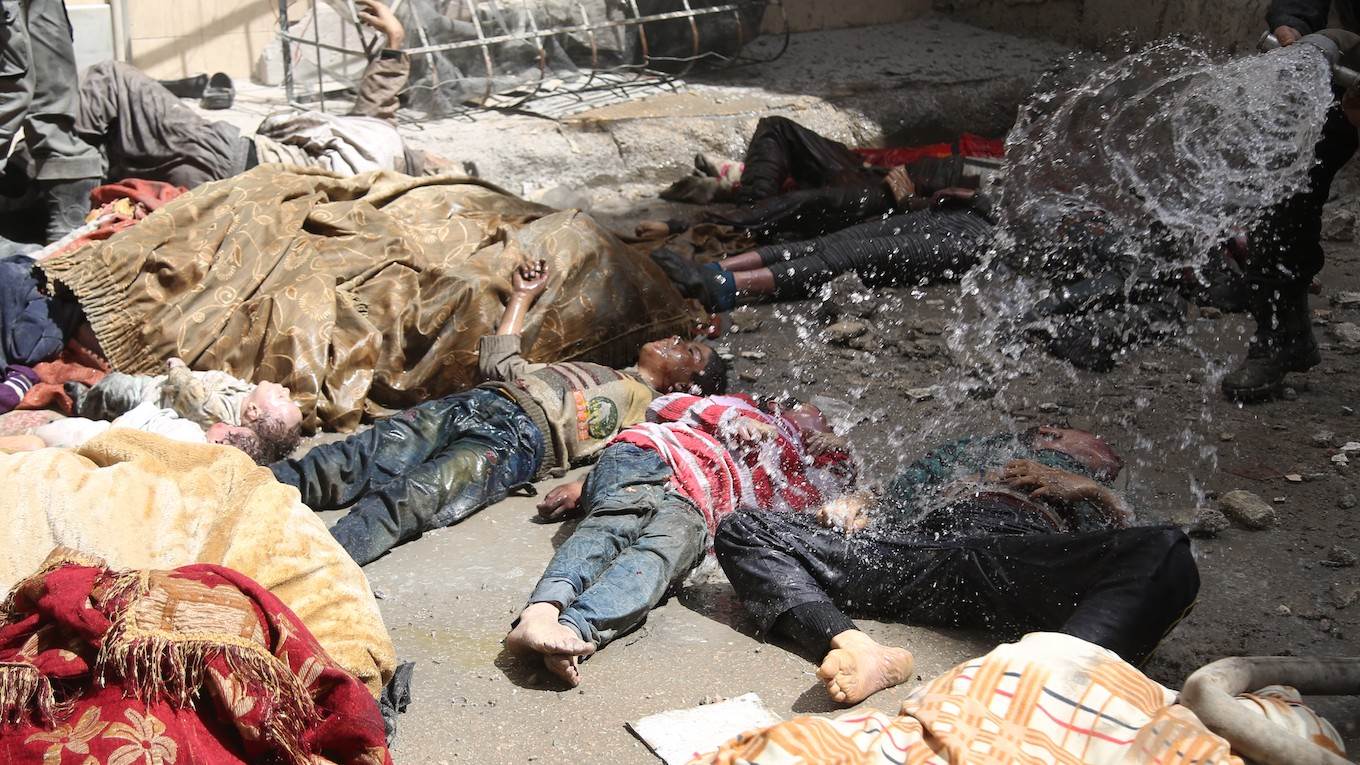 Trump, Syria, and the Threat of Region-Wide War
There is now a real and present danger that Syria will become the site of a conflagration even more destructive than the one raging there for the last seven years. But the biggest loser is likely to be the country that abandoned the fight.
BEIRUT – The die, it seems, is cast for a rapid end to the United States mission in Syria – and, with it, the chances of a peaceful and sustainable resolution to that country's brutal seven-year civil war. The chemical attack allegedly carried out last week by President Bashar al-Assad's forces in Douma, the last rebel-held town in the Eastern Ghouta region, shows just how dangerous that prospect is for Syria and the world.
US President Donald Trump's bluster in the wake of the chemical attack exposes the incoherence and contradictions of his approach, as well as his lack of any real strategy in Syria. Ordering an attack or two against Assad's forces, as he might do, would neither alter the balance of power there, nor improve Trump's position in the war-torn country, let alone the Middle East in general.
To be sure, Trump's top military advisers have persuaded him to keep in place the 2,000 military personnel currently stationed in Syria. But he has already limited America's objectives there to eliminating the small remaining Islamic State (ISIS) presence – an effort that should take about six months.
In constraining America's commitment, Trump has forfeited the opportunity to help shape Syria's future, reinforcing the widespread perception – which has taken hold among friends and foes alike – that US global leadership is in retreat. He has also disregarded the country's ongoing humanitarian crisis, the worst since World War II.
Ironically, this narrow approach also undermines the effort to achieve Trump's sole objective, as a lasting defeat of ISIS and other jihadists will demand a credible political transition that permanently ends the civil war. Such a transition will be possible only through diplomatic engagement by actors with stakes in Syria.
With Trump's withdrawal implying that the US and its allies have lost the war, Assad already feels emboldened to forge ahead – with Russian and Iranian support – with his plan to recapture the remaining rebel-held territories at all costs. After establishing "facts on the ground," Assad and his allies would be able to present the world with a fait accompli: Assad remains in power, without making any real concessions to the opposition.
Local and regional actors that placed their faith in America's commitments will pay a bloody price. In particular, the Kurds – America's most reliable and effective ally in the fight against ISIS – are likely to be left out in the cold, despite official US assurances about security arrangements after the US withdrawal.
Already, Kurds have criticized the Trump administration for sacrificing them at the altar of America's strategic relations with Turkey. The US turned a blind eye to Turkey's recent invasion and occupation of the Kurdish-held city of Afrin in northwest Syria, which led to the slaughter of more than 1,000 Kurds, including scores of civilians.
With a US withdrawal, the Kurds may feel compelled to ally with Assad for protection. Hundreds of Kurdish fighters have already deserted the fight against ISIS in northeast Syria, journeying to Afrin to resist the joint assault by Turkey and a splinter group of Syrian rebels. Some young Kurds have begun to join Assad's paramilitary units to avenge the loss of Afrin.
But it will be a difficult battle, as America's departure is likely to strengthen Turkey's hand further. After all, without the US, the other main foreign powers in the Syrian conflict – Turkey, Russia, and Iran – will be able to consolidate their spheres of influence and divide the spoils of the post-war reconstruction among themselves. While their specific interests may differ, all three countries share a vision of a "soft" partition of Syria that reduces Assad and the rebels to mere proxies.
Russia and Iran will be the two biggest winners. Russian President Vladimir Putin is the kingmaker whose timely military intervention saved Assad's regime from defeat and turned the war's tide in his favor. Whereas the US is almost nowhere to be seen in Syria, Russia is everywhere, constantly rearranging the pieces on the conflict's chessboard.
Russia's coordination with all major regional powers – including Turkey, a NATO member – attests to the dynamism (and cynicism) of the Kremlin's foreign policy. As the US pulls up stakes in Syria, Turkey's military and economic ties to Russia will only deepen.
Like Russia, Iran has invested plenty of blood and treasure to save Assad's regime – and reaped handsome returns. Iran is now the most influential regional power in Syria, as it is in Iraq and Lebanon. But the rush to fill the vacuum left by the US might provide the spark that ignites a region-wide war. There are legitimate concerns that Israel might use the withdrawal of US troops as a pretext to intensify its attacks on Iran and Hezbollah in Syria – a decision that could escalate into all-out regional conflict, one that draws in the US, Iraq, and Saudi Arabia, Iran's main rival for regional hegemony.
Even leaving aside Trump's hostility to the 2015 Iran nuclear agreement – which adds yet another source of risk to an already perilous situation – there is now a real and present danger that Syria will become the site of a conflagration even more destructive than the one raging there since 2011.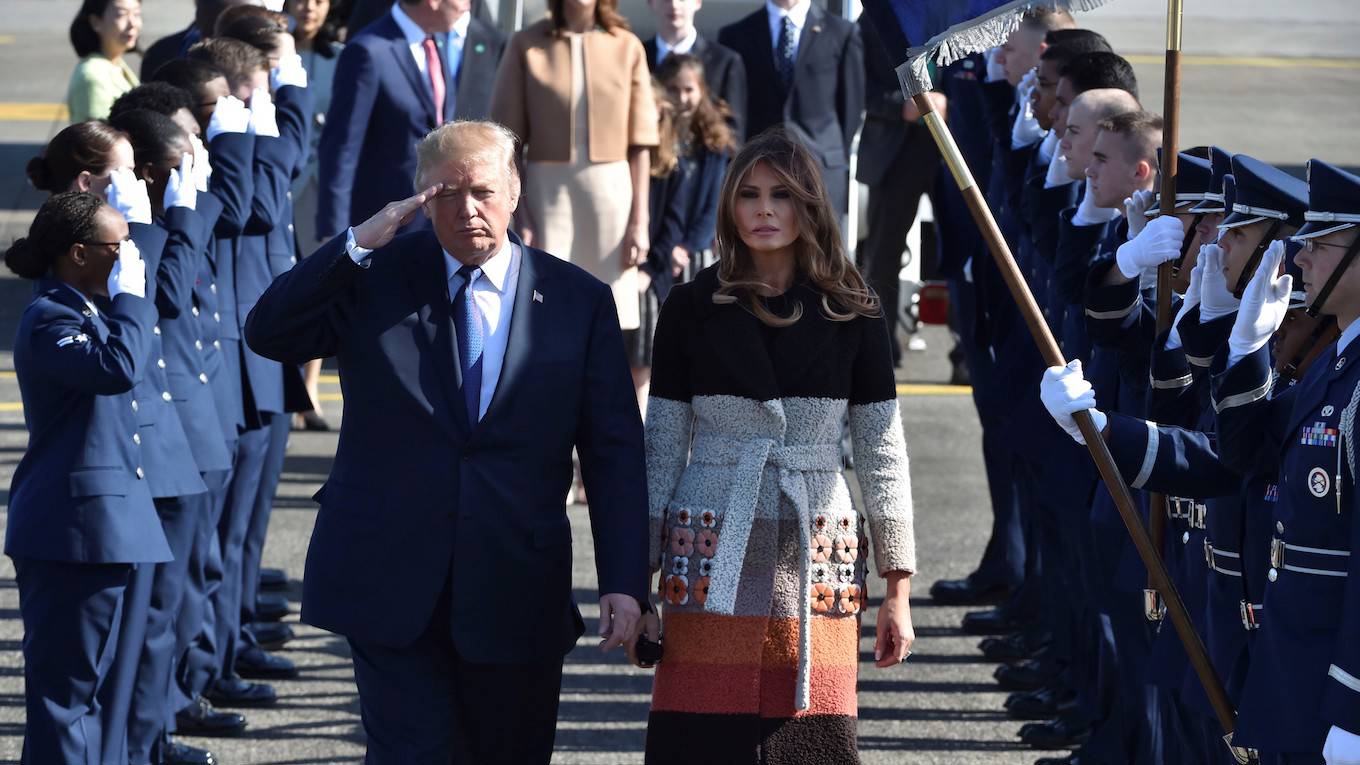 Trump's War Psyche and World Peace
Donald Trump is not the first leader with a severe personality disorder – characterized by intolerable feelings of inadequacy and an overwhelming need for approval – to gain power. But such leaders have usually gained control in smaller countries that lack the world's most powerful military.
NEW YORK – When Donald Trump took office early last year, many pundits believed that he would settle into his presidency and pivot to normality. But a large number of America's mental health experts didn't see it that way. They warned that Trump evidently suffers from a mental impairment that would worsen under pressure, possibly leading him to launch a war, even a nuclear war. And now, with the dangers of a Trump-led war with North Korea or Iran rising, the world needs to head off America's president before it's too late.
In the view of many professional psychologists and psychiatrists, Trump is not merely a bully, a showman, and a liar; he is more likely a mentally impaired individual who is impulsive, aggressive, and relentlessly driven to manipulate and blame others. These professionals have called for an urgent, independent evaluation of Trump's mental capacity that goes far beyond the simple cognitive screen that he received earlier this year when undergoing a physical examination at Walter Reed Army Medical Center.
To some laypersons, and obviously to many Americans, symptoms of mental impairment can appear to be strengths. A lack of self-control can be mistaken for candor. Aggression and manipulativeness can be mistaken for deal-making skills. Yet to mental health professionals, these traits are danger signs. Individuals who display such behavior are often masking intolerable feelings of powerlessness, inadequacy, and an overwhelming need for approval that can curdle into violent destructiveness under pressure.
This would not be the first time, of course, that a leader with a severe personality disorder has gained power. But such leaders have usually gained control in smaller countries that lack the world's most powerful military. Still, the record of such episodes is grim: Idi Amin, Saddam Hussein, Pol Pot, and many others were able to wreak murderous mayhem.
Unlike those leaders, Trump can plunge the world into a devastating nuclear war at his personal command. In recent months, he has repeatedly threatened to use this power. Trump believes that by threats, sanction, and bravado, he can force North Korea to relinquish its nuclear weapons. In fact, if Trump pushes the North Korean regime into a corner, he is more likely to provoke a war. The South Koreans understand this, but they are being pressured by the US to take a hard line. The recent Olympics thaw in relations between North and South Korea is promising, but not the end of the story. Trump will most likely stir up tensions soon again; he can't help himself.
Iran is the second flash point. Trump is surrounded by hardliners in his administration who are seeking a showdown with the Islamic Republic. Israel's government, led by Prime Minister Binyamin Netanyahu, is pushing the US in the same direction. Again, Trump or his advisers may believe that bravado will cause the Iranians to back down from their regional assertiveness in Syria and Lebanon; but this is unlikely, in part because Iran can count on Russia's tacit backing.
Trump's obsession with winning and inability to accept a balance of power constitute a dire threat. His declaration on Twitter in January that he is "a very stable genius" is a sign of weakness, not strength. Such statements are an alarm, not a reassurance.
As Special Counsel Robert Mueller's investigation continues to raise the emotional and political pressure on Trump, the president's temptation to resort to war could rise dramatically. The danger is that Trump's emotional compulsions could become all-consuming, rendering him incapable of choosing any other course than violence.
Trump's impairments usually involve great efforts by him and others to keep his inner wounds covered. People around him often display excessive fawning or comply with exceptional demands in order to "contain" him. Such is the reported atmosphere at the White House, where his aides apparently work hard to keep America safe from their boss.
Given the warning signs, the US Congress should move urgently to remove Trump's unilateral ability to launch a war, especially a nuclear war. The Constitution is clear: According to Article I, Section 8, Congress, not the president, has the power to declare war. Presidents have relentlessly usurped that power in recent decades, and Congress, unfortunately, has acquiesced. But, with Trump in power, it is especially urgent – a matter of survival – that Congress clearly and explicitly reasserts its constitutional authority.
America's traditional allies should also be on guard against blindly following the US to war. We are in a period of great danger. We do not need a new war on the Korean Peninsula or in the Middle East to establish a balance of power, stability, and mutual recognition of all sides' security interests. We need diplomacy. But Trump may be psychologically incapable of that, because he predisposed to attack, rather than compromise. Global forces for peace need to resist.