Mr. Trump Goes to China
North Korea will dominate the conversation between Donald Trump and Xi Jinping, in large part because Trump is counting on China to rein in its wayward client state. But he will likely come away disappointed, because China's leaders will seek to avoid difficult decisions in the short run, even at the cost of damaging outcomes over time.
NEW YORK – US President Donald Trump is spending nearly two weeks in Asia, visiting Japan, South Korea, China, Vietnam, and the Philippines. Putting China at the center of the trip makes sense, because it constitutes the most important stop in both strategic and economic terms.
North Korea will dominate much of the conversation when Trump is in China, in large part because he is counting on Chinese leaders to solve the North Korea problem for the United States. This approach is understandable, because the bulk of North Korea's trade transits Chinese territory, and China could exert enormous pressure on the North if it so chose.
But Trump will likely come away disappointed. China will resist deploying its full leverage, lest it undermine North Korea's stability and end up worse off as a result. The irony and potential tragedy of China's position is that allowing North Korea to increase and improve its nuclear and missile arsenals could fuel momentum toward war, or lead South Korea, Japan, or both to reconsider their non-nuclear postures. Any of these outcomes would be inconsistent with Chinese strategic interests; but, like many governments, China's leaders will seek to avoid difficult decisions in the short run, even if this results in damaging outcomes over time.
The North Korea problem is but one of many on the Sino-US agenda, which includes other geopolitical matters (most notably, the situation in the South China Sea and the status of Taiwan). There are also economic issues that need to be addressed, such as China's failure to respect intellectual property, its large government subsidies to export-oriented firms, its restriction of access to its market, and its efforts to require foreign firms doing business in China to transfer advanced technology to Chinese firms.
The list of issues dividing these two important and powerful countries is thus long and difficult, reinforcing the pessimism of those who predict that the bilateral relationship will continue to sour. One of the arguments that the pessimists marshal is the historical pattern whereby rising and established powers tend to end up competing with one another, or even fighting.
One recent book, by the Harvard political scientist Graham Allison, focuses on the so-called "Thucydides Trap," named for the ancient Greek historian who chronicled the competitive relationship that ultimately produced the Peloponnesian War between a rising Athens and Sparta, the superpower of its day. Allison portrays China and the US in these roles, and calls his book Destined for War.
Such predictions are unwarranted. They discount the dampening effect of nuclear weapons, which for more than four decades helped keep the Cold War between the US and the Soviet Union from turning hot. They also overlook the ability of the US and China to finesse their disagreement over Taiwan. Diplomacy can and will matter; little is inevitable in international relations.
Indeed, the US and China have managed to keep their ties on a relatively even keel, despite the disappearance of the original rationale for their relationship – shared antipathy toward the Soviet Union – when the Cold War ended a quarter-century ago. The extensive economic relationship that has evolved since then has given both countries a stake in maintaining good relations. And, given China's need for external stability to pursue economic development, its leaders have acted with considerable restraint.
Still, the pessimists' concerns cannot be dismissed. After all, countries often fail to act in their own self-interest, or events simply spin out of control. For example, Chinese leaders may be tempted to act more assertively to placate public opinion amid a slowing economy, and to take advantage of opportunities created by a US that has retreated from regional trade accords.
The stakes are high, as the history of the twenty-first century will be affected in no small part by the character of the Sino-American relationship. Trump, who vacillates between tough criticism of China over trade and encomiums to President Xi Jinping, will have to balance pressing his legitimate concerns over trade with the need to avoid starting a trade war. And Xi will have to judge what he can give to satisfy his American visitor without jeopardizing his or the Party's standing in the eyes of the Chinese people.
North Korea, though, will be the biggest test. Trump and Xi must find a way to defuse the looming crisis on the Korean Peninsula – or manage the consequences should diplomacy fail and war erupt. In the latter scenario, it would be essential that a second Korean War not lead to direct US-Chinese combat, as the first one did. And cooperation would be essential to maintain control over North Korea's nuclear materials. All of this will require deft diplomacy. Trump and Xi, one sincerely hopes, will soon be laying the groundwork for it.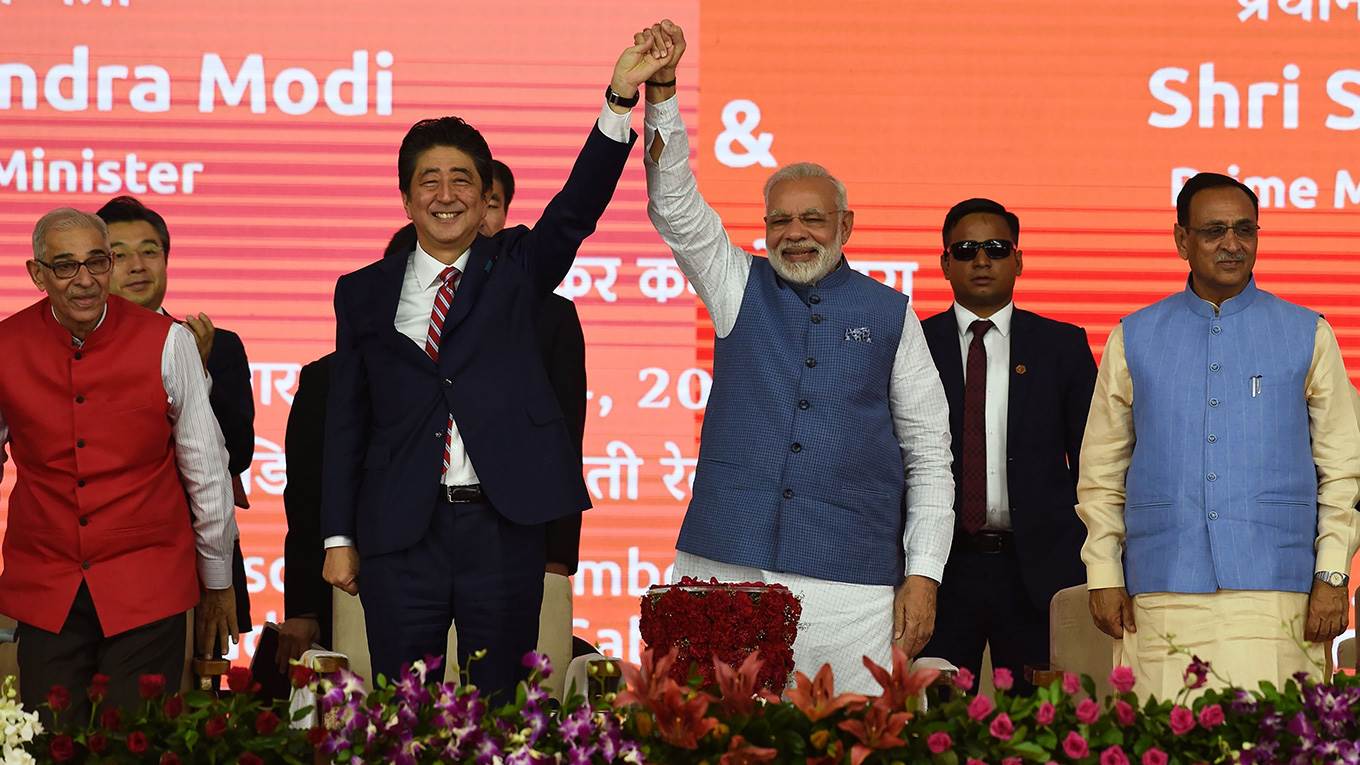 Asia's New Entente
Just as Germany's rapid ascent prior to WWI spurred a "triple entente" among France, Russia, and the UK, China's increasingly aggressive behavior is creating strong impetus for the Asia-Pacific democracies to build a more powerful strategic coalition. This goal should become the centerpiece of these countries' regional policies.
PERTH – US President Donald Trump is arriving in Asia at a moment when the region's security situation is practically white-hot. US Secretary of State Rex Tillerson, recognizing that the world's "center of gravity is shifting to the heart of the Indo-Pacific," called on the region's democratic powers to pursue "greater engagement and cooperation." They – including Trump's US – should heed that call. In fact, only an alliance of democracies can ensure the emergence of a strong rules-based order and a stable balance of power in the world's most economically dynamic region.
In recent years, as Tillerson acknowledged, China has taken "provocative actions," such as in the South China Sea, that challenge international law and norms. And this behavior is set to continue, if not escalate. Last month's 19th National Congress of the Communist Party of China effectively crowned President Xi Jinping – who has spearheaded a more muscular foreign policy, in service of his goal of establishing China as a global superpower – as the country's emperor.
Just as Germany's rapid ascent prior to World War I spurred a "triple entente" among France, Russia, and the United Kingdom, China's increasingly assertive behavior is creating strong impetus for the Asia-Pacific democracies to build a more powerful coalition. After all, as recent experience in the South China Sea has made clear, no single power can impose sufficient costs on China for its maritime and territorial revisionism, much less compel Chinese leaders to change course.
This is not to say that no country has been able to challenge China. Just this summer, India stood up to its muscle-flexing neighbor in a ten-week border standoff. China has been using construction projects to change the status quo on the remote Himalayan plateau of Doklam, just as it has so often done in the South China Sea. India intervened, stalling China's building activity. Had US President Barack Obama's administration shown similar resolve in the South China Sea, perhaps China would not now be in possession of seven militarized artificial islands there.
In any case, securing a broader shift in China's foreign policy and stabilizing the Asia-Pacific region's power dynamics will require more than one country holding the line on any one issue. A US that is willing to employ new tools, a more confident Japan and India, and an Australia vexed by China's meddling in its domestic affairs must work together to constrain Chinese behavior.
The good news is that an entente has already begun to emerge among the region's key democracies. America's relationship with India, in particular, has been undergoing what Tillerson called a "profound transformation," as the two countries become "increasingly global partners with growing strategic convergence." The US now holds more joint defense exercises with India than with any other country. Such cooperation puts the two countries in a strong position to fulfill Tillerson's vision of serving "as the eastern and western beacons of the Indo-Pacific."
Engagement with Japan, too, has deepened. This year's Malabar exercise – an annual naval exercise in the Indian Ocean involving the US, India, and Japan – was the largest and most complex since it began a quarter-century ago. Focused on destroying enemy submarines, it involved more than 7,000 personnel from the US alone, and featured for the first time aircraft carriers from all three navies: America's nuclear-powered USS Nimitz, Japan's Izumo helicopter carrier, and India's aircraft carrier INS Vikramaditya.
As Tillerson pointed out, this trilateral engagement among the US, India, and Japan is already bringing important benefits. But "there is room to invite others, including Australia, to build on the shared objectives and initiatives."
So far, Australia has sought to avoid having to choose between its security ally, the US, and its main economic partner, China. Despite Defense Minister Marise Payne's recent declaration that "Australia is very interested in a quadrilateral engagement with India, Japan, and the United States," the government seems to be hedging its bets. For example, while it sought this year to rejoin the Malabar exercise – from which it withdrew a decade ago to appease China – it sought to do so only as an "observer."
This approach is untenable. If Australia is to free itself of Chinese meddling, it will need to go beyond implementing new domestic safeguards to take a more active role in defending rules and norms beyond its borders, both on land and at sea.
In the coming years, the Indo-Pacific power balance will be determined, first and foremost, by events in the Indian Ocean and East Asia. Containing China will therefore require, first, efforts to restrict the country's maritime activities – such as measures to safeguard vital sea lines and build maritime domain awareness – and, second, geo-economic initiatives to counter China's coercive leverage over smaller countries. All of Asia's democratic powers must be on board.
Calls by the US for closer cooperation bode well for this process, though the US still needs to focus more on the globally ascendant and aggressive China than on a declining Russia. The overwhelming victory of Japanese Prime Minister Shinzo Abe – who has touted the idea of establishing a "democratic security diamond" in the Asia-Pacific – in his country's recent general election is also likely to help to drive cooperation forward.
To be sure, any entente among Asian democracies is unlikely to take the shape of a formal alliance. Rather, the objective should be for democratic powers to reach a broad strategic understanding, based on shared values. It is those values, after all, that set them apart: as Tillerson recognized, while Trump's upcoming visit to Beijing will undoubtedly draw much global attention, the US cannot have the kind of relationship with non-democratic China that it can have with a major democracy.
By pursuing cooperation, the Indo-Pacific's democratic powers can shore up an inclusive, rules-based order that underpins peace, prosperity, stability, and freedom of navigation in the region. That is the only way to thwart China's effort to establish itself as the hegemon of an illiberal regional order.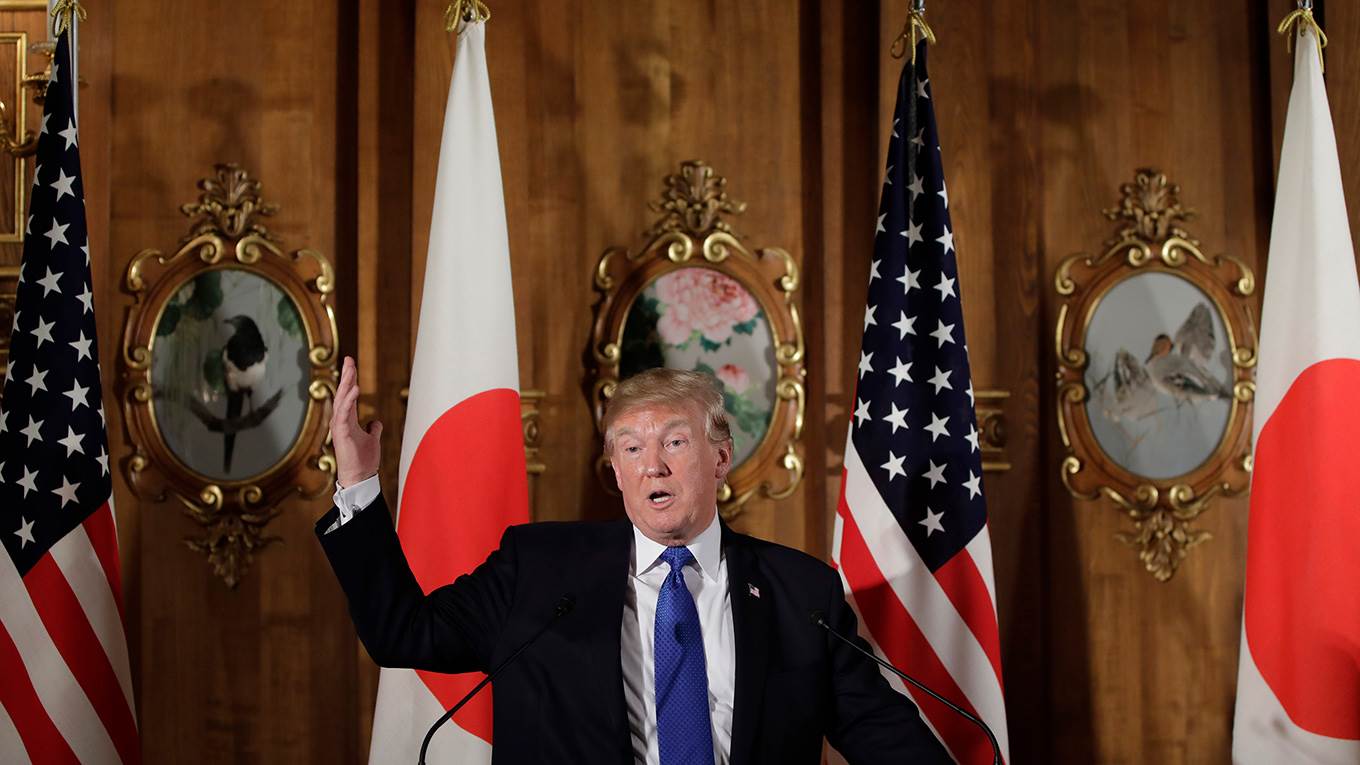 Trump's Opportunity in Asia
On Donald Trump's first visit to Asia as US president, his administration seems to be hoping to reassure allies and open parts of China's market to American firms. But these are small-bore goals, especially given the historic opportunities for the US in the Asia-Pacific region.
WASHINGTON, DC – A year after his election, US President Donald Trump is making his first official visit to Asia. The 12-day tour of five countries – Trump's longest foreign trip so far – will, according to official briefings, focus on easing doubts about the reliability of the United States and its leader. Given the challenges and possibilities for the US in Asia, that is an unambitious goal.
Trump will start his trip by reinforcing America's alliances with Japan and South Korea – alliances that he previously discounted and belittled, particularly during his campaign. The aim is to buttress his demand, which he will reiterate when he reaches Beijing, that China follow through on its pledges in the United Nations Security Council to tighten sanctions on North Korea.
Next, Trump will head to Vietnam and the Philippines. Close relations with both are necessary to underpin ongoing US efforts to challenge China's growing influence in Southeast Asia. President Barack Obama's administration had mixed results in competing for influence with China. Trump administration officials have lately hinted that the US may, at some point, devise a new strategy for the entire Indo-Pacific region.
Beyond foreign policy, Trump's Asian tour should also advance some economic objectives. A large group of US corporate leaders will accompany Secretary of Commerce Wilbur Ross to China, where they will seek to strike deals, promote open markets, and address abuses in bilateral trade. Chinese officials, for their part, have indicated that they will announce new agreements and consider opening parts of the Chinese market that are now closed to outsiders.
So far, so good. But so far is not far enough.
Talks with officials around the region reveal that America's friends and allies have not received the sort of advance briefings that are normally used to prepare the ground for important new policies and undertakings. More fundamentally, briefings and statements in the run-up to the trip have shown no regard for major political and strategic trends that are now converging – trends that must inform any comprehensive US policy toward Asia.
The first such trend is the decline of the US-led unipolar world order that has prevailed since the end of the Cold War, and the reemergence of great power rivalries. China, Russia, Europe, and the Middle East are all headed in new directions, and America no longer has the capacity it once did to influence them. The Trump administration needs to abandon its complacency and pursue competitive coalition-building.
Doing so will require Trump's confident assertion of the benefits of the US-led liberal international order, which China and Russia are now challenging. It will also demand that Trump display leadership in forging international cooperation, particularly on trade.
Just as Trump has walked back his denigration of America's European and Asian allies, he should stifle his inclination for protectionism and unilateral action. Politically, Trump stands to gain much more by leading the way toward a new multilateral free-trade agreement than he would by pursuing isolationism and allowing China to assume trade leadership in Asia.
And Trump has a golden opportunity to do so. Though he pulled the US out of the Trans-Pacific Partnership early in his term, the remaining 11 partners are moving to sustain most of the agreement. Why not get back in front of the parade and demonstrate a capacity for leadership in changing times?
Meanwhile, the Trump administration needs to be more ambitious in pressing China for greater reciprocity in market access and competition. Earlier this year, Trump praised China for making promises on this front, even though it had already made – and broken – the same promises to the Obama administration.
The US wants access to financial-services markets in China, but appears willing to settle, at least for now, for openings in credit research services and, possibly, credit-card marketing. Meanwhile, China leads the world in disruptive financial technologies (fintech), with payments by mobile phone replacing credit cards.
The second major trend that should be informing the Trump administration's Asia policy is Chinese President Xi Jinping's consolidation of power. By not designating a successor to Xi, the Communist Party of China's recent 19th National Congress has opened the way for him to serve a third term.
With so much political capital, Xi now has the scope to adjust his stance on domestically sensitive issues, according to China's longer-term interests and his own. China's recent agreement to normalize relations with South Korea, after more than a year of acrimony, may reflect the effect of Xi's liberation from succession politics.
Prior to the 19th National Congress, China insisted on punishing South Korea for allowing the US to deploy its Terminal High Altitude Area Defense antimissile system on its territory. But this approach brought China no benefits; on the contrary, it damaged China's reputation in South Korea. Now, China is backing off.
Trump should seize this moment to secure greater cooperation from China in tackling, along with South Korea, the North Korean threat. China is not in a position to shut down North Korea's nuclear weapons and ballistic missile programs. But it can cooperate with the US to narrow the North's choices and reduce the potential for a conflagration on the Korean Peninsula, such as through covert cooperation and official contingency planning for the future of North Korea. When Trump meets Xi in Beijing, he should offer a path toward just such a strategic compromise.
As it stands, it seems that Trump is hoping to impress critics with headlines about what are actually small-bore accomplishments. But there are historic opportunities ahead. Trump's Asia trip is the ideal moment to begin to seize them.