The Syrian Time Bomb
After seven years of bloodletting, the conflict in Syria has become not just more complicated, but also far more dangerous for the Middle East – and for Europe. Recent Israeli strikes at Iranian positions in southern Syria, in particular, indicate the urgent need for diplomatic intervention, before it is too late.
BERLIN – The ongoing conflict in Syria has much in common with the Thirty Years' War, which devastated the heart of Europe – particularly the German city of Magdeburg, the Aleppo of the time – from 1618 to 1648. Viewed from a distance, the war was a succession of conflicts that visited immeasurable suffering upon Europe's population, ending, with the Peace of Westphalia, only when all of the parties involved had become utterly exhausted.
The Thirty Years' War was nominally a religious conflict between Catholic and Protestant Christians, just as the main divide in today's Middle East is between Sunni and Shia Muslims. But, as in Syria today, religion masked a deeper struggle for power and regional dominance.
The Syrian war started during the Arab Spring, after Syrian protesters called for democracy and an end to President Bashar al-Assad's dictatorship. But it soon became an international affair. Iran and Hezbollah, the Lebanese Shia militia it supports, along with Russia, intervened militarily and prevented Assad's fall to rebel forces, which were backed by Turkey and Saudi Arabia, representing the Sunni side of the divide.
Meanwhile, the war had also expanded to include a US-led campaign against the Islamic State (ISIS). And when ISIS was defeated last year, another conflict, this time between Turkey and Kurds in Northern Syria, quickly ensued. Now, the US-allied Kurdish YPG (People's Protection Units) fighters who proved indispensable in the fight against ISIS are being targeted by Turkey, which raises the possibility of a direct military confrontation between two NATO allies. Moreover, there is also a growing risk of a confrontation between the US and Russia, underscored by recent reports that a US airstrike killed dozens of Russian mercenaries in Syria.
With every new chapter, the Syrian tragedy seems to get more dangerous. The conflict is no longer about who holds power in Damascus, but about who holds hegemony in the Middle East. The struggle is not only between Russia and the US, but also pits Shia Iran against Sunni Saudi Arabia, which has increasingly aligned itself with Israel, another US ally.
Turkey, for its part, is driven primarily by the fear that a Kurdish state will be established in Northern Syria, which could encourage separatist Kurdish factions in Southeast Turkey. Indeed, the Kurds in Northern Iraq (Kurdistan) have already been vying for their own state, and even held an independence referendum last year.
Finally, Israel, the region's military superpower, has its own security interests in Lebanon and southern Syria. Until recently, Israel had mostly kept out of the war. But it has had to intervene from the air to block arms shipments from reaching Hezbollah, and to prevent Iran from establishing a presence near its northern border.
Israel's involvement increased earlier this month when it shot down an Iranian drone that had entered its airspace from Syria. When Israeli warplanes responded by striking Iranian targets in Syria, one was downed by Syrian antiaircraft fire (the pilots reached Israeli territory safely), prompting Israel to strike Assad's forces directly.
As these events unfolded, it quickly became clear that Israel could not rely on the supposed special relationship between Russian President Vladimir Putin and Israeli Prime Minister Binyamin Netanyahu. Russia proved either unwilling or unable to control Iran. So, whether it likes it or not, Israel is now an active player in Syria.
It is precisely on this front that another war could ensue, this time between Israel and Iran. Such a conflict would serve neither party's interests, but it is easy to see how it could happen anyway, given the current realities. Israel simply cannot stay out of the conflict while Assad's regime, Russia, Iran, and Hezbollah secure a military victory. The facts on the ground are fundamentally threatening Israel's own security, and dramatically strengthening its enemy, Iran.
A war between Iran and Israel (with Saudi Arabia in the background) would imperil the entire region, because it would be yet another front in the battle for hegemony. But Europe, too, would be directly affected, and not just because a larger conflict would send even more refugees north. With US President Donald Trump threatening to sabotage the Iran nuclear deal, Europe could find itself with a dangerous arms race – or even another great war – unfolding not far from its borders.
Given these dangers, Europe can no longer afford to watch from the sidelines. Europeans must defend the Iran nuclear agreement for the sake of their own security. And because the European Union has longstanding obligations to Israel, it must not allow a violent hegemonic struggle that would directly threaten Israel.
Now, more than ever, is the time for European diplomacy. With another great war looming in the Middle East, European leaders must act.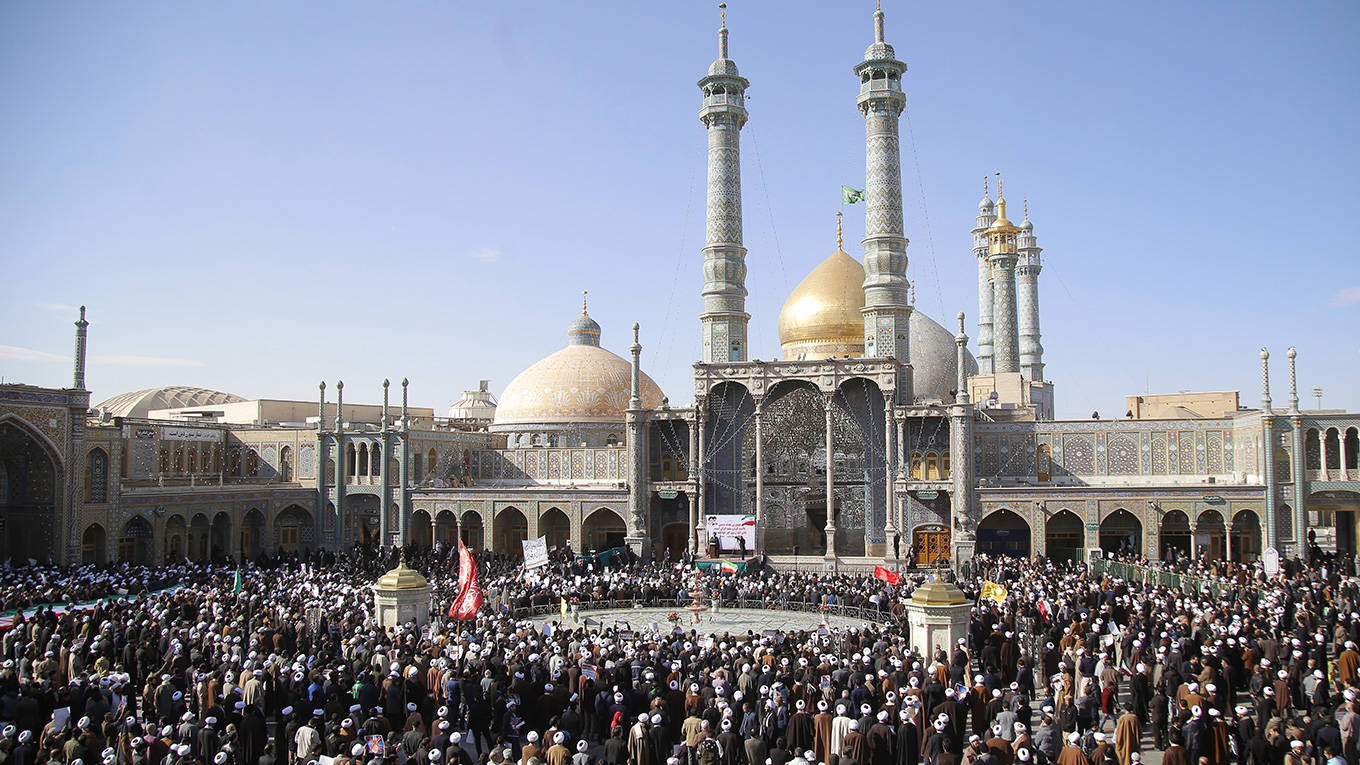 Iran, the Hollow Hegemon
Iran can be a spoiler in the Middle East, but not a hegemon. To argue otherwise, as Israeli and Arab leaders are wont to do, merely makes more likely a conflict that all parties have a fundamental interest in avoiding.
TEL AVIV – Israeli and Arab leaders have spent years warning of the rise of an Iranian-led Shia empire covering much of the Middle East. With Iran now linked to the Mediterranean through a land corridor that extends through Iraq, Syria, and Lebanon, many are claiming vindication. But fear of Iran as a regional hegemon is vastly overblown.
There is no denying that the Middle East is rife with localized conflict, often fueled by rivalries among warlords. But a major conflagration is in no regional actor's interest. This is particularly true for Iran, which is incapable of projecting conventional military power beyond its borders.
In fact, Iran's nuclear program was intended to compensate for its conventional military weakness in a neighborhood where it has more enemies than friends. Yet, by spurring the international community to impose crippling sanctions, Iran's nuclear effort ended up undermining the country's progress further, by impeding technological progress and military investment. Meanwhile, its enemies, particularly Israel and Saudi Arabia, which both have far larger military budgets, were acquiring the most advanced Western military technologies.
Given this weakness, Iran's land corridor, which inspires so much fear in its regional neighbors, depends on unreliable local proxies, making it unsustainable. And that doesn't even account for its vulnerability to American airstrikes.
Iraq, a vital link in the corridor, was supposed to be Iran's unconditional Shia fiefdom. But ending the dominance of the Popular Mobilization Forces (Hashd al-Shaabi), an Iran-sponsored umbrella of Shia militias, in areas vacated by the Islamic State (ISIS) is a top priority for Iraqi Prime Minister Haider al-Abadi, who has the backing of Iraq's supreme Shia authority, Ali al-Sistani.
The situation in Syria is more complicated, but not much more favorable to Iran, which, after years of propping up President Bashar al-Assad's regime, has found that the real hegemon in the country is Russia. President Vladimir Putin knows that convincing the Sunni rebel groups to lay down their weapons as part of an effective peace agreement will be a lot more difficult if Iran retains a large presence in the country. Likewise, Assad knows that he cannot hope to build bridges with Syria's Sunni majority if his regime is administering an Iranian protectorate.
Yet Iran's biggest problems in Syria are the United States and Israel. The former has maintained its military presence in the country, even after having defeated ISIS, in order to prevent Iran from consolidating control. And Israel's potent air force would never allow a meaningful Iranian military presence in Syria. Iran's leaders know that risking a war there would leave their country's nuclear infrastructure vulnerable.
Iran's influence is also faltering in Lebanon. After years of service to the Assad dynasty, Hezbollah is now working to recover its domestic legitimacy, even pushing for the return of Saad Hariri, the Sunni leader of the anti-Iranian March 14 Alliance, to his post as prime minister. This reflects a strong desire to maintain some semblance of institutional order in Lebanon, and indicates that a war with Israel is no more in Hezbollah's interests than it is in Iran's.
To be sure, Iran, much like the Soviet Union, has long viewed expansion abroad as the best way to protect the revolution's results at home. But, as both Soviet and Iranian experience has shown, failure to manage domestic challenges poses a greater threat to the regime's legitimacy. While the future of Iran's land corridor depends on its foreign proxies, the Islamic Republic's future depends on its leaders' capacity to deliver at home.
Yet Iran's leaders seem to be placing their proxies above their citizens. Despite the failure of the 2015 nuclear deal to meet Iranians' high economic expectations, the authorities continue to spend billions of dollars on the likes of Hezbollah, Hamas in Palestine, and the Houthis in Yemen. Iran has spent close to $10 billion in Syria alone to prop up Assad.
The resulting fiscal strain has forced Iran to slash some of the lavish subsidies that have long buttressed the regime's popular support. Protests staged by mostly working-class young men against deep reductions in food and fuel subsidies quickly evolved into demonstrations against Iran's theocracy, reflected in chants of "Death to Ali Khamenei," the Islamic Republic's supreme leader.
Three generations is a long time for any revolutionary utopia, whether Iran's Islamic Republic or the Soviet Union, to survive, as citizens become increasingly disconnected from – and even skeptical of – the original cause. This is all the more true today, when digital technology has deepened the generational divide.
In the 1980s, in the face of a brutal assault by Saddam Hussein's Iraq, Iranians rallied behind the regime to ensure their country's survival. They will not submit to similar hardships today in the name of maintaining outposts in Syria and Yemen, or a land corridor to the Mediterranean. With about half of Iran's population under the age of 30, and youth unemployment at around 25%, it should come as no surprise that some recent demonstrators chanted, "Give Up on Syria! Think of us!"
Iran's interest in avoiding all-out war should be good news for its enemies, which are not in a particularly strong position to manage further foreign military entanglements. Saudi Arabia, in particular, is facing difficult domestic reforms, including efforts to diversify its economy, while mired in its own military interventions in Syria and Yemen.
Iran can be a spoiler in the Middle East, but not a hegemon. To argue otherwise, as Israeli and Arab leaders are wont to do, merely makes more likely a horrifically bloody, destructive, and destabilizing conflict that all parties have a fundamental interest in avoiding.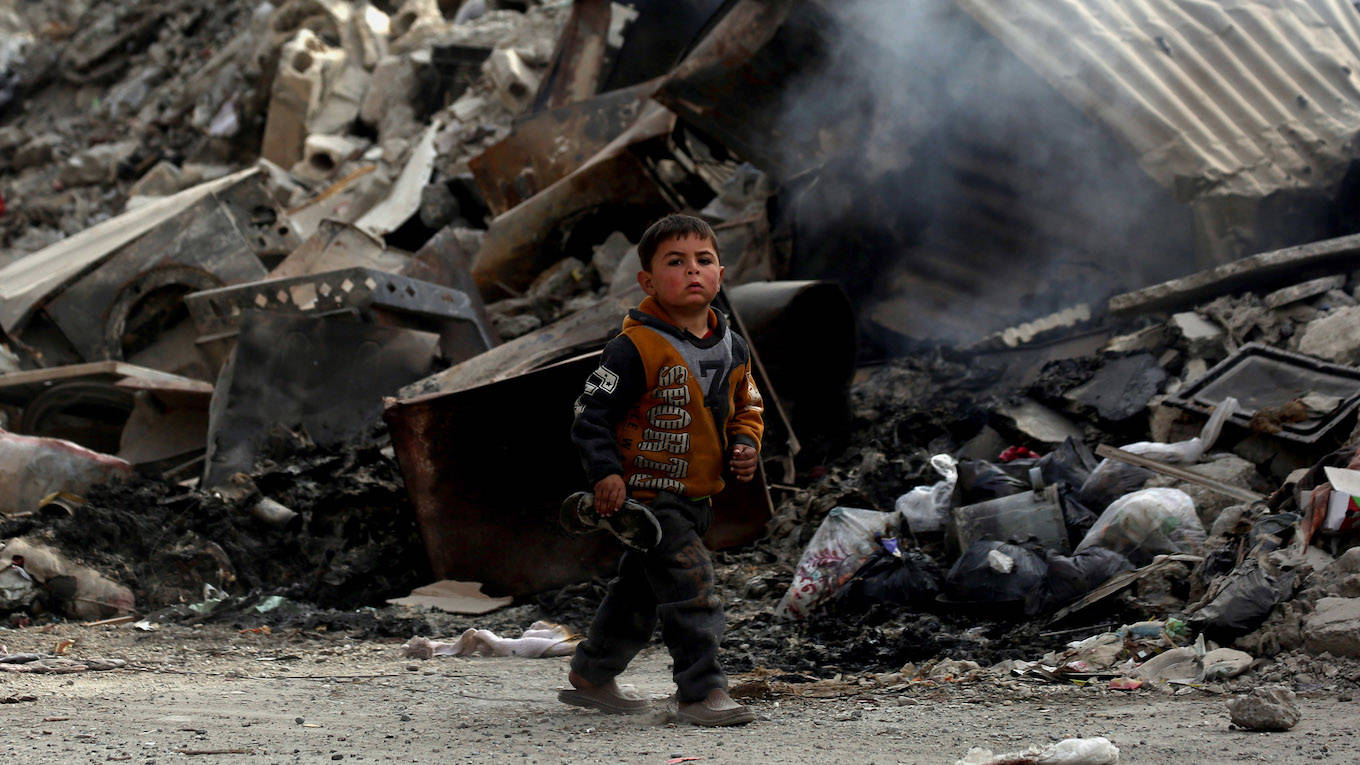 Ending America's Disastrous Role in Syria
America's official narrative has sought to conceal the scale and calamitous consequences of US efforts to overthrow Syrian President Bashar al-Assad. That is understandable, because US efforts are in blatant violation of international law, which bars UN member states from supporting military action to overthrow other members' governments.
NEW YORK – Much of the carnage that has ravaged Syria during the past seven years is due to the actions of the United States and its allies in the Middle East. Now, faced with an alarming risk of a renewed escalation of fighting, it's time for the United Nations Security Council to step in to end the bloodshed, based on a new framework agreed by the Council's permanent members.
Here are the basics. In 2011, in the context of the Arab Spring, the US government, in conjunction with the governments of Saudi Arabia, Qatar, Turkey, and Israel, decided to bring down Syrian President Bashar al-Assad's regime, even though overthrowing another country's government amounts to a blatant violation of international law. We know that in 2012, if not earlier, President Barack Obama authorized the CIA to work with America's allies in providing support to rebel forces composed of disaffected Syrians as well as non-Syrian fighters. US policymakers evidently expected Assad to fall quickly, as had occurred with the governments of Tunisia and Egypt in the early months of the Arab Spring.
The Assad regime is led by the minority Alawi Shia sect in a country where Alawites account for just 10% of the population, Sunni Muslims account for 75%, Christians make up 10%, and 5% are others, including Druze. The regional powers behind Assad's regime include Iran and Russia, which has a naval base on Syria's Mediterranean coastline.
Whereas America's goal in seeking to topple Assad was mainly to undercut Iranian and Russian influence, Turkey's motive was to expand its influence in former Ottoman lands and, more recently, to counter Kurdish ambitions for territorial autonomy, if not statehood, in Syria and Iraq. Saudi Arabia wanted to undermine Iran's influence in Syria while expanding its own, while Israel, too, aimed to counter Iran, which threatens Israel through Hezbollah in Lebanon, Syria near the Golan Heights, and Hamas in Gaza. Qatar, meanwhile, wanted to bring a Sunni Islamist regime to power.
The armed groups supported by the US and allies since 2011 were assembled under the banner of the Free Syrian Army. In fact, there was no single army, but rather competing armed groups with distinct backers, ideologies, and goals. The fighters ranged from dissident Syrians and autonomy-seeking Kurds to Sunni jihadists backed by Saudi Arabia and Qatar.
While vast resources were devoted to overthrowing Assad, the effort ultimately failed, but not before causing massive bloodshed and displacing millions of Syrians. Many fled to Europe, fomenting Europe's refugee crisis and a surge in political support for Europe's anti-immigrant extreme right.
There were four main reasons for the failure to overthrow Assad. First, Assad's regime had backing among not only Alawites, but also Syrian Christians and other minorities who feared a repressive Sunni Islamist regime. Second, the US-led coalition was countered by Iran and Russia. Third, when a splinter group of jihadists split away to form the Islamic State (ISIS), the US diverted significant resources to defeating it, rather than to toppling Assad. Finally, the anti-Assad forces have been deeply and chronically divided; for example, Turkey is in open conflict with the Kurdish fighters backed by the US.
All of these reasons for failure remain valid today. The war is at a stalemate. Only the bloodshed continues.
America's official narrative has sought to conceal the scale and calamitous consequences of US efforts – in defiance of international law and the UN Charter – to overthrow Assad. While the US vehemently complains about Russian and Iranian influence in Syria, America and its allies have repeatedly violated Syrian sovereignty. The US government mischaracterizes the war as a civil war among Syrians, rather than a proxy war involving the US, Israel, Russia, Saudi Arabia, Iran, and Qatar.
In July 2017, US President Donald Trump announced the end of CIA support for the Syrian rebels. In practice, though, US engagement continues, though now it is apparently aimed more at weakening Assad than overthrowing him. As part of America's continued war-making, the Pentagon announced in December that US forces would remain indefinitely in Syria, ostensibly to support anti-Assad rebel forces in areas captured from ISIS, and of course without the assent of the Syrian government.
The war is in fact at risk of a new round of escalation. When Assad's regime recently attacked anti-Assad rebels, the US coalition launched airstrikes that killed around 100 Syrian troops and an unknown number of Russian fighters. Following this show of force, US Secretary of Defense Jim Mattis disingenuously stated that, "Obviously, we are not getting engaged in the Syrian civil war." In addition, Israel recently attacked Iranian positions in Syria.
The US and its allies should face reality and accept the persistence of Assad's regime, despicable as it may be. The UN Security Council, backed by the US, Russia, and the other major powers, should step in with peacekeepers to restore Syrian sovereignty and urgent public services, while blocking attempts at vengeance by the Assad regime against former rebels or their civilian supporters.
Yes, the Assad regime would remain in power, and Iran and Russia would maintain their influence in Syria. But the US official delusion that America can call the shots in Syria by choosing who rules, and with which allies, would end. It's long past time for a far more realistic approach, in which the Security Council pushes Saudi Arabia, Turkey, Iran, and Israel into a pragmatic peace that ends the bloodshed and allows the Syrian people to resume their lives and livelihoods.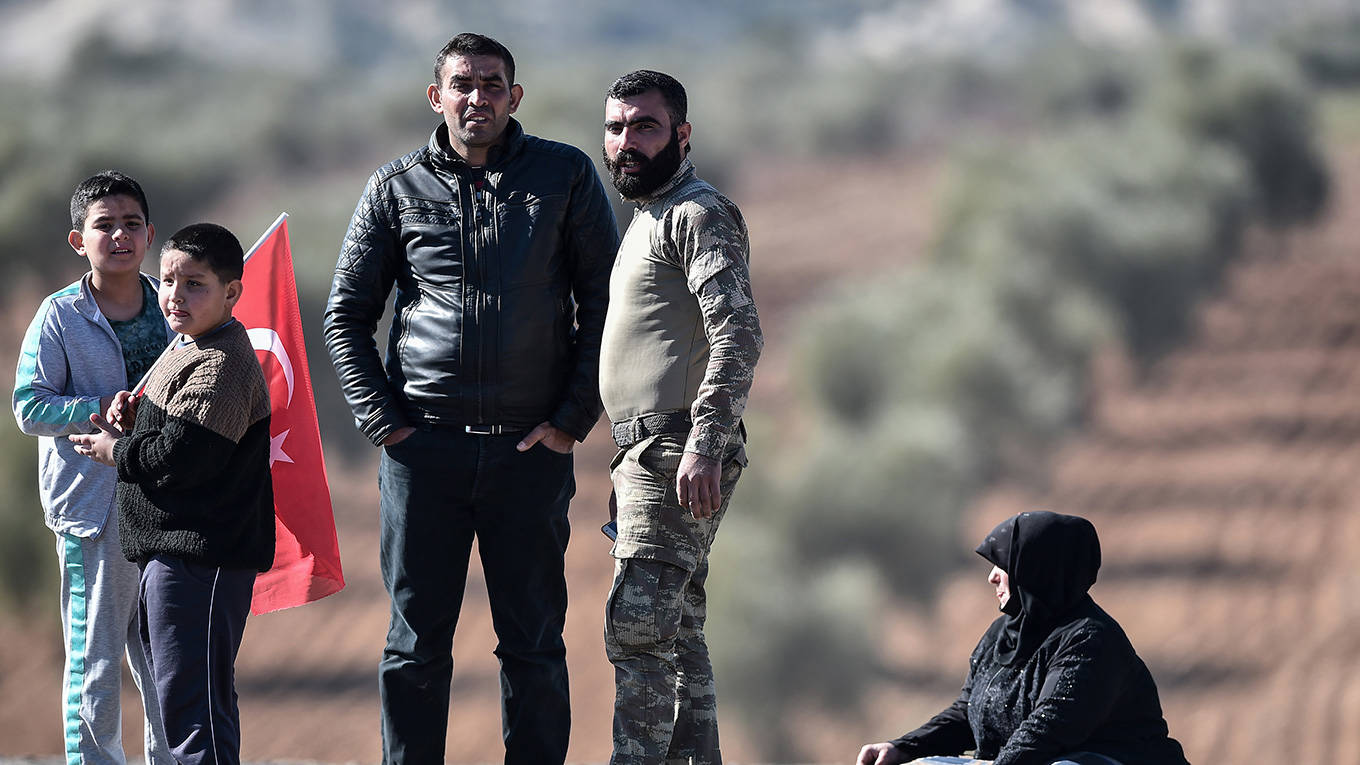 Cynicism in Syria
The Turkish Army's offensive against Kurdish-held territories in northern Syria exposes the true complexity of the Syrian crisis. Turkey and the US, both founding members of NATO, now face the real risk of an escalation that could lead to a direct armed confrontation – one that Russia would watch with satisfaction.
PARIS – In his book The Grand Strategy of the Byzantine Empire, political scientist Edward Luttwak credits Byzantium's longevity to the quality of its diplomacy. By relying on persuasion, alliances, and containment, rather than force, Luttwak argues, the Eastern Roman Empire managed to last for eight centuries – twice as long as the Roman Empire from which it sprang. As countries like Turkey and the United States attempt to navigate the highly complex – or "byzantine" – situation in Syria, they would do well to recall Byzantium's diplomatic sophistication.
The Turkish Army's offensive against the territories in northern Syria held by the Kurds –America's closest partners in the fight against the Islamic State – highlights the true complexity of the Syrian crisis. Turkey and the US, both founding members of NATO, now face the real risk of an escalation that could lead to a direct confrontation between their respective armed forces – a confrontation that Russia would watch with satisfaction.
Turkey is succumbing to the simplistic calculus of the Middle East: territory equals power. For Turkey – so proud of its imperial history, yet anxious over the loss of its former glory – the obvious conclusion is that its Kurdish population must not, under any circumstances, secure control over any of its land.
In recent decades, Turkey's efforts to achieve its neo-Ottoman dream of exercising a decisive influence in its neighborhood have been repeatedly frustrated. While many Arab reformers looked to Turkey as a model of modern democracy after the so-called Arab Spring erupted in 2010, things did not unfold according to plan.
As for Turkey, it has since slid toward authoritarianism, thanks partly to President Recep Tayyip Erdoğan's effective use of nationalism. Mehmetçik Kut'ül-Amare, a Turkish television series that depicts a glorious Ottoman victory over the British during World War I, has become a hit among Turkish viewers. And Erdoğan's popularity usually rises at times of higher military tension, to the point that some political commentators in Turkey have suggested the possibility of early elections to consolidate the regime further, much like the failed coup d'état did in 2016.
All of this has helped to alienate Turkey from the European Union. And, indeed, Erdoğan's regime has now abandoned the pretense of pursuing closer ties with that bloc, instead redoubling its commitment to strengthening its position in the Middle East. Turkey's priority is to prevent an autonomous enclave of Syrian Kurds from forming on its border – an outcome that could inspire Turkey's own Kurdistan Workers' Party (PKK), which has been behind multiple terrorist attacks on Turkish soil, to demand the same.
To be sure, there is always the risk that Turkey's military adventures in Syria could backfire – say, if there are significant human losses or an adversary deemed to be inferior secures an important victory. Authoritarian regimes are more vulnerable to failed military adventures than democratic ones. But, for now, Erdoğan seems committed to his strategy, which combines offensive and defensive objectives.
All of this has created a dilemma for the US, which is now being forced to choose between its official ally (Turkey) and its partners on the ground (the Kurds). The US military is more faithful to the Kurds, who have courageously risked – and often lost – their lives in the fight against the Islamic State. Diplomats and politicians, however, are more willing to sacrifice the Kurds in the name of preserving good relations with Turkey, which remains an important NATO ally, even if it is becoming more distant and difficult.
Ideally, the US could find a way to reassure Turkey, without abandoning the Kurds. But, with the Kurds committed to using their hard-won leverage to carve out for themselves an autonomous and consolidated territory in northern Syria and Iraq, such a strategy would be difficult, if not impossible, to devise.
The situation in Syria today is a fundamentally cynical one. Erdoğan is taking whatever steps necessary to reinforce his own authority. The US, meanwhile, is prepared to sacrifice its faithful partners, the Kurds, supposedly in the name of raison d'état.
But the ultimate cynic may also be the de facto winner in this strategic game: Vladimir Putin's Russia. Tensions within NATO are now higher than ever. If Syria becomes a battleground for two members of the Alliance, the consequences for the West – and the benefits for Russia – would be immense.
The biggest losers, meanwhile, are civilian populations, who have been the main victims of this bloody chess game. And their suffering is only intensifying. Yet, with so much blood having already been spilled, the world has become increasingly desensitized.
A diplomat friend of mine recently confided in me that, in his new position within the intelligence field, his faith in humanity was not exactly being reinforced. The handling of the Kurdish question in Syria can only have strengthened this negative outlook.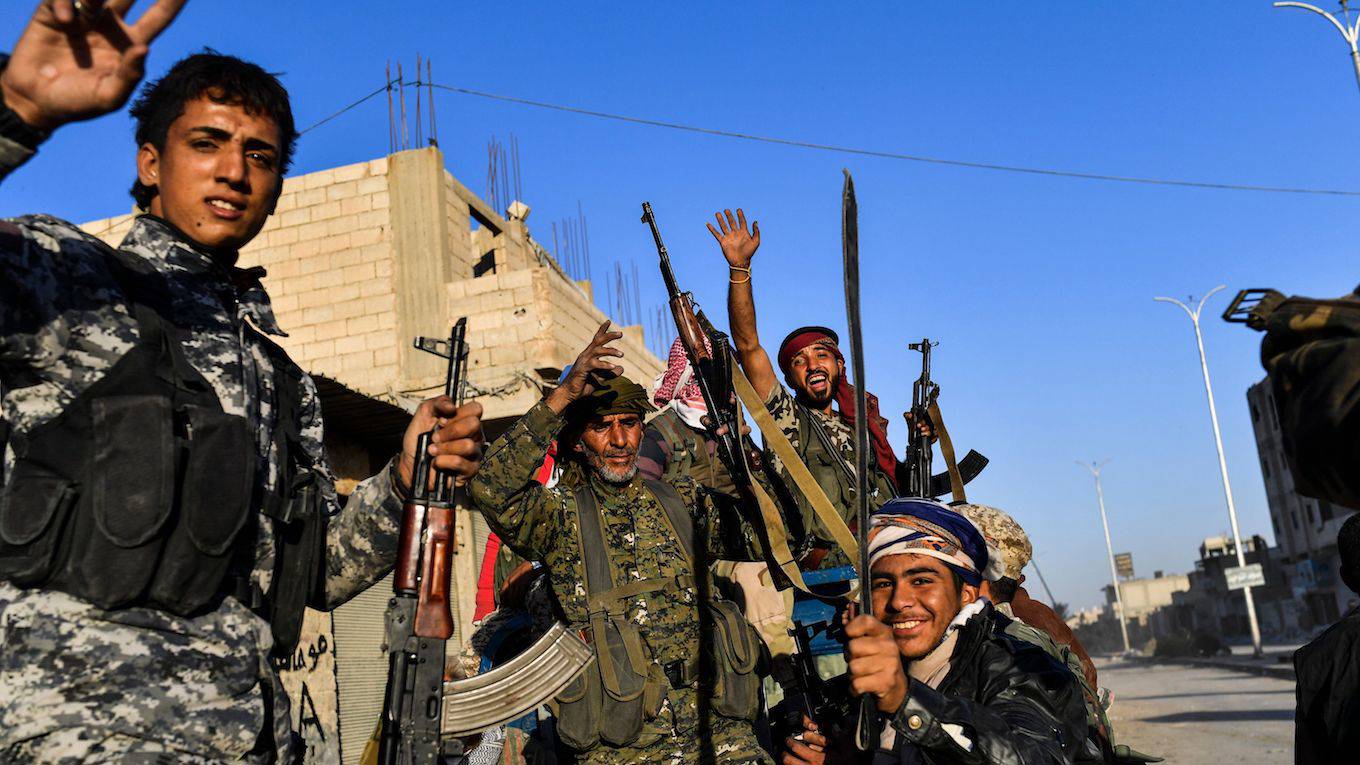 What Does the US Want in Syria?
After seven years of bloodshed across shifting battlefronts, the conflict in Syria has become so complicated that a workable resolution seems all but impossible anytime soon. And the United States' failure to define its long-term interests in the country and the region is not making matters any easier.
DENVER – Given that most of the Middle East is now in a state of turmoil, US Secretary of State Rex Tillerson should be commended for keeping the Syrian conflict in mind during his recent trip to the region.
His job hasn't been easy. American diplomacy has been all but invisible in the Middle East, and the State Department does not seem to have any ideas or, more importantly, funding with which to take the lead. If the United States is serious about addressing the increasingly deadly crisis in Syria, it needs to start showing sustained interest – and put its money where its mouth is.
The complexity of the situation in Syria has far surpassed the world's capacity to master it. Rapidly changing events, a growing number of players, and constantly shifting battle lines all point to a quagmire.
Just six months ago, there were two clear trends in the conflict: Syrian President Bashar al-Assad, with the support of Russia, Iran, and Hezbollah, was well on his way to victory; and the Islamic State (ISIS) was about to be soundly defeated by a US-led coalition. Today, the successful campaign against ISIS seems Pyrrhic, at best. Hundreds of thousands of lives have been lost, and a resolution of the larger conflict is nowhere in sight.
If anything, the world is even more on edge now. In recent weeks, Israel has clashed with Iranian forces in southern Syria to show that it will not allow Iran to establish a presence there. And Turkey has launched a bold campaign against Syria's Kurds, whom it hopes to drive out of the northwest province of Afrin to prevent them from linking up with Turkish Kurds across the border. Assad has come to terms with reality and indicated that he would cede territory to the Syrian Kurds. But Turkey remains unwilling to countenance an autonomous Kurdish entity along its border.
The US, for its part, has spent the past six years marshaling various groups of Sunni Arab fighters under the auspices of the so-called Syrian Democratic Forces, an offshoot of what was previously called the Free Syrian Army. Some elements of the SDF have been more effective than others, and have even fought alongside the Kurds against ISIS. But now they find themselves in the crosshairs not just of Assad, but also of Russia and various Iran-backed Shia militias.
The US was right to focus on defeating ISIS; but now it faces a much broader mission: to ensure the survival of its various allies on the ground. This raises the prospect of a direct conflict with other powers, not least Russia. In fact, the US may already have killed dozens of Russian military contractors in a recent airstrike.
The US and its European partners have been reluctant to come down hard on their NATO ally Turkey, and have merely urged Turkish President Recep Tayyip Erdoğan to show restraint. But jawboning, one of the US's favorite diplomatic tools, rarely works on those in the heat of battle.
Moreover, Turkey doesn't seem to care what its allies think. For example, it recently raised eyebrows within NATO yet again by purchasing new-generation Russian S-400 antiaircraft batteries. This does not bode well for any future peace process. After all, Western countries will need Turkey to counterbalance the Russians, whose broader strategic agenda goes well beyond the Middle East.
When historians look back at the Syria conflict, they will praise both former Presidents Barack Obama and Donald Trump for relentlessly pursuing ISIS. But they will fault the US for not comprehending the larger war.
It is already clear that the Obama administration didn't know what it was bargaining for when, without thinking about what would come next, it called in 2011 for Assad's removal. In July of that year, Robert S. Ford, the US ambassador to Syria, was sent to the Sunni town of Hama, where Assad's father had ordered a massacre 30 years earlier. According to the State Department at the time, the point of the visit was to "[express] our deep support for the right of the Syrian people to assemble peacefully and to express themselves." Did the administration really not foresee that Assad – like his father before him – would react to a popular uprising with violence?
When the US took a side against Assad seven years ago, it was asserting its national interest in Syria while ignoring the interests of other key players such as Turkey, Russia, Iran, and Israel. And now, with the US vacillating, there is a very real danger of a full-fledged US-Russian proxy war.
So far, the Trump administration has not been spurred to action by the humanitarian catastrophe confronting Syrian civilians. But perhaps it would do more if it considered the threat the conflict poses to the entire region.
If the administration wants to show leadership, it should start by consulting the other regional powers to understand their interests and determine if they can be reconciled. Tillerson may be trying to do just that. But even before asking the regional players what they want, the Trump administration should ask itself the same question. With the stakes in Syria rising fast, one can only wonder where America stands.