Myanmar's Jihadi Curse
It is vital that Myanmar's military immediately halt human-rights abuses of Rohingya in Rakhine State. But it is also vital for the international community to reject the prevailing depiction of the current crisis, which fails to recognize the long history of violent extremism among Rohingya militants.
NEW DELHI – Myanmar's military has lately been engaged in a brutal campaign against the Rohingya, a long-marginalized Muslim ethnic minority group, driving hundreds of thousands to flee to Bangladesh, India, and elsewhere. The international community has rightly condemned the crackdown. But, in doing so, it has failed to recognize that Rohingya militants have been waging jihad in the country – a reality that makes it extremely difficult to break the cycle of terror and violence.
Rakhine State, where most of Myanmar's Rohingya reside, is attracting jihadists from far and wide. Local militants are suspected of having ties with the Islamic State (ISIS), al-Qaeda, and other terrorist organizations. Moreover, they increasingly receive aid from militant-linked organizations in Saudi Arabia and Pakistan. The main insurgent group – the well-oiled Arakan Rohingya Salvation Army, also known as Harakah al-Yaqin – is led by a Saudi-based committee of Rohingya émigrés.
The external forces fomenting insurgent attacks in Rakhine bear considerable responsibility for the Rohingyas' current plight. In fact, it is the links between Rohingya militants and such external forces, especially terrorist organizations like ISIS, that have driven the government of India, where some 40,000 Rohingya have settled illegally, to declare that their entry poses a serious security threat. Even Bangladesh acknowledges Rohingya militants' external jihadi connections.
But the truth is that Myanmar's jihadi scourge is decades old, a legacy of British colonialism. After all, it was the British who, more than a century ago, moved large numbers of Rohingya from East Bengal to work on rubber and tea plantations in then-Burma, which was administered as a province of India until 1937.
In the years before India gained independence from Britain in 1947, Rohingya militants joined the campaign to establish Pakistan as the first Islamic republic of the postcolonial era. When the British, who elevated the strategy of "divide and rule" into an art, decided to establish two separate wings of Pakistan on either side of a partitioned India, the Rohingya began attempting to drive Buddhists out of the Muslim-dominated Mayu peninsula in northern Rakhine. They wanted the Mayu peninsula to secede and be annexed by East Pakistan (which became Bangladesh in 1971).
Failure to achieve that goal led many Rohingya to take up arms in a self-declared jihad. Local mujahedeenbegan to organize attacks on government troops and seize control of territory in northern Rakhine, establishing a state within a state. Just months after Myanmar gained independence in 1948, martial law was declared in the region; government forces regained territorial control in the early 1950s.
But Rohingya Islamist militancy continued to thrive, with mujahedeen attacks occurring intermittently. In 2012, bloody clashes broke out between the Rohingya and the ethnic Rakhines, who feared becoming a minority in their home state. The sectarian violence, in which rival gangs burned down villages and some 140,000 people (mostly Rohingya) were displaced, helped to transform the Rohingya militancy back into a full-blown insurgency, with rebels launching hit-and-run attacks on security forces.
Similar attacks have lately been carried out against security forces and, in some cases, non-Rohingya civilians, with the violence having escalated over the last 12 months. Indeed, it was a wave of coordinated predawn insurgent attacks on 30 police stations and an army base on August 25 that triggered the violent military offensive that is driving the Rohingya out of Rakhine.
Breaking the cycle of terror and violence that has plagued Myanmar for decades will require the country to address the deep-seated sectarian tensions that are driving Rohingya toward jihadism. Myanmar is one of the world's most ethnically diverse countries. Its geographic position makes it a natural bridge between South and Southeast Asia, and between China and India.
But, internally, Myanmar has failed to build bridges among its various ethnic groups and cultures. Since independence, governments dominated by Myanmar's Burman majority have allowed postcolonial nativism to breed conflict or civil war with many of the country's minority groups, which have complained of a system of geographic apartheid.
The Rohingya face the most extreme marginalization. Viewed as outsiders even by other minorities, the Rohingya are not officially recognized as one of Myanmar's 135 ethnic groups. In 1982, the government, concerned about illegal immigration from Bangladesh, enacted a law that stripped the Rohingya of their citizenship, leaving them stateless.
Successive governments have defended this approach, arguing that past secessionist movements indicate that the Rohingya never identified as part of the country. And, in fact, the common classification of Rohingya as stateless "Bengalis" mirrors the status of Rohingya exiles in the country of their dreams, Pakistan, where tens of thousands took refuge during the Pakistani military genocide that led to Bangladesh's independence.
Still, the fact is that Myanmar's failure to construct an inclusive national identity has allowed old ethnic rivalries to continue to fuel terrorism, stifling the resource-rich country's potential. What Myanmar needs now is an equitable, federalist system that accommodates its many ethnic minorities, who comprise roughly a third of the population, but cover half of the total land area.
To this end, it is critical that Myanmar's military immediately halt human-rights abuses in Rakhine. It will be impossible to ease tensions if soldiers are using disproportionate force, much less targeting civilians; indeed, such an approach is more likely to fuel than quell violent jihadism. But as the international community pressures Myanmar's de facto leader Aung San Suu Kyi to take stronger action to protect the Rohingya, it is also vital to address the long history of Islamist extremism that has contributed to the ethnic group's current plight.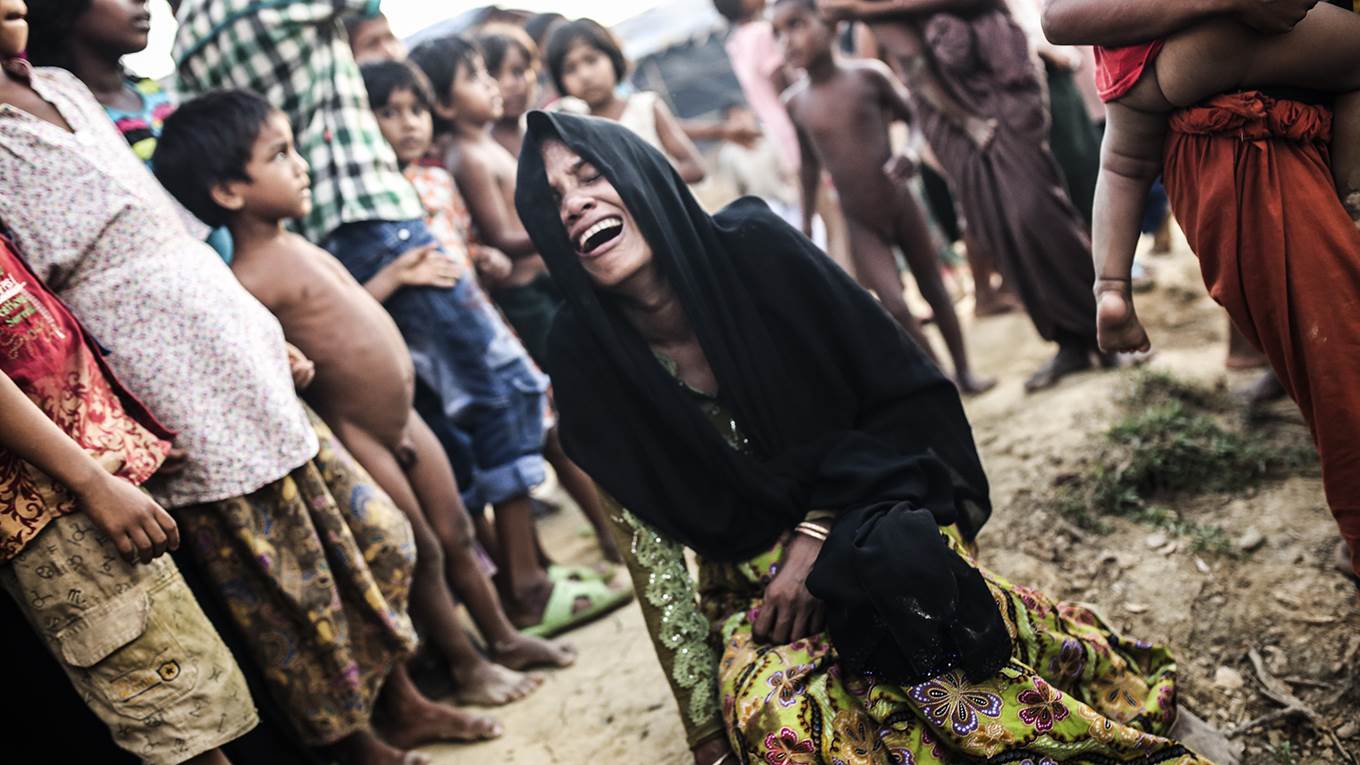 Is South Asia the New Middle East?
The plight of the Muslim Rohingya minority in Myanmar highlights a broader trend toward political fragmentation and violence in the region. If a geostrategic catastrophe is to be avoided, the unholy alliance of religion and nationalism must be broken.
PARIS – The Middle East is often viewed as a region waylaid by feelings of collective humiliation and violent rivalries, both between and within countries. But South Asia is beset by some of the same forces, reflected in a surge of Buddhist nationalism in Myanmar, where the Muslim Rohingya are being driven from the country, and Hindu nationalism in India, under Prime Minister Narendra Modi's Bharatiya Janata Party.
The good news for South Asia is that a "Middle Eastern" future is not inevitable. But the mere possibility indicates the febrile state of affairs that rising nationalism, often couched in religious terms, is producing across the region. It is as if growing fundamentalism within Islam has now encouraged fundamentalism in other religions.
The situation is particularly dire for the Rohingya. Since August, the military has been engaged in a brutal campaign that, despite being nominally focused on stopping Rohingya militants, has targeted civilians and burned entire villages, forcing hundreds of thousands to flee to neighboring Bangladesh.
But while this latest crackdown is particularly devastating – "a textbook example of ethnic cleansing," according to the United Nations High Commissioner for Refugees – persecution of the Rohingya is nothing new. Since independence in 1948, successive governments have denied even the most basic rights to the Rohingya, refusing to grant them so much as citizenship.
As the international community has condemned the crackdown, Myanmar's de facto leader Aung San Suu Kyi has stood largely silent, a choice that has done untold damage to her once impeccable image as a courageous champion of democracy and human rights. Even when she finally did address the issue – at a press conference, delivered in English, after weeks of violence – she refused to mention the Rohingya by name.
Suu Kyi's problematic response has often been attributed to her political calculations regarding how to deal with Myanmar's military, which ruled the country until just last year and remains beyond civilian control. But, as unbefitting as it is for a Nobel Peace Prize winner, the truth is that her response probably also reflects her indifference to the fate of a small minority. Muslims comprise just 4% of Myanmar's population. To her Burman aristocratic sensibility, their interests barely register.
What began as a localized tragedy has now become an international crisis – and not just because of the refugee flows into Bangladesh and elsewhere. As in the Middle East, national and religious identities tend to be inextricably linked. Like Myanmar, neighboring Thailand is a majority-Buddhist country; Malaysia and Indonesia are mostly Muslim; and India is majority Hindu. Pakistan, for its part, was created as the homeland for the Muslim minority in Britain's former Indian empire after independence.
For religious minorities in the region, security can be hard to come by, not least because of the British and Dutch imperial legacies. The British Raj used minorities to help enforce colonial rule, by promising to provide a better life for those enduring discrimination. But when the British went home, discrimination resurfaced – sometimes with added zeal, given resentment of minorities' collaboration with colonial rule.
It is that discrimination that has led a small minority of young Rohingya to choose violence, such as the attacks in August on security outposts and police stations. The militants may have been egged on by fundamentalist Muslim preachers from the Middle East, or even by homegrown fanatics. In any case, they are typically seeking to strike back at the system and people responsible for oppressing them.
And radicalization within Myanmar's Muslim community has proceeded alongside the growth of religious extremism among the Buddhist majority. Buddha preached peace and tolerance. Yet some Buddhist priests today are inciting hatred and violence.
In fact, even before the latest eruption, a succession of massacres garnered only indifference from the international community. Like the horrors inflicted on Bosnia's Muslims during the Balkan wars in the 1990s, the assault on the Rohingya seems to reveal the Western world's selective empathy.
The result is a vicious circle of radicalization and violence. Terrorist organizations like the Islamic State, now defeated on the ground in Syria and Iraq, undoubtedly hope to use the Rohingya's plight to mobilize Muslims, particularly in Asia, for their own ends.
As religious tensions escalate, regional cooperation is in jeopardy. How can an organization like ASEAN, which has promoted gradual progress on security and economic collaboration, weather the killing and displacement of religious minorities in its member states?
If a geostrategic catastrophe is to be avoided, the unholy alliance of religion and nationalism must be broken. The United Nations should take the lead in this regard, by committing to bringing an end to the Rohingya crisis. Beyond the moral imperative of doing so, a successful intervention could help to restore multilateral institutions' tarnished image. The last thing the world needs is another politically fragmented region mired in violent conflict.